Caregiver Communication
Whether it's moving for school, work, or another reason, Americans are becoming increasingly more mobile. According to a report from MetLife/National Alliance for Caregiving, nearly 15% of the 34 million Americans who act as their loved one's primary caregiver live an hour or more away.
For these caregivers, the distance compounds their responsibilities and requires even more resources. Some have opted to hire a local home health aide or other caregivers to assist their elderly family member.
Having a caregiver who lives locally is a great way to provide your loved one with the care and attention they need. But living far away can still pose some obstacles, especially when it comes to communicating with the caregiver.
As you aren't regularly able to speak to them in person, phone calls, e-mails, and texts become even more vital. But these methods still leave openings for miscommunication or missed details.
Not to worry, however. There are several ways to cut down on miscommunication mishaps and ensure you and your loved one's caregiver are always on the same page.
Challenges of Long-Distance Communication
Your loved one has a large circle of support besides their caregiver, and each requires concise communication from you. Thankfully, technology makes it easier than ever to deal with the troubles of long-distance communication. But that doesn't mean they aren't difficult to handle.
As elders age, they frequently visit the doctor or see other specialists about their health. If you live in a different city than these appointments, you won't be able to attend every meeting. Missing these crucial visits could pose a problem and leave you feeling in the dark about your relative's condition.
Also, if your loved one has a sudden downturn in their health, you might need to make several abrupt changes in their schedule. While you can always let the caregiver know about these changes, there is still a degree of stress that comes with juggling communication channels with health care workers and your loved one's caregiver.
Tips for Good Communication and Care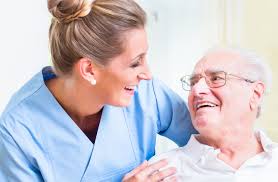 The best way to alleviate your concerns about your loved one's care is communication. But how do you ensure reliable contact in the first place?
When it comes to your loved one's caregiver, make sure to give all the necessary information for contacting you. Include alternative channels in case they are unable to reach you during an emergency.
Various means of contact will make sure that the two of you always have a way to access each other.
Secondly, set a time during the day for your loved one's caregiver to contact you. Consider a regular e-mail correspondence with a daily report that tracks their behavior, health status, and anything else you find useful to know.
Plus, it is a good idea to keep your other family members informed, especially if they live in the same city as your parent or relative. It always helps to have an extra pair of eyes to track things like your loved one's activity levels or general appearance.
The other benefit of asking other relatives to help is checking the times or days that the caregiver is with your parent.

MeetCaregivers Can Help
If you hired a caregiver through our agency, we have the tools and resources to build a solid foundation between yourself, your loved one, and the home health aide. One way to keep in touch from a distance is by using the Care Portal.
This tool is a great way to make sure you're always in the know about your loved one's care. The Care Portal makes communication between everyone involved in your loved one's attention as smooth as possible.
The Care Portal is excellent not just for weekly routines and reminders, but also for last-minute changes to your loved one's schedule. The app ensures that the caregiver sees all changes and doesn't miss a thing.
Read our post about the Care Portal. You'll learn how easy it is for clients and caregivers to stay up-to-date on tasks, appointments, and routines. You won't have to worry about another miscommunication mishap again.
Caregiving is difficult and living away from your loved one who needs it makes it even more of a challenge. But with MeetCaregivers, we provide the communication necessary to ensure your parent gets the best possible assistance they need. Giving you peace of mind is the least we can do for you.
—
Contact Us
For more information, contact MeetCaregivers at 1-888-541-1136 or info@52.8.91.43
Looking for more resources about caregivers? Our blog has plenty of information for you to read and learn about the topic. For area events and extra support, Boston's AARP website is another source for you and your loved one.
Sources
Stevenson, S. (2018, September 21). Long-Distance Caregiving Tips. Retrieved April 17, 2019, from https://www.aplaceformom.com/blog/2013-12-25-long-distance-caregiving/