MeetCaregivers is excited to welcome Cynthia as the new Director of Sales!
MeetCaregivers is comprised of compassionate and driven individuals who want to provide the very best care for clients. The goal is to make the experience as smooth as possible. Cynthia's extensive background in the health care field will give her the opportunity to fulfill her desire to help others while facilitating MeetCaregivers as a leading provider for caregivers in the U.S.
Cynthia began her career in clinical nursing and gained experience working in specialties such as family practice, OB/Gyn, and orthopedics. In 2008, she accepted a job offer in a pharmaceutical sales role and moved halfway across the country from her home in the Midwest to New England. It was difficult to leave the patients and staff she worked with and loved. However, accepting this new position was an opportunity to grow as a professional and find new ways of serving others.
Cynthia's new career path was the perfect way to work on a different side of health care. Her experiences in health IT, non-profit management, and senior/home care sales will prove invaluable to her role as MeetCaregiver's new director of sales. Her knowledge of the various ins and outs of different health care roles will prove valuable to the MeetCaregivers team and the clients the company assists.
Compassion in Caring
Cynthia knows that the best way to help clients get the help they need is finding the perfect caregiver.  Finding a caregiver can be nerve-wracking, stressful, and full of tough decisions. However, Cynthia is ready to work tirelessly to build partnerships between Meetcaregivers and other organizations, like hospitals, health plans, nursing homes, and more.
When Cynthia isn't busy at work, she engages in a variety of activities including training for competitions with her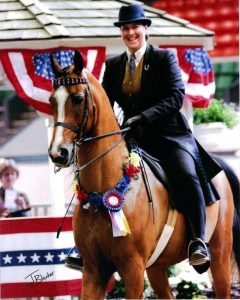 beloved Arabian/Saddlebred mare, Majic Trick. Cynthia is an accomplished equestrian, and she and Majic Trick have won many regional and national titles in the show ring.
Cynthia's desire to help others doesn't end when she leaves work. She also spends time volunteering with her trained therapy dog, Chess. Cynthia and Chess spend most of their time in assisted living and skilled nursing facilities, hospitals, and schools as well as participating in continued training. Cynthia is an avid reader and world traveler. She loves learning about New England and her home in the Boston area.
Cynthia's impressive resume and profound love of others are why MeetCaregivers is looking forward to moving ahead with her as a leader in the company.
—
For more information, contact Meetcaregivers at 1-888-541-1136 or info@52.8.91.43
Looking for more resources about caregivers? Our blog has plenty of information for you to read and learn about the topic.