22 Tips For A Safer Home For Visually Impaired Seniors
Diminished vision isn't always controllable or preventable. Experts predict the number of visually impaired older Americans will reach 8 million by 2050 — double the number in 2016.
Older adults with age-related macular degeneration (AMD), low vision, or blindness may have difficulty navigating their home, performing daily tasks, or taking care of themselves. Because of this, they may experience depression, a loss of independence, or lower wellbeing.
If you have a loved one with low vision, home remodeling can help them keep their independence and quality of life. There are many ways to make a safer, more comfortable home for visually impaired elders without breaking the bank. 
Creating a functional living space that's free of harm is important for seniors as well as their families and caregivers. With the right research and planning, you can make a more accommodating home for your loved one without spending a fortune. And while some more thorough modifications are beneficial, you don't need to complete them all together. 
Here are 20 home modifications for visually impaired or blind older adults.
Modifications For The Whole Home
Some changes aren't limited to a single room. If your loved one would benefit from modifying a certain space, go ahead and implement it! 
1. Remove tripping/fall hazards
Falling is a major concern for seniors, visually impaired or not. Your loved one deserves to feel safe inside their home, so ensure their safety and give you peace of mind by getting rid of (or re-arranging) things that could cause an accidental trip.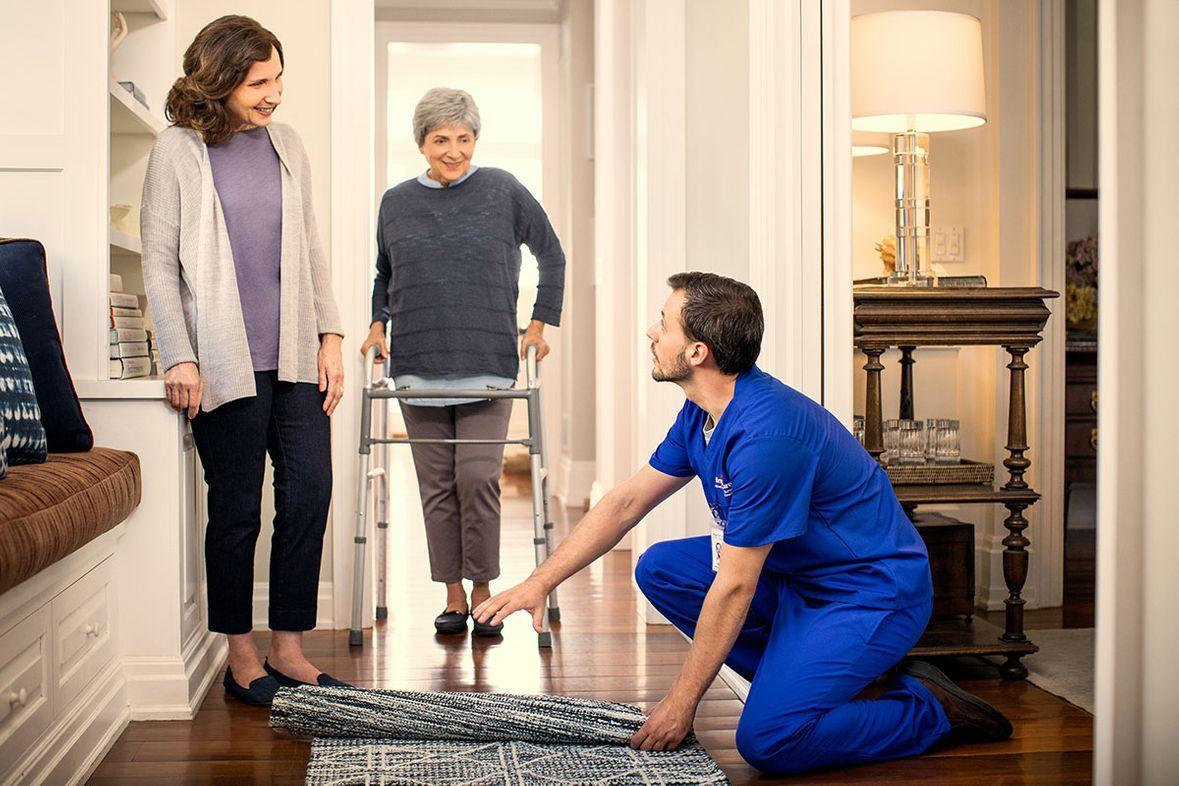 Here are a few ways to reduce the risk of falls or other harm:
Anything that could obstruct the walkway

Push in desks and chairs

Clean and polish your floors with products that won't cause skids or glares, such as wax

Replace coffee tables or end tables that sit low to the floor with taller items

Eliminate cords from walkways or secure them to the floor

Replace worn carpet, rugs, and other floor covers and secure area rugs with carpet tape

Make sure floors are dry. A Swiffer or similar household product can make it easier for your loved one to clean up spills right away
2. Make it easier to locate light switches
Light switches that blend into the surface of the wall can be hard to locate, so replace older wall plates with new ones that stand out from the rest of the wall. Plus, light switch plates are inexpensive and available at your local hardware store.
3. Avoid busy floor patterns
For those with diminished eyesight, flooring with busy patterns such as stripes can be visually disconcerting or cause discomfort. Distinguishing between floor items and furniture is easier when the flooring has basic colors and consistent textures.
4. Reduce glare from windows
Blinds, drapes, and similar window coverings your loved one can easily adjust are important because it lets them control how much light comes into the room and avoid glare that could impair everyday tasks.
5. Modify lighting
Of course, if your loved one has diminished vision, a well-lit home is vital. Make sure parts used for recreation, reading, and socializing have enough light and that they direct the bulbs at the task being performed and not their eyes.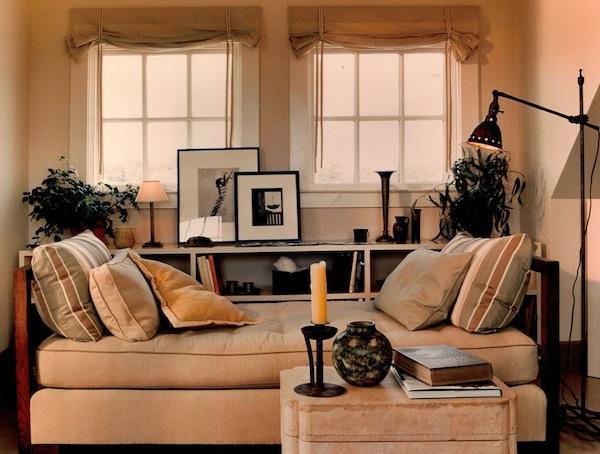 Other ways to incorporate proper lighting include:
Adding floor lamps, table lamps, and clip-on lights in strategic spots

Using 60-100 watt bulbs and routinely checking for burned out bulbs

Promoting natural light wherever possible

Testing the best types of lighting for your loved one's needs, like halogen, fluorescent, incandescent, or floor lights

Have access to flashlights or strong keychain lights

Ensure hallways have consistent lighting to recognize points where it bends or ends
6. Rearrange furniture
Move the furniture in your loved one's home to clear walkways, facilitate movement, and reduce the risk of injury.
Some tips for practical and comfortable furniture arrangement include:
Moving mirrors to eliminate glare

Placing some seating close to windows so your loved one can work, read, or craft in natural light

Place furniture close together to make it easier to hear and talk with others

If purchasing new furniture for your loved one, look for textured upholstery because it will make it easier to differentiate between furniture items

Keep vivid vases or lamps next to or near frequently used furniture pieces to make it easier to locate.
Modifications For Halls, Stairs, And Doorways
Halls, stairs, and doorways can all pose a fall risk for elders as they move from room to room, so check these areas for changes that could lower their chances of an accidental trip or fall.
7. Create visual distinction for steps
Whether it's just two steps or a whole staircase, one of the most important things you can do is creating a differentiation between steps, such as:
Adding colorful strips along stair edges

Using a stair cover, like carpet or paint, that stands out from the floor
Additionally, a textural contrast marking where the stairway and landing meet reduces the chances that your loved one misses a step or the expectation of one that isn't there.
8. One railing is good, but two is better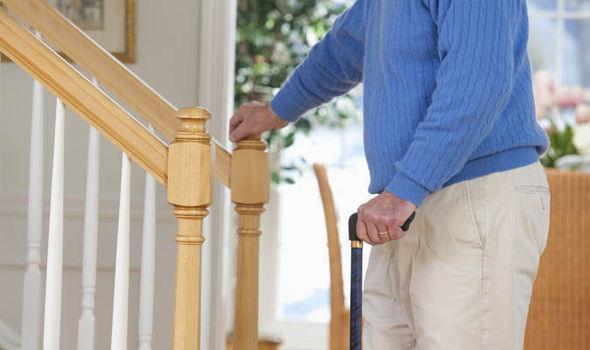 Adding railings or handholds to the different levels in your loved one's home is a must, but installing one on both sides will reinforce security and safety. It's also a good idea to add similar features like grab rails and handholds throughout the house to make movement easier for your loved one.
9. Make doors and door frames stand out from the wall
A fresh coat of paint isn't just an easy way to give your loved one's home a facelift. It's also a simple modification that can make it easier for visually impaired seniors to tell when doors are open or closed.
Modifications For The Kitchen
The kitchen is a key part of the house where your loved one likely carries out the most involved tasks during their day. Because of this, it's important to analyze this space carefully and make changes to benefit your loved one.
10. Create contrast between floors and counters
For visually impaired adults, specifically, those with diminished central vision, differentiating between the edge of the countertop and the floor can be difficult if the two are close in color.
A simple fix is adding contrast between your loved one's counters and floors, or placing a brightly colored strip (like on the stairs) or a similar decorative element on the edge of the counters.
11. Use dishes and cookware that stand out from the counters or tablecloth
Although this step may not apply to all visually impaired seniors, it could make dishes easier to see and reduce the chance of your loved one dropping them.
12. Change shiny or slippery floors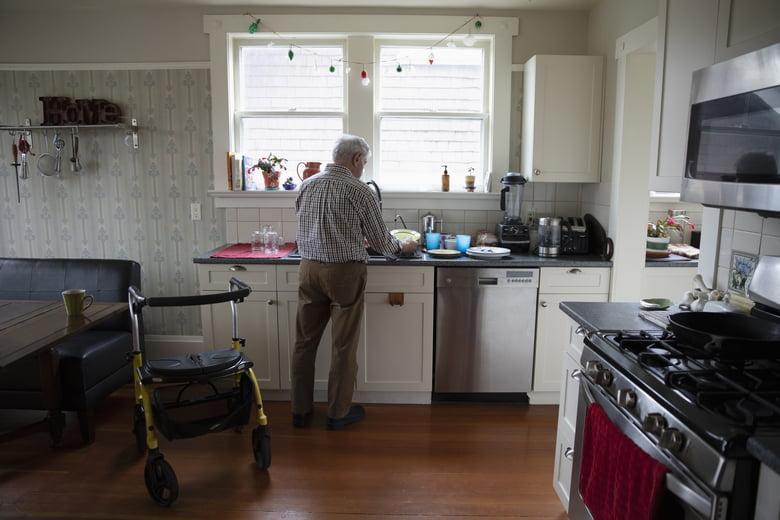 Ceramic tile flooring can cause glares or be slippery when wet. Installing new floors may be the most costly modification, but it's worth the price of ensuring your loved one's safety.
13. mark food and prescription containers clearly
Organizing your loved one's food and medications and color-coding container labels based on what's inside can be an enormous help. Use a basic, sans-serif font and large letters in a color that stands out from the background.
14. Install under-cabinet lighting
Under-cabinet light strips can be an inexpensive modification that makes it much easier for older adults to see. Plus, your loved one may even get the bonus of a cheaper energy bill since they don't have to light the entire kitchen!
Modifications For The Bathroom
As your loved one ages, bathroom modifications become more of a necessity, no matter the state of their eyesight. Wet surfaces make this room one of the most fall-prone areas of the house, so it's crucial to make the right changes before an accident happens. 
15. Use non-slip bath mats
Rugs and mats with a rubber backing that also stand out from the bathroom floor are the optimal choices.
16. Use brightly colored towels
Like many other household objects, it's important to use towels that contrast with wall surfaces so your loved one can find them more easily. 
17. Bathtub or shower alterations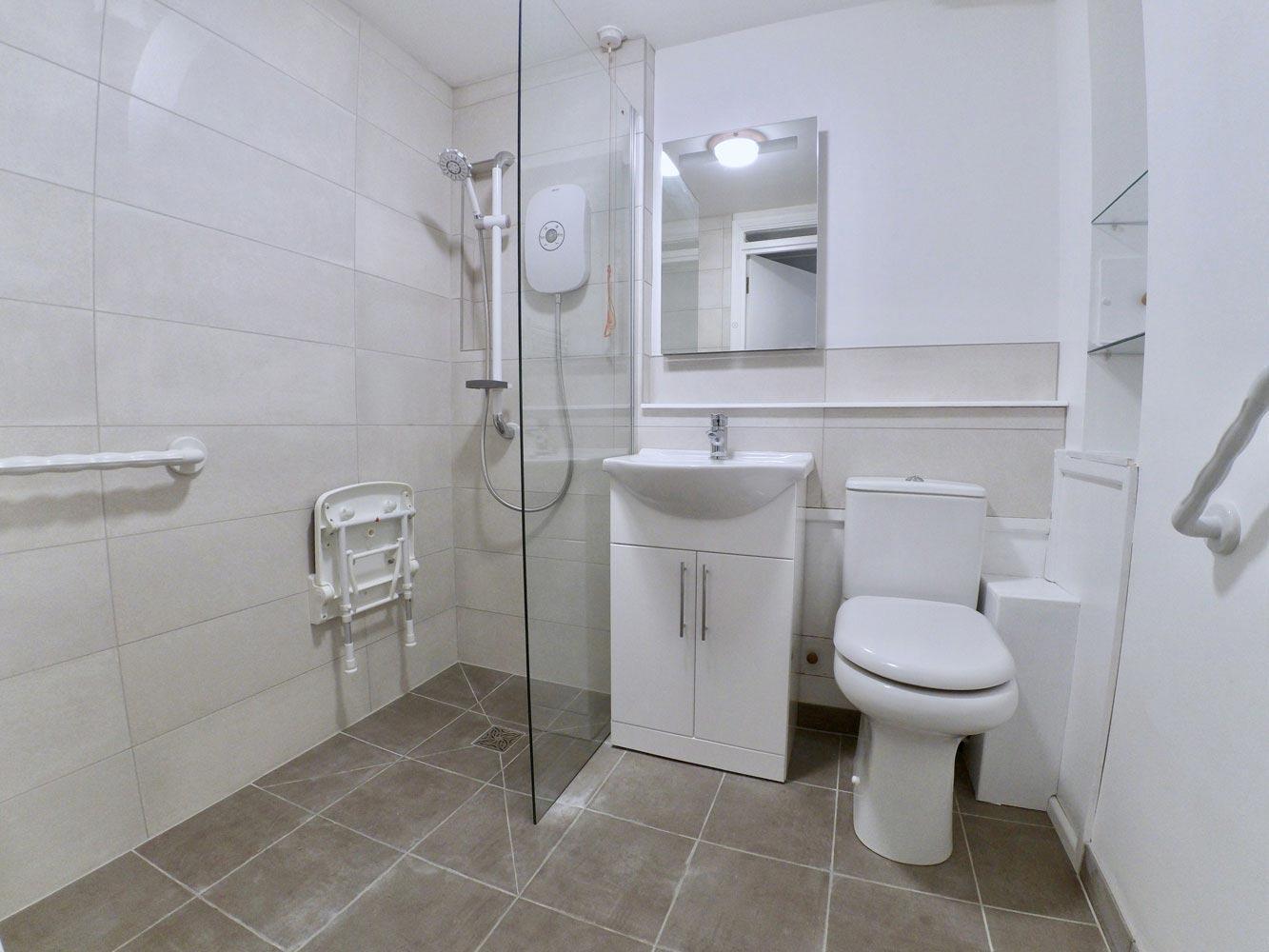 Walk-in showers or step-in bathtubs may be one of the most expensive home modifications, but they're also one of the most important. 
Removing barriers — especially ones that become slippery — facilitates safety and independence. Add grab bars and nonslip treads to reduce the chance of trips and falls even more.
Additionally, if your loved one's shower has the space for it, adding a bench can help them perform certain tasks on their own more easily. A more minor change is switching shampoo and soap bottle caps with screw-on pumps to make it easier to open and close bottles.
18. Add a magnifying mirror to the wall
An adjustable magnifying mirror can make it easier for visually impaired seniors to take care of basic grooming tasks on their own. 
Modifications For The Bedroom And Living Room
While your loved one may spend most of their time in these rooms sleeping and relaxing, they'll appreciate the minor changes that promote overall navigation and movement.
19. Add contrast between furniture, walls, and flooring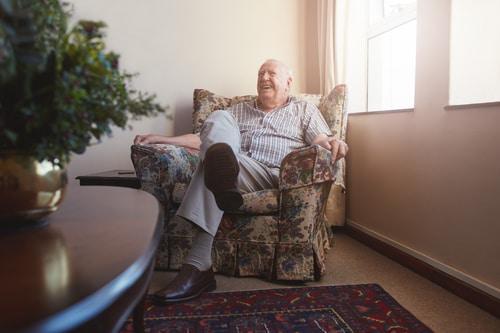 If your loved one has throw pillows and blankets, make sure they are off the ground to avoid the risk of falling. However, if your loved one struggles to bend over and pick things up, considering limiting the number of pillows.
20. Install closet lights
Adding closet lights or improving existing ones will help your loved one find certain items easier. 
21. Adjust your TV placement to avoid glare
Position your loved one's TV in a way that won't cause glare or where window coverings can reduce it.
22. Have low-vision magnifiers nearby
If your loved one reads fine-print text, sews, or similar, keeping handled magnifiers in the places they perform these tasks can ease eye strain and make finer details more visible.
Meetcaregivers
Hopefully, these tips will help you and your loved one create a safer, more comfortable living environment.
Diminished vision doesn't have to stop your loved one from aging in place. But if they need a little help around the house or transportation assistance, a qualified caregiver from Meetcaregivers can help.
Help your loved one keep their independence and give yourself peace of mind. Give us a call at 1-888-541-1136 or contact us online today.
Our blog has more information and resources for older adults, families, and caregivers.
Sources
Daniel. "Home Modifications for the Visually Impaired or Blind – The Complete Guide." The HireAHelper Blog, Hire A Helper, 16 July 2018, blog.hireahelper.com/home-modifications-visually-impaired-blind/.

Phillips, Quinn. "Wet AMD: Home Modifications for People With Vision Loss: Everyday Health." EverydayHealth.com, Everyday Health, 12 Apr. 2018, www.everydayhealth.com/hs/managing-wet-amd/home-modifications-for-vision-loss/.