More Seniors Want Aging In Place Products And Resources
AI, VR, robotics, and more developments have made many devices more accessible and affordable. As a result, families can get better peace of mind with new technology, such as VR headsets for elders with dementia or smartwatches equipped with fall detection.
As the number of older Americans grows, so will the market for smart-living devices, remote care, technologies for safety and wellness, and more. According to a 2019 report from the Consumer Technology Association, the active-aging industry will triple to nearly $30 billion by 2022.
In an interview with The Scientific American, Dr. Eric Topol noted that rising care facility costs had propelled the demand for aging in place products. Topol, Scripps Translational Science Institute director, explained that this technology gives older adults more than a chance to age in place gracefully.
It can also provide seniors the confidence to connect with long-distance loved ones. This "monitored independence," as Topol calls it, is changing how the country's elderly population ages for the better. Below are a few products to promote your loved one's wellbeing while aging in place.
Types Of Aging In Place Products And Resources
Caring for an aging parent has many responsibilities, but aging in place products and resources can help. For example, PERS alarms, medication reminders, and other devices can help your loved one stay independent while easing some of your caregiving duties.
Aging in place products and technology makes home care much easier for seniors and their caregivers. Likewise, telemedicine makes it much easier for homebound elders to receive the medical attention they need without leaving home.
Similarly, caregivers can use apps to provide better comfort for seniors. From appliances, lighting, and even home security, technology makes it possible to ensure seniors are well-taken care of, even when you aren't with them.
Assistive Devices For Elderly People
Of course, every family is different. For example, your parent may not be keen on installing cameras or wearing a smartwatch 24/7. Additionally, you may not feel knowledgeable enough to implement the latest technology.
When it comes down to it, it's about you and your loved one's preferences and comfort level. If a LifeAlert system is enough to give you peace of mind, that's acceptable. The purpose of these devices is to simplify things, not make them more difficult.
Personal Emergency Response Systems (PERS)
How often have you heard LifeAlert's "Help, I've fallen, and I can't get up" commercials? Those ads may be the butt of many jokes now, but falling is a serious concern and could be fatal.
LifeAlert was the only dependable device to help seniors after a fall for many years. But now, several companies sell PERS and other aging in place products.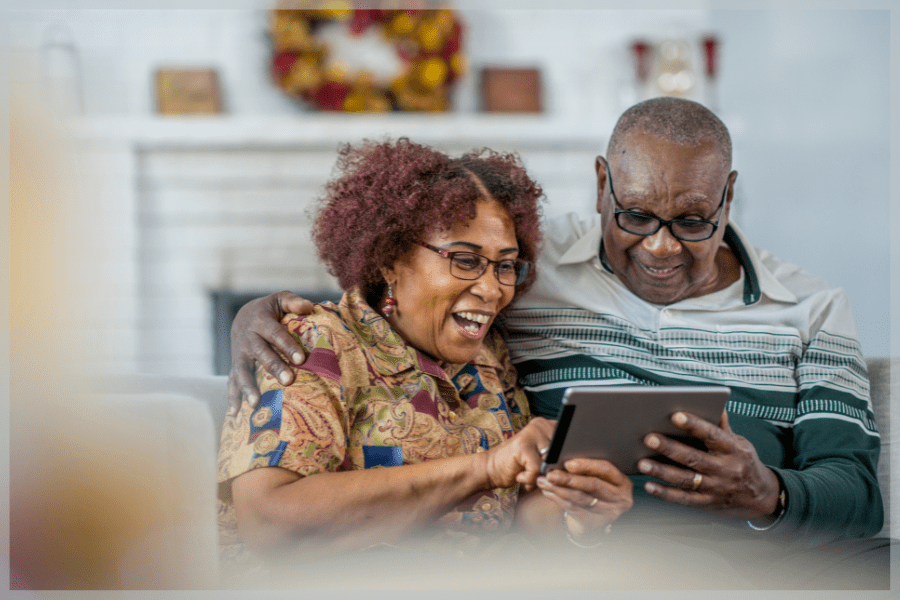 Most people become more forgetful with age. However, it can be a significant cause for concern, particularly for seniors with multiple prescriptions. According to a 2019 Kaiser Family Foundation survey, nearly 89% of seniors older than 65 take prescription medication, while 54% take four or more.
Missed doses, taking too much, or taking medicine at the wrong time can have dangerous consequences. This issue is especially concerning for elders with memory problems.
Fortunately, many products can help your loved one remember to take their medications, such as:
Aging In Place Products And Resources For Companionship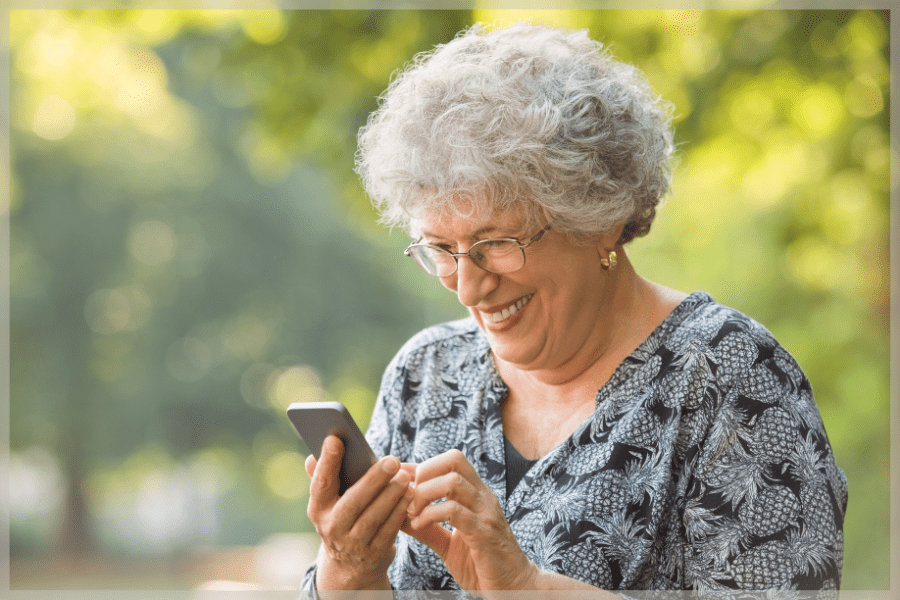 Senior social isolation was a significant issue before the COVID-19 pandemic. But with many older adults confined to their homes for safety reasons, it's become an even more critical concern.
Developments in aging in place products and technology have made it easier for seniors to stay engaged with friends and family. Besides connecting online, these products can help older adults can find companionship in other ways:
Joy For All sells robotic pets that interact with their owners and behave like real animals. These toys have been shown to soothe owners and could be a meaningful substitute for those unable to have a pet.
ElliQ is a social robot designed specifically for seniors. While it's not widely available yet, ElliQ has the potential to keep older adults engaged using situational context based on real-time sensory data. This device offers suggestions, greetings, asks questions, and more.
Of course, robotic pets and mobile apps can't replace human touch and interaction. So instead, encourage your parent to familiarize themself with video calls and other forms of communication. This way, they don't have to rely on you for help when they want to call someone.
Similarly, you should also help your loved one recognize bad actors and fraudulent activity. As aging in place products become more popular, so will the risk of older adults falling victim to online scams.
Virtual Retirement Communities
Perhaps the best part about aging in place products and technology is the endless source of free materials for entertainment, education, and activities. But the number of resources available for assistance and support is just as high.
For seniors who maintain an active lifestyle and minimal care, there are many virtual retirement communities they can join. Virtual retirement communities, also called aging in place communities, offer local senior living services to elders.
These online communities give aging adults access to assisted living services at home. And the affordable annual membership fee goes directly to the volunteer staff who help with services such as:
Exercise classes
Assemblies and lectures about topics relating to senior health
Helping with pets, such as dog walking, grooming, or vet appointments
Hosting potlucks and other social events during holidays, birthdays, and special occasions
Transportation to the store or doctor and assistance for seniors who need someone to go with them to appointments
Smartphones And Tablets As Aging In Place Products
Senior social isolation can devastate individuals, caregivers, and families. Unfortunately, it can be even harder for the elderly who live away from loved ones to stop loneliness from happening.
Fortunately, many aging in place products makes it easier for families and friends to stay in touch no matter the distance. For example, elders with mobile phones can reach out to loved ones whenever they feel lonely, and vice versa. Phones also offer peace of mind for caregivers since seniors can call for help in an emergency.
Companies know the number of aging seniors who use the internet daily is growing. For example, in 2017, 40% of seniors had a smartphone. In addition, 80% of those older than 65 had a standard mobile. In 2022, 81% of seniors owned a smartphone, while 17% owned a basic phone.
To meet this demand, many phone providers offer features that make cell phones more accessible for those with trouble hearing or seeing. For example, larger font sizes, magnification, text-to-talk, speech output, and hearing aid compatibility make things easier for those unfamiliar with new technology.
iPads and tablets have made aging in place products even more accessible to seniors. Large buttons and user-friendly interfaces are more straightforward than computers. Plus, tablets can do almost anything a computer can –from printing photos to writing on a word processor.
Helpful Mobile Apps For Seniors
Aging in place products for seniors are evolving, and more developers are creating apps tailored to elders' particular needs. These apps are free and can help remind elders when to take medications, stay on top of their fluid intake, or give other helpful reminders:
Pill Reminder helps remind seniors to take their medicine. In addition, it alerts families or caregivers if the dose is skipped or taken late.
Doctor on Demand is a telemedicine app that connects elders with board-certified psychologists and doctors who can assist with medical advice and live video calls.
Mimi Hearing Test is useful for administering at-home hearing tests.
VocalEyes AI is perfect for those with weak eyes sight. This app speaks out loud and reads everything on the phone screen.
Magnifying Glass With Light helps those with vision loss or other eyesight problems.
Besides that, there are tons of apps and games to stimulate seniors' minds. And many public libraries offer free downloadable ebook rentals (even magazines) for e-readers. Ebooks help low or fixed-income households have an entire library at their fingertips for next to nothing.
Apps can be helpful for a variety of other services as well, from transportation to food delivery. For those in a pinch, Uber and Lyft are two apps seniors can use if they need last-minute transportation help.
Also, growing food delivery services deliver monthly subscription boxes for meals and snacks. Food delivery services help seniors maintain a healthy, well-rounded diet without going to the store. Similarly, some grocery chains have apps for online shopping and curbside pickup. This option is ideal for those who may have mobility issues.
Internet Cost As A Barrier To Aging In Place Products
For generations who grew up before the internet, aging in place products may feel daunting. In addition, it can be challenging to learn how to use the internet and utilize its benefits. But despite the learning curve, more seniors are learning to use technology to stay connected.
For example, in a study about elders and internet use, the Pew Research Center found that in 2000, 14% of seniors had the internet at home. By 2017, that number jumped to 67%.
However, researchers also noted home internet use varied among different age groups. For example, 82% of people between 65 and 69 have internet, whereas just 44% over 80 have it.
Interestingly, 71% of aging adults with internet access at home use it daily. In 2014, 46% of seniors used the internet to visit social media sites. In addition, 53% learn about health concerns or medical care.
However, several barriers prevent seniors from having internet at home — steep internet prices. Justifying $100 or even $50 for the internet can be difficult for those with low or fixed incomes.
Thankfully, several programs and services help access affordable aging in place products and technology. Below are just a few.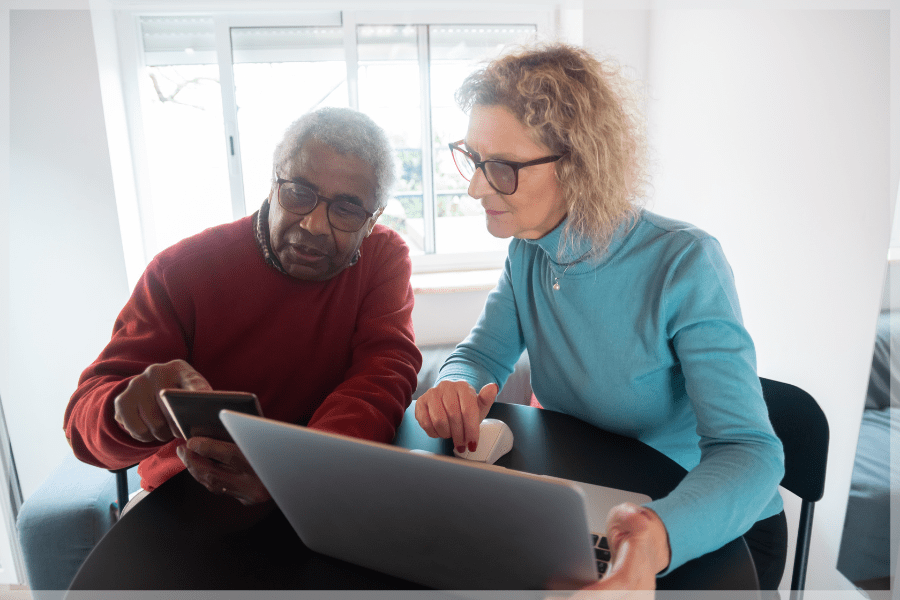 FreedomPop's "Freemium Plan" is unique because it is currently the only free wireless internet/mobile plan available. This plan provides unlimited Wi-Fi calls, ten monthly texts, and 25 megabytes of data for browsing and emailing.
FreedomPop is best for seniors who don't use the internet regularly. However, seniors who use the internet daily, streaming services, or frequently watch videos online may run out of data and face unexpected fees.
The Spectrum Internet Assist program provides affordable internet access for eligible households. Service features include no contracts or data caps, one free internet modem, and 30 Mbps high-speed internet.
To qualify for this plan, at least one household member must receive assistance from the National School Lunch Program, the Community Eligibility Provision of the NSLP, or Supplemental Security Income.
Those who don't meet the criteria can still qualify for Spectrum's Affordable Connectivity Program, which offers up to a $30 discount on high-speed internet.
Lifeline Support is a federal program dedicated to making communication services more affordable for low-income households. This company works with participating providers to provide discounts on phone services and broadband internet.
This program is available to anyone whose income is lower than 135% of the Federal Poverty level or who receives federal assistance. Qualifying customers can receive up to $9.25 off their internet and phone services. In addition, seniors who live on Tribal lands are eligible for a discount of up to $34.25 per month.
MeetCaregivers Supports Aging In Place Products And Technology
MeetCaregivers aims to match seniors with the perfect companions, services, care products, and technology they need to remain healthy and age independently at home. We utilize several unique, proprietary tools designed to transform the in-home care experience:
Our Care Match formula improves matches between seniors and caregivers, reducing caregiver turnover by 80% and increasing satisfaction rates among caregivers, seniors, and families to as high as 90%.
The Care Portal supports remote care management and allows caregivers, families, seniors, health providers, and carriers to connect easily and track care plans, tasks, ADLs, medications, and health data from a single source.
Keep your independence, but don't hesitate to ask for some help. We are here for you! Let us help your loved one age in place gracefully and comfortably. Call 1 (888) 541-1136 for more information.
For more, check out our Blog.
Abrahms, Sally. "Technology, Gadgets For Seniors Aging In Place." AARP, 1 Mar. 2014, www.aarp.org/home-family/personal-technology/info-2014/is-this-the-end-of-the-nursing-home.html.

"CES 2019: Our Favorite Tech for Aging in Place & In-Home Senior Care." Comfort Keepers, 1 Apr. 2019, www.comfortkeepers.com/info-center/category/aging-in-place/article/ces-2019-our-favorite-tech-for-aging-in-place.

Companions for Seniors. "Integrating Technology Into Your Senior Care Plan." Companions For Seniors, 13 Mar. 2019, companionsforseniors.com/2019/03/integrating-technology-senior-care/.

Disabled World. (2019, March 17). Cheap Internet for Disabled, Seniors, and Low-Income Americans. Retrieved May 27, 2019, from https://www.disabled-world.com/communication/high-speed-internet.php

Halpert, Julie. "7 New Tech Devices for Elder Care That Help Seniors Live Happier, Healthier Lives." CNBC, CNBC, 13 Sept. 2019, www.cnbc.com/2019/09/12/7-new-tech-devices-for-that-help-seniors-live-happier-healthier-lives.html.

Redford, Gabi. "New Tech Options Are Helping Seniors Age in Place." Scientific American, Scientific American, 12 Mar. 2018, www.scientificamerican.com/article/new-tech-options-are-helping-seniors-age-in-place/.

Rodriguez, Jeremy. "Jeremy Rodriguez." Griswold Home Care, 6 Dec. 2018, www.griswoldhomecare.com/blog/2018/december/medication-reminders-for-the-elderly/.

Technology for Seniors and the Elderly. (n.d.). Retrieved May 27, 2019, from https://www.seniorliving.org/tech/

Virtual Retirement Communities | Online Retirement Villages. (2018, August 16). Retrieved May 27, 2019, from https://www.seniorliving.org/retirement/virtual/