Aging In Place Remodeling Promotes Safety & Comfort
On average, Baby Boomers' physical health is better than any other generation before them. Thanks to their improved health, many older adults can meet their care needs independently. As a result, more seniors choose to age in place in the comfort of their homes.
A study from AARP found that about 90% of seniors plan to live at home for at least five to ten years after they turn 65. However, just because older adults are in better health doesn't mean they shouldn't take steps to ensure their safety. Physical issues such as diminished vision and mobility naturally occur with age and can complicate plans for peacefully aging in place.
Since many homes aren't built for older occupants, more seniors (and their families) are taking on home renovations that support safety and independence. According to the National Association of Home Builders (NAHB), aging in place remodeling projects rose 17% between 2004 and 2019, from 60% to 77%.
How Much Does Aging In Place Remodeling Cost?
Depending on individual needs, abilities, and the house itself, home modifications for aging in place can cost between $10,000 to $100,000. Of course, these figures may seem daunting, but consider that assisted living costs an average of $3,750 per month and $8,121 for a private nursing facility room. Per year, nursing facility care can run as high as $97,452.
Some modifications aren't cheap, and can many will add up quickly. But seniors and their families can take advantage of different financial aid programs such as:
Medicare: Although Medicare and most private plans don't cover aging in place remodeling, they may cover assistive devices deemed medically necessary by a physician. However, Medicare Part B will cover the cost of an occupational therapist's home assessment.
Medicaid HCBS waivers: State-sponsored Medicaid Home and Community-Based Services (HCBS) waivers assist eligible seniors so they can remain at home. PayingForSeniorCare.com provides a list of state eligibility requirements.
VA programs: The Department of Veterans Affairs (VA) provides several grants for veterans, including the Veterans Directed Home and Community Based Services program. Visit VA.gov to learn more about these resources.
Other government programs: The Department of Housing and Urban Development (HUD) and the Department of Agriculture (USDA) offer financial assistance to eligible individuals. The HUD provides loans to cover home improvement costs, while the USDA provides grants so more seniors can age in place. Visit PayingForSeniorCare.com to see if your state offers this assistance.
Aging In Place Remodeling Recommendations
For many seniors, aging in place remodeling is an obvious choice. If you or a family member is considering taking on some home renovations for aging in place, here are some things you can do to assure safety, security, and comfort.
Fixing handlebars or railings in bathrooms, bedrooms, or other rooms decreases the risk of falls and improves mobility. Install bars near the toilet, shower, or bed to assist with getting in and out safely. In addition, make sure they can hold up to 250 pounds and screw into wall studs, not just sheetrock. Depending on where you shop, you can find three grab bars for about $140.
Safe access to the shower or bathtub is crucial. Unfortunately, at a price of up to $1,000, this renovation can be one of the most expensive changes. But this addition is often necessary to provide optimal safety at home. For those who use a wheelchair or need other accommodations for mobility, low-rise showers with a no-step entry are ideal.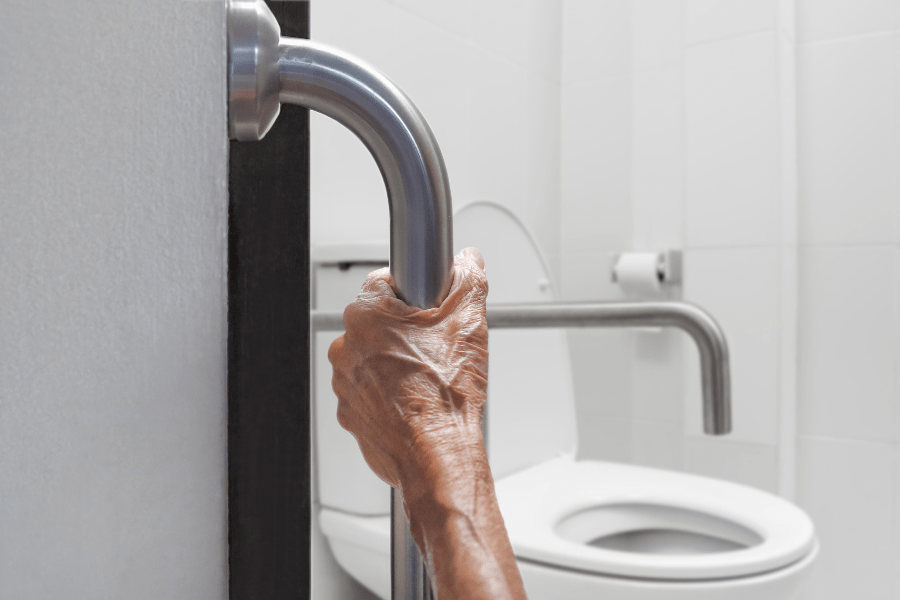 Outdoor Ramps & No-Step Entryways
Adding ramps to entries and exits helps minimize the risk of falls since steps can make it difficult for seniors to maintain their balance. The estimated cost for a 16-foot-long ramp is $1,600.
If ramps don't appeal to you, consider creating a step-free entrance to the home. Although this option can cost anywhere between $1,000 and $4,000, it's best to include at least one step-free access to the house to maximize independence and safety.
Most experts recommend widening doorways from 32 inches to 36 inches. Doing so makes movement through the house more accessible for people using wheelchairs. It is also a preventative measure if there is a change in the senior's mobility. The cost of a larger door and doorjambs should be no more than $100.
Consult a professional before widening any doors to avoid any structural problems. For instance, exterior doors like the entrance and exit are safer and less expensive to widen than hallways and bedrooms. In contrast, interior doorways often have support beams. These beams are crucial to the home's structural integrity.
Consider replacing the overhead lights in the bathroom with infrared bulbs for added warmth during colder months. Some people take longer to maneuver in tubs and showers and do everything they need to do in the bathroom. The extra heat will provide the comfort they need, and combination heat lamps and light fixtures range from $50-$150.
As you think about changing out the bathroom lights, take time to make other lighting changes around the home. For example, extra nightlights in the bedroom or hallway or new floor lamps for reading will make a big difference for seniors. Not only that, but simple fixes like LED tap lights are inexpensive, usually around $20 for a pack of ten.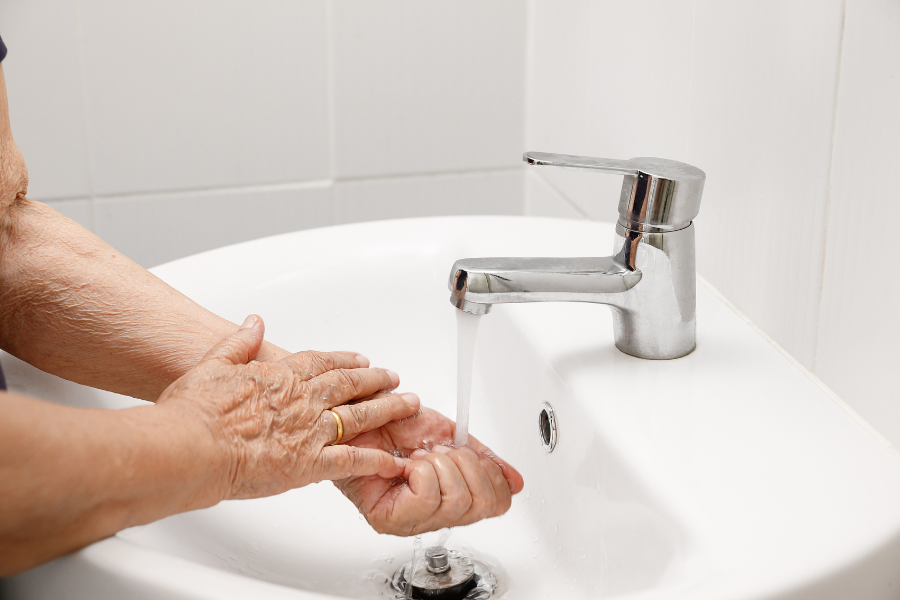 An often forgotten aspect when renovating for aging in place is installing large, visible house numbers in front of the home. Clear signage helps paramedics or other workers find the right home in an accident. In addition, easy-to-read signs that are visible even in the dark can save valuable time in an emergency and are affordable for many budgets.
People with arthritis or problems gripping will appreciate the ease of using adaptive faucets in the kitchen or bathroom. Additionally, anti-scald faucets prevent elders from surprising hot or icy water when toilets flush or the washing machine fills. Alternatively, you can also lower the water temperature on the heater to 120 degrees or less. Similarly, changing round knobs with levers is helpful and makes it easier for those with arthritis to open doors and cabinets.
Mobility and balance play significant roles when determining which home modifications are the most necessary. However, flooring makes a difference even if seniors are relatively mobile and don't have a history of falls.
Consider reading the Americans with Disabilities Act (ADA) guidelines for tips on which type of flooring is the best choice. The ADA lists a range of options, from tiles, carpet, and even anti-slip coating that you can apply with a roller. Check the guidelines carefully and find the best choice for your loved one.
Technology has made it easier for seniors to live at home and give loved one's peace of mind. Devices such as medical alerts, home security, and remote monitoring or communication systems are worthwhile investments. Additionally, smartwatches, phones, necklaces, doorway sensors, and other devices make it easier to track loved ones.
But innovative home technology isn't just for keeping an eye on elders. It is also handy for remotely controlling lights, entertainment systems, and blinds at the touch of a button. Monitoring systems for aging in place cost about $230, with a monthly fee between $20 and $30.
Aging In Place Remodeling Checklist
If you're considering home remodeling for aging in place, there are many things to consider. The following checklist includes common points to address. Of course, this list isn't exhaustive, so talk to an aging-in-place consultant before remodeling.
Aging In Place Remodeling: Bottom Line
Home renovations make it easier for seniors to enjoy a higher quality of life than in an assisted living facility. Furthermore, loved ones can rest easy knowing that their loved one is enjoying their independence in a safe and secure house.
Home remodeling for aging in place is a lot of work, but having the chance to age in place is well worth it. However, depending on the number of changes needed, it may be better to move into a house or apartment that is better suited for aging in place.
MeetCaregivers offer home safety assessments for families and seniors who wish to age in place. Email info@meetcaregivers.com or call 1-888-541-1136 to learn about our process and book an appointment.
For more, check out our Blog. We update every Monday to bring you new information such as in-home care support, additional resources, and senior living.
Aging-in-Place Remodeling, Minor Modifications Gaining Popularity, According to NAHB SurveyAging-in-Place Remodeling, Minor Modifications Gaining Popularity, According to NAHB Survey. phcppros RSS. (2017, May 2). Retrieved June 4, 2019, from https://www.phcppros.com/articles/5393-aging-in-place-remodeling-minor-modifications-gaining-popularity-according-to-nahb-survey
AgingInPlace.org. (2019, January 7). Aging In Place Remodeling. AgingInPlace.org. Retrieved June 4, 2019, from https://www.aginginplace.org/home-remodeling-for-aging-in-place/
Chandler, D. (n.d.). The Costs of Aging in Place Remodeling. ConsumerAffairs.com. Retrieved May 5, 2022, from https://www.consumeraffairs.com/homeowners/aging-in-place-remodel-costs.html#financial-assistance-for-home-remodels
Updated 2 February, 2022.
Khalfani-Cox, L. (2017, February 14). Can You Afford to Age in Place? AARP. Retrieved June 4, 2019, from https://www.aarp.org/money/budgeting-saving/info-2017/costs-of-aging-in-place.html
Legal Eagle Contractors. (2019, October 31). Who Is Aging in Place & What Are the Most Popular Remodeling Projects? Legal Eagle Contractors. Retrieved May 5, 2022, from https://legaleaglecontractors.com/aging-in-place-remodeling-trends/
Lynch, M. (2018, June 18). Aging in place vs. assisted living … It's complicated. CNBC.com. Retrieved May 5, 2022, from https://www.cnbc.com/2018/06/14/aging-in-place-vs-assisted-living-its-complicated.html
National Association of Home Builders. (n.d.). Aging-In-Place Remodeling Checklist. NAHB.org. Retrieved May 5, 2022, from https://www.nahb.org/education-and-events/education/designations/Certified-Aging-in-Place-Specialist-CAPS/Additional-Resources/Aging-In-Place-Remodeling-Checklist
Trout, J. (2019, May 21). 8 Aging-In-Place Home Modifications For Seniors. ConsumerAffairs. Retrieved June 4, 2019, from https://www.consumeraffairs.com/homeowners/aging-in-place-home-modifications.html