Counseling Awareness Month
It's hard to know what to expect during the transition from middle age to retirement. After all, it's no secret that the changes we experience pose new and unique challenges as we age. For example, some might develop health problems or experience anxiety as they move from one age group to the next.
Receiving the right guidance from a mental health professional can make these changes much easier to manage. Since April is Counseling Awareness Month, now is the perfect time to address an aspect of senior health that often goes neglected: mental wellness.
For example, a therapist can also offer examinations and evaluations to prepare a treatment plan. They can also give interventions and guidance to caregivers and relatives responsible for an elder's care. Therapy can discover new support networks and sources of happiness or purpose for those struggling to manage their emotions because of the changes they are going through.
A mental health professional can guide older adults grappling with their mortality and provide support to deal with the loss of loved ones. Furthermore, family and individual counseling can help family caregivers work through their feelings and become better communicators.
Mental Health Issues In Older Adults
According to a University Of Michigan study on seniors' mental health before and after the COVID-19 pandemic, "an estimated one in five older adults currently experience depression, anxiety, insomnia, substance use, or another mental health disorder."
Even before the pandemic, mental health problems were not uncommon among seniors, with studies finding that 15% of adults 60 and older have a mental health concern, with the most common issues including:
Anxiety
Depression
Sleep problems
Sexual dysfunction
Substance abuse or dependence
Behavioral issues, such as aggression, wandering, outbursts, etc.
Suicide, with older adults having the highest rate of all age populations
Mental health problems typically impact younger generations more than older ones, but that doesn't mean that older people don't experience mental health issues. The most common reasons why seniors develop mental health problems include:
Chronic pain
Medication interactions
Poor diet or malnutrition
Alcohol or substance abuse
Illness or loss of a loved one
Physical disability or loss of mobility
Dementia-causing illnesses, such as Alzheimer's
Long-term illness, such as cancer or heart disease
Physical conditions that can affect emotion, memory, and thought
Of course, everyone views the aging process differently. But while some look at the next stage in life as a turning point, some may feel more apprehension for various reasons.
Physical & Mental Decline
Some seniors may face new or unexpected challenges, such as fragility, limited mobility, or other health conditions that impact their ability to appreciate meaningful pursuits or perform activities of daily living.
One of the most common obstacles older adults encounter with age is variations in their memory and cognitive capabilities, for instance:
Visual and verbal retention
Visuospatial skills
Immediate recall
Conditions like dementia can significantly diminish their quality of life and lead to other problems, such as depression, paranoia, and anxiety.
How Ageism Affects Mental Wellbeing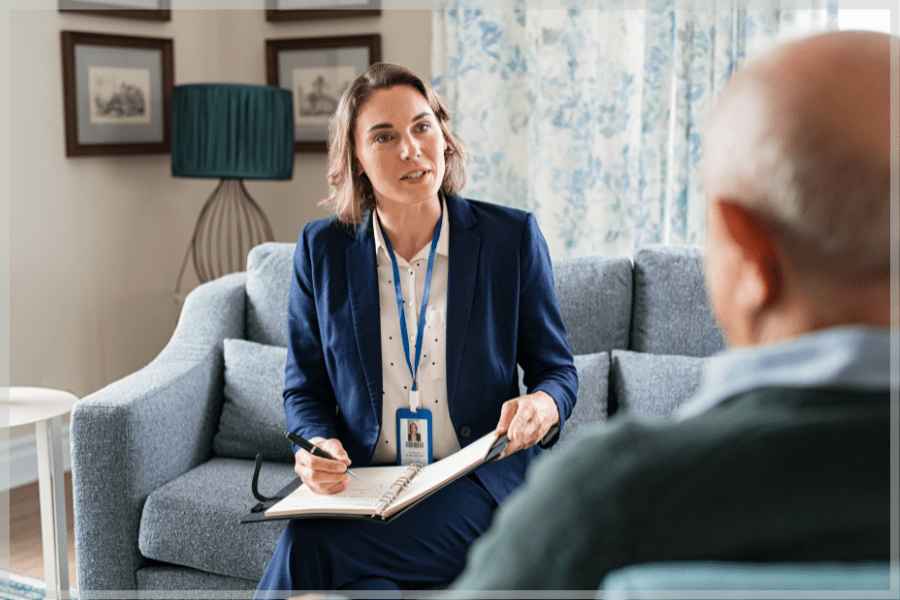 Ageism may make finding employment difficult for some wishing to work during their golden years. In addition, ageism can unintentionally cause other relatives to disregard a senior's feelings or wishes. This can make the adult feel unseen, alone, and financially disputed.
More Seniors Are Seeking Mental Health Help
Unfortunately, many Baby Boomers grew up in an era when mental health was quickly dismissed and stigmatized. Mental illness was often assumed to be a symptom of aging or dementia. However, as awareness about the importance of counseling rises, many seniors' traditional attitudes toward therapy services will change for the better.
Today, many seniors recognize the value of therapy and are more willing to seek treatment and take it seriously. In addition, although mental health stigmas remain today, many older adults seek (and receive) assistance with problems unrelated to aging.
Studies show that older adults achieve results faster than those who are younger than them. This rate may stem from recognizing that they have limited time to resolve their issues. Additionally, longer lifespans are another reason more seniors seek late-in-life mental health treatment. A 60-year-old will probably live to 80 or beyond, which may inspire them to enroll in counseling.
Counseling Awareness Month Helps Lower Barriers To Therapy
Throughout Counseling Awareness Month, mental health professionals and older adults must examine common barriers for seniors seeking therapy. Although more seniors are engaging in counseling, they still face several hurdles concerning services. These are most often:
Physical: Limited mobility or transportation can make getting to appointments stressful and challenging. "Nonessential" activities like therapy may not be a priority due to a loss of independence.
Financial: Many seniors have a low or fixed monthly income, and mediations that are seen as ineffective may be suspended.
Medicare is often hard to sort through, and some seniors may need help accessing these benefits.
Cultural: In some communities, deep-rooted mental health stigmas can discourage people from seeking critical support.
Mental health professionals who work with older clients can take a multidisciplinary approach and coordinate with the elder's care team and family.
MeetCaregivers Supports Counseling Awareness Month
Don't be afraid to address your mental wellbeing. After all, it's just as vital as your physical state! Counseling Awareness Month is the perfect time to reflect on your needs, inside and out. If you're already participating in some mental health service, pat yourself on the back, and don't forget to thank your therapist for their work.
We can help you find a qualified in-home care worker to assist you or your loved one. Call us at 1 (888) 541-1136, or Find A Caregiver today.
Check the Blog for resources and tips for happy, healthy senior living.
"Counseling the Elderly – IResearchNet." Psychology, 8 Feb. 2016, psychology.iresearchnet.com/counseling-psychology/counseling-process/counseling-the-elderly/.
Gerlach L, Solway E, Singer D, Kullgren J, Kirch M, Malani P. Mental Health Among Older Adults Before and During the COVID-19 Pandemic. University of Michigan National Poll on Healthy Aging. May 2021. Available at: http://dx.doi.org/10.7302/983
"Older Adult Counseling." Home, silverliningspllc.com/older-adult-counseling.
Team, GoodTherapy Editor. "Mental Health Concerns in Aging Adults." Therapy for Geriatric and Aging Issues, Therapist for Geriatric and Aging Issues, GoodTherapy, Nov. 2019, www.goodtherapy.org/learn-about-therapy/issues/aging.