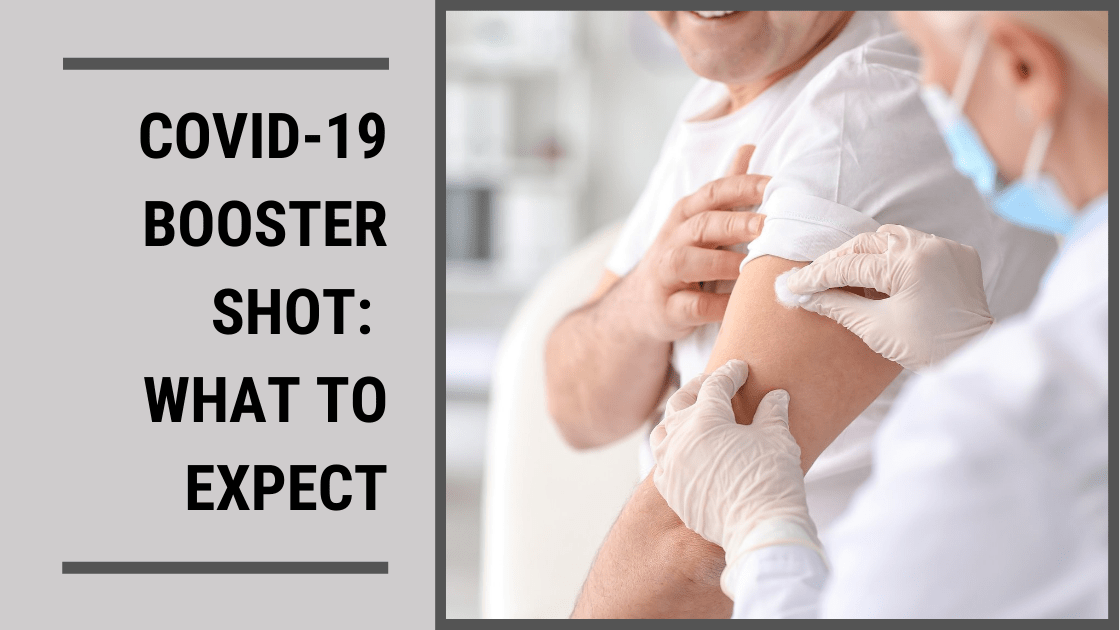 Millions of people are eligible for a booster shot while news of the Omicron variant spreads as quickly as the virus itself. While it's uncertain how effective current vaccines are against this strain, a booster shot can go a long way to boost herd immunity and protect against existing strains.
Is It Time For Your COVID-19 Booster Shot?
Since the COVID-19 vaccine became available late last year, millions have received one. Many had hoped a vaccine would put an end to the pandemic. But as the Omicron variant emerges ahead of the busiest time of the year, fears about more infections and lockdowns are growing.
Researchers are monitoring the situation to determine if current vaccine formulas work against the Omicron strain. As experts study the virus, they encourage the public to follow guidelines, including getting booster shots. If it's time for your booster, here are a few things you should know.
Like the first dose, you may experience mild to moderate flu-like symptoms after your COVID-19 booster shot. These side effects are typical, typically last only a few days, and vary in severity depending on age and health.
The CDC notes that side effects generally develop within the first 48 hours. Potential side effects include:
Nausea
Fatigue
Headaches
Fever and chills
Soreness and muscle pain
Discomfort, swelling, or redness at the injection site.
Although these symptoms are uncomfortable, they mean that the vaccine is working and should only last a few days.
According to AARP, the 15 million-plus Americans who received the J&J vaccine can receive their booster shot as soon as two months after their initial injection.
After a small group of recipients who received this shot developed adverse side effects, the CDC issued a brief recall. While brief, this temporary measure sparked concerns over vaccine-related side effects.
However, the CDC states, "A review of available data showed that the J&J/Janssen COVID-19 vaccine's known and potential benefits outweigh its known and potential risks."
The Pfizer booster shot uses the same dose and formula in the initial vaccinations. Like the J&J and Moderna boosters, Pfizer's vaccine does cause mild symptoms, such as:
However, these side effects are often less intense for older adults than for younger age groups. For example, researchers found during clinical trials that adults 65 and older experienced milder symptoms than adults between 18 and 55. Additionally, the FDA notes that the booster shot caused a higher rate of swollen underarm lymph nodes than the first two doses.
While Pfizer's booster contains the same dosage, Modern is only half the dose. Even so, recipients reported the same degree of discomfort and flu-like symptoms as the first two shots. But, like Pfizer, older adults are less likely than younger people to experience moderate flu-like side effects.
Can You "Mix And Match" Booster Shot Brands?
Health officials in the US, Canada, the UK, and more have said that it is safe to receive different vaccines. Moreover, early research from the National Institutes of Health (NIH) indicates that a combination of vaccines is particularly effective in J&J recipients.
NIH researchers noted a significant increase in recipients' antibody levels within the first 15 days, namely:
Four-fold rise in J&J recipients
35-fold increase for Pfizer recipients
76-fold increase for Moderna recipients
"Mixing and matching" vaccines offers another advantage. Despite a rocky rollout, vaccines are now available in most of the US. However, some communities may still have a limited supply for whatever reason. If one brand is in short supply, receiving a booster shot from a different brand allows more people to stay protected.
Health experts do not have an official recommendation for a specific combination of brands. However, the CDC should provide more precise guidance soon. Talk to your doctor if you have questions or concerns about mixing and matching vaccines.
When Should You Get Your Booster Shot?
Millions of people are eligible for a booster shot and should get theirs to reduce community transmission. Because our immune systems weaken with age, adults over 50 must be proactive and protect themselves. This age group has an exceptionally high risk of experiencing serious effects from COVID-19.
Pfizer and Moderna recipients are eligible for a booster six months after the first two shots. J&Jrecipients, on the other hand, should follow up two months after their first shot.
You can contact the pharmacy or location where you received your first series to schedule your booster shot. Or visit the CDC website to locate a different provider.

Booster shots are essential for staying safe and reinforcing herd immunity. You may feel similar to your initial immunization when you get your booster shot. Symptoms — and their intensity — may vary based on factors such as:
In addition, there is still a lot to learn about the Omicron mutation, and experts are unsure if current booster shots will protect fully vaccinated individuals from it. Therefore, the public is encouraged to stay on top of their booster shots to prevent more mutations from occurring.
Health experts also note that people who get a booster shot from a brand are just as safe as those who use the same brand. Mixing and matching brands are particularly effective among people who received the J&J vaccine.
COVID-19 booster shots are available at most major pharmacies. Contact yours to set up an appointment or see if walk-ins are available.
If you or a loved one needs transportation to the doctor or pharmacy, MeetCaregivers can help. Call 1 (888) 541-1136 or find a caregiver today.
Visit the Blog to learn more about caregiving, find resources for family caregivers, and more.
Centers for Disease Control and Prevention. (n.d.). Covid-19 Vaccine Booster Shots. Centers for Disease Control and Prevention. Retrieved December 1, 2021, from https://www.cdc.gov/coronavirus/2019-ncov/vaccines/booster-shot.html.
Nania, R. (2021, November 19). What are the side effects of COVID booster shots?​​. AARP. Retrieved December 1, 2021, from https://www.aarp.org/health/conditions-treatments/info-2021/booster-shot-side-effects.html.
Nania, R. (2021, October 22). What We Know About Mixing and Matching COVID Vaccines. AARP. Retrieved December 1, 2021, from https://www.aarp.org/health/conditions-treatments/info-2021/mixing-matching-covid-vaccines.html.