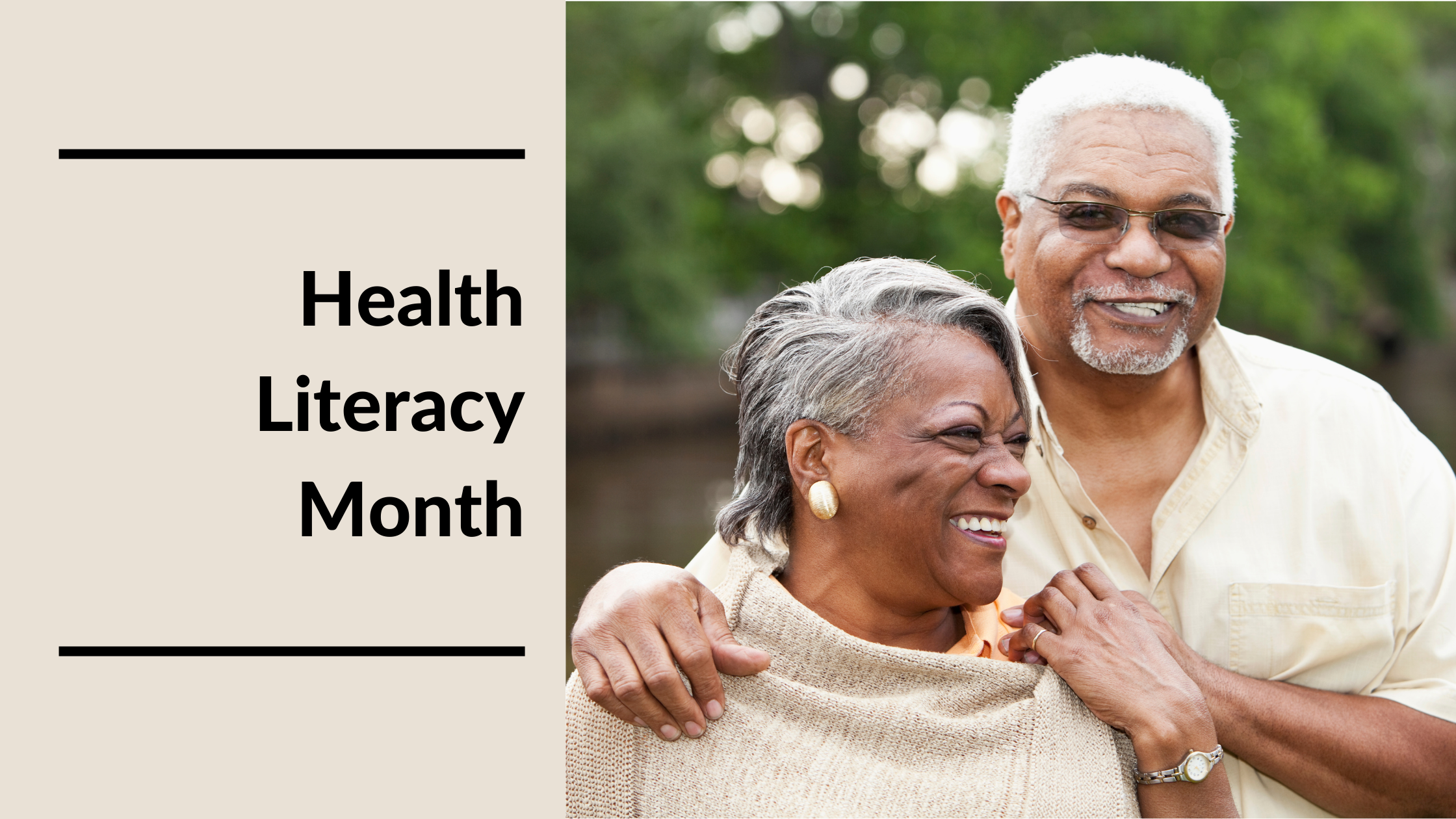 October is Health Literacy Month. During this month, advocates raise awareness about the importance of equitable access to easy-to-understand health information and services. Health Literacy Month also aims to educate the public about barriers to health literacy that affect vulnerable groups. Keep reading to learn more.
Updated March 1, 2023
What Is Health Literacy Month?
Health Literacy Month is an annual observance held each October. During Health Literacy Month, advocates raise awareness of the importance of creating easy-to-understand health information and streamlining the complex healthcare system.
As the healthcare system shifts toward patient-focused care and health equity, the focus on health literacy as an essential matter of public health has increased. Therefore, it is imperative to understand the factors that impact health literacy and how to address them.
Health equity is a key focus for Health Literacy Month advocates. People with higher levels of health literacy are more likely to make more informed decisions about their health and receive higher-quality care. But historically, underserved communities are disproportionately likely to have lower health literacy. Health Literacy Month advocates are focusing on ways to serve these vulnerable groups and fill their unmet needs.
Health literacy means understanding health information and navigating the healthcare system to meet one's health needs. This skill plays a significant role in any stage of life because it can directly influence a person's ability to:
Make informed decisions about their health and manage chronic diseases
Exchange personal information and health history with health professionals
Navigate the health care system, complete complicated forms, find providers, and more.
Health Literacy Month advocates for vulnerable groups with limited literacy. Individuals in at-risk populations often experience additional difficulties such as:
Adhering to medication regimens
Communicating with their doctors
Finding and understanding health information.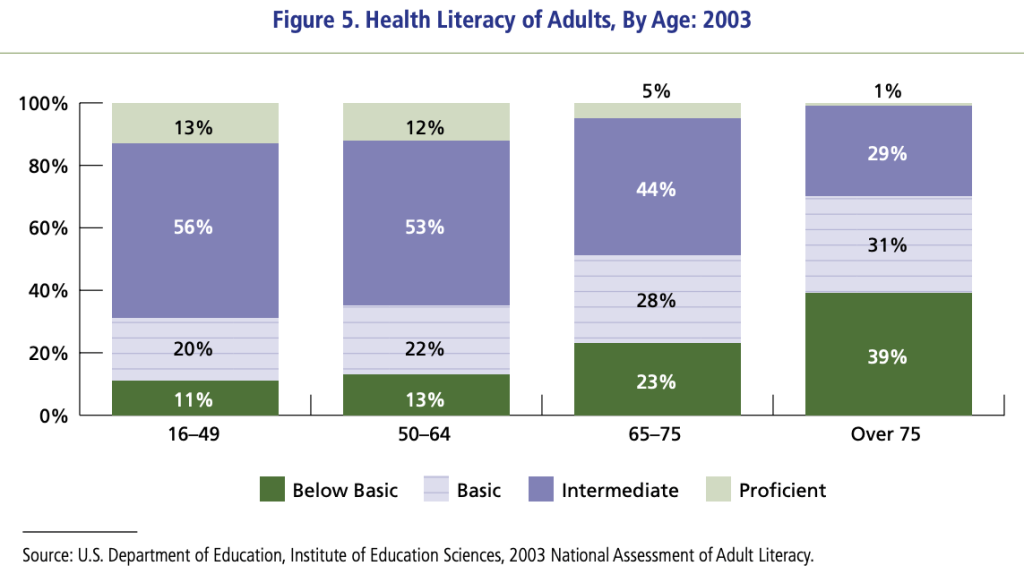 Health Literacy Month Addresses Common Barriers To Health Literacy
Aging, in particular, brings many changes, including one's health needs. Whether dealing with chronic disease, handling prescriptions, or discussing health concerns with health providers or caregivers, health literacy is vital in easing seniors through these changes.
Yet, the country is experiencing a "health literacy epidemic." Literacy rates remain concerningly stagnant, with a 2018 report finding that 80 million US adults have limited or low health literacy.
Sufficiently literate people may have low health literacy skills in certain situations. For instance, someone overwhelmed and ill while searching for health information may struggle to recall, understand, and utilize that information.
Several personal and systemic factors can affect an individual's ability to improve their literacy. For example:
Societal and cultural influences may discourage people from seeking treatment, particularly for mental health issues.
Demands on both medical and public health systems could limit time spent addressing and understanding health concerns.
Insufficient awareness or expertise of health topics on the part of the patient and provider can limit access to resources for specific problems.
Patients' and professionals' ability to effectively communicate and share information can influence their understanding of an issue.
Moreover, some groups have a higher risk of low health literacy, such as:
Older adults
Minorities
Those who are low-income
Non-native English speakers
Those with lower levels of education
Those with a compromised health status
Those with limited access to resources or support
Many common barriers to health literacy stem from social determinants of health, which advocacy groups seek to address throughout the year, not just during Health Literacy Month.
Knowledge About Healthcare Systems
The health system is notoriously complex, and its ever-evolving nature can make it difficult for people to stay knowledgeable about trends, terms, resources, and more. For example, someone who struggles with health literacy may not know specific medical terms that could help clinicians better diagnose an issue.
Or, an individual with a thin understanding of how the healthcare ecosystem works may struggle to find the proper care for their needs. Furthermore, without knowledge about particular topics, individuals may not recognize how certain health choices impact their life.
Reading and comprehension skills are essential aspects of health literacy. These skills make it easier to research information online, complete medical forms, and more. But according to data collected by the Department of Education, 54% of US adults between 16 to 74 lack literacy proficiency.
Numerical skills are necessary for daily care, like assessing cholesterol and blood sugar levels, counting prescriptions, and discerning nutrition labels. Likewise, they are essential for comparing health care plans and medication costs and calculating different premiums, copays, and deductibles. Yet, according to the National Center for Education Statistics (NCES), 15% of US adults have low numeracy skill levels.
Even with adequate education skills and knowledge about the healthcare system, some may still find health literacy a challenge. This struggle is due in part to an accelerated change in medicine, science, and the evolving healthcare field. For older adults, this progression may clash with information learned in school that has since become outdated, debunked, or forgotten.
Language & Cultural Barriers
Language and cultural barriers are among the most significant obstacles to health literacy for non-US-born adults. These obstacles can significantly impact the ability of this group to communicate efficiently with their doctors and other care providers.
These groups also face institutional barriers, such as the absence of interpreters and culturally competent providers. In particular, those seeking mental health care may receive worse care due to insufficient interpretation services. For example, interpreters may standardize or exclude pathological symptoms from their interpretations.
Physical & Cognitive Barriers
Age-related issues, such as cognitive, visual, and hearing, can contribute to several communication challenges hindering health literacy. For example, distractibility and diminished working memory affect seniors' ability to process information. To help, health providers can provide pamphlets, repeat crucial information, speak plainly, and focus on the primary health topic.
Many seniors experience diminished vision and hearing, so creating easier-to-read large-print forms with less text may improve reading and retention. In addition, to assist with hearing loss, providers can speak to their patients face-to-face, articulate clearly, and eliminate background noise.
Health Literacy Month Promotes Four Types Of Health Literacy
Since wealth literacy was first coined in the 1970s, its definition has expanded to refer to four types of health literacy. Health Literacy Month encourages health systems and professionals to inform the public about each area.
Personal health literacy is the ability to locate, understand, and leverage resources and services to guide health-related decisions for themself and others. The Institute for Healthcare Advancement offers several ways to increase personal health literacy, including:
Getting answers to health-related questions
Repeating clinician instructions in your own words
Bringing a companion or advocate to appointments.
On the other hand, healthcare professionals should use simple language and refrain from complex medical jargon that patients don't understand.
Organizational Health Literacy
Organizational health literacy is a relatively new definition recognized by Health People 2030 to highlight the responsibility that health organizations have to address health literacy. It also stresses individuals' ability to understand health information and utilize it.
While personal health literacy refers to an individual's ability to access, understand, and use information, organizational health literacy relates to healthcare organizations' ability to make this process equitable. Examples of organizational health literacy include:
Simplifying the appointment scheduling process
Employing the Teach-Back technique to support patient comprehension
Supplying correspondence and other communication materials in the suitable language, reading level, and format.
Organizations should take a more proactive approach in creating and implementing strategies to meet the language and literacy needs of an increasingly diverse population, including online and written communication. But as this graph from a 2021 study suggests, several methods will require ongoing improvement and attention from providers.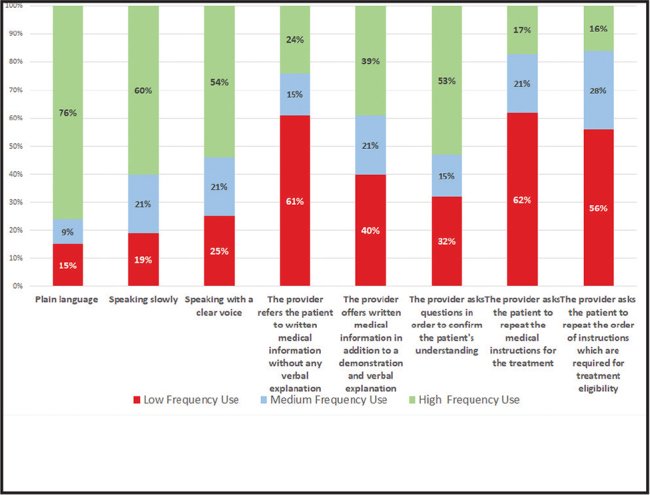 The World Health Organization (WHO) defines digital health literacy as the ability to use technology and electronic sources to find and use health information. Examples of digital health literacy include:
Accessing digital medical records
Using email to communicate digitally with health providers
Using health and wellness apps to support a healthy lifestyle
Distinguishing between accurate health data and misinformation.
Numeracy is the ability to understand and perform various math and problem-solving skills. As health systems and society as a whole become more dependent on data, this skill will become more critical. Examples of numeracy include:
Reading and interpreting nutrition information
Understanding blood sugar readings
Following the correct prescription dosage
Assessing treatment benefits and risks
Understanding insurance costs and coverage.
MeetCaregivers Supports Health Literacy Month
A streamlined healthcare system benefits everyone, regardless of age, education, ethnicity, or other demographic factors. That's why Health Literacy Month advocates promote the importance of making health information and services easier to understand and access every October.
MeetCaregivers understands that finding and arranging home care for yourself or a loved one is just as complicated. So if you or a loved one needs extra assistance, we can help. Our qualified professionals can help with day-to-day routines, mobility, and more. Call 1 (888) 541-1136 or find a caregiver today.
Visit the Blog to learn about other observances besides HealthLiteracy Month or for helpful resources on caregiving and aging in place.
America's Health Literacy: Why We Need Accessible Health Information. An Issue Brief From the U.S. Department of Health and Human Services. 2008.
CDC. (2021, June 23). Challenges Affecting Health Literacy of Older Adults. Challenges Affecting Health Literacy of Older Adults | Health Literacy | CDC. Retrieved September 30, 2019, from https://www.cdc.gov/healthliteracy/developmaterials/audiences/olderadults/understanding-challenges.html
Healthy People 2030. (n.d.). Language and Literacy. Language and Literacy – Healthy People 2030 | health.gov. Retrieved September 20, 2022, from https://health.gov/healthypeople/priority-areas/social-determinants-health/literature-summaries/language-and-literacy
Hickey, K. T., Masterson Creber, R. M., Reading, M., Sciacca, R. R., Riga, T. C., Frulla, A. P., & Casida, J. M. (2018). Low health literacy: Implications for managing cardiac patients in practice. The Nurse Practitioner, 43(8), 49–55. https://doi.org/10.1097/01.npr.0000541468.54290.49
MedlinePlus. (2007, December 19). Health Literacy. Health Literacy: MedlinePlus. Retrieved September 20, 2022, from https://medlineplus.gov/healthliteracy.html
Mor-Anavy, S., Lev-Ari, S., & Levin-Zamir, D. (2021). Health Literacy, Primary Care Health Care Providers, and Communication. Health literacy research and practice, 5(3), e194–e200. https://doi.org/10.3928/24748307-20210529-01
NCES. (2020, September 1). Adult Numeracy in the United States. Data Point: Adult Numeracy in the United States. Retrieved September 20, 2022, from https://nces.ed.gov/pubs2020/2020025.pdf
NLM. (2021, December 17). An Introduction to Health Literacy. An Introduction to Health Literacy | NNLM. Retrieved September 20, 2022, from https://nnlm.gov/guides/intro-health-literacy
Parker, R. M., Wolf, M. S., & Kirsch, I. (2008). Preparing for an Epidemic of Limited Health Literacy: Weathering the Perfect Storm. Journal of General Internal Medicine, 23(8), 1273–1276. https://doi.org/10.1007/s11606-008-0621-1
Sørensen, K., Van den Broucke, S., Fullam, J., Doyle, G., Pelikan, J., Slonska, Z., Brand, H., & (HLS-EU) Consortium Health Literacy Project European. (2012). Health Literacy and Public Health: A systematic review and integration of definitions and models. BMC Public Health, 12(1). https://doi.org/10.1186/1471-2458-12-80
YouTube. (2022). Iha Health Literacy Psa. IHA Health Literacy PSA – YouTube. Retrieved September 19, 2022, from https://www.youtube.com/watch?v=V41NYWtw1eY