Stay Safe With These Travel Tips For Seniors
If you think you're too old to get around, think again. The AARP 2022 Travel Trends Survey found that 43% of older adults plan to travel domestically or internationally in 2022 — a 3% decline since the COVID-19 pandemic.
Traveling is a great way to engage your mind, meet new people, and have fun doing something new and exciting. It's also one of the best ways to stay active and social. Encountering new settings, cultures, and things is an excellent way to break your routine. It doesn't matter if it's the next town or an entirely new country; it's all about the experience!
So the next time you start to get an itch to travel, keep these helpful travel tips for seniors in mind.
Pre-Trip Travel Tips For Seniors
Although travel has almost returned to pre-pandemic levels, safety is still a concern for many seniors. So here are a few pre-travel tips for seniors:
Review the CDC's destination pages to see which vaccines or medicines you need and whether there are any diseases or health risks about which you should be concerned.
Talk to your doctor about your trip, including the duration, purpose, accommodations, destination, and activities. They can ensure you're healthy enough to travel and have your necessary vaccines, prescriptions, and anything else you may need.
Make sure you have enough medication for the length of your trip as prescribed by your doctor. In addition, you should also keep a copy of your medical history with your prescriptions at all times while traveling.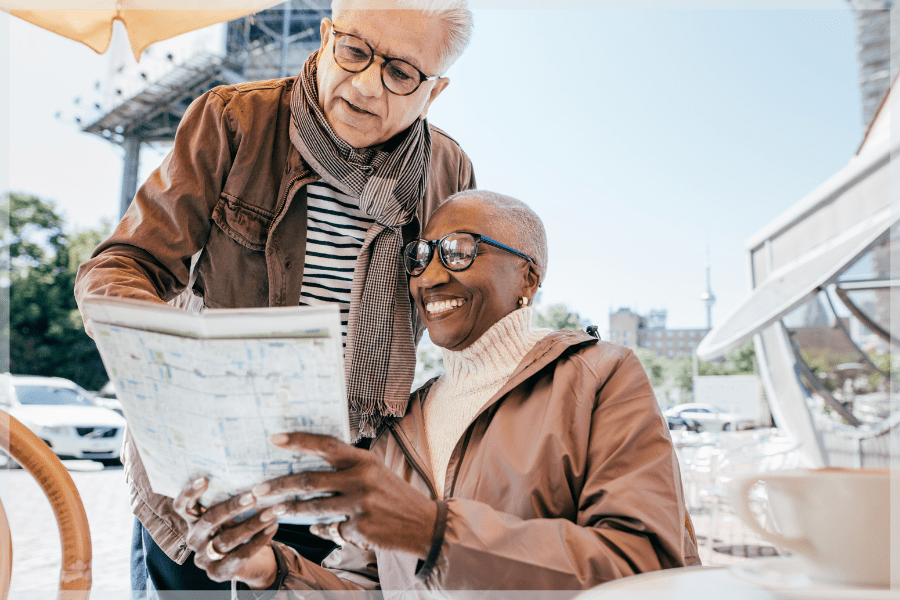 Air Travel Tips For Seniors
Doubtless, airplanes are the fastest way to reach your destination. But dealing with airlines, security, and everything in between can be a hassle. These air travel tips for seniors will hopefully make your trip less confusing, stressful, and possibly more affordable.
Take Advantage Of Senior Discounts
Discounts for older adults are available; you just have to know where to look! While not every airline offers them, it never hurts to ask. Some places, such as Delta Airlines, have specific rules for obtaining reduced rates. In addition, some markets are eligible for discounts but are only available by calling the reservation department.
United also provides senior fares for select routes. Still, you might have to call and ask what is available and see if it's cheaper than the standard fare. Southwest has one of the best deals for senior travel. Their reduced Anytime rates for those 65 and older are refundable and can be reserved both online and on the phone.
Check-In Online To Save Time
Online check-in can be a much better option than the airline counter, especially for budget airlines like Spirit that charge to do it in person. Many airlines offer online check-in through their mobile app or website 24 hours before your flight. It saves time, and you can avoid the ticket counter and head right through security. It's especially advantageous for those trips when you only have a carry-on bag or don't need a wheelchair or extra assistance.
Besides saving you time, another plus of online check-in is selecting your seat. To get the most out of this benefit, check in early because the sooner you do, the more options you'll have. In addition, Southwest designates boarding positions (not seats) contingent on when you check in and the fare you buy. So although your place in the line affects when you board, you can pick any open seat you wish once in the cabin.
Print A Copy Of Your Boarding Passes
A physical copy of your boarding pass never hurts, even if you checked in online or have a smartphone. In the same vein, you should also screenshot your boarding pass. You can show the agent the digital boarding pass you received when you checked in (e-tickets are not the same), but it's best to have a backup, just in case. You can print your pass at home, at the self-serve kiosks in the airport, or at the ticket counter.
Arrive Early To Lower Stress
Airports are stressful enough; you don't want to add to that by cutting it too close with time. But it's hard to estimate how long it will take to go through security, so arriving earlier never hurts. Generally, arriving at the airport two hours before your flight is best. If you're traveling internationally, aim for three.
If you have mobility issues or checked bags, giving yourself enough time is even more vital since you must drop them off by a set time. But, of course, things are a little easier if you don't need to check any luggage. If you check in online, you only need to worry about passing through security and getting to your gate.
Did you know that adults over 75 can get a break from security screenings? You don't need to remove your shoes, and you can still wear a lightweight jacket. You can bring medically-required liquids or gels in your carry-on, but they will need a separate scan. So keep them together in a sealed plastic bag, away from other liquids, and let TSA know about them.
If you have a disability or medical concern, fill out a TSA Notification Card so you can relay your condition discreetly. Another way to speed up security is by signing up for TSA PreCheck, available at participating airports. Apply online, sign up for an in-person fingerprint appointment and a background check, and pay the $85 fee. This service lasts for five years.
For international travelers, Global Entry works the same as PreCheck, with expedited lines for customs and immigration when re-entering the U.S. It costs $100 and lasts for five years.
The advantage of expedited boarding is that it lets you get situated sooner and gives you more chances to store your bag in the overhead. Different airlines have different processes, so here's what you can expect from a few popular airlines:
United Airlines allows preboarding for older adults and people with disabilities. But suppose you don't have a disability, elite status, or a United-affiliated credit card. In that case, you can purchase Priority Boarding for $15 per flight segment. This service lets you board before economy groups. Still, you can't purchase this service if you already bought a Basic Economy ticket.
In some cases, Southwest allows seniors to board early, like if they need a special seat because of a disability or extra assistance during boarding. If you need more time to get situated, you can board between A and B groups. Southwest also offers Early Bird Check-In, which automatically reserves a place 36 hours ahead of your flight.
You don't need to check in with this service, but you can get your boarding pass online 24 hours before departure, checking in, and printing your pass. This service doesn't promise A Group boarding, but it does improve the likelihood of getting a better boarding position. Early Bird Check costs between $15 to $25 per trip.
If you have a mobility issue or other disability that requires assistance, you might be eligible for American's preboarding group. You can pay for Priority boarding, which provides a Group 4 boarding pass. Like United, Priority isn't available if you've purchased Basic Economy.
Seniors who need assistance can get on the plane during preboarding. You can also pay $15 to guarantee your spot in the Main Cabin 1 group.
Those with disabilities are qualified to get on during preboarding, or you can pay for Even More Space. These seats give you a few more inches of legroom and let you board before families with small children. This service also allows you to use security screening lines in participating airports. It costs between $15 and $65 each way.
Bring Your Mobility Device
Many airlines don't charge for bringing canes, walkers, wheelchairs, or electric scooters. If you have difficulty walking, you can transfer from a wheelchair to an aisle chair that can fit in the plane aisle. If your device fits, you can even take it into the plane and store it in the overhead compartments, under your seat, or in another storage spot. But if it doesn't fit, not to worry! Many airlines will check it as cargo without an extra charge. Then, when you land, someone will bring it to the door unless you prefer to pick it up at baggage claim.
How To Keep Your Elderly Parents Safe While Traveling
Whether you're helping your parents plan a vacation across the country or arranging a visit to the next state, working out travel details can be challenging. It can be risky for unprepared elders to fly alone. Here are some travel tips for seniors for children helping to plan their parents' trip:
Consider Travel Routes And Times
The best thing you can do when arranging flights for an aging parent is to choose the shortest, most straightforward route. Also, be aware of the type of plane your parents will board. Some airports don't use jetways for smaller aircraft, so your parents may need to climb stairs. Similarly, choose the time of day when your parent has the most energy and alertness. If they function better at certain times of day, always try and find departures during those times.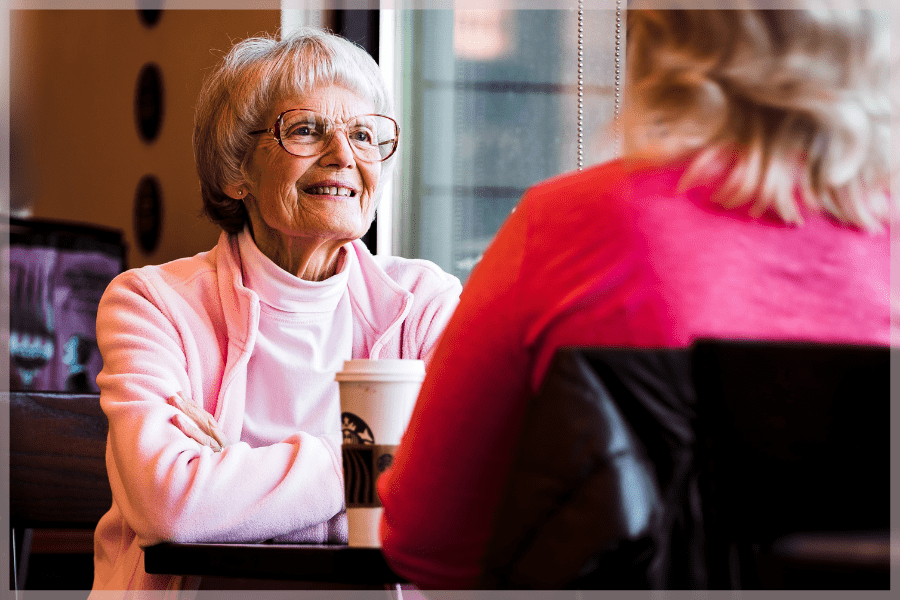 Make Special Requests Over The Phone
The internet makes it easier and faster to plan a trip, but sometimes talking to a real person on the phone is the best way to ensure your parents have safe and comfortable accommodations. For example, calling may be your best bet if you need to ask for things like wheelchair assistance, bulkhead seats with more legroom, or expedited boarding.
Calling is one of the most important travel tips for seniors because if your parent needs assistance with being seated, not just taken to the aircraft door. By law, airlines must provide free wheelchair services upon request. If your parent needs help but doesn't need a wheelchair, they can always ride an electric scooter.
If your parents travel with portable oxygen, ensure they have all the necessary documentation to transport it. Moreover, let the airline know about any dietary restrictions your parents might have. Then, as the travel date gets closer, follow up with these arrangements. This way, you know your parents will be in good hands.
Encourage Them To Pack Light
Encourage your parents to pack light to avoid checking luggage and waiting at the baggage claim. Remind your parents to keep essential documents and medicine in their hand luggage, not checked. If your elderly parent has a phone, make sure they have your contact information and emergency info, just in case. If your parent does not use a cell phone, think about getting a go phone while they travel. Write down the steps for using it if necessary.
Arrange Their Transportation
If you can't take your parents to the airport, consider booking a taxi or rideshare like Uber or Lyft. There are also services specifically for senior travel, like ITN America.
Escort Them To Their Gate
Escort passes are available if you want to drop your parents off at their gate. To request one, visit the check-in counter and present a photo ID. You can also call a day ahead to ask.
If you can't accompany your parents at the airport, you can always talk to the airline about free assistance. Concierge services like MUrgency and AirportAsist can help with luggage, check-in, security, and more.
Coordinate Destination Plans
If possible, arrange for another relative or family friend to greet your parents at their destination. If your parent is disabled, some airlines offer escort passes so you can meet them upon arrival (although this only works for domestic flights).
You can also ask the airline to send an attendant to help your parents through customs. There are many options for older adults with disabilities or mobility issues, so don't be afraid to ask for accommodations or assistance.
Aging doesn't mean you don't have to stop traveling. If anything, your golden years are the best time to do it! So check out the 10 best senior travel destinations and get inspired.
Finding the perfect match for you or your loved one will ensure your peace of mind and ensure they are in the best possible care. We provide qualified professionals to assist with whatever needs you may have. Contact us at 1 (888) 541-1136 or Find A Caregiver today.
Visit our Blog for more resources to support seniors and caregivers.
Centers for Disease Control and Prevention (CDC). (2013, April 26). Older Adults and Healthy Travel. Older Adults and Healthy Travel | Travelers' Health | CDC. Retrieved October 3, 2022, from https://wwwnc.cdc.gov/travel/page/senior-citizens
Gelfeld, Vicki. 2019 Boomer Travel Trends. Washington, DC: AARP Research, December 2018. Retrieved February 10, 2020, from https://doi.org/10.26419/res.00263.001
Great Senior Living. (2019, July 23). Senior Travel Tips: How to Have Great Adventures as an Older Adult. Senior Travel Tips: How to Have Adventures as an Older Adult. Retrieved February 10, 2020, from http://www.greatseniorliving.com/articles/senior-travel
Levy, Vicki. 2022 Travel Trends Survey. Washington, DC: AARP Research, March 2022. Retrieved October 3, 2022 from https://doi.org/10.26419/res.00513.001