Ways Caregivers Can Manage Holiday Stress
It's supposed to be the most wonderful time of the year. But when your days already feel maxed out, the holidays can be downright overwhelming.
You deserve to enjoy the festivities as much as anyone else. So give yourself permission to take a deep breath and take a few minutes to read these holiday stress tips for caregivers.
10 Holiday Stress Tips For Family Caregivers
1. Set Realistic Expectations
As much as we want a magazine-perfect holiday experience, this lofty goal will only lead to more holiday stress. And when you're a family caregiver, you also have to consider uncontrollable variables such as your loved one's health.
As cliche as it sounds, try to remember the season's true meaning. It will help you frame your expectations and focus on activities that mean the most to you.
In the same vein, set expectations with your loved ones, too. Express your desires but make your limitations clear. You could encourage family members to step up and offer more support, leaving you more time and energy for your own family.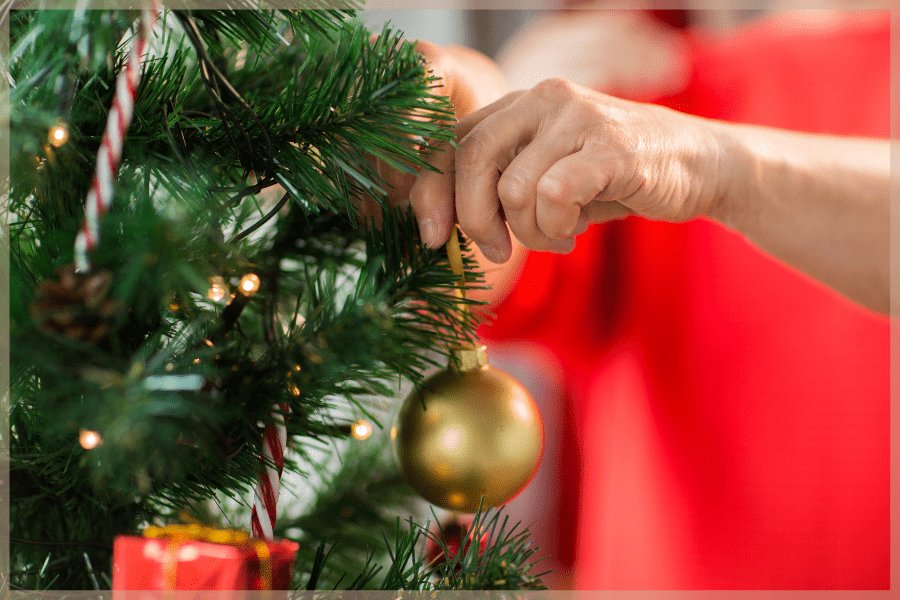 Not everyone has the time, energy, and resources to go all out for the holidays each year, particularly after the pandemic. Plus, pouring your heart and soul into every holiday activity means you won't have anything left for yourself (or your family).
So instead, allow yourself to do less. Here are a few ideas:
Decorating: If you don't feel up to your usual holiday decor, pick your favorites and keep the rest in storage. You could also ask a friend for help or hire a service to hang your lights.
Religious services: Depending on your family, you may attend multiple religious services each year. If you need more bandwidth, pick one that is the most important to you.
Holiday cards: If you don't have time to send your annual seasonal greetings, consider e-greetings instead.
Gatherings: Your loved ones' health or abilities may affect your family's holiday gatherings. Consider changing the date or location for your family gathering to ensure your loved one (and you) can attend.
3. Create New Holiday Traditions
Your loved one's health may limit their ability to participate in holiday traditions or prevent them from enjoying them at all. Consequently, this could keep you from engaging in particular activities.
Missing these experiences isn't easy. But rather than fixating on what you and your loved one can't do, find new traditions to start together, such as:
Driving through different neighborhoods and admiring light displays.
Watching a holiday movie, family videos, or concert special.
Video calling long-distance relatives and friends.
Asking a friend to help you decorate while your loved one keeps you company.
4. Change Up Your Holiday Meals
Food and the holidays go hand-in-hand. Typically, seasonal meals are a treasured tradition that many families anticipate year-round. However, planning a dinner requires time, money, and organizing. When you're already responsible for your loved one's care, this can put you over the edge.
Fortunately, you don't have to ditch these meals altogether to ease holiday stress. Instead, you can try ideas such as:
Dividing groceries and cooking with other relatives.
Catering, dining out or eating at another loved one's house.
Offering fewer dishes, desserts, hors d'oeuvres, and other options.
5. Build A Buffer Against Holiday Stress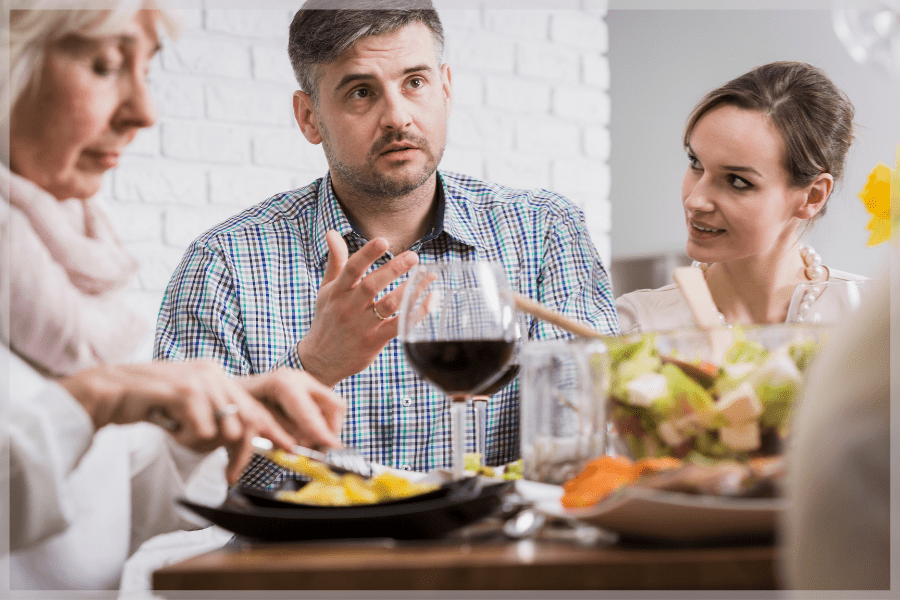 Sadly, the holidays aren't the happiest time of the year for everyone. Family feuds, difficult memories, grief, or just the holiday blues can make it difficult, if not impossible, to find enjoyment.
As a caregiver, you have many responsibilities to your loved one. But you also owe it to yourself to care for your own wellbeing. If not, you'll quickly burn out, which can lower the quality of care you provide.
If protecting your mental and emotional health means avoiding specific places, activities, people, or even discussions, consider doing so. But, of course, only some have this option, so find ways to build resiliency in the weeks leading up to the holidays.
You can't control what others say, do or think — a fact that can be as infuriating as it is painful. Resilience won't necessarily keep comments from hurting, but it can help you control how you respond (both inwardly and outwardly).
A few other ways to avoid drama and manage troublesome situations include:
Refrain from being "the problem solver"
Keep interactions short, cordial, and focused
Come with a list of exit strategies if things become complicated.
6. Get Creative With Holiday Giving
Presents may not be the reason for the season, but they're still an important tradition for many people. Unfortunately, it's also one that can cause the most holiday stress. So try these suggestions instead:
Shopping online
Gift cards
Your time or attention
Gift exchanges or Secret Santa
Homemade gifts, cards, and similarly thoughtful gifts
Finding a family member or friend to pick up in-store gifts or to help wrap them.
Although holiday stress is legitimate, overthinking it can create a negative feedback loop that continuously triggers your natural stress response. To break the cycle, train yourself to think uplifting thoughts to stop yourself from spiraling.
Mindfulness meditation is one of the most effective ways to get into the habit of positive thinking. It's also one of the best ways to build emotional resilience.
Start taking note of everything you've accomplished, and don't fixate on what you still have to do. Similarly, delight in what your loved one is capable of instead of ruminating about how things once were. Acknowledging the positives doesn't diminish your struggles — it just makes it easier to deal with them.
Caregiver burnout doesn't just impact you — it can also affect your loved one's wellbeing. When holiday stress and the winter blues can make your role feel even more taxing, you might start to experience some of the signs of caregiver burnout, like:
Lethargy
Brain fog
Emotional highs and lows
Struggling to sit still or feeling like you can't bring yourself to do anything.
Besides seeking help from a professional, self-care can help you cope with some of the effects of burnout. This season, try self-care activities such as:
Practicing sleep hygiene
Daily stretching
Journaling
Catching up with friends
Getting more sunlight, either naturally or with a therapy light
Light holiday-scented candles to create a relaxing and cozy atmosphere for yourself.
Of course, self-care requires personal time, and that's not something every caregiver can afford. But you can still include loved ones in your self-care routine by trying activities such as:
Holiday Karaoke
Cozy holiday movie nights
Ugly sweater parties
Strolling around a mall or shopping center to admire festive decorations.
9. Find Resources For Holiday Stress
Caregiving brings complex emotions that not everyone understands until they assume the role themselves. As much as your family and friends emphasize, they might not relate to your struggles. This experience can be very isolating and exacerbate depression, burnout, and holiday stress.
To avoid this, locate online or in-person caregiver support groups. Not only will you have a chance to connect with others in your situation, but you may even receive tips and resources to manage holiday stress.
10. Don't Be Afraid To Ask For Help
The busiest time of year doesn't always feel the most wonderful. But asking for support can help. No one expects you to do it all, and nor should they. You'd be surprised how willing friends and family are to help, especially when they know you're a family caregiver.
If you hesitate to ask for help because you don't want to feel like a burden, reach out sooner rather than later. Friends and family may be more than happy to assist, but they need enough time to make arrangements.
If you can afford it, consider hiring a caregiver for the next several weeks. A trained caregiver can help with errands, driving to appointments, help with meals, personal care, and more. Plus, the right caregiver can be a great companion, which is particularly important during the holidays.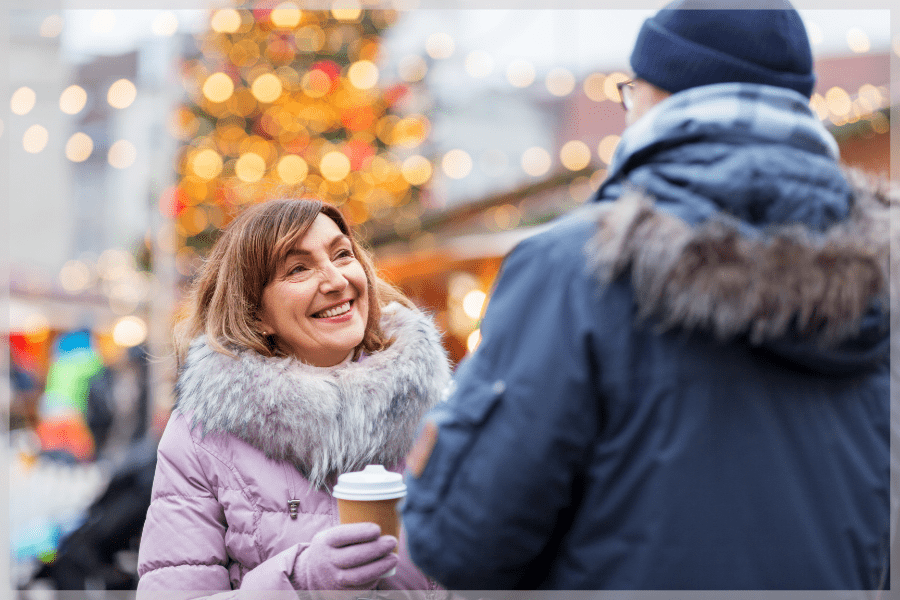 MeetCaregivers Can Help Manage Holiday Stress
Seasonal and holiday stress is normal, but you don't have to let it ruin your holidays. The suggestions above will help you manage your holiday stress better to make the most of this time.
If your parent needs more care than you can provide, or you need a respite break to rest and recharge, MeetCaregivers can help. Call 1 (888) 541-1136 or Find A Caregiver today.
Read our Blog to find more information and resources about caregiving, aging, and more.
Bursack, C. B. (2020, November 12). Caregiving During the Holidays: Have a Realistic & Positive Approach. Tips for Celebrating the Holidays as a Caregiver – AgingCare.com. Retrieved November 15, 2021, from https://www.agingcare.com/articles/caregiving-during-the-holidays-104226.htm.

DailyCaring Editorial Team. (n.d.). 3 Ways To Reduce Caregiver Holiday Stress And Enjoy The Season. DailyCaring. Retrieved November 15, 2021, from https://dailycaring.com/3-ways-to-reduce-caregiver-holiday-stress-and-enjoy-the-season/.

Goyer, A. (2018, November 19). Tips For Caregivers To Deal With Holiday Stress. AARP. Retrieved November 15, 2021, from https://www.aarp.org/caregiving/life-balance/info-2018/holiday-stress-tips.html.