Memory Cafes: A Place For Seniors And Caregivers
Isolation and loneliness in seniors and caregivers have soared during the COVID-19 pandemic, but a growing number of memory cafes can help. Available both online and in the real world, these can help ease or even avoid the negative impact of these emotions.
In addition, regular socialization can help avoid caregiver burnout and cognitive decline. You and your loved ones can meet with other people in similar situations once or twice a month at local community centers, parks, coffee shops, or even online. 
Cafes are run by social and health service providers who can provide valuable resources for caregivers. If you are interested in the valuable service and support memory cafes can offer, read on to learn more.
What Are Memory Cafes?
Memory cafes offer a safe environment for family caregivers and people with dementia or other cognitive diseases. Each one is unique and focuses on an individual theme or purpose, such as:
Gardening

Music

Sports

Holidays

Education 
Memory cafes can take place anywhere, including:
Coffee shops

Libraries

Museums

Farms

Galleries

Assisted living facilities

Restaurants

And anywhere else that provides a safe and comfortable environment
Of course, you don't have to attend a single location. If there are multiple cafes in your area, you may end up visiting others to stay active and engaged throughout the month.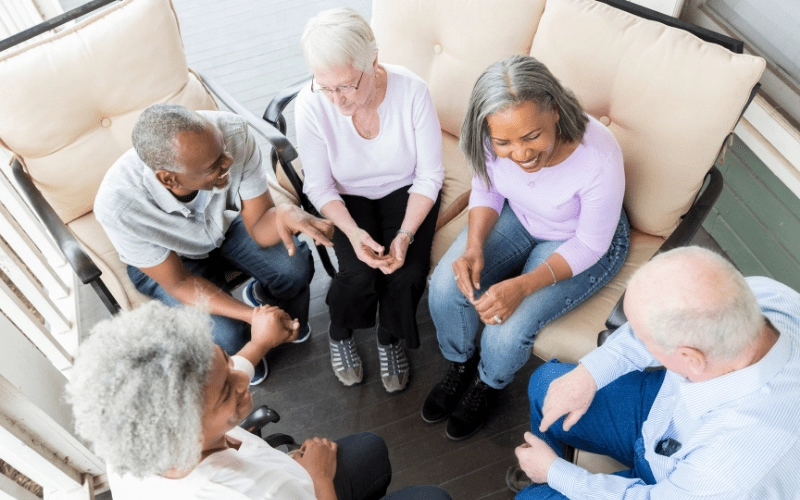 How Did Memory Cafes Start?
Dementia and other types of cognitive diseases were once highly stigmatized and overlooked, leaving patients and caregivers with inadequate resources and support. Then, in 1997, Dutch psychiatrist Dr. Bere Miesen introduced memory cafes to raise awareness about cognitive illness while simultaneously fostering critical support systems for patients and caregivers.
These cafes became immensely popular across Europe, eventually coming to the US in 2008 and expanding to serve people with other conditions beyond dementia. According to Memory Cafe Directory founder David Wiederrich, over 800 cafes worldwide are listed on his organization's website, of which 700 are in the US. And as interest and awareness grow, so will those numbers.
The Benefits Of Memory Cafes For Caregivers And Seniors
Lower Risk Of Social Isolation
The social benefits of memory cafes are twofold: First, you and your loved one can engage with others. Secondly, you have plenty of opportunities to meet people who share similar responsibilities and experiences. This, in turn, leads to a stronger support network, which is something that every caregiver needs.
However, cafes aren't only for people with dementia — they're also intended to benefit the people who care for them, too. Although awareness about cafes has quickly spread through word-of-mouth, the need will grow more significant as the rate of dementia rises.
Slower Progression Of Dementia
Sadly, there is no cure for dementia, although there is a connection between socialization and cognitive decline. In a 2018 study, researchers discovered higher rates of Alzheimer's in people who reported higher levels of isolation and loneliness. For this reason, many who attend memory cafes do so as a preventative measure, despite retaining their independence.
Stronger Connections With People And Reality
Memory cafes are important for both family caregivers' and seniors' wellbeing because of the many socialization opportunities. 
Alzheimer's or dementia can be an incredibly isolating experience for both those who have it and those providing care. For example, you may hesitate to go out as often as your loved one's condition advances. You might find yourself gradually spending more time at home to avoid potentially uncomfortable situations with others.
Many activities encourage participants to reminiscence and think about the past because it can strengthen their connection to reality — something that is both emotionally and mentally beneficial. In many cases, humor plays a large part in the fun.
Memory Cafe Activities
Memory cafes offer a wide variety of activities, including:
Movies

Dancing

Crafting

Listening to guest speakers or lecturers 

Word searches

Puzzles

Trivia

Storytelling 
Unlike adult day centers, you are expected to participate in activities with your parent and enjoy the change in your routine. That's because it encourages you to meet other caregivers with whom you can exchange resources, information, and support. You may be surprised how beneficial this commodity is for your well-being.
Virtual Memory Cafes
Sharing mutual experiences in a warm and welcoming environment can have a profound effect. Even online virtual cafes can create an atmosphere for caregivers and their loved ones to bond and occupy their time meaningfully.
Many people have turned to virtual memory cafes during the pandemic to interact with others from the safety of home. If you're interested, check out this list of virtual memory cafe activities from the Memory Cafe Directory.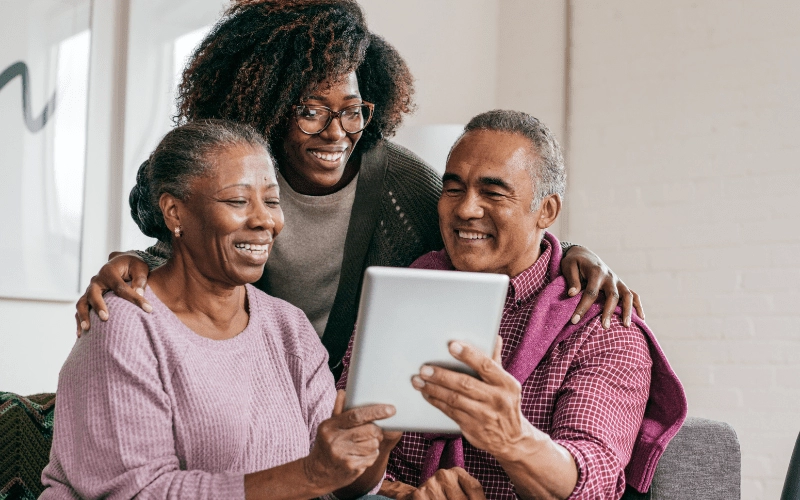 Memory Cafes In Massachusetts
Of course, dementia is devastating for everybody involved. While there's nothing you can do to stop it, you can potentially slow its progression with regular social activities. At the same time, you can connect with other people in your situation and get the help and support you need. 
You can find nearby cafes by visiting MemoryCafeDirectory.com. From there, you can find the contact information and description of local and regional cafes near you. You can also check out this Directory of Memory Cafes in Massachusetts from the Jewish Family & Children's Service (JFCS).
MeetCaregivers Can Help
Does your loved one need specialized care or extra assistance around the house? Then contact us online or call 1-888-541-1136. Our qualified caregivers can support your family with transportation, meal delivery and preparation, personal care, and more. We're here to help!
Check out our blog for more resources and information about caregiving and aging.
---
Sources
"Dementia Activity System from A Mind to Care." Memory Cafe Directory, 12 May 2020, www.memorycafedirectory.com/dementia-activity-system-from-a-mind-to-care/.

Goyer, Amy. "Memory Cafes Helping People With Dementia Stay Social." AARP, 14 May 2020, www.aarp.org/caregiving/basics/info-2019/memory-cafe.html.

Plater, Roz. "'Memory Cafes' Help People with Dementia and Their Caregivers." Healthline, Healthline Media, 6 Feb. 2020, www.healthline.com/health-news/memory-cafes-help-people-with-dementia-and-caregivers.

"What Is a Memory Cafe?" Memory Cafe Directory, 26 Apr. 2021, www.memorycafedirectory.com/what-is-a-memory-cafe/.