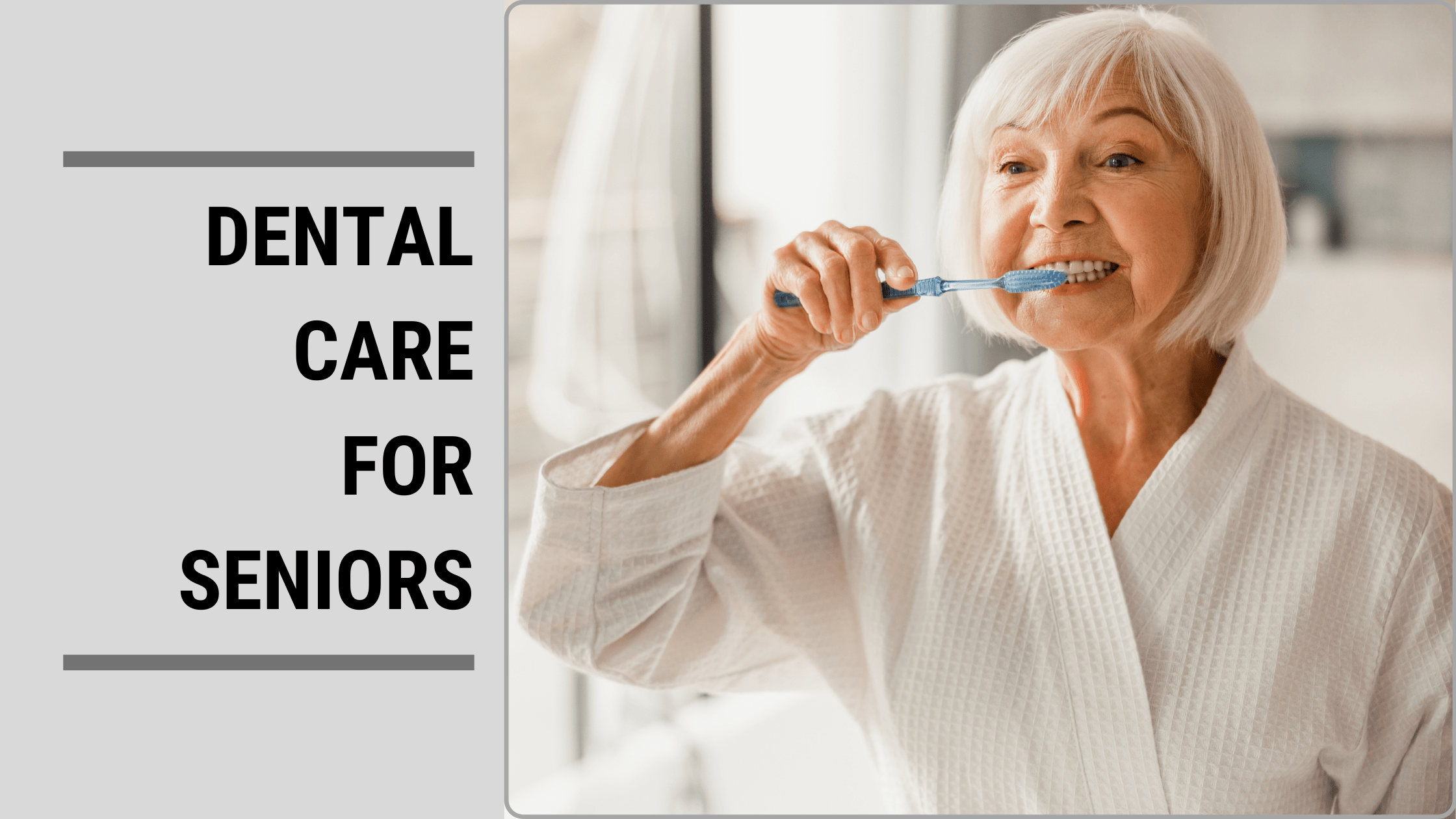 The American Dental Hygienists Association (ADHA) and Wrigley chewing gum company established National Dental Hygiene Month in 2009. Although this observance primarily focuses on teaching children how to care for their teeth and gums, it is also a good reminder about the importance of dental care for seniors.
Updated November 28, 2022
October Is National Dental Hygiene Month
Many people don't realize how much dental health affects their general wellbeing. Throughout National Dental Hygiene Month, the ADHA and Wrigley Company sponsor educational events, free clinics, online forums, and more to raise awareness about building good oral habits, such as:
Avoid tobacco products
Practice good denture care
Keep a low-sugar, low-starch diet
Schedule routine dental appointments
Brush twice a day and floss at least once
Use fluoride toothpaste or a rinse every day
Swish with an antibacterial mouthwash after brushing
Get enough calcium (about 1,000 mg daily for seniors)
Avoid dry mouth by drinking more water, chewing sugar-free gum, and avoiding beverages such as coffee and alcohol, which can increase dehydration.
The ADHA also encourages people to refresh themselves on proper tooth brushing techniques, like brushing the tops of the teeth, since this area is often neglected. Furthermore, it's important to floss the teeth located in the back of the mouth as thoroughly as the ones in the front.
Oral hygiene supports older adults' wellbeing and quality of life. For example, it reduces the risk of common oral health problems and promotes basic actions like eating. With this in mind, learn why National Dental Hygiene Month matters to seniors and ways to support their oral health.
National Dental Hygiene Month Promotes Better Dental Care For Seniors
According to the American Dental Association, oral conditions are among the most common reasons people seek emergency medical treatment. But unfortunately, many people struggle to receive dental care for reasons such as:
Losing employer-sponsored health insurance. Medicare does not cover dental services, making affordability an issue.
Limited transportation access. Seniors without access to reliable transportation are more likely to miss appointments.
Physical and cognitive issues. Memory loss, physical limitations, and other health problems can impede elders' ability to attend routine dental appointments.
Teeth and gum issues might develop more with age, but that doesn't mean they always will. Being proactive and staying on top of daily brushing and flossing ensures many common oral problems never arise.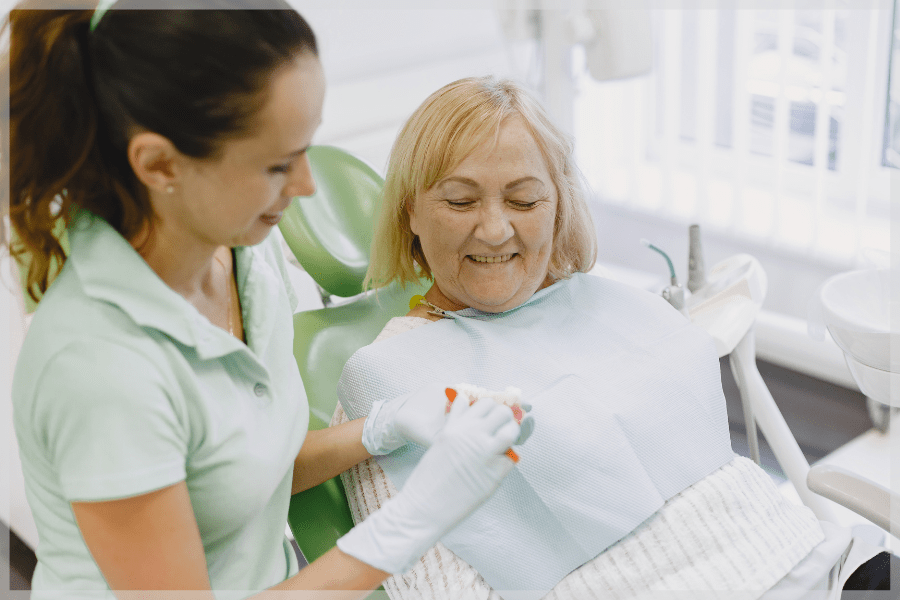 Common Oral Health Problems In Seniors
National Dental Hygiene Month educates people of every age about good habits that support healthy teeth and gums. However, older adults might encounter specific problems regarding their oral health as they age. That's because aging brings many changes, including in your oral health. As a result, older adults sometimes develop conditions they may not have experienced in their younger years.
Fortunately, most of these issues can be readily recognized, sorted out, or even avoided when adequately informed. Plus, seniors can solve many of these issues with help from their dentist and doctor.
Growing older doesn't automatically cause dry mouth. But some things, like chronic conditions or prescription medications, increase the likelihood of this condition developing, as well as cavities or tooth decay.
Aging can decrease enamel and dentin, a bone-like tissue found underneath the enamel of teeth. This change and years of consuming food and beverages that can stain the teeth can lead to discoloration or darkening of the teeth. In some cases, it could indicate a more significant health issue.
Attrition is a fancy way of describing ordinary wear and tear — decades of chewing and grinding wear down the enamel. As a result, attrition can raise the possibility of cavities.
The risk of developing oral diseases increases with age. These problems can range from something as serious as cancer to thrush, a mouth condition marked by unusual fungal growth.
Periodontal disease, or gum disease, is a leading cause of tooth loss in adults. Gum disease occurs from excess plaque formation on the teeth. Recognizing the signs is critical in promoting healthy dental care for seniors because early treatment will prevent additional damage. Luckily, good dental hygiene can easily prevent this problem.
Gum disease and root decay go hand-in-hand. This condition causes gum recession, exposing the roots of the teeth. In addition, root decay can accelerate tooth decay if left untreated.
Many adults experience heightened tooth sensitivity the older they get. This sensitivity occurs as gums gradually recede, which is a normal part of aging. In turn, areas not protected by enamel or the gums become more sensitive. Sometimes, sensitive teeth indicate another problem, such as cavities or a fractured tooth.
National Dental Hygiene Month Promotes Dental Care For Seniors On A Limited Budget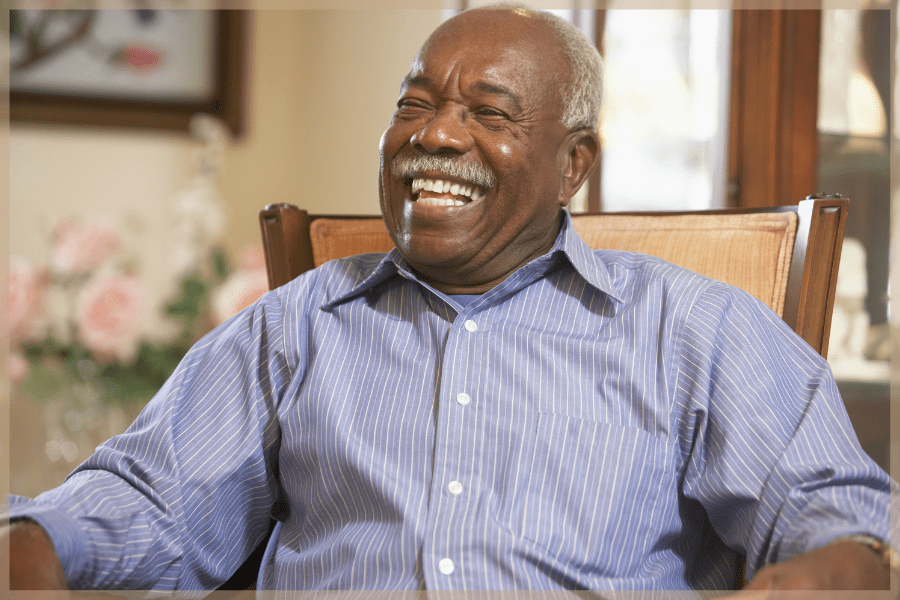 Although receiving adequate dental care can be a challenge for seniors with limited financial resources, many assistance programs help older adults afford quality dental services at discounted rates.
Since programs vary across the country, contact your community dental society to learn where you can find the closest programs and places where you can find affordable care.
You might also find affordable dental care for seniors through Authority Dental's Wisdom Tooth Project. Formerly Oral Health America, Authority Dental helps older adults find low-cost dental services through community dentists, clinics, and dental schools. Alternatively, seniors can find local, affordable treatment through the Dental Lifeline Network.
Dental discount plans are an excellent way for seniors to lower their dental expenses. They work similarly to a subscription service or membership, where the recipient pays a monthly or annual fee. In exchange, they can receive discounted rates for routine dental care.
Elders can receive 10% and 60% off the standard service price. Dental discount plans have no copays, premiums, deductibles, or yearly limits. Instead of paying the dentist through the insurance provider, you pay directly for the service you received. These plans may also offer reduced prices for vision services, medications, hearing, and more.
Of course, savings can range depending on the dentist, state and city, and discount plan type. However, these discounts are only eligible for in-network dentists, which is essential to consider. Visit DentalPlans.com and Authority Dental for more information about discount dental plans and find a list of providers and services. Or, check out National Dental Hygiene Month advocacy groups' websites for additional information.
MeetCaregivers Supports National Dental Hygiene Month
Since 2009, National Dental Hygiene Month advocates have raised awareness about the importance of oral health. If you notice that your loved one is forgetting or neglecting their dental health, it may mean they need help with activities of daily living.
A qualified caregiver gives you peace of mind while your loved one keeps their independence. In addition, an in-home care worker can assist with ADLs, transportation, meal preparation, and more. Learn how we can find the right caregiver for your loved one. Call 1 (888) 541-1136 or Find A Caregiver today. We're here to help!
For more resources for seniors, family members, and caregivers, check out the Blog.
Colgate Contributor. "Oral Care Tips for Older Adults." Oral Health and Dental Care, www.colgate.com/en-us/oral-health/life-stages/oral-care-age-55-up/oral-care-tips-for-older-adults-0213
Friedman, Michael. "Dental Care for Seniors." WebMD, WebMD, 9 Oct. 2019, www.webmd.com/oral-health/guide/dental-care-seniors#3
Gaunt, Angelike. "7 Reasons Senior Dental Care Is Important." A Place for Mom, 4 Sept. 2020, www.aplaceformom.com/caregiver-resources/articles/senior-dental-care
Hoyt, Jeff. "Affordable Dental Care for Seniors: How to Pay for Elderly Dental Plans." SeniorLiving.org, 26 Feb. 2020, www.seniorliving.org/health/senior-dental-care/
Nowak, Simon. "Best Discount Dental Plans for 2020: Join Today and Get a FREE Month." Authority Dental, 29 Sept. 2020, www.authoritydental.com/dental-discount-plans
"October Is National Dental Hygiene Month." Concorde Career College, 4 Dec. 2019, www.concorde.edu/about-us/blog/health-care-insights/october-dental-hygiene-month