November Is National Hospice and Palliative Care Month
Throughout National Hospice and Palliative Care Month, advocacy groups and other organizations promote events to drive awareness about the importance of hospice and palliative care in communities across the country.
National Hospice and Palliative Care Month also recognizes and honors the professionals who support patients and families through one of the most challenging periods of their lives.
These selfless caregivers are integral to the overall healthcare system and home-based care. National Hospice and Palliative Care Month encourages everyone to recognize the value nurses, home health aids, social workers, and other professionals provide.
What Is Hospice and Palliative Care?
In the US, hospice care started as a social movement in the 1970s to improve the quality of death for terminally ill patients in hospitals. Patients often faced severe discomfort and distress, uncertainty about whether life-prolonging treatments aligned with their wishes, and lacked emotional and spiritual support for coping with their death. Advocates wanted to change that by raising awareness and education about hospice and palliative care.
Hospice is a holistic, high-quality care focused on improving the quality of life for patients facing a terminal illness and their families. It provides comfort and dignity to patients when curative treatments are no longer effective or desired, and their life expectancy is no more than several months. There are several types of hospice care, such as:
Routine Hospice Care (RHC): The most common form of hospice care. RHC allows patients to receive in-home hospice care.
Continuous Home Care (CHC): Primarily refers to nursing care supplemented with in-home caregiver and hospice aid services. Patients who receive this service receive between 8 and 24 hours of care to ease pain and other symptoms.
Inpatient Respite Care (IRC): Offers the patient's primary caregiver a momentary break. IRC is available in hospitals, hospices, or long-term care facilities with around-the-clock nursing staff.
General Inpatient Care (GIP): Provided patients in approved health settings to manage pain and symptoms when other measures to do so don't work.
Palliative care follows a similar model as hospice. However, the main difference is palliative care is offered to patients at earlier stages of illness. In addition, this type of care is available whether the disease is treatable, chronic, or terminal. Palliative care can also be provided alongside therapeutic care.
Benefits of Hospice and Palliative Care
Hospice and palliative care programs offer numerous benefits for patients and their families, such as:
Better quality of life
More feelings of control
Emotional and spiritual support
Pain and symptom management
Greater satisfaction with care quality
Lower rates of depression and symptom burden
Better attention to the primary caregiver's needs
Fewer risks related to treatment and hospitalization
Lower costs with higher use of healthcare resources.
Hospice and palliative care also benefit health insurers, as these services cost less than emergency or invasive end-of-life treatments. For example, according to a 2013 report, Medicare beneficiaries enrolled in hospice aged 53 to 105 before their death saved health plans $2,561 per patient compared to recipients who did not receive this service.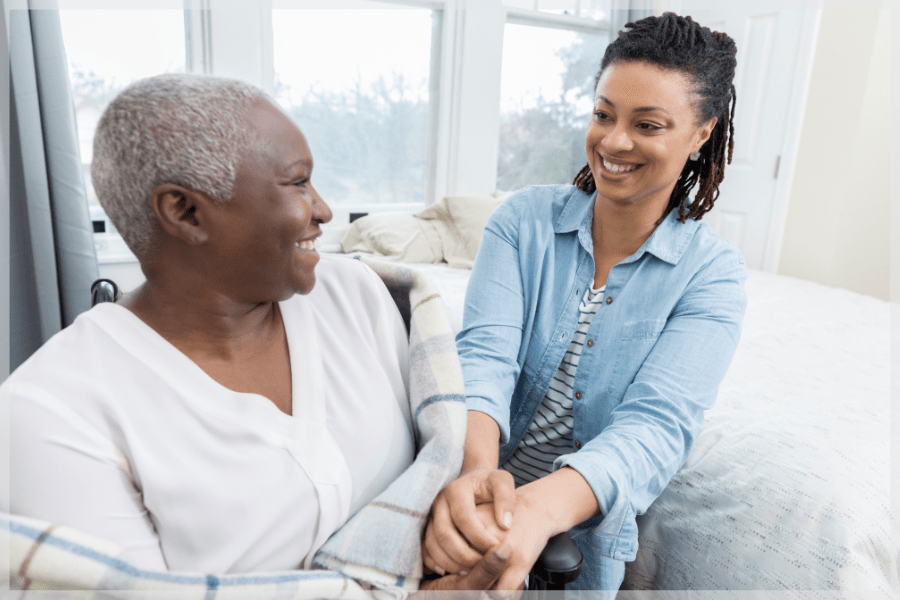 Yet, despite these services' clear advantages, the Medicare Hospice Benefit (MHB) is still among Medicare's smallest programs. Moreover, just one-third of Medicare recipients utilized MHB before dying.
Addressing Barriers to Hospice and Palliative Care
The availability of palliative care in hospital settings is steadily rising as a 2019 report found that 72% of hospitals with at least 50 beds staffed a palliative care team — a 5% increase since 2015, 19% since 2008, and 65% since 2001.
Still, many barriers limiting access to these services exist for many people. National Hospice and Palliative Care Month aims to educate the public about the numerous other barriers to care, such as:
Hospital size
Location and geography
Uncertainty about prognosis
Lower rates of health literacy
Whether a hospital is for- or non-profit
Restrictive MHB eligibility criteria and Medicare regulations
A lack of understanding of hospice and palliative care
Racial and ethnic barriers, including inadequate cultural competence
Insufficient staff to support patients who would benefit from hospice and palliative care
Limited training for healthcare professionals, particularly concerning end-of-life dialogues.
Researchers and advocates have proposed several strategies to overcome barriers to hospice and palliative care, including:
Community education workshops
Culturally-appropriate informational materials
Better trust between patients and their physicians
Improved care coordination between physicians and care teams
Stronger goal alignment between patients, healthcare providers, and families.
MeetCaregivers Supports National Hospice and Palliative Care Month
Hospice and palliative care are intended to support patients and their families during a terminal or chronic illness. These services minimize pain and symptoms, offer emotional and spiritual comfort, and provide breaks for family caregivers. National Hospice and Palliative Care Month is an important reminder about the importance of these services and the common barriers preventing more people from accessing them.
MeetCaregivers aims to increase access to these critical services by supporting hospice providers with qualified, trained caregivers. So we're partnering with hospice organizations to provide staff augmentation services. Our trained caregivers assist hospice nurses with feeding, grooming, and other personal care tasks to promote comfort and dignity in the final stages of illness.
To learn more about our services, call 1 (888) 541-1136. Or, to get started, Find A Caregiver today.
For additional resources and articles about end-of-life care, aging in place, and more, visit our Blog.
Abunafeesa, H., & Elsayem, A. F. (2017). Cultural diversity and barriers to high-quality end of life care. Annals of Palliative Medicine, 6(2), 183–186. https://doi.org/10.21037/apm.2016.11.01

Carlson, M. D. A., Morrison, R. S., & Bradley, E. H. (2008). Improving Access to Hospice Care. Journal of Palliative Medicine, 11(3), 438–443. https://doi.org/10.1089/jpm.2007.0152

Center to Advance Palliative Care. (2015, August 18). Palliative Care, Report Card. 2019 State-By-State Report Card on Access to Palliative Care in Our Nation's Hospitals. Retrieved October 20, 2022, from https://reportcard.capc.org/

Center to Advance Palliative Care. (n.d.). Project Equity: Improving Health Equity for People with Serious Illness. Project Equity | Improving Health Equity for People with Serious Illness | Center to Advance Palliative Care. Retrieved October 20, 2022, from https://www.capc.org/project-equity-improving-health-equity-for-people-with-serious-illness/

Chambers, B. (2020, July 9). How to Increase Awareness and Reduce Gaps in Palliative Care for Minorities. Palliative Care for Minorities | Palliative in Practice. Retrieved October 20, 2022, from https://www.capc.org/blog/increasing-awareness-palliative-care-minorities/

Johns Hopkins Medicine. (2020, October 28). Study Documents Racial Differences in U.S. Hospice Use and End-of-Life Care Preferences. Retrieved October 20, 2022, from https://www.hopkinsmedicine.org/news/newsroom/news-releases/study-documents-racial-differences-in-us-hospice-use-and-end-of-life-care-preferences

McAteer, R., & Wellbery, C. (2013, December 15). Palliative Care: Benefits, Barriers, and Best Practices. American Family Physician.

National Association for Home Care & Hospice. (n.d.). November is Home Care & Hospice Month. National Association for Home Care Hospice. Retrieved October 19, 2022, from https://www.nahc.org/consumers-information/november-is-home-care-hospice-month/

National PACE Association. (n.d.). National Hospice and Palliative Care Month. National Hospice and Palliative Care Month | National PACE Association. Retrieved October 20, 2022, from https://www.npaonline.org/national-hospice-and-palliative-care-month