March is National Nutrition Month
The purpose of National Nutrition Month is to bring awareness to the value of making educated food choices and promoting sound eating and physical activity habits.
In 1973, the Academy of Nutrition and Dieticians set aside one week to recognize the importance of health and nutrition. In 1980, it became a month-long observance. 
Video source: National Nutrition Month: Senior Citizens
The importance of National Nutrition Month for older adults
This month is the perfect time to consider the impact certain food choices have on your body. Eating well promotes longevity and better quality of life, including your physical, mental, emotional wellbeing. 
For older adults, especially, reassessing your dietary needs is critical. Age brings an unbalanced diet can lead to several serious health concerns, such as:
high blood pressure

osteoporosis

heart disease

cancer
Furthermore, we typically become less active, and our bodies don't need as many calories. Metabolism slows, and how our bodies process the food and use nutrients change.
Seniors need to keep up with the changes and learn as much as possible about their health.
Challenges to keeping a healthy lifestyle
It can be difficult for older adults to maintain a healthy lifestyle and a balanced diet. Seniors face several hurdles, such as:
The aging process, which causes changes in hearing, smell, and taste — all of which impact appetite. 

Inactivity, which affects caloric intake and metabolism
No longer being able to cook for themselves
Lacking transportation to the store
A low or fixed income, which makes budgeting for healthy food challenging.
Minimal or no access to in-season, fresh, whole foods.
Moreover, physical issues such as dental problems, gastrointestinal discomfort, and malaise can negatively affect your ability to eat the proper amount of the right food.
Make every month National Nutrition Month
Healthy eating tips for seniors
Know what a healthy plate looks like
The USDA released ab updated food pyramid and is an easier way to give a better idea about what people should eat every day. The tool, called MyPlate, is a simple graphic depicting how each of the five food groups should appear on your plate. These food groups are the foundation of a healthy diet.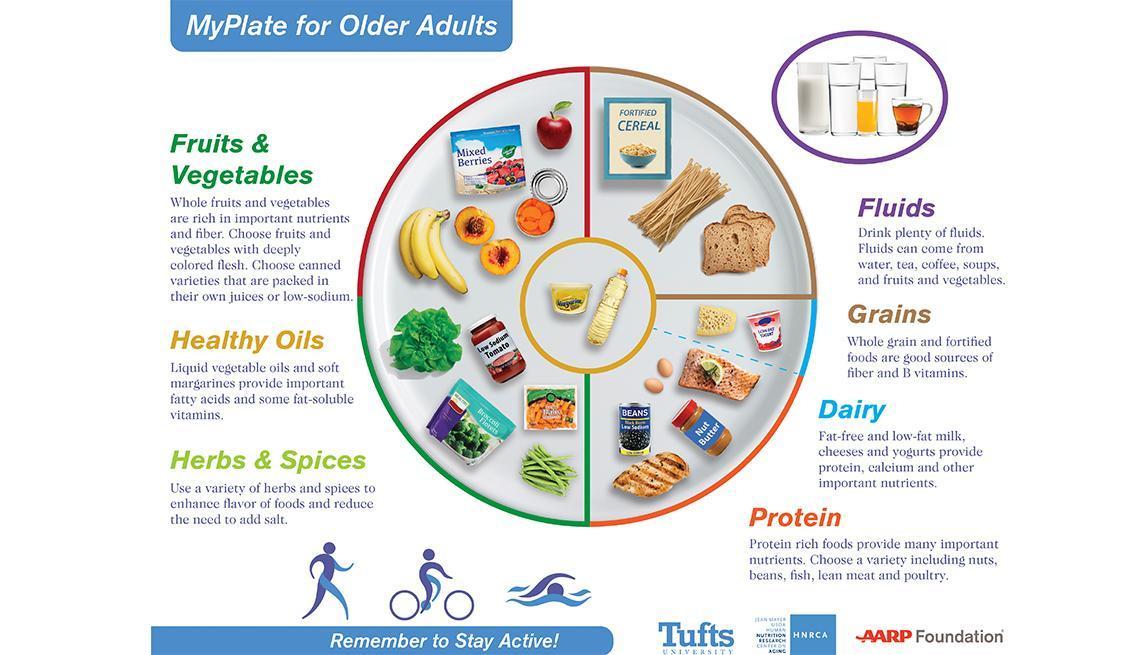 As you rethink what foods are good for you, you should also assess things that are not so good. 

Sodium

Sodium is okay in moderation, but it's important to watch your intake as it leads to water retention and raises blood pressure levels. 

Complex carbs

Carbohydrates are essential for a well-balanced diet, but there's a difference between "healthy" and "bad" carbs.

Foods like fruits, veggies, and beans are great healthy carbs. They provide more value for the body than bad carbs such as white flour, refined sugar, white rice, or anything with its nutrients removed.

These complex carbs cause spikes in blood sugar. Have you ever eaten something, only to feel groggy and snack-ish after a few hours? It's because of the drop in blood sugar from eating complex carbs. 

Sugar

Unfortunately, in the US, sugar is unavoidable, even in the foods you wouldn't suspect.

While it's okay to have some sugar, be aware of how much is in the things you eat. Check nutrition labels, even on foods branded as organic or located in the health food section. 

Sugar is in bread, canned soups, pasta sauce, frozen dinners, ketchup, cereal, and nearly everything else. 
Look for a variety of nutrients
A wide range of foods ensures you get all the necessary vitamins and minerals. Try to create a colorful plate for every meal. Colorful, vibrant foods are always the preferred choice. 
A balanced meal should have:
Lean protein (lean meats, seafood, eggs, beans)

Fruits and vegetables (think orange, red, green, and purple)

Whole grains (brown rice, whole-wheat pasta)

Low-fat dairy (milk and its alternatives)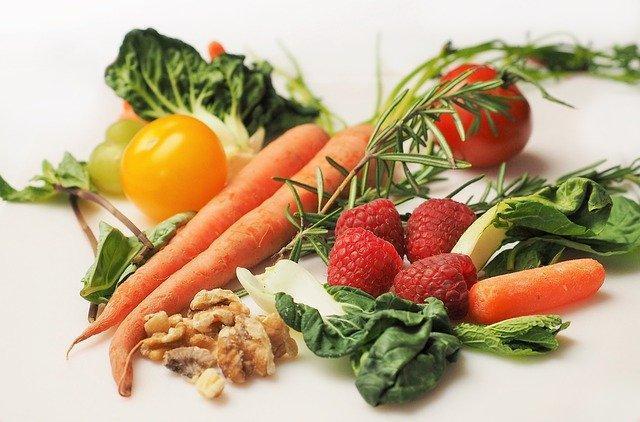 Here are some of the most important nutrients for seniors and easy ways to add them to meals:

Vitamin B12

26% of adults over 60 are decificent in B12. This vitamin is important because it supports several body functions like red blood cell production. It can also slow cognitive decline.

B12 deficiency can cause lethargy, weakness, heart palpitations, anemia, and nerve problems. It's typically found in foods like grass-fed meat, salmon, eggs, and dairy. A supplement can also help you meet the daily requirement.

Vitamin absorption becomes less efficient as we age, so even if you are getting enough B12, your body may be deficient. 

Potassium

Potassium is one of seven macrominerals, which are the minerals the body needs the most. It's crucial for many body functions, such as heart, cell, skeletal, and muscular functions.

For many adults, some medications can interfere with potassium absorption. A poor diet can also contribute to a deficiency.

Supplements can help, but eating potassium-rich foods your best option. Meat, most dairy products, beans, veggies, and fruits are high in potassium.

Fiber

Fiber is another nutrient that's crucial for our overall wellbeing. Its main benefits are digestive regulation and promoting a healthy colon and intenstines.

Many older adults deal with irregularity, constipation, or gastrointensinal discomfort. Medications can worsen these problems and prohibit the body from absorbing fiber as well as it should.

Men and women need over 20 grams of fiber daily to keep their digestive system running smoothly.

Whole fruits and veggies, grains, and black beans are all excellent sources of fiber.

Calcium

Seniors need about 1200 mg of calcium each day to protect bone health. While the first inclination is to reach for a glass of milk or a piece of cheese, there are other, healthier options to help you meet this value.

Kale, almonds, and tofu are high sources of calcium for everyone–not just those who are lactose intolerant. They also provide a rich source of other nutrients and contain less fat than dairy products.
Educate yourself
The best foods for you are whole foods found on the edge of the grocery store. Think meats, produce, and dairy. But if you do eat packaged foods, become an informed consumer and read the label to make more health-conscious selections.
Eat the right portions
To maintain a healthy weight, find the appropriate food portions for your age and body. Aging slows our metabolism, and many of us are less active than we previously were.
Visit the American Heart Association to find the recommended daily serving for adults 60 and older.
Hydration
Older adults are more at risk for dehydration because of the natural reduction of fluid levels in their bodies. This is particularly true for those living in arid areas.
Dehydration can lead to UTIs, constipation, confusion, and a host of other problems.
Stretch your dollar further
If a limited budget keeps you from eating right, check out the Supplemental Nutrition Assistance Program (SNAP). It can help you afford healthy food.
More than 4 million seniors use SNAP, and the average receiver gets $113 monthly. Check your eligibility for the program at Senior Benefits: Find Help Paying for Everyday Needs.
Spice things up!
Older adults frequently experience reduced abilities to smell and taste. Use more spices to add additional flavor to your food. It can also support better digestion and add extra nutritional value. 
Eat foods to help your gut
Lower stomach acid production can make digestion a challenge for older adults. On top of adding more spices, use foods that promote digestion, and ease stomach discomfort.
Sauerkraut, vinegar, and ginger are just a few foods that can get your gut going. 
Quit Smoking
You're never too old to stop smoking. In addition to being incredibly detrimental for you physically, smoking also suppresses your appetite and dulls your sense of taste. This can worsen health problems you already have and make food less enjoyable. 
Shopping and planning tips for seniors and their families
Make a list.

Make a list of healthy foods you want to eat throughout the week. Planning saves time and money.

Bring a friend

. The company makes grocery shopping easier and more enjoyable.

Be diverse.

It's easy to eat the same thing every week, so don't be afraid to try something new. 

Shop the border.

Pick the bulk of your items from the perimeter of the store because it's where the fresh, nutritious choices are kept.

Avert convenience foods.

It's tempting to buy things that don't take a lot of time to prepare, but these foods don't have what older adults need.

Clip coupons.

At home, look for special promotions, offers, and discounts from the shops you visit the most.

Discount programs.

Sign up for a discount card to receive store specials.

Try off-brands.

Store-brand items are more affordable and the same as name-brand products.

Make a sensible budget.

Remind yourself to be smart about your spending. For example, the price of chips and cookies can buy healthy options like apples, bananas, carrots, and more.

Find hydrating choices.

Water isn't the only way to stay hydrated. Look for things like watermelon, popsicles, and other hydrating fruits. You can also find things to flavor regular water, such as lemons and limes to water.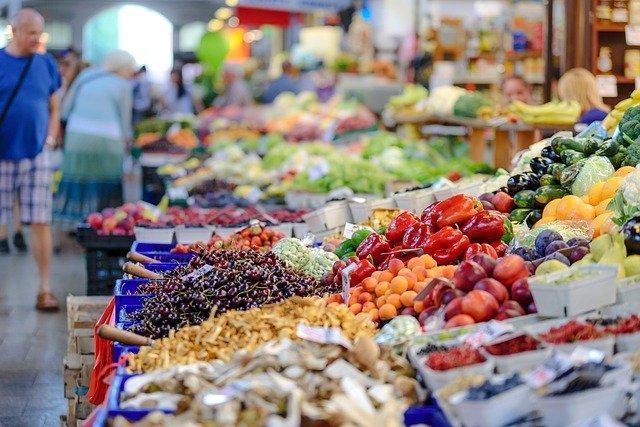 Healthy is more than nutrition
Being healthy is more than eating right. It also involves caring for yourself, mentally, and emotionally. An unfortunate aspect of growing older is losing loved ones or living apart from friends and relatives.
Living alone or losing mobility can lead to senior isolation and depression and cause a loss of appetite.
It's crucial that if you live near loved ones, to create a support network and encourage healthy eating and lifestyle together. Go on walks with friends, or take part in weekly activities.
Meal Delivery
Meal delivery companies can make healthy eating easier for those who have reduced mobility. Additionally, most large grocery chains have pickup locations where employees will load the groceries you've already selected straight to your vehicle.
Ask for help to set up an account for these services and work with someone to create healthy and delicious meals.
MeetCaregivers and National Nutrition Month
National Nutrition Month is an excellent time for caregivers and loved ones to educate seniors and about the many ways they can develop better eating habits and a healthier lifestyle.
Finding the perfect match for you or your loved one ensures your peace of mind and make sure they are in the best possible care. Contact us at 1-888-541-1136.
We update our blog every Monday, so check in regularly and find new information about senior care.
Sources
Care, Home Instead Senior. "National Nutrition Month: Seniors Encouraged to Focus on Healthy Eating."

PR Newswire: Press Release Distribution, Targeting, Monitoring, and Marketing

, 26 June 2018, www.prnewswire.com/news-releases/national-nutrition-month-seniors-encouraged-to-focus-on-healthy-eating-300422787.html.

"National Nutrition Month."

Senior Living

, 15 Feb. 2018, www.seniorlivingsystems.org/national-nutrition-month/.

"National Nutrition Month: Most Important Nutrients for Seniors."

Senior Care, Assisted Living, Homecare, and Rehabilitation at Woodlands

, www.woodlandsllc.com/national-nutrition-month-most-important-nutrients-for-seniors.

Producer, Morning Show.

WBFF

, WBFF, 16 Mar. 2019, foxbaltimore.com/morning/national-nutrition-month-senior-citizens.

"Senior Nutrition – Healthy Eating Tips & Resources."

NCOA

, 16 Aug. 2017, www.ncoa.org/economic-security/benefits/food-and-nutrition/senior-nutrition/.

Woodard, Regina. "Celebrating National Nutrition Month by Asking – What's A Senior To Eat?"

Facilities

, 2012, www.assisted-living-directory.com/content/nutrition-month.cfm.