Options For Elder Care Services
90% of older adults want to age in place, according to AARP. However, most will need long-term care to meet their needs and maintain their quality of life. Fortunately, there are many elder care services to support various aspects of seniors' lives as they age in place, such as:
Skilled nursing care
Physical, occupational, or speech therapy
Medical social services
Home health aides (HHAs)
Homemakers and companions
Volunteer care
Nutritional support
Laboratory and X-ray imaging
Pharmaceutical services
Transportation assistance
Understanding which options you have at your disposal gives you more control over the planning process and improves the level of care your loved one receives.
The duration and level of care differ from one person to another and typically vary over time. These factors will play a large part in your final decision, so as you consider various elder care services, keep these facts from ACL.gov in mind:
On average, women require about 3.7 years of care, while men require about 2.2 years.
There is a nearly 70% chance that someone 65 and older will need some form of elder care services.
One-third of seniors 65 and older may not need long-term care, but 20% will need it for at least five years.
With that in mind, here are several types of elder care services seniors can receive in their homes:
Types Of Elder Care Services
Seniors have many different options for aging in place. From conventional caregiving to specialized medical assistance, you can find the right type of care for your particular needs. Communicate with your health care team and relatives to create a care plan and plan for any services you may need.
A physician or nurse practitioner visits the home for diagnosis and treatment while occasionally reviewing the senior's home health needs. This is the most common type of home care and largely depends on the older adult's situation. After discussing it with the patient's doctor, a registered nurse develops a care plan. The assistance ranges from giving medication to intravenous therapy.
Physical, Occupational, or Speech Therapy
Illness or injury may leave some unable to perform things they previously could. A physical therapist develops a plan to help elders regain strength or ease joint pain. An occupational therapist treats various disabilities and relearns activities of daily living, and a speech therapist helps patients communicate again.
A medical social worker assists with different services, such as counseling or finding local resources to support the elder's rehabilitation. If the senior has a complicated health issue requiring several services, the social worker may act as their case manager to coordinate care.
For elders that need help meeting their personal needs, a home health aide, like those at MeetCaregivers, can help. In addition, some have specialized training to support more specific care under a nurse's guidance.
Homemakers And Companions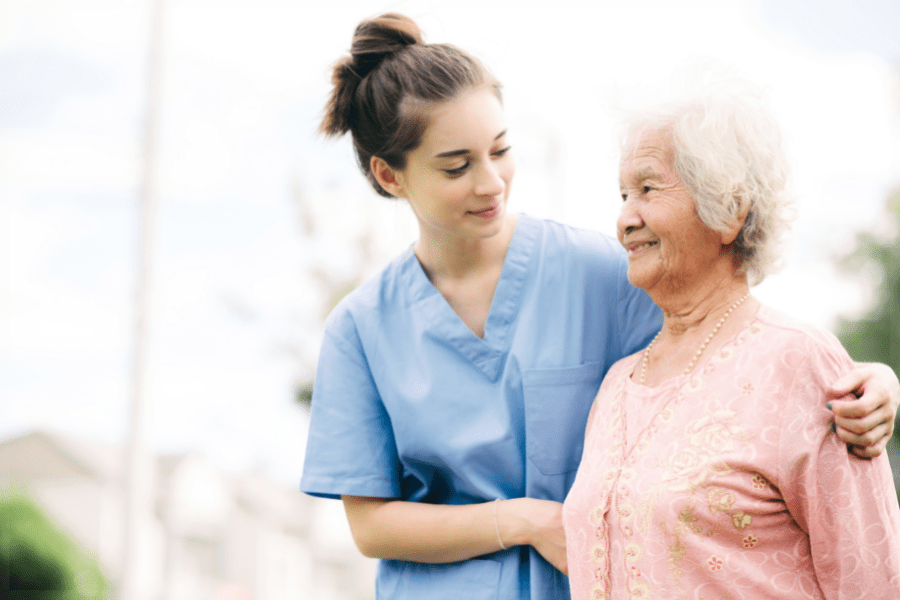 When an older adult receives medical treatment at home, a homemaker assists with meal preparation, laundry, grocery shopping, and other everyday household tasks. Companions and homemakers mainly focus on meeting seniors' social needs to minimize the risk of loneliness and isolation. For those who live alone, a companion can be a great source of comfort while monitoring their health and occasionally helping with household responsibilities.
A dietician visits the elder's home to conduct dietary evaluations and directions to promote a treatment program. Alternatively, meal delivery programs such as Meals on Wheels provide hot meals several times a week, depending on the situation.
Local volunteers can help older adults feel a sense of comfort as a companion, helping with primary care, transportation, emotional support, etc.
These services are ideal for seniors who need help with daily activities but don't need around-the-clock care. In addition, elders can enlist the help of loved ones and friends – such as spouses, adult children, or grandchildren. – to take on the role of a caregiver by helping with grocery shopping, meal prep, and transportation.
These centers function similarly to child day care services and care for the elder during the day in a safe setting. Adult day care facilities are best for seniors who shouldn't stay home alone. Moreover, this option also gives family caregivers a chance to work, handle other responsibilities, or partake in respite care.
This elder care option is sometimes called adult family care, elderly foster care, and small group assisted living. It is often a small group home with no more than five residents who receive assistance with personal care, medication, transportation, and other needs.
Faith-Based And Community Resources
Places of worship may offer volunteer groups for seniors, and faith-based organizations and community villages can also help with transportation needs.
Financial Resources For Elder Care Services
In most cases, older adults pay for home care, assisted living, and nursing care expenses with one of the following:
Government programs, including Medicaid, veterans' benefits, and Social Security.
Insurance coverage, such as life, long-term care, Medicare, or other insurance.
Private assistance, including non-profits, foundations, or pharmaceutical companies.
Personal property, for example, family assets, private loans, and home equity.
It's difficult enough trying to find affordable, quality care. And all too often, the financial burden creates even more obstacles. That's why Paying for Senior Care has a comprehensive list of government programs, insurance options, state non-Medicaid programs, and more to make looking for assistance more manageable.
Elder Care Services From MeetCaregivers
As you adjust to your new situation, remember to be patient with yourself and others and keep an open mind. You have many options for elder care services, so it's always okay to try a trial run to ensure it's right for you.
MeetCaregivers want to ensure that seniors have access to trained caregivers who can address the day-to-day needs of this unique community. Call 1 (888) 541-1136 to talk to us directly or Find A Caregiver today.
For more information and senior resources, visit the blog.
Brown, D. M. (n.d.).

How to Spend Time with Your Family While You Care for (and Live With) a Family Member

. ParentGiving.com. Retrieved April 27, 2022, from http://www.parentgiving.com/elder-care/spend-time-family-care-for-live-with-family-member/.

Samuels, C. (2021, August 13).

Adjusting to Living With Elderly Parents

. APlaceForMom.com. Retrieved April 27, 2022, from https://www.aplaceformom.com/caregiver-resources/articles/living-with-your-aging-parent-doesnt-work