Looking For New Summer Activities For Seniors?
Summer means sunshine, warm weather, and plenty of time for fun. However, older adults are more susceptible to heat stress, so it's important to exercise caution while outside. Fortunately, there are plenty of fun and engaging summer activities for seniors and caregivers that you can safely enjoy.
12 Simple Summer Activities For Seniors
Beat Summer Boredom & Heat With These Summer Activities For Seniors
Do you enjoy cooking? If so, you may enjoy making something you've never tried before. According to Psychology Today, activities like cooking provides a sense of purpose and accomplishment.
Summer is a good time to test your culinary skills since you can often find a range of fresh, inexpensive produce. Plus, adding a variety of fruits and vegetables to your meal ensures you're getting enough nutrients, too.
You might consider one of these virtual cooking classes to learn new skills or test the ones you already have: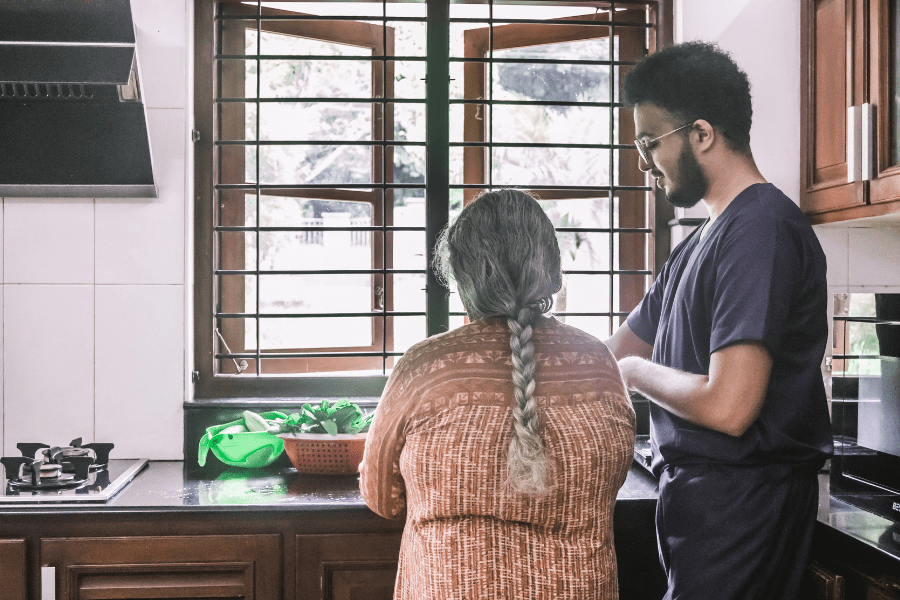 Timeless summer activities for seniors, such as museums, are educational and fun ways to pass the time. Plus, many often offer senior discounts, so why not take advantage of the cheaper rate, especially if it's someplace you've never visited? Boston is home to many unique museums, from art to history to science. There are so many places for you to check out!
But what about housebound seniors or those who don't have access to museums and other cultural exhibits? Not to worry, because you can find many virtual museum tours online, such as:
3. Remember Past Summer Memories
This time of year is a good time for older adults to reminisce. Sharing a favorite summer memory, such as a vacation or exciting event, is a great way to bring your past to life and open up to others. Additionally, it can also help you build communication skills and lower stress.
Summer activities for seniors, such as recording memories, can also be a cathartic experience while improving mental and emotional wellbeing.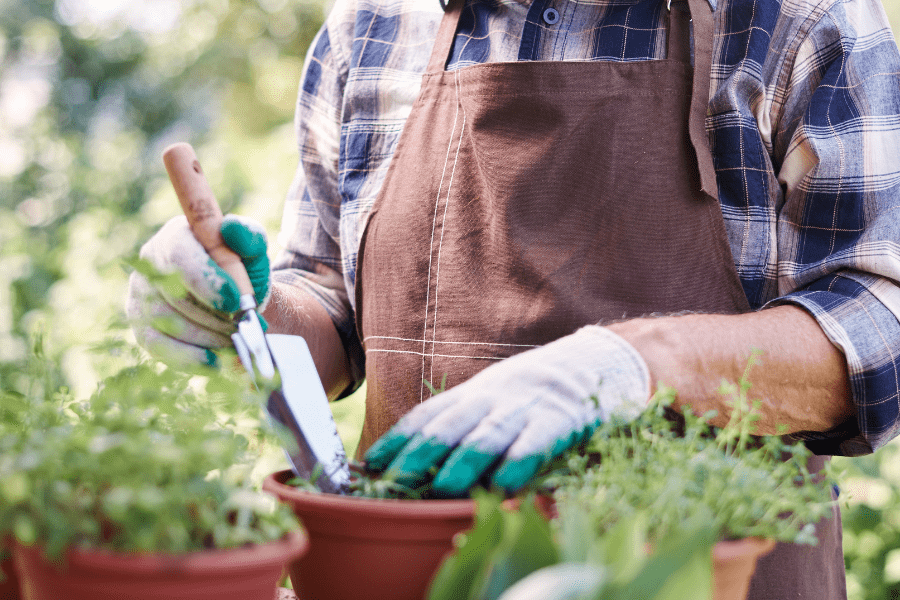 Do you have a green thumb? Gardening is a relaxing, creative way to get outside. Or, if you want to avoid the heat, there are many ways to bring nature inside. Don't feel like you have to revamp your whole yard. Setting up a small flower box is more than enough to beautify your home.
Of course, don't forget to stay hydrated while outside and take breaks to cool down. You can enjoy the other summer activities for seniors on this list if you feel unwell!
Art therapy is an excellent way for elders and those with dementia to stimulate their minds creatively, says Dr. Barbara Bagan. Arts and crafts aren't just for children; they can help adults process and healthily display emotions while cultivating fine motor skills.
Moreover, crafting is one of the best summer activities for seniors because it helps build confidence, focus, and motivation. Some studies show that clay is particularly beneficial for seniors. You may consider signing up for a beginner's pottery course or a similar class this summer.
Retirees have more free time to enjoy activities they previously couldn't. But if you need something to fill that extra time, volunteering is a fantastic idea. Research local organizations with causes you care about and ask how you can help. Volunteering for seniors has numerous benefits, including providing a sense of fulfillment.
Water aerobics is one of our favorite activities for seniors. It's one of the best exercises for older adults because it doesn't place stress on the joints and keeps you out of the heat. But it's also a great way to meet other people and socialize!
But if water aerobics isn't for you, plenty of other low-impact exercises are safe for seniors, like yoga, chair tai chi, and balloon volleyball.
Board games, puzzles, and cards are fun activities for seniors with a competitive side. They're also an excellent way to interact with others in fun and meaningful ways. One study found that games can lower older adults' chances of dementia.
Puzzles, in particular, are a classic option for days that are too hot, rainy, or when you want some alone time. Research shows that puzzles can improve cognition and offer a feeling of purpose upon completion.
If you enjoy puzzles, I'm A Puzzle is worth checking out. This website redesigns the classic jigsaw puzzle into a customizable and user-friendly version specifically for seniors. For an added challenge, I'm A Puzzle features specialized functions to practice math while playing. 
Unscrambled Words is another online puzzle that offers a fun new way to play traditional word games. With this word descrambler tool, you can quickly transform random letters into actual words and become a word puzzles expert. Unscrambled Words is great for fans of Scrabble, Words with Friends, and similar challenges.
This summer, consider learning a new game you've never tried!
Summer activities for seniors, like watching a favorite film, can help you forget about life for a few hours and offer an emotional escape. So if there is one in your area, go to the drive-in! Modern drive-ins provide many amenities like car side concession delivery, high-quality audio you can adjust with your radio, and much more.
Not only that, but tickets for these features are often much cheaper than in traditional theatres. So take your grandkids with you and share memories about times you visited the drive-in theatre in your youth.
A good book is perfect at any time of year, but summer is especially nice since you can read outside in the shade while getting some fresh air or indoors with the AC. Also, joining a book club is an excellent motivator for reading and socializing. Listening to audiobooks may be a good alternative if your eyesight limits your reading ability. There are many places where you can find free audiobooks online, including at the library.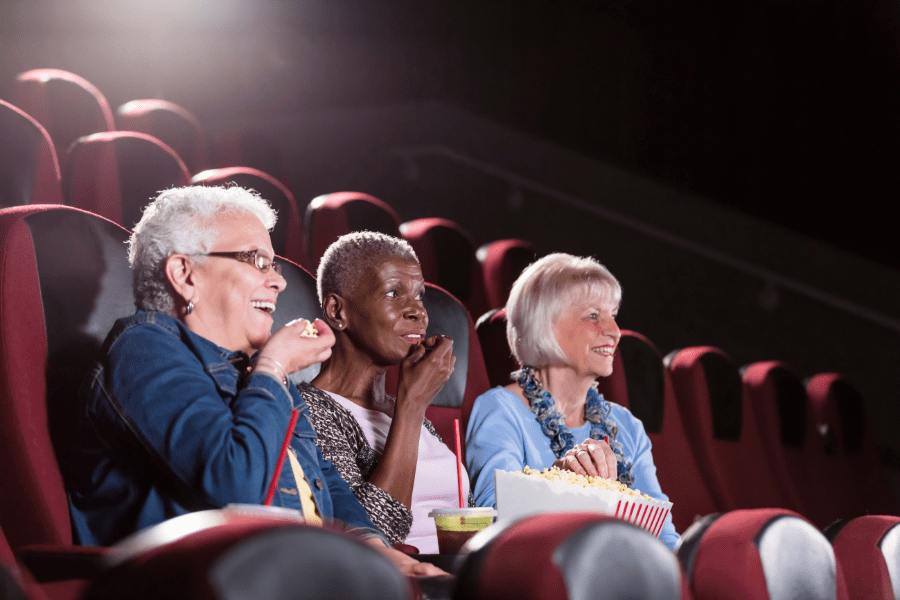 11. Enjoy A Cold & Tasty Treat
Is it really summer if you don't eat ice cream at least once? Ice cream socials are perfect for meeting other people and enjoying a delicious treat.
12. Enjoy The Sunshine Responsibly
Summer heat may restrict some outdoor activities for seniors, but getting outside is still important. Sunlight is an excellent source of vitamin D, which lowers the risk of osteoporosis and symptoms of anxiety and depression. It also supports a healthy immune system and cognitive functioning. So going outside, even for a little bit, is enough to get the benefits.
Here are some ways to enjoy summer activities for seniors safely outdoors:
Going out when the temperature cools to watch the sunrise or sunset.
Bird watching in the shade.
Morning or evening walks, but take a bottle of water with you!
MeetCaregivers Supports Summer Activities For Seniors
Summer activities for seniors are more fun when you have someone who enjoys them just as much. MeetCaregivers connect seniors with the perfect caregiver based on personality, interests, care needs, and more. Visit our Find A Caregiver page to submit the questionnaire and get help today. Or, call 1-888-541-1136 for more information.Visit our Blog to find new and helpful information about home health and senior care.
"9 Engaging and Safe Summer Activities for Seniors." Vineyard Henderson, 6 Aug. 2019, www.vineyardhenderson.com/safe-summer-activities-for-seniors/."Top 10 Summer Activities for Seniors."
Easy Climber, 17 Jan. 2019, www.easyclimber.com/blog/top-10-summer-activities-seniors/.
Ray, L. (2020, May 8). 14 Virtual Experiences For Seniors To Have At Home. SeniorsMatter.com. Retrieved June 24, 2022, from https://www.seniorsmatter.com/14-virtual-experiences-for-seniors-to-have-at-home/2495916/