2022 Social Security Benefits Increase
At 5.9%, the 2022 SSI increase is the highest cost of living adjustment (COLA) in four decades. As a result of this adjustment, the average monthly retirement benefit will increase to $1,657, a $97 increase. In addition, maximum monthly benefits will also get a boost, including:
$197 for workers who turn 67 (the full age of retirement) in 2022
$841 monthly SSI checks for individuals ($47 more than 2021)
$1,261 for couples ($70 more than 2021)
Plus, as of December 2021, you can view your personalized COLA messages on the Social Security Administration's (SSA) website. To see next year's benefit amount, visit my Social Security account.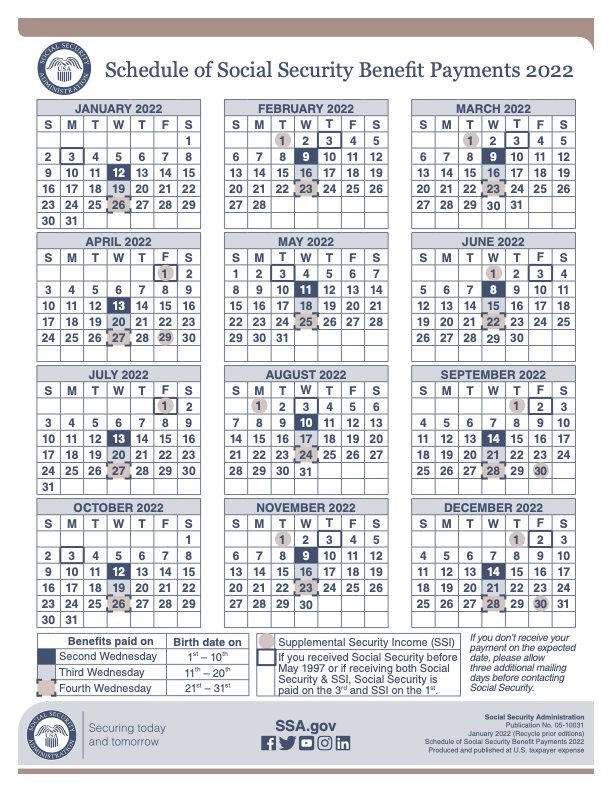 How Is The Yearly COLA Determined?
To determine the annual Social Security COLA, the SSA assesses price fluctuations of a market basket, "a selected group of consumer goods and services whose prices are tracked for calculating a consumer price index and measuring the cost of living."
The SSA uses the Consumer Price Index for Urban Wage Earners and Clerical Workers (CPI-W) to benchmark these changes. To calculate the 2022 COLA, the SSA compared the average CPI-W index changes in July, August, and September 2021 with the same period in 2020. The difference between the two quarterly averages was 5.9% — the highest percentage since 1982. There are several reasons for this anomaly, including:
The ongoing pandemic and economic recovery
Climbing energy prices
Supply chain disruptions
Inflation
The COLA calculation is retroactive and based on year-over-year quarterly changes. Consequently, it sometimes fails to capture the total inflation increase if it continues beyond the three months. In this case, the CPI-W from November 2020 to 2021 rose 7.6%. Additionally, the Consumer Price Index for All Urban Consumers (CPI-U) (the most common inflation benchmark) increased by 6.8%. If this inflation rate persists, it will reduce the purchasing power of future SSI benefits.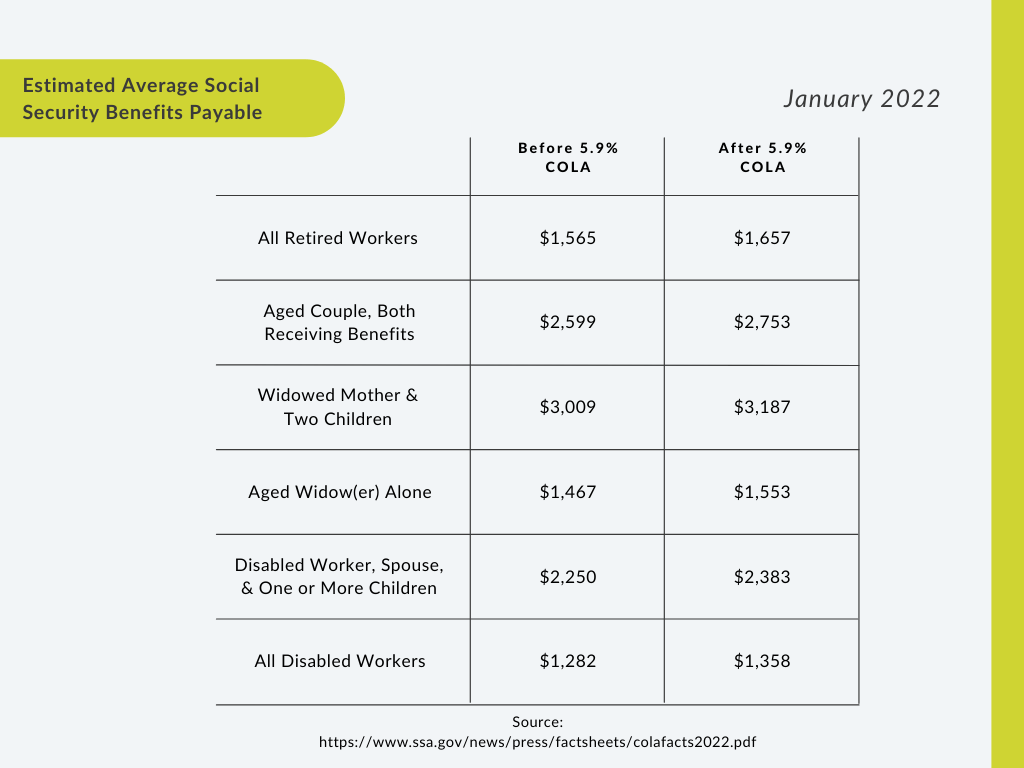 Other 2022 Social Security Changes In 2022
1. Full Age Of Retirement Raised To 67
Older adults born in 1960 will have to wait until 67 to claim the full retirement benefit. However, if you're still in the workforce and won't reach the full retirement age until after 2022, you can earn $1,630 per month (or $19,560 annually) without losing SSI benefits.
For example, if you turn 67 in 2022, you can still qualify for the full benefit amount (up to $51,960) in the period in 2022 before the full age of retirement.
If you don't claim your benefits until age 67, the SSA won't revoke your benefits based on income. Instead, you'll qualify for delayed retirement credits, which would increase your monthly payments.
IMPORTANT: If you wait until the full age of retirement to claim your benefits, you should still enroll for Medicare within three months of turning 65. If you don't, you could pay even more for Part B and Part D coverage.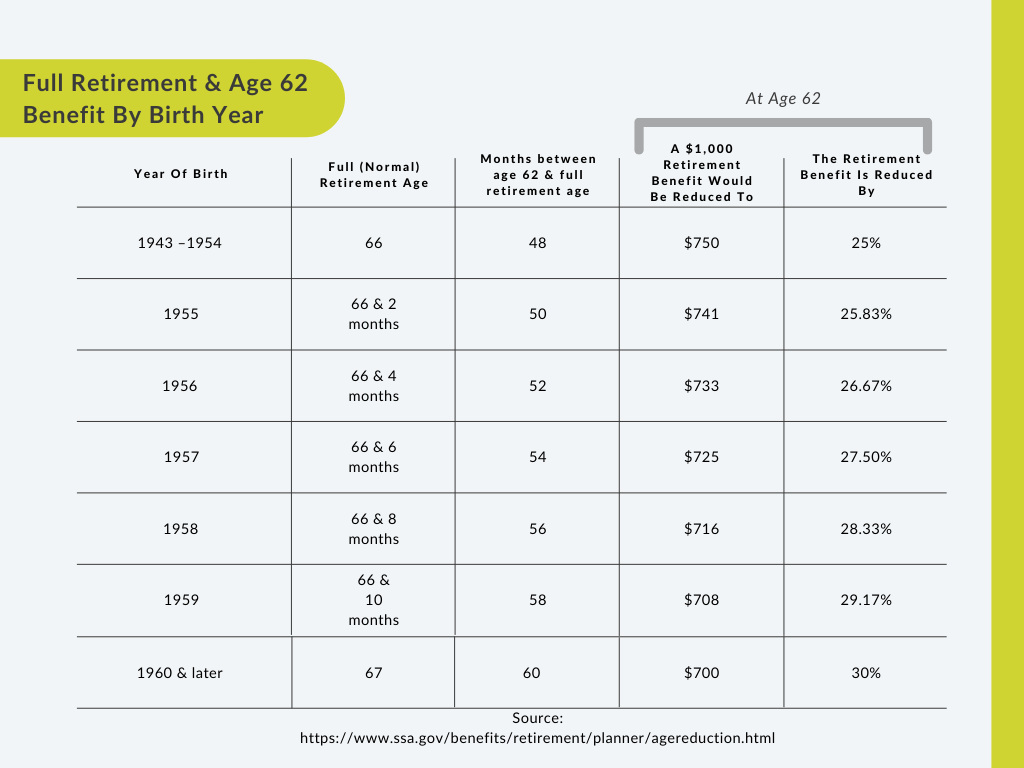 2. Social Security Tax Cap Raised
The SSA collects a tax of 6.2% on income, up to a specific threshold, to fund the Social Security program. In 2021, that threshold was $142,800, but the SSA raised the 2022 threshold to $147,000.
Individuals whose 2022 income exceeds $147,000 will enjoy a small bonus in their paychecks after reaching the taxable minimum for the year. However, income above this threshold will not apply toward future SSI checks.
3. Social Security Earnings Limits For Workers Raised
Workers who receive Social Security will qualify for an extra $600 in 2022 before a portion of their benefits is temporarily withed. Additionally,
Recipients under the full retirement age can qualify for benefits and still earn up to $19,560. For every $2 over this limit, the SSA deducts $1.
Recipients who reach the full retirement age will see an earnings limit increase of $51,960. For every $3 over this threshold, the SSA withholds $1.
Seniors who reach the full retirement age and stay in the workforce can claim Social Security payments penalty-free. In addition, the SSA will reassess the amount of the benefit to account for ongoing income and previously withheld benefits. "There is no limit on earnings for workers who are full retirement age or older for the entire year," William Reichenstein, the head of research at Social Security Solutions, told US News.
4. Higher Costs For Medicare Part B
Medicare Part B is an essential program for many older Americans. Part B covers medical services such as:
Physician appointments
Outpatient hospital services
Some home health services
Durable medical equipment
Other services not insured under Medicare Part A
However, premiums increased 14.5% — from $148.50 in 2021 to $170.10 in 2022. While the 2022 Social Security benefits increase is significant, higher Medicare costs mean many recipients won't receive the full monthly payment.
For example, Fred, a retired teacher who lived on a fixed income, received $1,565 per month in 2021. But after the Social Security benefits increase in 2022, he's eligible for $1,657.30 per month. However, due to the Part B deduction, Fred only receives $1,487.20.
The Centers for Medicare & Medicaid Services (CMS) attributes rising premiums and deductibles to several factors, such as:
Higher costs and utilization across the nation's healthcare system during the pandemic. These factors, plus ongoing demand for acute/intensive care, propelled annual premiums.
Congressional efforts to significantly reduce the 2021 Medicare Part B premium increase resulted in the $3.00 per beneficiary per month increase in the Medicare Part B premium. This increase would have ended in 2021 but will continue through 2025.
Uncertainty about the potential use and coverage of Aduhelm by Medicare recipients. If Medicare covers Aduhelm, a high-cost drug used to treat Alzheimer's, it would mean significantly higher expenditures for the Medicare program. Therefore, rates increased to prepare for possible coverage and offset the costs.
Concerns For Fixed- or Low-Income Seniors
According to the National Committee to Preserve Social Security & Medicare (NCPSSM), in 2019, approximately 56.1 million seniors enrolled in Part B or received Supplementary Medical Insurance (SMI).
Sadly, the Medicare hike will impact seniors who receive the fewest Social Security payments the most. "The folks with the lowest benefits see the smallest increase, yet they may be the same people who depend on Social Security for most or even all of their income," Mary Johnson, Senior Citizens League Social Security and Medicare policy analyst, told AARP.
In addition, the Senior Citizens League found that from 2013 to 2022, SSI COLA rose 18.8%. Yet, at the same time, Medicare Part B premiums increased 57.2% — nearly triple the rate. This disparity highlights a critical flaw in the current system that poses massive problems for seniors who rely on government programs like SSI and Medicare to live.
The 2022 Social Security benefits increase is the most significant adjustment since 1982. However, many worry that the adjustment doesn't offset rising Medicare costs, which automatically come out of monthly SSI payments. In addition to the 5.9% COLA, the SSA also raised the full age of retirement, income tax cap, and earnings limit for working seniors.
Medicare Part B can help offset the cost of home care so seniors can age in place in the comfort and security of home. If your loved one needs assistance with activities of daily living (ADLs), transportation, or something else, we can help. Call 1-888-541-1136 or email info@meetcaregivers.com for more information. In addition, you can visit the Blog to learn more about caregiving, aging in place, and more.
Bogle, D. (2021, October 13). Social Security Benefits Increase in 2022. Social Security Matters. Retrieved January 10, 2022, from https://blog.ssa.gov/social-security-benefits-increase-in-2022/
Brandon, E. (2021, October 13). Social Security Changes Coming in 2022. US News Money. Retrieved January 10, 2022, from https://money.usnews.com/money/retirement/articles/social-security-changes-coming-next-year
Centers for Medicare & Medicaid Services. (n.d.). 2022 Medicare Parts A & B Premiums and Deductibles/2022 Medicare Part D Income-Related Monthly Adjustment Amounts. CMS Newsroom. Retrieved January 11, 2022, from https://www.cms.gov/newsroom/fact-sheets/2022-medicare-parts-b-premiums-and-deductibles2022-medicare-part-d-income-related-monthly-adjustment
Social Security Administration. (n.d.). Cost-of-Living Adjustment (COLA) Information. Social Security Administration. Retrieved January 10, 2022, from https://www.ssa.gov/cola/
Social Security Administration. (n.d.). Retirement Benefits. Social Security Administration. Retrieved January 10, 2022, from https://www.ssa.gov/benefits/retirement/planner/agereduction.html
Swenson, S. (2021, December 4). 5 Social Security Changes Arriving in 2022. The Motley Fool. Retrieved January 10, 2022, from https://www.fool.com/investing/2021/12/04/5-social-security-changes-arriving-in-2022/
Waggoner, J. (2021, December 28). Biggest Social Security Changes for 2022. AARP. Retrieved January 10, 2022, from https://www.aarp.org/retirement/social-security/info-2022/monthly-benefits-medicare-premium-payroll-tax-changes.html