Spring Cleaning: Good For The Body & Mind
Right now, you probably feel a great deal of anxiety regarding COVID-19. Consequently, spring cleaning tips may be the last thing on your mind. But if you are stuck at the house, it may be the best time to give your home a little TLC. Mandatory self-quarantine and social distancing have been discouraging, especially during spring. After all, you've just spent the winter cooped up indoors!
So if you feel g a little cooped up, stir-crazy, and downright bored, spring cleaning is an excellent way to get your mind off of current events and feel good doing something productive. Even if you are an older adult with limited mobility, there are ways you can spruce up your place.
Want to know more? Check out these simple, easy spring cleaning tips for seniors.
Simple Spring Cleaning Tips For Seniors
1. Use tools that reduce the risk of falling.
Older adults should avoid using items that pose a risk of falling, such as stools or long vacuum cords. Instead, try extendable tools like dusters and squeegees. They make reaching out-of-reach corners and windows easy.
Also, a cordless vacuum or one with a retract button ensures you don't need to wrap the cord yourself. And, speaking of vacuuming, move your furniture and sweep underneath if you can manage it. There's no telling how much debris gathered underneath it during the winter!
Lastly, make sure your broom is the right size, so you aren't bending over too much, as well as a standing dustpan.
2. Improve your home's air quality.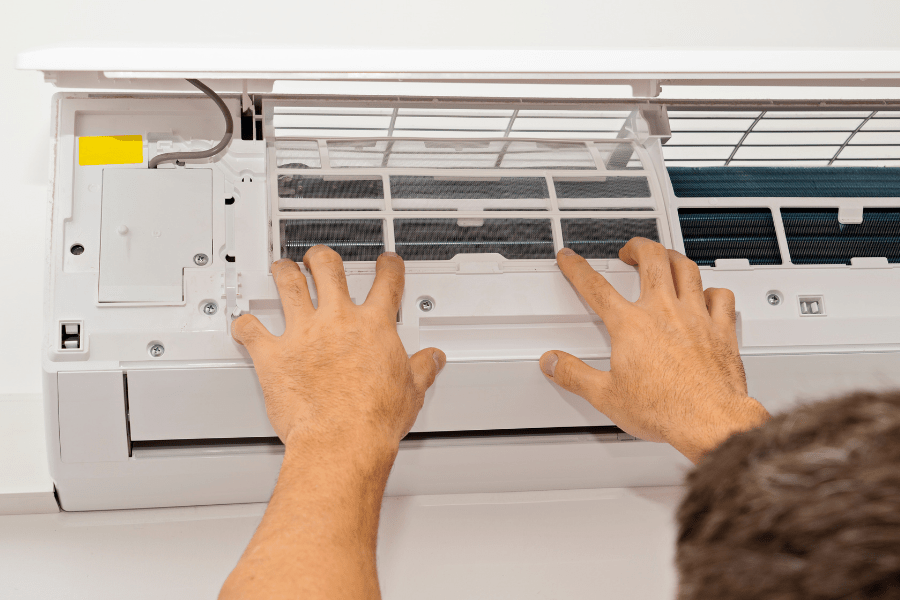 Air quality plays a big part in your overall wellbeing, but unfortunately, it's something that many people neglect. 
Replacing your home's air filter should be the first and perhaps easiest task. New filters efficiently catch dust particles and promote energy efficiency.
Dusting is another way to improve air quality, but getting a thorough dusting in can be a little more of a challenge for seniors or those with limited mobility. Using extendable tools like the ones mentioned above can help make this task more comfortable and reduce the chance of falls.
Dusting light fixtures, fans, baseboards, shelves, and electronics can make a big difference. Try using a dryer sheet to get places with a lot of build-up, like baseboards. Don't forget about the various fabrics around the house that accumulate dust! 
In addition to washing your bedding, linens, and towels, you should also clean:
Pet beds

Blankets

Rugs

Throw pillows

Drapes
3. Check smoke detectors & fire extinguishers.
An essential spring cleaning tip is checking your fire extinguisher, alarms, and CO2 detector if you have one. An easy way to remember is changing the batters in your detectors whenever you adjust your clocks for a time change. Additionally, check the expiration of your fire extinguisher. And if you don't have one, make sure you get one soon!
4. Organize your medicine cabinet.
Is your medicine cabinet bursting with prescription and over-the-counter drugs, first aid materials, or random things that make you wonder how they got there in the first place? Now is the best time to tackle that cabinet!
Make sure your first aid kit is complete, take time to update your emergency documents, and toss any expired medications. It's essential to get rid of expired medicines for several reasons: Expired drugs don't work, take up space, and you risk accidentally using the wrong prescription. Also, call your city's waste service to learn the best practices for disposing of old medications.
5. Organize those piles around the house.
As hard as it might be to admit, organized piles aren't an orderly system, and they could become tripping hazards.
So instead, take a little bit of time to find a home for your belongings. If you can't find a place for certain things or don't remember the last time you used something, consider donating or tossing it.
A good rule of thumb: If you haven't used it in the last 12 months, you should get rid of it. That includes anything you own, from clothing to home decor, bedding, and personal care products. Also, recycle magazines you've already read, and file any paperwork that's still lying around.
You'll have more space for belongings you use, and you'll feel much better once you have less clutter to look at.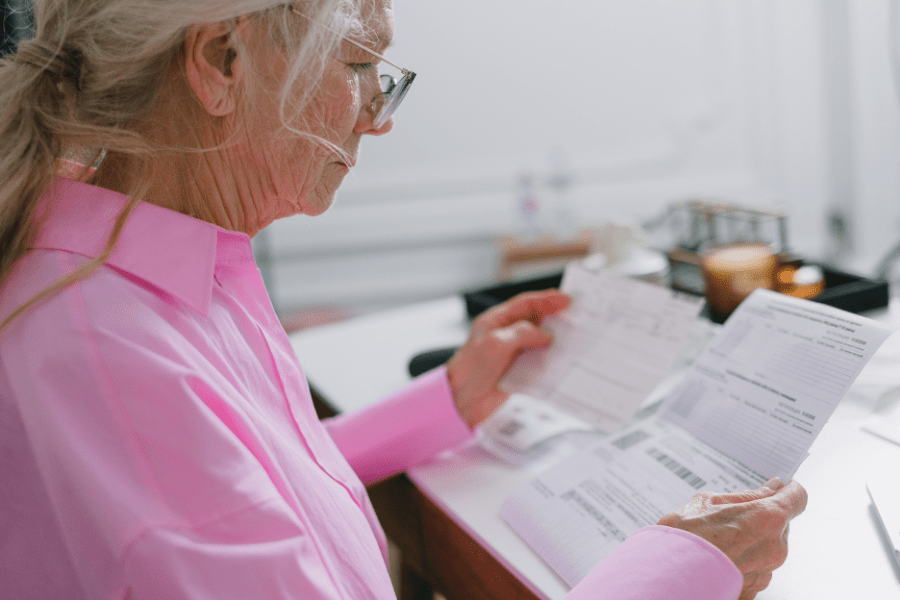 6. Use lightweight storage containers.
Before beginning the process of organizing your items, make sure you have a way to store them. Small, lightweight containers are more manageable for older adults, and their small size prevents them from getting too heavy. Bins make it easy for you to access different items and return them when you're finished. And, you can easily label containers, so you know what's in them at a glance.
7. Clean your dishwasher & washing machine.
You would be surprised at how dirty your dishwasher gets. Luckily, it's easier to clean than you think. First, clean any scraps from the bottom and use a specialty dishwasher detergent. Then, if possible, remove the dish racks and wipe away any potential grim. Then, wipe down the exterior of the machine!
Inside your washing machine, the agitator and tub collect grime and dirt and cause a moldy smell. Fill the machine with hot water, then add white vinegar and baking soda. Let it sit for up to an hour, restart your appliance, then let it empty and dry. Don't forget to wipe down any gaskets your machine has, as water may also not evaporate.
8. Don't forget the fridge!
You use your refrigerator every day, making it easy for the build-up to accumulate quickly. Even if you give it a quick wipe down every so often, a once or twice a year deep clean ensures you hit any corners or shelves you missed.
Plus, taking everything out for spring cleaning lets you throw away any expired foods or condiments you haven't touched in months. This is particularly crucial for those with developing dementia, so they don't eat expired food. Finally, after your refrigerator is sparkling clean, keep it smelling fresh with a container of baking soda.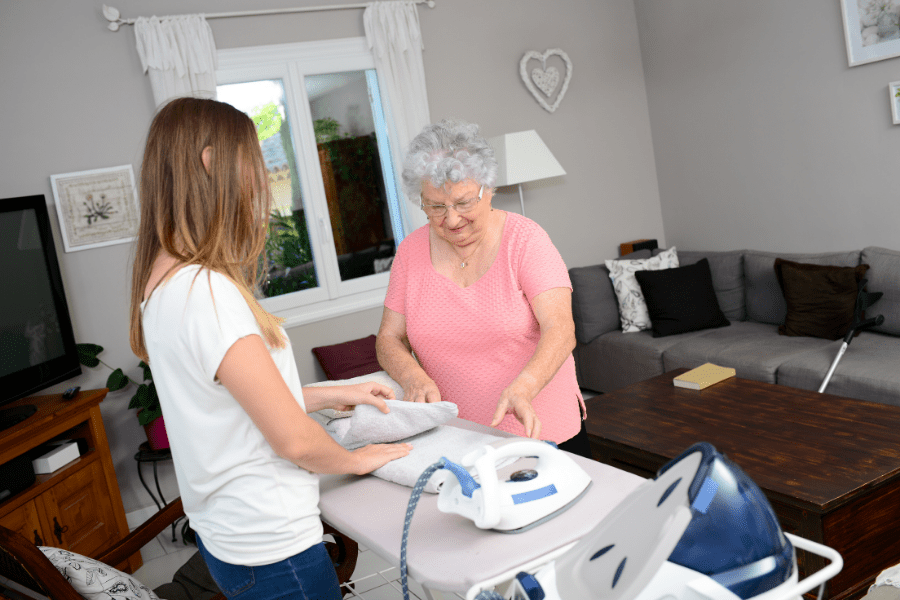 Here's a final spring cleaning tip to remember: know your limits.
It's not uncommon for independent seniors to push themselves. But this can have serious unintended consequences.
If a particular task is too much for you to take care of on your own, you don't want to risk injury. Instead, make a note of chores you need assistance with, and ask for help when it's safer to have friends and family over again.
Besides, there's a good chance that loved ones will jump at the opportunity to help you once they're able to visit again. And, you'll be able to surprise them with the work you've already accomplished!
Spring Cleaning Tips For Family Caregivers
Family members may face several challenges when helping an aging loved one with spring cleaning or downsizing. Here are a few ways to address this significant task.
10. Establish set goals with relatives.
If you plan to clean a parent's or other loved one's home, communicate your reasons for doing so with siblings or other relatives beforehand. These discussions aren't always easy, but assuring them that this process can improve their quality of life may help them feel more in control.
11. Organize important files.
As you organize, collect vital paperwork such as financial, medical, and legal documents you find. Getting these papers in order before an emergency occurs will save you time, money, and stress. 
12. Perform an informal home assessment.
As you clean (and even during regular visits) evaluate the state of their home and safety. 
Check if their home is:
Well-lit

Easy to move through

Clear of fall risks (including extension cords and rugs)

Equipped with a working fire extinguisher, CO2 detector, and smoke alarm
Consider reviewing a list of senior safety precautions to ensure your loved one's wellbeing.
MeetCaregivers helps families find the perfect caregivers for aging parents and loved ones aging in place. Our trained and certified caregivers can assist with various needs, including light housework, transportation, grocery shopping, and more.
For more information, e-mail info@meetcaregivers.com or call 1 (888) 541-1136. Visit our Blog for additional tips and resources for caregivers and seniors. 
Kendal. "6 Simple Spring Cleaning Tips for Older Adults."

6 Simple Spring Cleaning Tips for Older Adults

, www.kendalathome.org/blog/6-simple-spring-cleaning-tips-for-older-adults.

Lunden, Joan. "5 Spring Cleaning Tips For Seniors And Their Families."

HuffPost

, HuffPost, 30 June 2015, www.huffpost.com/entry/spring-cleaning-tips-for-seniors_b_7129648.

Shoemake, Emily. "Spring Cleaning Tips for Seniors."

Presbyterian Senior Living

, 23 Apr. 2018, www.presbyterianseniorliving.org/blog/spring-cleaning-tips-for-seniors.

Team, Hoveround. "8 Spring Cleaning Tips for Seniors (Even in Wheelchairs)."

Hoveround Articles – 8 Spring Cleaning Tips for Seniors (Even Seniors in Wheelchairs)

, Hoveround, 4 Feb. 2020, www.hoveround.com/articles/spring-cleaning-tips-for-seniors.