Winter Nutrition Tips For Older Adults
Even with the temptation of holiday food, it's essential to focus on maintaining healthy eating habits, especially for older adults. For seniors, healthy winter nutrition means more than getting plenty of vitamins and minerals to prevent illness. It also means supplementing with nutrients that support other aspects of your health. Those include emotional wellbeing, inflammation, cholesterol, heart disease, and mobility.
Winter Nutrition Tips For Better Health & Wellbeing
During the winter months, our energy levels decline. However, a healthy lifestyle can change that. Here are a few general winter nutrition tips to keep in mind:
Follow the 4 x 3 rule. That means eating from the four food groups (fruits and vegetables, grains, meat, and dairy) three times a day.
Healthy snacking. In between meals, seniors should snack on high-fiber foods. Besides supporting a healthy digestive system, fiber also helps promote feelings of fullness. Rye, apples, nuts, bananas, and prunes are just a few fiber-full foods that can help you or your loved one feel your best all winter.
Stay active, even when it's cold. Physical activity helps lower inflammation, blood flow, energy, balance, mood, and more.
Drink plenty of water! It's easy to forget to stay hydrated when it isn't hot outside, but that doesn't mean it's any less important to drink at least 64 ounces of water a day.
With that in mind, here are more winter nutrition tips to support older adults' health and wellbeing.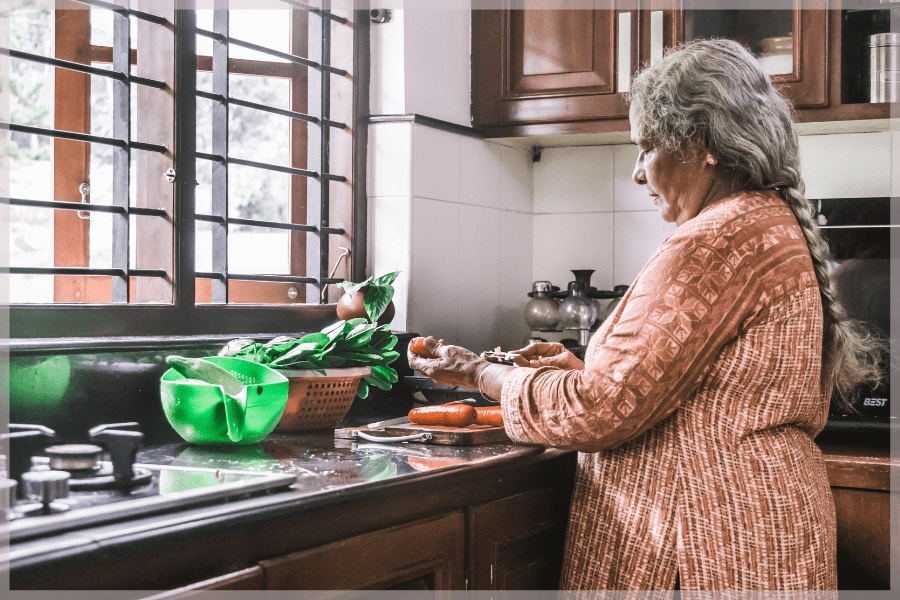 Winter Nutrition Tips For Emotional Health
The shortened days and cold weather can make it difficult for older adults to get enough sunlight, an essential vitamin D source that promotes physical and emotional health. It supports bone health by regulating calcium and phosphorus levels in the blood. It also promotes calcium absorption, ensuring the body meets its calcium needs.
When you don't get enough vitamin D, your body's serotonin levels (and your mood) drop. You can counteract the winter blues with a supplement pill or eating foods high in this vitamin, such as:
Egg yolks
Low-fat dairy products (milk, cheese, and yogurt)
Whole grains and healthy carbs (oats, quinoa, and rice)
Root vegetables (yams, pumpkins, sweet potatoes, and squash)
Winter Nutrition Tips For Cognitive Health
Experts believe that up to 20% of adults over 50 don't meet the recommended amount of B12, which can lead to series health issues.
Vitamin B12 helps the body produce red blood cells and promotes proper nerve cell function. However, low levels of this vitamin can affect the brain and memory, causing irritability and increasing the risk of dementia.
Seniors can try a B12 supplement to ensure they get enough of this vital vitamin each day. But they should also consider adding these B12-rich foods to their diet:
Eggs
Milk and dairy products
Meat (beef, liver, and kidneys)
Seafood (salmon, trout, tuna, and clams)
Winter Nutrition Tips For Vision and Bone Health
You may already know that vitamin C supports a healthy immune system, which is especially important for older adults in the winter. But vitamins A and K are equally crucial:
Vitamin A can prevent age-related visual degeneration, lowers the risk of some cancers, promotes bone health, and even helps protect immunity.
Vitamin K helps blood clot easier, supports bone metabolism, and manages calcium levels in the blood.
Foods shown to support vision and bone health the most include:
Leafy greens (kale, chard, bok choy, spinach)
Dairy and milk products
Seafood (sardines, salmon)
Tofu
Figs
Almonds
Winter Nutrition Tips For Immune System Health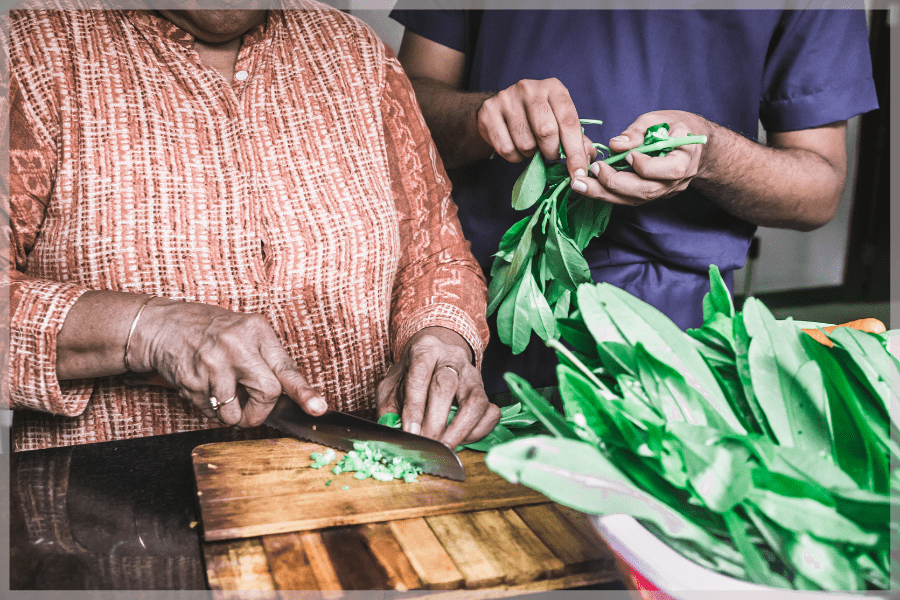 Getting plenty of vitamin C is the first step to staying healthy this winter. This vitamin is best known for its immune system properties but can also help lower cholesterol levels. Many citrus fruits like oranges, lemons, and grapefruit are go-to sources of vitamin C. They also have plenty of fiber, a necessary nutrient for many bodily functions.
B6 is another immune system booster, but it also has a wealth of other health benefits that are important to winter nutrition for seniors. For example, B6 can help improve your mood and ease symptoms of depression and prevent clogged arteries and lower your chance of heart disease. In addition, some studies link B6 to improved cognitive health and lower Alzheimer's disease risk.
Foods containing high levels of vitamins C and B6 include:
Citrus fruits
Root vegetables
Avocados
Nuts (pistachios, sunflower seeds, walnuts)
Meat (lean chicken breast, pork chops, beef)
Winter Nutrition Tips For Muscle Health
Aging adults have a high risk of fall-related injuries. Eating high-protein foods can help protect muscle health and slow down their degeneration. In turn, this helps lower the risk of injury in the event of an accident and also speeds up recovery.
High-protein foods include:
Eggs
Poultry (chicken and turkey)
Dairy products (Greek yogurt, cottage cheese, and milk)
Seafood (salmon and tuna)
Winter Nutrition Tips To Ease Inflammation
Cold temperatures can worsen inflammation. Seniors can counter this by eating foods high in antioxidants. Antioxidants lower the risk of cancer and heart disease, improve skin, hair, and eye health, and ease inflammation.
Purple and red fruits and vegetables like blueberries and beets contain high levels of anthocyanins, a specific type of antioxidant that fights free radicals that cause cellular damage.
Other antioxidant-rich foods include:
Fruits (grapes and berries)
Seafood (clams, oysters, shrimp, and fish)
Vegetables (avocados, collard greens, and asparagus)
Nuts and seeds (peanuts, ​​Brazil nuts, and pumpkin seeds)
If Cooking Isn't An Option
Sometimes, there comes the point where cooking is no longer an option. Look for signs that indicate a need for additional help:
Burner lights or the oven left on
Decreased energy and strength
Difficulty or shakiness when cutting
An empty refrigerator or one full of spoiled food
Dishes that appear burned or were on the stove for too long.
If you or your loved one cannot prepare healthy meals, there are still ways to ensure a healthy diet. Hiring a caregiver can make a big difference if you live far away from your loved one or can't assist with cooking. An in-home care worker can help with meal preparation and planning, feeding., grocery shopping, or other needs.
You can also consider a delivery service or subscription box. Food delivery services are rising, and older adults have various choices for ordering delicious, healthy meals.
Winter Nutrition Tips & More From MeetCaregivers
We hope these winter nutrition tips help your loved one beat the winter blues and feel their best. But if you or your loved one needs extra help around the kitchen, MeetCaregivers can help. An in-home care worker can help with many needs, from routine care to transportation.
The right care can go a long way to improve your and your parent's quality of life. Call us at 1 (888) 541-1136 or Find A Caregiver today.
Also, check the Blog for resources and guides on aging in place and caregiving.
The Nutrition Source. (n.d.). Antioxidants. Antioxidants | The Nutrition Source | Harvard T.H. Chan School of Public Health. Retrieved November 2, 2022, from https://www.hsph.harvard.edu/nutritionsource/antioxidants/

Pearson, E. (2019, May 5). Meal plans for bone and eye health. Meal plans for bone and eye health – Pacific Medical Centers. Retrieved November 2, 2022, from https://www.pacificmedicalcenters.org/healthy-tips/meal-plans-for-bone-and-eye-health/

Richards, L. (2021, March 30). 30 muscle-building foods to fuel your goals. 30 muscle building foods to fuel your goals. Retrieved November 2, 2022, from https://www.medicalnewstoday.com/articles/muscle-building-foods

Semeco, A. (2022, January 20). Vitamin B12 Foods: 12 great sources. Vitamin B12 Foods: 12 Great Sources. Retrieved November 2, 2022, from https://www.healthline.com/nutrition/vitamin-b12-foods#foods-list

Ware, M. (2018, January 22). Vitamin K: Health benefits, Daily Intake, and sources. Vitamin K: Health benefits, daily intake, and sources. Retrieved November 25, 2019, from https://www.medicalnewstoday.com/articles/219867

Ware, M. (2022, April 26). What are the health benefits of vitamin D? Vitamin D: Benefits, deficiency, sources, and dosage. Retrieved November 25, 2019, from https://www.medicalnewstoday.com/articles/161618

West, H. (2018, August 23). 6 Health Benefits of Vitamin A, Backed by Science. Retrieved November 25, 2019, from https://www.healthline.com/nutrition/vitamin-a-benefits

Whitbread, D. (2022, September 26). Top 10 Foods Highest in Vitamin B6. Retrieved November 2, 2022, from https://www.myfooddata.com/articles/foods-high-in-vitamin-B6.php