How To Prevent Caregiver Burnout
If you care for an elderly parent or aging loved one, you know how overwhelming your responsibilities can be. Left unaddressed, the stress of balancing work, home, caregiving, and other responsibilities can significantly impact your physical, mental, and emotional wellbeing.
As you become increasingly exhausted and disinterested over time, meeting your loved one's needs or providing the same level of care can feel more challenging. You might feel guilty because of this, or even resentment. But most of all, you feel burnt out.
Burnout can lead to potentially life-threatening errors such as mishandling medications. Or it can contribute to harmful coping mechanisms such as substance abuse.
Regular breaks from caregiving and a robust support system (including professional help) can help prevent caregiver burnout. Unfortunately, many lack access to these resources or don't know how to utilize them, which is likely why only about 15% of family caregivers receive respite care. 
Education and awareness of burnout's symptoms and triggers can help more caregivers notice the warning signs sooner and take proactive steps to manage it before it's too late. 
What Causes Caregiver Burnout?
Many caregivers overlook their own needs because they lack the time, energy, or resources to do so. You likely know how overwhelming it is to care for your loved one, partner, and kids while wearing many other hats. The seemingly endless caregiving cycle can leave you drained, despairing, and eventually burnt out.
Other causes of caregiver burnout include:
Expected or not, role changes can be perplexing and upsetting, such as from that of a partner or child to a caregiver. As a result, many caregivers struggle to differentiate their new role from their existing identity.
Without the time, money, resources, or knowledge to plan, manage, and organize their loved one's care, family caregivers may experience more turmoil in their lives, increasing their stress.
Unreasonable Expectations
When caregivers assume their role, it's not uncommon to believe that their care will improve their loved one's wellbeing and quality of life. While this may be true, it may be unrealistic for older adults with a chronic disease such as dementia or cancer. 
Just as caregivers often hold themselves to unreasonable expectations, it's not uncommon for many to place unrealistic demands on themselves because they see their role solely as theirs. But on top of that, caregivers may encounter additional needs from other relatives or even the person they care for. Or, they may also find themselves forced to manage other family members' care responsibilities.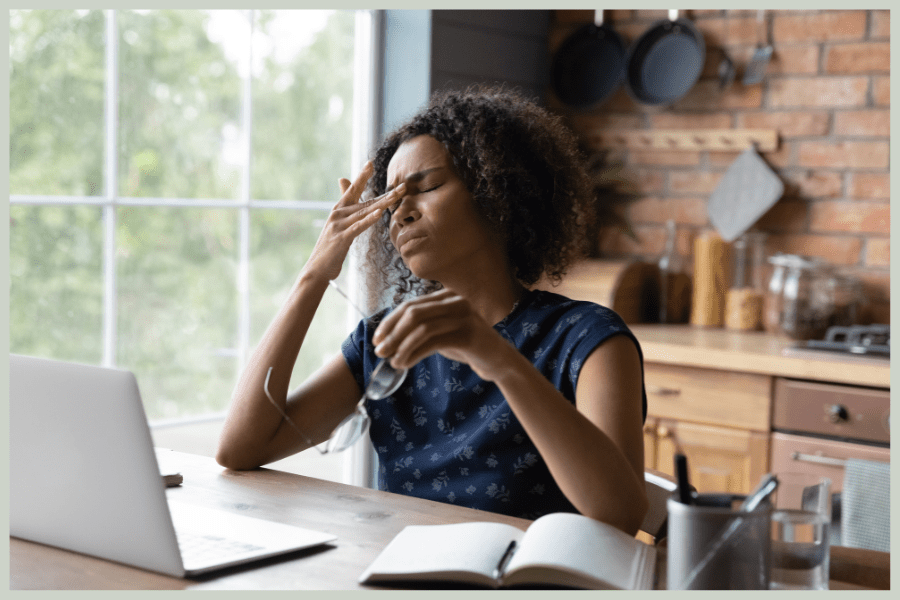 What Are The Signs Of Caregiver Burnout?
Caregiver burnout, stress, and depression share many similarities, including overlapping symptoms such as:
Insomnia
Withdrawal
Forgetfulness
Irritability and mood swings
Feeling sick more than usual
Physical and emotional fatigue
Resentment or anger for your loved one
Difficulty focusing to the point that routine tasks become a struggle.
If these signs resonate with you, you should talk to your doctor as soon as possible. They can help you manage your health and possibly connect you with resources to ease some of your caregiving duties. In the meantime, the American Medical Association's self-assessment for caregivers can help you determine your level of burnout.
How To Avoid Caregiver Burnout
Sometimes, caregiver burnout is unavoidable. But there are ways to avoid or even alleviate it. Here are some tips to try before feelings of burnout settle in.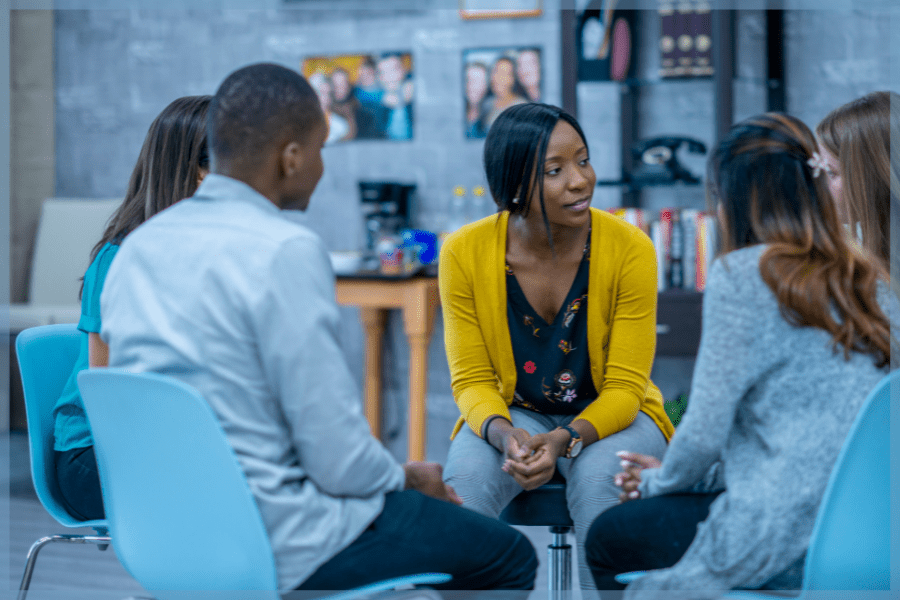 Share your feelings and experiences – good and bad ones – with a trusted friend, colleague, or neighbor. Similarly, avoid spending time with negative people and focus on cultivating positive relationships with those who uplift your spirits and outlook.
Take Regular Respite Breaks (If Possible)
Respite care allows caregivers to step away from their roles, whether for a few hours a week or an extended period. Unfortunately, not everyone has access to this invaluable benefit, but eligible family caregivers can take advantage of respite care resources to get the break they need.
You may need a combination of professional and informal support to manage your responsibilities. You can start by joining a caregiver support group. Sharing your experiences and feelings with others who understand your situation is cathartic and helps you manage stress management, find resources, and minimize negative emotions.
Local groups and religious organizations typically offer in-person and online support groups for caregivers of loved ones with cancer, Alzheimer's, or other terminal illnesses. In addition, you should consider finding a therapist who can give you an outlet to discuss your situation and help you develop healthy coping methods.
Keep your goals realistic and tangible, and be honest about your loved one's condition – especially if they suffer from a progressive illness like Alzheimer's. Recognize that your loved one may need more intensive care than you can offer and consider hiring a caregiver. Finally, accept that you have limits and acknowledge that you can't do it all – and that it's okay if you can't.
There are only so many hours in a day, and when you're a family caregiver, your time can be extremely limited. However, even taking 30 minutes for yourself can make a big difference. Caregivers need time for themselves – no ifs, ands, or buts. Plus, there are many ways to practice self-care, such as eating a healthy diet, exercising, and getting enough sleep.
If your loved one has a specific illness or condition, learn as much as you can about it. Educating yourself will make you a better, more effective caregiver. You might even find helpful resources to support yourself as you learn.
Create a routine and stay with it. A schedule built around the things you do every day can improve your sense of control over other aspects of your life. Routines can also benefit your loved one – especially if they have dementia – by helping them know what to anticipate.
Don't Be So Hard On Yourself
Acknowledge how you feel, good and bad, and don't feel guilty about emotions like frustration or anger. These are normal and do not make you a bad person.
Use Resources For Caregivers
If you suffer from caregiver burnout, you have many resources available to help.
The federal government's Eldercare Locator can put you in contact with your community's Area Agency on Aging, which can help you find more support systems in your area to help you manage your role as a caregiver. You can also contact the Eldercare Locator at 800-677-1116.
Community Resource Finder
The AARP and Alzheimer's Association developed the Community Resource Finder, which offers a variety of local resources like transportation assistance to elder law attorneys. The Family Care Navigator from The Family Caregiver Alliance can also help you find nearby services and programs.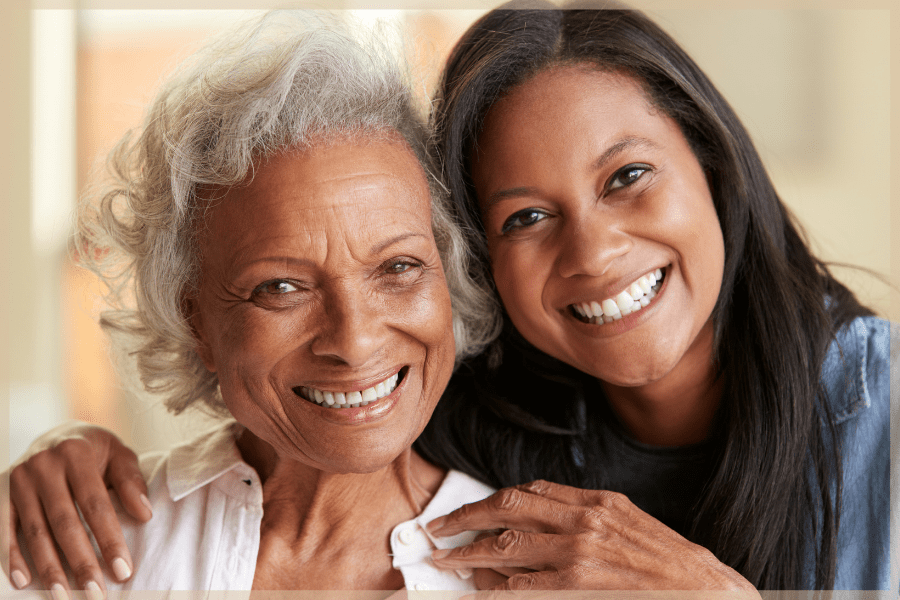 Employer-Provided Benefits
A full-time or even part-time job can make it harder to juggle caregiving duties, personal life, and professional responsibilities. When you feel overwhelmed, the Family and Medical Leave Act may help. This program mandates that large companies provide up to three months of unpaid leave for employees caring for a loved one.
MeetCaregivers Can Help You Avoid Caregiver Burnout
If you've tried to manage things independently but still struggle with caregiver burnout, MeetCaregivers can help. If you need a break, whether for a day, a week, or longer, call 1 (888) 541-1136 or Find A Caregiver to get support today.
Our solutions minimize caregiver burden by empowering family caregivers with practical homecare resources, education, access to health providers, and technology such as our:
Care Matching algorithm, which improves matches between seniors and caregivers, reducing caregiver turnover by 80% and increasing satisfaction rates among caregivers, seniors, and families to 90%.
Family Care Portal, which lets caregivers, families, seniors, health providers, and carriers easily connect and track care plans, tasks, ADLs, medications, and health data from one app.
Homecare marketplace, which provides additional goods to support seniors at home, such as incontinence, mobility, and accessibility products.
For more resources, visit our Blog.
AARP. "How to Avoid Caregiver Burnout and Manage Stress."

AARP

, 14 May 2020, www.aarp.org/caregiving/life-balance/info-2019/caregiver-stress-burnout.html.

Aginginplace.org. (2022, March 26). Caregiver Burnout. AgingInPlace.org. Retrieved May 19, 2022, from https://aginginplace.org/caregiver-burnout/

"Caregiver Burnout Prevention."

Cleveland Clinic

, my.clevelandclinic.org/health/diseases/9225-caregiver-burnout/prevention.

"Caregiver Burnout Symptoms Slideshow: Handling Dementia, Chores, Finding Help."

WebMD

, WebMD, www.webmd.com/healthy-aging/caregiver-17/slideshow-avoid-caregiver-burnout.

Mayo Clinic Staff. "Practical Solutions for Caregiver Stress."

Mayo Clinic

, Mayo Foundation for Medical Education and Research, 19 Mar. 2020, www.mayoclinic.org/healthy-lifestyle/stress-management/in-depth/caregiver-stress/art-20044784.