Simplify Downsizing For Seniors
Downsizing for seniors is a complex, emotionally-charged experience that requires extensive planning and support from loved ones. After all, it's natural to accumulate more belongings the longer we stay in one place. These items are part of what makes a house feel like a home! But for older adults, letting go of these things (many of which have sentimental value) can feel overwhelming. 
There are many reasons why older adults have to downsize. For example, they might want a simpler lifestyle, trim their expenses, live closer to their grandchildren, or have health concerns that require them to do so.
Benefits Of Downsizing For Seniors
Downsizing doesn't necessarily require moving into a smaller home. It can be beneficial even if when staying in the same house. Here are a few of the benefits of downsizing for seniors:
Downsizing makes it easier to plan for a potential move.
It creates more space for assistive devices and future home remodels.
Makes extra space for a live-in relative who provides care.
It promotes senior safety by making the home easier to move through.
Downsizing typically means less upkeep, which can help older adults with difficulty staying on top of household chores. Additionally, eliminating clutter has significant psychological benefits. A clutter-free room doesn't just clear up living space; it can also clear the mind.
Factors To Consider Before Downsizing For Seniors
Most older adults have to stretch their budget because their income is smaller than before retirement. For many, this means lowering expenses from having a larger home. Even so, deciding to make this move is a challenging choice.
Knowing when to downsize differs based on each senior's situation. Older adults and their loved ones should consider several factors when deciding when to downsize. But generally, it's best to do so sooner rather than later.
Starting at a younger age can reduce the physical and emotional toll. Besides, it's not uncommon to develop strong attachments to belongings, especially ones with high sentimental value. However, waiting to downsize later in life can make it a sadder, more stressful, and emotionally taxing time.
Putting a house on the market can be costly, especially if it needs renovation. Additionally, it's essential to factor in other costs, such as hiring a realtor and capital gains taxes.
On top of the costs associated with buying or renting a new home, older adults need to assess closing costs, the cost of hiring a moving company, and other unexpected fees.
Depending on how far away an elder moves, they may leave behind friends, relatives, and neighbors they've known for years. Conflating sentimental value with the house's actual market value can cause many people to incorrectly believe their home is worth more.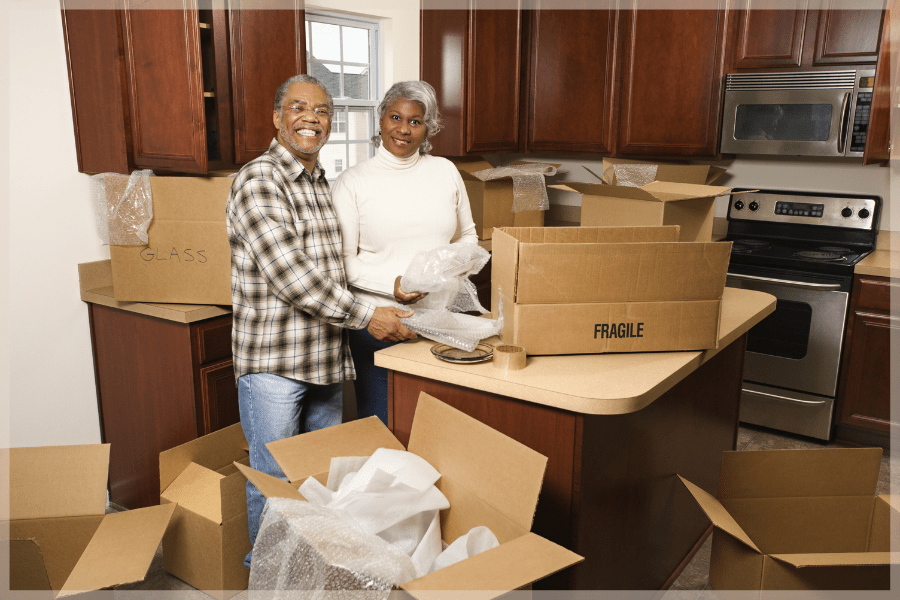 So before selling their home, seniors need to calculate every expense connected to moving to decide if moving is the right decision. They should also talk to several real estate agents and appraisers to get a better idea of how much their home is worth. Experts suggest creating a list of costs between the old and new houses, such as:
Utilities
Insurance, property taxes, HOA fees
Visiting family and friends, running errands, or commuting to work.
Seniors' health plays a significant role in decision-making. For example, a house with more than one floor may not suit elders with limited mobility. Although there are several home modifications, updating the house isn't for everyone. On the other hand, downsizing to a smaller house might be ideal for seniors because it means less upkeep.
10 Helpful Tips For Downsizing For Seniors
Seniors might already have a mental list of things they're ready to part with in the kitchen and garage. But instead of starting with large spaces like these, seniors should work up from smaller rooms, preferably ones with minimal emotional connection.
Similarly, older adults should be realistic about their needs. For instance, only two sheet sets are necessary if the new place only has one bedroom. Remember that large areas such as the basement, garage, and attic are the most challenging rooms to downsize. If seniors try to take these rooms on first, they might overwhelm themselves and stop before they get ahead.
2. Set a Realistic Timeframe
Downsizing for seniors can be a long, intensive process, so seniors should ensure themselves plenty of time by starting early. Most experts recommend a month since it allows older adults to take their time and avoid rushing. In addition, seniors should go through each room individually and allow frequent breaks.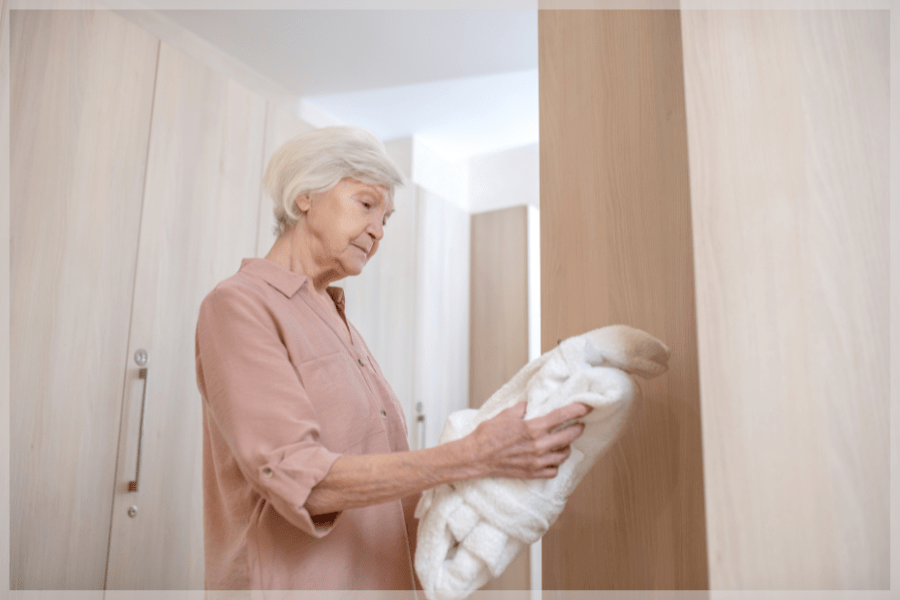 3. Get Rid Of Rooms You Won't Have
Typically when seniors move to a smaller home, it won't have a garage, large yard, or other extra spaces. That means getting rid of almost everything in the garage, backyard shed, or home office.
4. Eliminate Duplicate Items
Downsizing is the time to eliminate those extra cooking utensils, pots, pans, and specialized cooking tools. For example, if your loved one only uses certain items, like a roasting pan, during the holidays or special occasions, offer them to another relative. That way, the relative can lend it back as needed.
When downsizing for seniors, divide belongings into a "keep" and "get rid of" pile. Don't create a category for "maybe" items because it will only make it harder to make a firm decision. Bring frequently used items and get rid of ones that have been forgotten or unused for more than a year.
6. Find A New Way To Display Collections
One of the hardest parts of downsizing for seniors is deciding what to do with collectibles. When moving into a smaller home, it's best to leave these things behind since they will take up valuable space or stay in storage.
So rather than holding onto these items, older adults should select their favorites and take high-quality pictures of everything else. Then, they can put these pictures in a photo album or scrapbook and keep them on display for everyone to enjoy.
Similarly, these collectibles and antiques might be items seniors intend to pass on to loved ones. Rather than waiting to distribute these items in a will, consider giving them away earlier. Not only will getting rid of these belongings make it easier to downsize, but seniors can also appreciate when their loved ones receive them.
Online marketplaces like Craigslist, Facebook, and eBay are a great way to downsize for seniors and make some supplemental income. However, this can be a time-intensive endeavor, so consider that before moving forward. For those who feel they need help with using these sites, ask the grandkids for assistance. Alternatively, seniors could sell their things the old-fashioned way during a yard sale or hire an estate sale company.
9. Allow Time For Reminiscing
Another reason seniors should give themselves plenty of time to downsize is, so they have time to remember the past. It's okay to feel nostalgic as you sort and clean. Cry if needed, or work on a different space and return when ready. As long as reminiscing doesn't stop seniors from downsizing, there's no reason why they shouldn't stop themselves from doing so.
10. Make Downsizing For Seniors A Family Affair
Older adults should ask their children and grandkids to join them because it gives them a chance to share memories and reminisce with others. Telling the stories behind treasured heirlooms provides more context and makes them appreciate the items even more. Family members can also help with other aspects of downsizing, such as packing and moving boxes and selling things online.
Downsizing for seniors can ensure independence and safety while aging in place. But if you or a loved one needs additional support, such as meal preparation, ADLs, transportation, and more, we can help.
MeetCaregivers provides qualified, in-home caregivers for seniors. Call 1 (888) 541-1136 and learn how we can match you or your loved one with the perfect caregiver. Or, get started and find a caregiver today.
For more resources and tips, visit the Blog.
"10 Reasons Why Downsizing Is Beneficial for Seniors." 10 Reasons Why Downsizing Is Beneficial for Seniors | SeniorDirectory.com, seniordirectory.com/articles/info/10-reasons-why-downsizing-is-beneficial-for-seniors.MYMOVE.
"Senior-Friendly Guide to Downsizing." MYMOVE, 30 July 2020, www.mymove.com/moving/guides/senior-guide-downsizing/.
Parker, Tim. "When Should Retirees Downsize Their Home?" Investopedia, Investopedia, 22 Nov. 2019, www.investopedia.com/articles/retirement/100116/when-should-retirees-downsize-homes.asp.