How To Find Senior Support Groups
People are social creatures by nature. Therefore, socialization, authentic engagement, and external validation are critical to our well-being, particularly as we experience life changes.
But as we age, meeting our social needs can become more difficult. For example, fatigue, mobility problems, transportation issues, and more can limit seniors' ability to get out of the house and socialize. 
Senior support groups can help fulfill this need by providing an environment and activities centered on older adults. By attending social support groups for the elderly, you'll enjoy many benefits, such as:
Improved health and quality of life

Meeting new people and cultivating new relationships

Increase your ability and self-confidence to age in place safely

Access to local resources 

Chances to support other older adults with similar experiences
Keep reading to learn how to find a senior support group that's right for you.
Where To Find Groups For Older Adults
As the country's elderly population increases, so will the number of senior support groups. That means finding a group of older adults you can relate with is easier than ever.
If your community has a nearby senior center, pay a visit or call to ask about information, resources, events, and more. Most centers host a range of support groups onsite, such as:
Senior citizen support groups
Dementia support
Hospice or death support
In addition, there are many chances to meet people with similar interests and hobbies. You can request info on available support groups both at the center and elsewhere in the community, activity calendar, and more.
However, if nothing catches your eye, you may consider asking staff members about creating a new group. You may be surprised at the answer, especially if you volunteer to head it.
Did you know that the majority of Facebook users are middle-aged and older adults? That means that there are more people you can connect with than you might have thought. Plus, Facebook has tons of features that can help you find the help you need, including support groups, which are private or public.
Online support groups are excellent ways to connect with older adults going through similar transitions. Most groups act like a forum where you can ask questions, share a topic, reply to others' posts, and more.
However, be mindful of the authenticity of groups. Some may be run by scammers or promote disinformation. Never provide your personal information in these groups. Some private groups require you to complete a short questionnaire to filter fake accounts. If something things off, you're probably right.
You may be surprised to know how well libraries have adapted to support their communities in 2021. Many host weekly or monthly events, including senior support groups or informative discussions.
Some libraries hold collaborative workshops or courses about specific subjects or even workout sessions like chair yoga or stretching.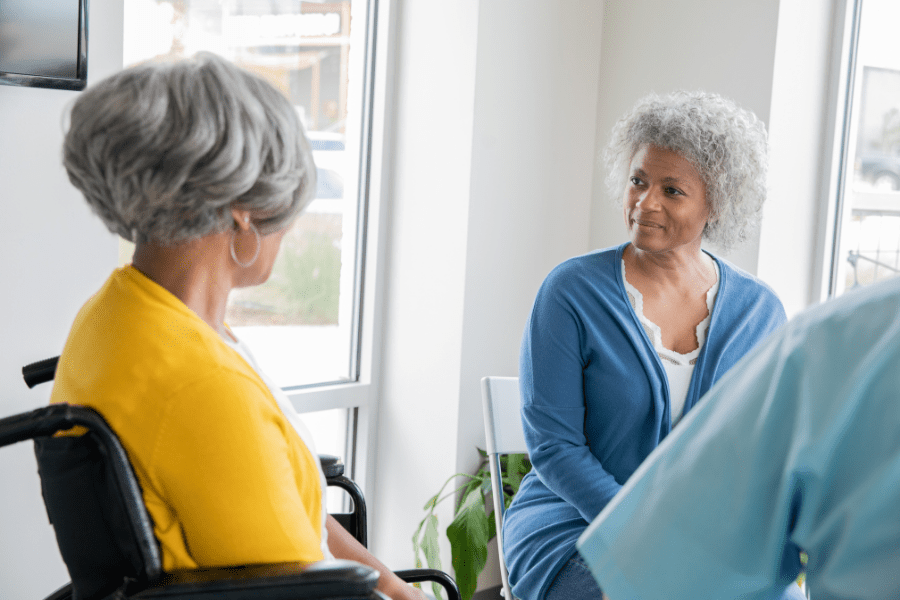 Do you have a membership to a gym or fitness club? If not, you might consider getting one at a facility that offers classes for seniors or specific health conditions like arthritis.
Exercise classes help you get active and social at the same time. See if any facilities near you offer meditation, chair yoga, or water aerobics sessions. Plus, many even have senior discounts for memberships or classes.
Besides gyms, you could also research local clubs and groups, such as walking clubs. And if you need transportation assistance to reach these groups, consider hiring a caregiver to help.
Lifelong Learning Programs
Lifelong learning is any "learning that occurs outside of a formal educational institute, such as a school, university or corporate training."
These programs, also known as adult education centers, can be highly beneficial for retirees' cognitive health. By their nature, they are excellent opportunities to meet people who share your passions and interests.
Programs can vary from in-person to online, center around a niche subject or broad topic, or include group events or informal discussions.
Your primary care doctor is an excellent resource if you're looking for groups for particular health conditions or treatments. Most hospitals have groups for people undergoing chemo, rehab, or surgery, too.
Community Groups For Older Adults
Depending on your community, you may have various neighborhood groups or civic associations, so see if you live near a naturally occurring retirement community (NORC). These programs organize various local health and social services to support aging in place. Most offer senior support groups and more, so visit or call for more information.
The Alzheimer's Association
The Alzheimer's Association (AA) has tons of beneficial resources even for those without Alzheimer's or dementia. You can search online for chapter groups in your area or register for events like the Walk to End Alzheimer's.
Even if you don't join, AA activities give you a chance to discover other organizations that support aging and older adults.
Volunteering is immensely beneficial for you and your community. It supports mental and physical health while giving you a sense of purpose, vital as you undergo transitions in later life. And, of course, volunteering opens many doors to stay social.
There are many volunteer opportunities for seniors, such as:
Libraries and museums
Soup kitchens, food pantries, and homeless shelters
Mentorship or coaching programs (visit Senior Corps to learn more)
Also, there are many ways to help from home if you have limited mobility or prefer to volunteer remotely. For example, DoSomething.org is a youth-led organization, but there are plenty of remote opportunities for seniors, too.
Benefits Of Senior Support Groups
Part of the reason senior support groups improve quality of life and general wellbeing is that they ease or prevent loneliness and isolation.
Emotional support is another benefit senior support groups provide. Aging brings new experiences, challenges, which can be confusing or downright frustrating.
Support groups give you a chance to express yourself judgment-free and receive assurance from people with similar experiences.
This is particularly important if you feel like you have no one else in your life who can relate to or understand what you are going through.
Similarly, senior support groups can be a great place to get information and help about different treatments, prescriptions, or alternatives if you have a specific health condition.
Swapping ideas about constructive results can empower group members to take a proactive part in their care plan or pursue newly discovered options.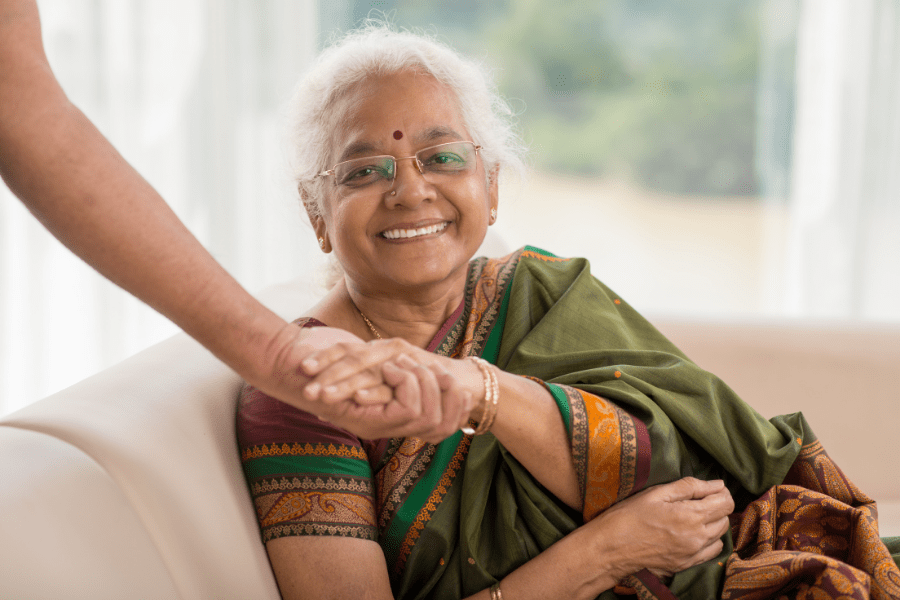 Types Of Senior Support Groups
You can't underestimate the value of a strong support network composed of others who share your experiences.
For this reason, support groups for senior citizens can be an essential resource for those encountering emotional, mental, or physical challenges. Below you can learn about four types of senior support groups that can help you through these challenges.
Support For Chronic Illnesses
80% of older adults have one or more chronic illnesses, according to the National Council on Aging. Cancer, heart disease, diabetes, arthritis, and other long-term conditions can significantly impact your quality of life.
But, support groups for people with chronic conditions are often provided through hospitals or online and usually offer:
Emotional support from others who also have your condition
Advice for coping skills and day-to-day management
Trustworthy resources about additional treatments
Age can bring any number of health conditions that can impact your independence and wellbeing. But a professional caregiver can make it easier to meet these obstacles and provide companionship.
The loss of a spouse or another loved one is among the most challenging experiences for older adults. Senior centers, places of worship, funeral homes, and health care facilities are a few places that offer support groups for grieving adults.
Support For Addiction Recovery
After older adults undergo the proper addiction treatment plan, support groups can help them stay on track as they progress. Many groups also suggest methods and activities for older adults to manage stress and remain focused on their goals. In addition, recovery groups make it easy for members to get the support they need if a relapse or rough patch occurs.
Support For Lifestyle Changes
It's never too late to stop smoking or start a consistent fitness regimen. However, these significant lifestyle changes can be much easier to achieve with a strong support network. In addition, when you make these meetings and activities a part of your routine, these changes become more natural and require less thought and effort to make smart choices.
Senior support groups are a great way for older adults to stay involved with their community, meet new people, or learn new skills. There are many groups available both online and in-person.
Do you or a loved one need transportation assistance? We can help! Call 1-888-541-1136 or contact us online to learn about our caregiver match program. And to find more information, visit our blog.
S., Ron. "5 Kinds of Support Groups That Can Offer Benefits for Aging Adults." Home Care Assistance Harrisburg, 30 July 2020, https://www.harrisburghomecare.com/support-groups-for-my-elderly-parent/.

"Senior Support Groups." Senior Lifestyle, 2020, https://www.seniorlifestyle.com/resources/blog/senior-support-groups/.

Wickersham, Claire. "How to Find Support Groups for Aging Adults: 10 Tips." Cake Blog, 27 May 2021, https://www.joincake.com/blog/support-groups-for-older-adults/.