How Can You Help Your Loved One Stay Safe At Home?
When you hire a professional caregiver, you expect them to ensure your loved one is safe at home. And while most caregiving agencies go above and beyond for every client, some do not. For example, according to a 2012 study,
6.5% required of homecare agencies required candidates to pass a basic knowledge assessment
8.3% required previous experience
12.5% did not screen candidates at all
91.9% conducted criminal background checks, but NONE ran background checks outside their state
NO agencies conducted health literacy assessments.
Senior care institutions face other roadblocks in protecting clients – namely, lack of complete data for the screening process.
Currently, federal law prevents nursing homes from accessing the National Practitioner Data Bank (NPDB), a database of malpractice payouts and adverse action notices for healthcare professionals.
Because of this, facilities can only perform state-level criminal background checks, which may omit information related to healthcare, such as medical malpractice settlements.
Of course, your loved one's wellbeing is your number one priority. And it's natural to worry about your loved one's treatment when you aren't around. However, there are several ways to make sure they are safe at home with their caregiver.
4 Ways To Ensure Your Loved One Is Safe At Home
It's natural to worry about your loved one's treatment when you aren't around. However, there are several ways to monitor your loved one and their caregiver.
Unexpectedly showing up at your loved one's home is the best way to see your caregiver in action. It also indicates that you stay in contact with your family regularly.
Seek feedback from neighbors who know your loved one has a caregiver. Ask them to keep an eye out while you're away and check in with them to make sure the caregiver is following your expectations.
3. Monitor Your Loved One's Behavior
It is vital to monitor the behaviors of your loved one and their caregiver. Ask yourself if your loved one's quality of life has improved. For example, are they adjusting to having a caregiver, or do they express valid concerns? On the other hand, does your caregiver frequently need shifts covered, maintain good communication, or seem invested in your relative's wellbeing?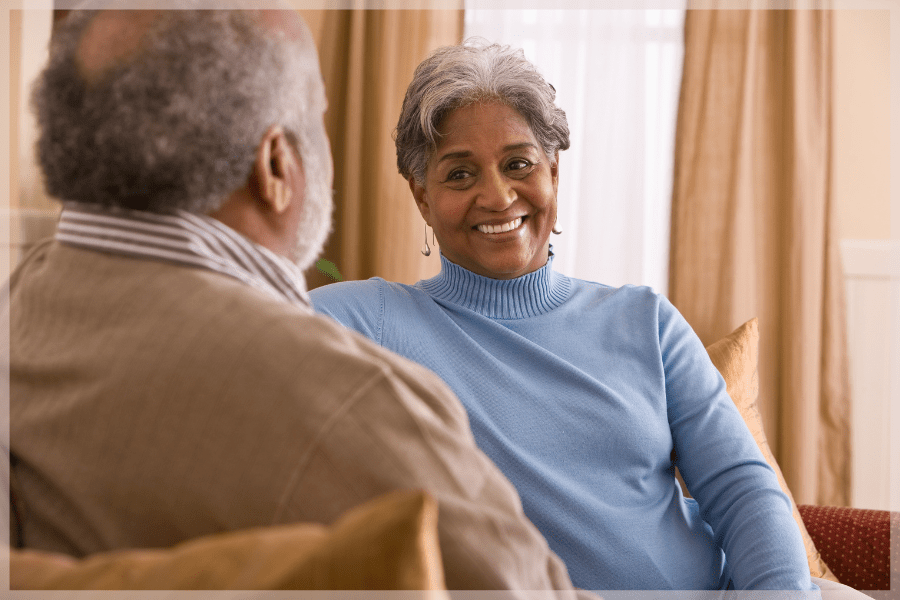 4. Listen To Your Intuition
You know your loved one best. If something doesn't feel right, follow your gut and investigate. Communicating your concerns with your caregiver will ensure that your expectations are understood.
MeetCaregivers Helps Seniors Stay Safe At Home
MeetCaregivers goes above and beyond to provide the best care for your loved one so you can rest easy and enjoy peace of mind. As part of the qualification process, we only hire caregivers with at least one year of relevant experience. Likewise, we examine personality traits like compassion and patience in caring for seniors and people with disabilities.
Before hiring our caregivers, we ensure they have completed a comprehensive job application and an in-person interview. In addition, we check references, verify certifications that apply to the caregiving position, and run criminal background checks – all at no extra cost to our clients.
Not only that, but potential candidates go through an extensive pre-screening process that includes protection with MeetCaregivers liability insurance, bonding, and worker's compensation.
We also created the CarePortal to keep you connected to your loved one's care plan 24/7. It allows you to communicate effectively with your loved one's caregiver, care manager, and other care team members. You'll also receive daily activities and health data notes, so you're always aware of day-to-day changes.
For more information, call 1 (888) 541-1136 or get started and find a caregiver today.
Looking for more resources about caregivers? Our Blog features guides, articles, and checklists for caregivers and seniors interested in homecare and aging in place.
Lindquist, L. A., Cameron, K. A., Messerges-Bernstein, J., Friesema, E., Zickuhr, L., Baker, D. W., & Wolf, M. (2012). Hiring and Screening Practices of Agencies Supplying Paid Caregivers to Older Adults. Journal of the American Geriatrics Society, 60(7), 1253–1259. https://doi.org/10.1111/j.1532-5415.2012.04047.x
Telep, N. (2022, June 23). Nursing homes could get access to US background check data with proposed bill. Retrieved January 25, 2023, from https://www.seasons.com/nursing-homes-could-get-access-to-us-background-check-data-with-proposed-bill/2613245/