Long-term care planning involves preparing for different services, programs, and resources to fulfill health or personal care needs over an extended time. Nursing homes often come to mind; however, most people receive in-home care.
Who Needs Long-Term Care?
Individuals with a severe or chronic health condition or disability typically receive long-term care. For example, someone may need long-term care after an unexpected health event like a heart attack or stroke. But in most cases, the need arises slowly over time as health diminishes and age exasperates existing conditions.
You can't always anticipate the level or type of long-term care a loved one or yourself will need, but several factors can raise the risk of requiring long-term care, such as:
Age-related changes: Mobility issues, cognitive decline, and other aspects of the aging process make it more difficult for older adults to complete routine activities.
Gender: Women typically live longer than men, so they often live alone and need more assistance with specific tasks as they grow older.
Marital status: Compared to single people, married couples are less likely to seek paid caregivers since they have each other to help in the home.
Lifestyle: Poor diet, minimal physical activity, and harmful habits such as smoking raise the risk of adverse health conditions that require long-term care.
Medical and family history: Some people are more disposed to health problems or conditions that require informal or professional assistance at home.
Why Is Long-Term Care Planning Important?
Whether because of an illness or disability, an estimated two out of three Americans will require help with activities of daily living (ADLs) at some point in their lives.
ADLs refer to everyday self-care tasks. For example, in healthcare, professionals frequently measure an individual's ability to perform ADLs to determine their level of functioning.
Examples of ADLs  include:
Grooming
Toileting
Dressing
Walking
Transferring
Feeding
Meal preparation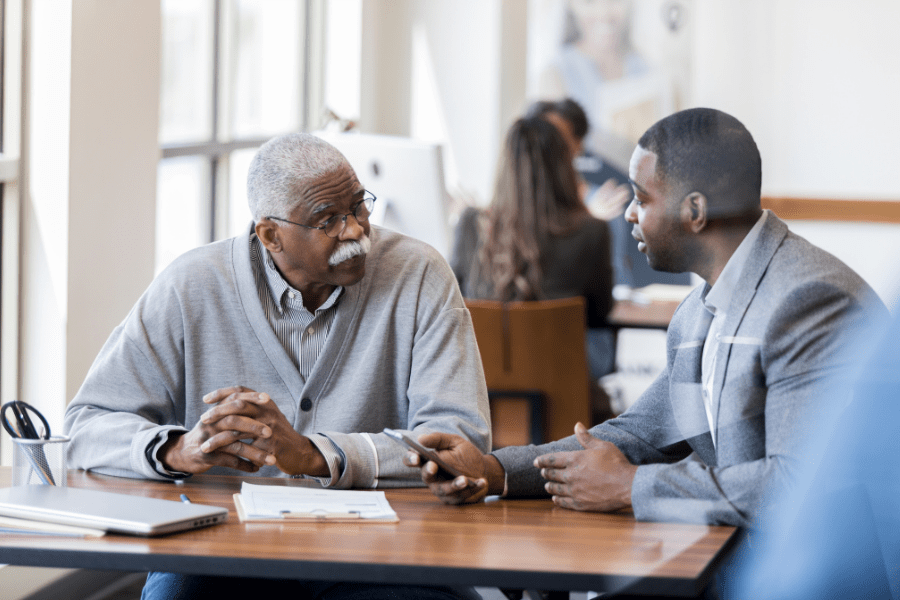 1. Long-term care planning gives you more control over future health & care decisions.
While you can take steps to postpone or delay long-term care, it's impossible to know whether or not you will need it. Because an illness or injury could happen at any time, it's best to begin long-term care planning before the need arises. It might not be easy (especially when you have to juggle other responsibilities), but doing so before a medical event or health decline will save you far more worry in the long run.
A 2020 Executive Summary by AARP found that just 44% of American caregivers have prepared for a loved one's long-term care, while only 45% have plans for their future. Starting long-term care planning early on gives you more time to discover local services near you and assess their costs. In addition, it allows you to make critical decisions about your future while you have your full physical and cognitive abilities. People with dementia or facing cognitive decline should not delay long-term care planning for this reason.
2. Long-term care planning minimizes challenges for family caregivers.
A 2019 study from the Department of Health and Human Services (DHHS) found that 70% of older adults will require long-term care. Unfortunately, while most retirees will need long-term care, only some have prepared for it.
The lack of planning affects individual finances and strains family caregivers. While many seniors receive care in a nursing home or community facility, informal, unpaid caregivers provide most long-term care services. AARP's 2020 study also found that one in five Americans care for a loved one, highlighting how many aging adults need in-home assistance.
The absence of a long-term care plan often results in an unsuspecting family member taking on the role of caregiver, causing undue financial and emotional burdens. Becoming a caregiver for a loved one can be just as unexpected as a sudden illness or disability. However, having a plan in place can ease some of the stress of the responsibility and potentially prevent family members from taking on this role.
Long-Term Care Options For Aging In Place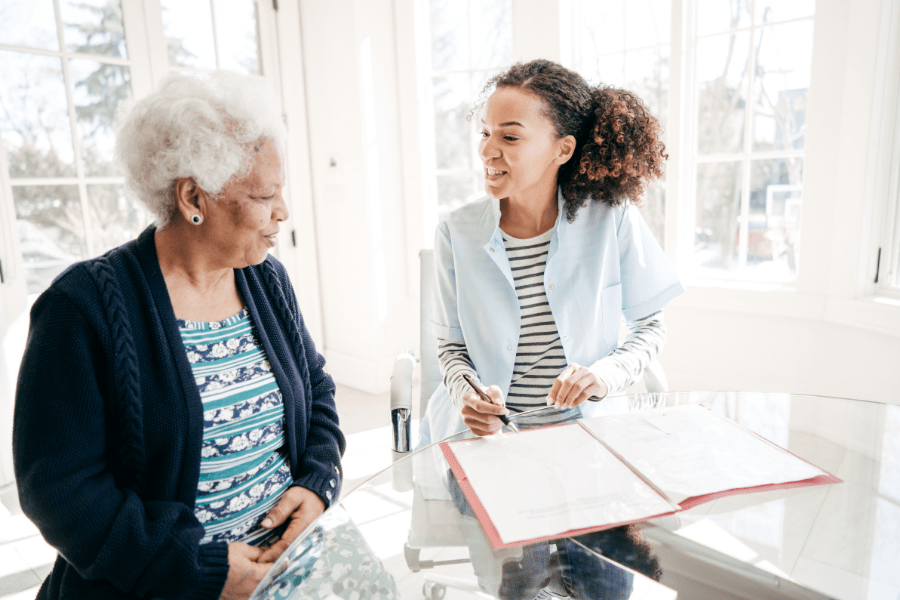 Personal care is the primary form of long-term care and typically provides help with ADLs. But as mentioned above, long-term care can include community services like meal delivery and preparation, adult daycare, and transportation assistance. Depending on the organization, these services may come at a cost or be available at no charge.
As you go through long-term care planning, it helps to understand your options for both medical and non-medical care, particularly if you or your loved one wishes to age in place. If you're unfamiliar with this process, organizations like MedicarePlans.com can help. This platform offers many easy-to-understand guides and resources for Medicare and long-term planning.  
If you want to know more about different senior care choices for aging in place, click the blue button to read our blog post.
Home-based care aims to support the independence of seniors aging in place at home. In many cases, unpaid family caregivers, spouses, or friends assist with bathing, toileting, and other ADLs. Depending on the need, professional caregivers can also provide support. There are many types of paid professionals, such as:
Nurses
Therapists
Homemakers
Companions
Home Health Aides (HHAs)
You can contact a home health agency in your community to learn more about these professionals' various services.
Home health can involve either medical or non-medical care. Medical or nursing home care is ideal for older adults with conditions. A doctor usually orders this type of care to promote treatment after an illness or injury and include services such as:
You can find part- and full-time services through Medicare-approved home health care agencies.
Homemaker & Personal Care
Homemakers and personal care professionals provide non-medical care, usually through home health agencies. Since these professionals deliver non-medical care, you don't need physician or Medicare approval.
These caregivers provide similar services. However, the main difference is that homemakers generally help with basic tasks such as cooking and light housework. On the other hand, personal care providers assist with bathing, toileting, dressing, and other ADLs in addition to these activities.
In most cases, companion caregivers routinely spend no more than two hours visiting seniors who live alone or are frail. While most companions volunteer, home health agencies also provide these services.
The Cost Of Long-Term Care Planning
Your location plays a large part in your long-term care expenses. To get a better estimate of care costs for professional services, you can read annual studies from AARP, Genworth, and similar industry experts.
In most cases, though, family members usually assume the responsibility of caregiving. So as you go through long-term planning, evaluate the adverse financial consequences this role may place on them. Will caregiving force your loved one to quit their job or work part-time? Will they also be responsible for out-of-pocket costs?
Long-term care planning should also involve saving money to make up for lost income or out-of-pocket expenses to ease the financial burden on family caregivers.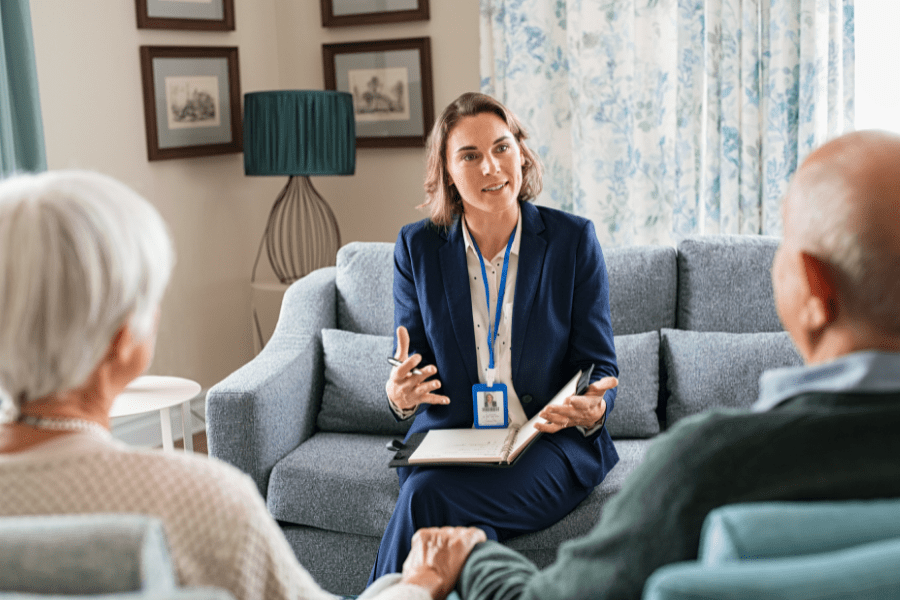 Financial Options For Long-Term Care Planning
In addition to considering the type of long-term care you or your loved one will need, you'll need to consider how you will pay for it. Long-term care can be costly. Americans spend billions each year on different long-term care services.
Your financial situation and required services will determine how you pay for future care. Unfortunately, Medicare does not cover long-term care unless you need other types of care, such as short-term nursing or hospital stays.
However, you have several options to pay for long-term care. Retirement planning, investments, and similar savings vehicles are the most common way, but there are other options, too, such as:
Creating a financial plan
Choosing how you want to receive care
Deciding which form fo care you want or need
Establishing who will deliver said care
Permitting family members to care for you or a loved one.
Many people mistakenly affiliate long-term care planning with standard long-term care insurance. Consequently, they may think that insurance is a poor fit and overlook further planning, causing them to disregard numerous different long-term planning opportunities and benefits such as the ones below.
Medicaid is one way to fund long-term care, but you can only qualify for this program if your income falls below a certain amount. If your assets exceed the threshold, you must "spend down." That means you must spend any excess income on medical bills.
Additionally, Medicaid recipients generally have more limited options over the variety of care they receive since this program only covers specific services. For example, if your loved one lives in an assisted living facility, Medicaid may cover some costs but is not required. Furthermore, Medicaid cannot offer coverage for your loved one's room and board.
Another factor to consider is that some care facilities do not accept Medicaid insurance.
Long-term care insurance is another option to research when planning long-term care. It can help you afford costly full-time nursing care since you can personalize your policy for specific expenses. On the other hand, other types of funding may not be enough to cover the often steep costs.
But, be mindful that continuing premium payments can increase over time, making it difficult to pay for coverage throughout retirement, depending on your situation.
Asset-Based/Hybrid Policies
Asset-based policies (also known as hybrid policies) are a relatively new financial product that lets you "leverage your death benefit to pay for nursing care costs." These incorporate elements from traditional long-term care insurance and life insurance into a single policy that offers several advantages, such as:
A guaranteed payout (either as a long-term care or death benefit)
Tax-free benefits (provided the policy funds paid for the long-term care services)
Interest earned on the money you put into the policy.
If you have no other options to fund long-term care, asset-based plans can prevent the need to "spend down" your retirement savings to qualify for Medicaid.
Resources For Long-Term Care Planning
No matter your existing or future long-term care needs, the following resources can help you better prepare.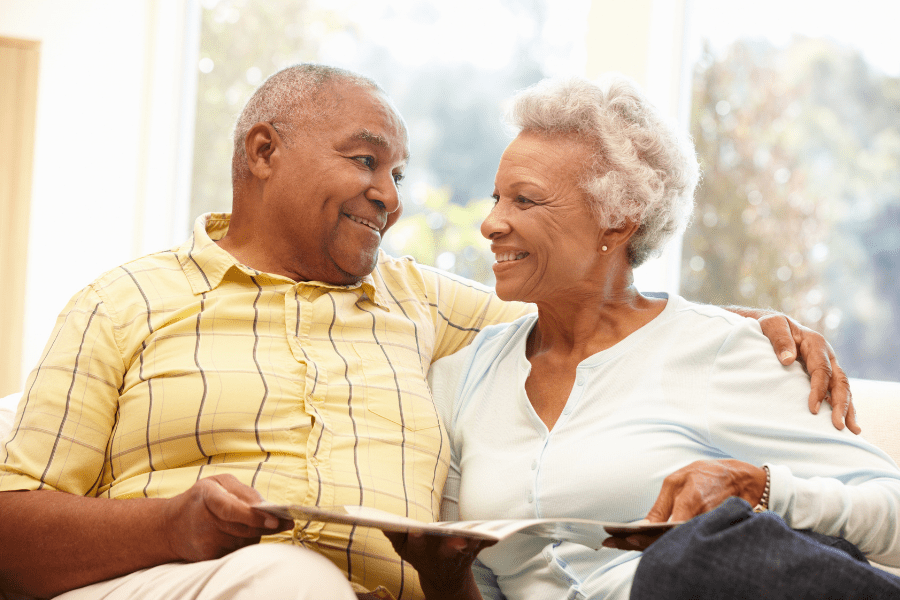 Passed in 1965, the Older Americans Act (OAA) offers several programs to provide in-home and community services to older adults 60 and older. Not only that, but the OAA also assists family caregivers.
A few services provided through OAA programs include:
Information and support
Personal care
Nutrition services
Transportation assistance
Adult day care
To find local OAA programs in your community, visit Eldercare.ACL.gov and enter your location in the search bar at the top of the page. Or, if you'd rather speak to an information specialist who can answer your questions, call 1-800-677-1116.
LongTermCare.gov features helpful resources to guide long-term planning and help seniors and their loved ones plan for future care needs.
National Institute On Aging, National Institutes of Health
NIA.NIH.gov provides extensive information about long-term care, including how to talk to your parents about long-term care planning. You can also find advance care planning fact sheets to help you make plans for your preferred type of care in case of an unexpected illness or disability.
Department Of Veterans Affairs
VA.gov features a long-term planning guide to help veterans better understand their home, community-based, and facility care options.
Long-Term Care Planning: Bottom Line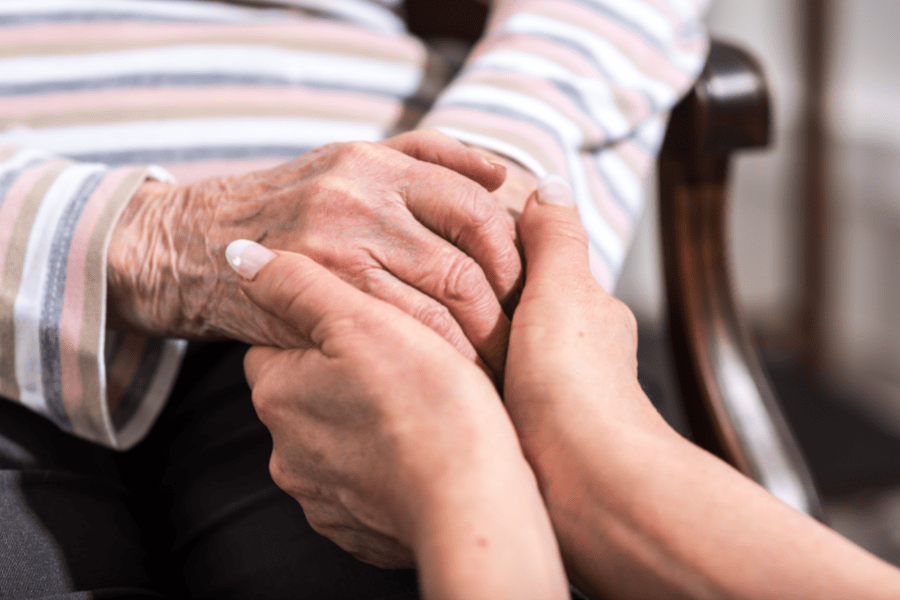 Discussing long-term care with an elderly parent can be difficult for everyone involved because it touches on several complex and often painful subjects. However, despite the challenges, it's in everyone's best interest to avoid procrastinating on long-term care planning, especially if your loved one has an existing condition.
Sooner is always better, and preparation goes a long way to uphold you or your loved one's wishes. In addition, it can ease a significant amount of financial and emotional strain on families and caregivers.
Long-term care can be costly, depending on the circumstances. Still, there are several ways to offset some costs, such as retirement and savings vehicles, long-term care insurance, and government programs like Medicaid.
To get a better idea of your options for care and funding, discuss your plans with professionals such as a lawyer or financial advisor specializing in elder law and long-term care.
If you are considering long-term care planning, we're here to help. Call 1-888-541-1136 or email info@meetcaregivers.com to learn more about your options for professional in-home care.
For more information and resources about caregiving and home care, visit the Blog.
ACL Administration for Community Living. (n.d.). Basic needs. LongTermCare.gov. Retrieved March 21, 2022, from https://acl.gov/ltc/basic-needs 

Administration For Community Living. (n.d.). Long Term Care Planning. Eldercare Locator. Retrieved March 21, 2022, from https://eldercare.acl.gov/Public/Resources/LTCP.aspx 

Hopkins, J. (2021, January 1). Long-Term Care Planning: It's About Family. Investopedia. Retrieved March 21, 2022, from https://www.investopedia.com/insurance/longterm-care-planning-its-about-family/ 

Lake, R. (2021, July 29). What is Asset-Based Long-Term Care? SmartAsset. Retrieved March 23, 2022, from https://smartasset.com/financial-advisor/asset-based-long-term-care 

U.S. Department of Health and Human Services. (n.d.). What is long-term care? National Institute on Aging. Retrieved March 21, 2022, from https://www.nia.nih.gov/health/what-long-term-care