Poor matches between caregivers and seniors contribute to care fragmentation, caregiver turnover, and family stress. Our Care Match formula facilitates better matches between seniors and caregivers, leading to better client/caregiver relationships, care, and peace of mind for families. Keep reading to learn more.
The Rising Need For Care Match Solutions
Between 2019 and 2040, the US population of adults over 65 is expected to increase by 3%, while the population of adults 85 and older will increase by 118%. Most of these people wish to age in place at home but require assistance with basic activities of daily living to do so safely, comfortably, and with dignity.
This is particularly problematic for the 28% of seniors who live alone. Fortunately, this help usually comes in the form of informal caregiving provided by a family member (usually an adult child), friend, or neighbor.
In fact, the number of informal caregivers has grown from 16.6% to 19.2% between 2015 and 2020. Moreover, today's informal caregivers care for loved ones with more health and functional needs than ever. But unfortunately, they often face inadequate and unaffordable services and support to meet the needs of themselves and their loved ones.
Some informal caregivers turn to professional home care services for help, but this isn't always a solution. 80% of caregivers quit in the first 90 days, and staffing challenges exasperate the demand for qualified professionals.
High caregiver turnover can be a serious problem for older adults with a high risk of senior isolation. Although living alone doesn't guarantee senior loneliness, it does increase the risk. Therefore, there isn't just a significant need for qualified caregivers, but compatible ones.
Poor compatibility creates many friction points in the home care process. It also adds to families' stress, lowers the care seniors receive, and increases the risk of care fragmentation. Ultimately, these issues exasperate loneliness and isolation, which can lead to severe effects such as cognitive decline, heart disease, and premature death.
What Is The Care Match Formula?
Home care has historically struggled to adopt new technologies like apps or online client portals compared to the rest of the healthcare industry. Without efficient technology tools, caregivers, clients, and families often face limited support and access to resources to streamline the process. In many cases, neither families nor caregivers are great matches, and the relationships and care suffer.
Care recipients who have had multiple caregivers know right away if they will be a good match with their caregivers based on personality. But unfortunately, many home care services don't always address factors contributing to senior isolation, such as poor character fits between caregivers and care recipients.
Acknowledging that some families need caregivers with different attributes and personalities is important. Yet agencies typically assign caregivers and clients based on the client's care needs and the caregiver's skill set. Naturally, this makes it difficult for caregivers and clients to form positive relationships with each other.
With these problems in mind, MeetCaregivers built a solution to support seniors, families, and caregivers: the Care Match formula. This innovative solution connects caregivers and care recipients based on factors like:
Location and schedule
Care needs and experience
Credentials and licensing
Personality match pieces
Cultural fit
It's not just families and seniors who want better matches. Based on our caregivers' experience, personality requests are as crucial as care needs and experience. After all, matching caregivers and families based on compatible personality traits helps build trust and rapport, reducing home tension and ensuring consistent, compassionate support.
This solution simplifies caregiving, reduces turnover, and improves health outcomes and care quality. And it's just one component of our proprietary platform, which also refers to our proprietary scheduling tools for caregiver requests and appointment confirmations.
What Factors Does The Care Match Formula Consider?
1. Client Needs And Caregiver Experience
Which ADLs (activities of daily living) and IADLs (instrumental activities of daily living) the care recipient needs help with most? For example, does your loved one need assistance dressing, bathing, feeding, or other daily tasks? What about running errands, shopping, transportation, housekeeping, or companionship?
This information gives us more context about the services you're seeking and which home care professionals have the credentials and licensing to address these concerns.
2. Personality Match Pieces
When hiring a caregiver, would your loved one prefer a caregiver who is extroverted, introverted, or a combination? After all, clients and caregivers will spend a lot of time together, so it's in everybody's best interest that everyone gets along.
The questions in this part of the questionnaire derive from the American Psychological Association's Five-Factor Personality Model and let you give more nuanced answers. Besides sharing preferred personality traits, you can also tell us about the care recipient's interests.
For example, suppose your father likes talking about the news and your mother enjoys doing puzzles, two activities that only some people want to do. In this case, our care coordinators would consider these unique preferences when finding a caregiver. The more compatible, the more the caregiver will keep your aging parents engaged during their time together.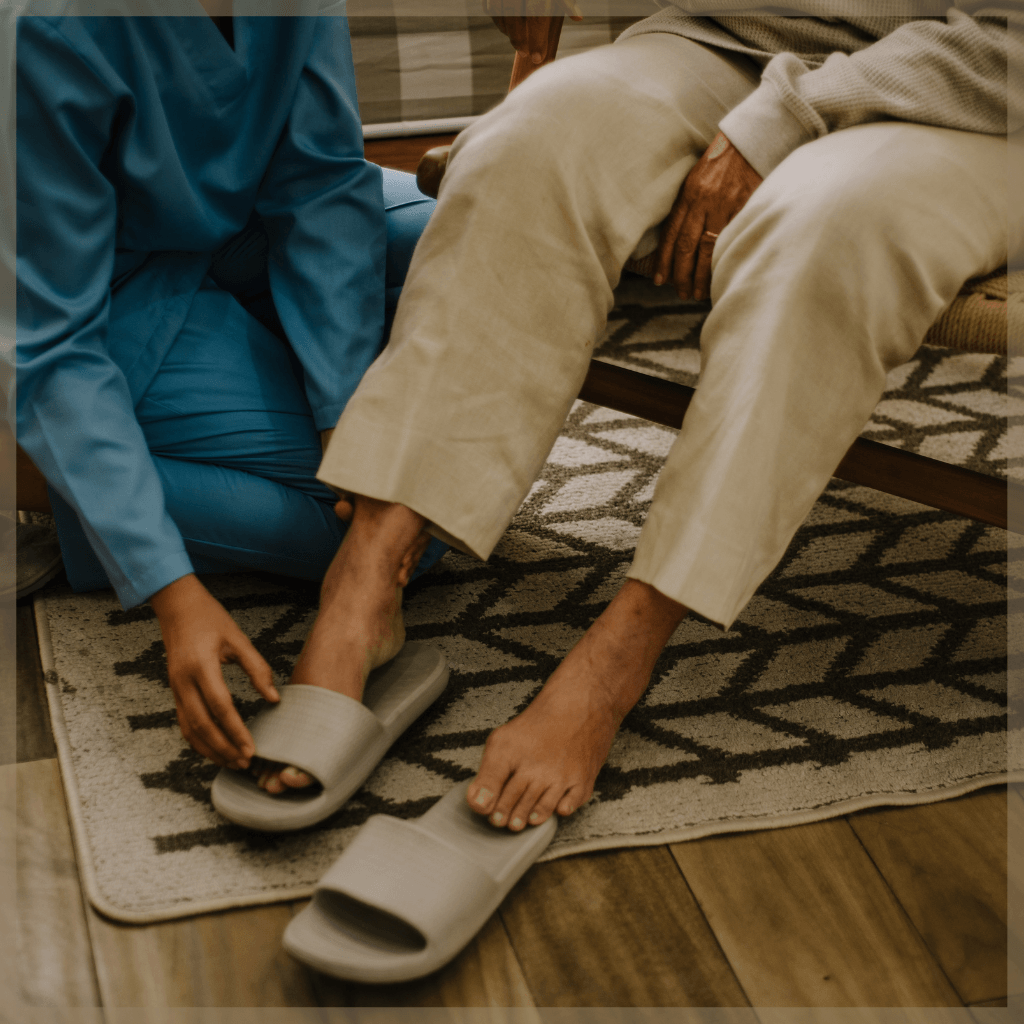 Our Care Match formula assesses social and cultural needs to ensure we match them with a companion who makes them feel happy, listened to, and cared for. If the care recipient is bilingual, we will find a caregiver who shares their language.
Removing barriers to care for seniors supports caregivers by giving them a better understanding of specific personality or cultural aspects families seek in a professional. For example, should the caregiver take off their shoes when entering? Does the care recipient follow a traditional diet?
Knowing these details before meeting a new care recipient nurtures respect and trust before they even walk through the door. It also helps overcome obstacles like language barriers and personality conflicts, allowing companions to build stronger relationships with care recipients and improving overall care quality.
We start with basic questions about the care recipient, starting with where you and your loved one live. Your answers help us narrow our caregiver network to a specific geographic area. We also ask about you and the care recipient's preferred schedule, start date, how long care is needed, and whether these services will be recurring or intermittent.
MeetCaregivers Care Match Can Help
For MeetCaregivers, our Care Match formula provides information that helps us better understand which matches work and why. Then, we can use the formula to build off that success, which will pave the way for new additions as we learn more about cultural competence, neurodiversity, written vs. spoken language preferences, and more.
There are many ways to expand our Care Match platform and make it what we want – something no other senior care provider does.
Find a caregiver today and see the Care Match formula in action, or call 1 (888) 541-1136 to chat with a care manager.
For more information and resources, visit our Blog.
AARP, & National Alliance for Caregiving. (2020, May 14). Caregiving in the U.S. 2020 – AARP Research Report. Caregiving in the United States 2020. Retrieved March 22, 2023, from https://www.aarp.org/ppi/info-2020/caregiving-in-the-united-states.html
Administration for Community Living. (2021, May 24). 2020 Profile of Older Americans. Profile of Older Americans | ACL Administration for Community Living. Retrieved March 22, 2023, from https://acl.gov/aging-and-disability-in-america/data-and-research/profile-older-americans. Modified May 25, 2021
Samuels, C. (2022, January 31). Understanding the Shocking Facts About Senior Isolation. Senior Isolation Facts | A Place for Mom. Retrieved March 22, 2023, from https://www.aplaceformom.com/caregiver-resources/articles/senior-isolation-facts#:~:text=Nearly%20one%2Dthird%20of%20all,often%20go%20hand%20in%20hand