Social Isolation In Older Adults: The Hidden Pandemic
No one could have predicted the COVID-19 pandemic. Nevertheless, this unprecedented and historic crisis has brought many issues to light and drawn attention to countless others, including social isolation in older adults.
The pandemic will have a prolonged and deep-rooted effect on many peoples' overall health and wellbeing. But for seniors, the impact of senior social isolation and loneliness are especially critical.
These problems are associated with severe health outcomes such as diminished physical and mental health. However, with seniors among the most at-risk of transmission, self-isolation is necessary.
Understanding these issues in the context of the pandemic is an essential step toward helping elders and their families manage them.
Social Isolation In Older Adults During COVID-19
A 2020 study defined social isolation as "the objective state of having few social relationships or infrequent social contact with others." On the other hand, "loneliness is a subjective feeling of being isolated."
Unfortunately, many people minimize these issues and fail to see the public health threat they pose to a large part of the country's elderly population.
Even before the pandemic, about 25% of older Americans living in community settings experienced social isolation, while 43% suffered from loneliness.
As the pandemic enters its ninth month and some areas prepare for another wave of lockdowns, these figures will only increase.
Seniors living in care facilities or nursing homes had many opportunities to socialize with others and engage in community events before COVID-19. However, staff can no longer offer activities or family visits because of the virus, severely limiting residents' social interactions.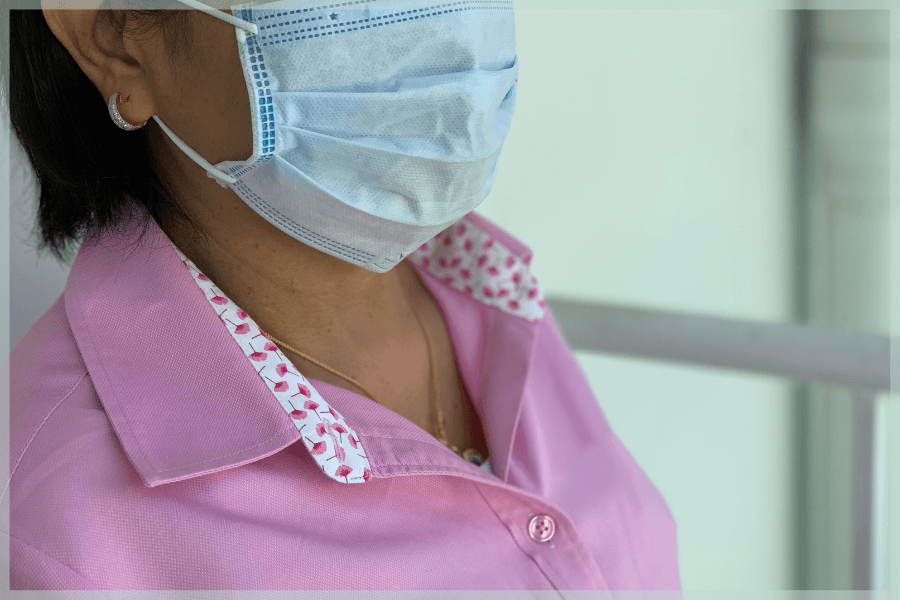 Elders aging in place with support from family or professional caregivers also face these challenges. Unfortunately, throughout the pandemic, families have had to choose between their loved one's physical and mental states. Consequently, many seniors may only interact with their caregiver or meal delivery driver.
But seniors under care aren't the only ones at risk of social isolation and loneliness. The pandemic also exasperates many common problems for family caregivers — many of whom are also older adults — such as stress, anxiety, and depression.
The Effects Of Social Isolation In Older Adults
A growing body of research finds that loneliness and social isolation in older adults can severely affect health and quality of life. In some cases, the impact may have harder-felt consequences for seniors than for younger age groups.
These issues correlate to significant risk factors associated with decreased physical and mental health, such as:
Obesity
Anxiety
Mortality
Depression
Heart disease
High blood pressure
Lower cognitive functioning
Increased risk of Alzheimer's
Weak immune system functioning
When we recognize the effects of social isolation and loneliness during the coronavirus pandemic, we can begin making efforts to support seniors during this difficult time.
How To Avoid Social Isolation In Older Adults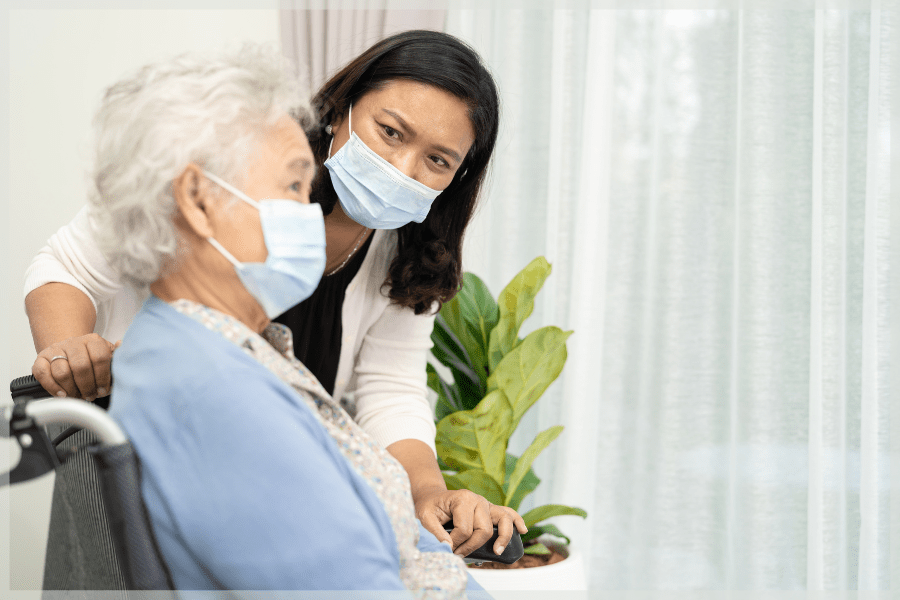 Preventing social isolation in older adults while minimizing the chance of transmission calls for a holistic approach that requires:
Utilizing resources from families
Engaging local organizations and resources
Educating the public about isolation and loneliness
Leveraging technology to connect seniors with others
Encouraging health care practitioners to look for signs of isolation and loneliness during checkups and appointments.
AARP offers an online assessment that can help older adults determine their risk. The results can help seniors and their families address the issue and mitigate the effects of loneliness and isolation.
Social distancing has become a part of the "new normal," yet social interaction is more important than ever. Researchers have found that social support can alleviate feelings of isolation and enhance elders' mental state.
Finding a way to engage with seniors safely can be challenging. For this reason, families and communities need to organize resources to ease loneliness and social isolation in older adults.
Use Technology To Stay Connected
While some older adults may feel uncomfortable using technology, now might be the best time to familiarize themselves with different tools. In addition, the internet offers many opportunities to stay connected with the outside world.
Of course, phone calls, letters, and social media can help loved ones stay in touch, even when apart. Additionally, organizations such as VolunteerMatch.org offer online volunteering opportunities that seniors can participate in from the safety of home.
Promote Awareness Among Health Care Professionals
The average older adult utilizes the health care system more frequently than their younger counterparts, giving healthcare professionals a chance to monitor for signs of isolation and loneliness.
Physicians and other providers working with at-risk patients can apply their findings to create interventions in both clinical and public health settings.
Also, medical schools and other training programs should focus more on isolation and loneliness. By doing so, students will be better prepared to identify these issues in future patients.
Moreover, advances in telehealth make it easier for seniors and their families to access healthcare, particularly if they live in rural areas, lack transportation, or are homebound.
Currently, health care facilities are overwhelmed by COVID-19 patients. As a result, few practitioners have the time or resources to assess older adults for signs of loneliness and social isolation. Hopefully, more focus will go toward identifying these issues when the pandemic ends.
More time at home can make every day feel the same as the last. When this happens, planning your day is more important than ever.
Seniors should try to follow a daily routine and maintain their personal care while participating in activities that offer a sense of fulfillment, such as:
Reading
Puzzles
Gardening
Working on home repairs
Scheduling phone calls with loved ones
Signing up for free or low-cost online classes
Lockdowns don't mean you have to stay inside every day. For seniors who cannot go outside safely, many indoor exercises can help improve balance and strength.
It's vital that older adults participate in outdoor activities that allow a safe distance from others, such as walking. If you go outside, wear your mask, use tissues and hand sanitizer, and distance yourself from others as much as possible.
MeetCaregivers Aims To Overcome Social Isolation In Older Adults
Social isolation in older adults during the COVID-19 pandemic is a serious issue that can cause severe health outcomes.
Although social distancing and lockdowns significantly limit seniors' social interactions, technology can ease the effects of loneliness and help them stay connected with others.
During this challenging time, we are here for you. We provide seniors and their families with qualified caregivers who offer the support they deserve.
Call 1 (888) 541-1136 to speak one-on-one with a care manager. Or, get started now and Find A Caregiver today.
Visit our Blog for more resources for caregivers and aging in place.
National Academies of Sciences, Engineering, and Medicine; Division of Behavioral and Social Sciences and Education; Health and Medicine Division; Board on Behavioral, Cognitive, and Sensory Sciences; Board on Health Sciences Policy; Committee on the Health and Medical Dimensions of Social Isolation and Loneliness in Older Adults. (2020). Social Isolation and Loneliness in Older Adults: Opportunities for the Health Care System. National Academies Press (US).

Ory, Marcia G., and Matthew Lee Smith. "Social Isolation: The COVID-19 Pandemic's Hidden Health Risk for Older Adults, and How to Manage It." The Conversation, 6 July 2020, theconversation.com/social-isolation-the-covid-19-pandemics-hidden-health-risk-for-older-adults-and-how-to-manage-it-141277

Wu, B. Social isolation and loneliness among older adults in the context of COVID-19: a global challenge. glob health res policy 5, 27 (2020). https://doi.org/10.1186/s41256-020-00154-3