What Is The Credit For Caring Act?
While caregiving has many benefits, it's no secret that family caregivers face unique challenges. However, the Credit for Caring Act could alleviate caregiver role strain and help many financially.
On May 18th, a bipartisan coalition reintroduced the Credit for Caring Act. An estimated 48 million unpaid caregivers would receive critical financial support through federal tax credits if approved.
Senators Elizabeth Warren (D-MA), Shelley Moore Capito (R-WV), Michael Bennet (D-CO), and Sen. Joni Ernst (R-IA, and Representative Linda Sanchez (D-CA) head the proposal.
According to Nancy LeaMond, AARP's executive vice president and chief advocacy and engagement officer, "America's nearly 48 million family caregivers are the unrecognized backbone of the long-term care system. Family caregiving can be overwhelming, exhausting and a major financial challenge."
"Family caregivers are the backbone of the long-term care system in this country, and they need help," LeaMond continued. "Many are struggling to balance their care responsibilities with paid employment. And, they're dipping into their own pockets to cover the related expenses for their loved ones. By providing a tax credit to eligible family caregivers, Congress can offer some much-needed financial relief to these hard-working Americans."
The Credit for Caring Act has gained traction among organizations, including the Alzheimer's Association, National Association of Area Agencies on Aging, Elizabeth Dole Foundation, and AARP.
Credit For Caring Act Would Stimulate Economic Growth
According to AARP, caregivers provided approximately 34 billion hours of unpaid care (worth an estimated $470 billion) in 2017. Additionally, 61% of caregivers work full-time, assisting with transportation, housework, bill pay, meal preparation, errand running, and more. 
Often, when caregivers can no longer balance their role with other responsibilities, they must reduce their hours or leave their job altogether — further exacerbating their financial burden.
According to the AARP's Family Caregiving and Out-of-Pocket Costs study, the average family caregiver spends approximately $7,000 (or 20% of their income) on out-of-pocket caregiving expenses. This rate is significantly more for long-distance caregivers.
Under the Credit For Caring Act, qualifying caregivers would receive a 30% tax credit (up to $5,000) to cover miscellaneous expenses greater than $2,000. This benefit would go a long way to cover caregiving costs such as:
Home care

Adult daycare

Respite care

Home modifications

Technology for aging in place

And more.
Not only would the bill support family caregivers financially, but a recent AARP analysis also found that it would spur strong economic growth. According to the study, the US GDP could grow by $1.7 trillion (5.5%) by 2030 if caregivers 50 and older received more workplace support. By 2050, experts predict that number to increase to $4.1 trillion.
On March 26, 2021, Deb Whitman, AARP executive vice president and chief public policy officer, told Forbes magazine about the findings, "Looking at the people who are taking care of somebody, many of them either have to reduce their hours [at work], they may get passed over for a promotion, or they leave the workforce entirely. If we could stop that [from happening], our economy would grow."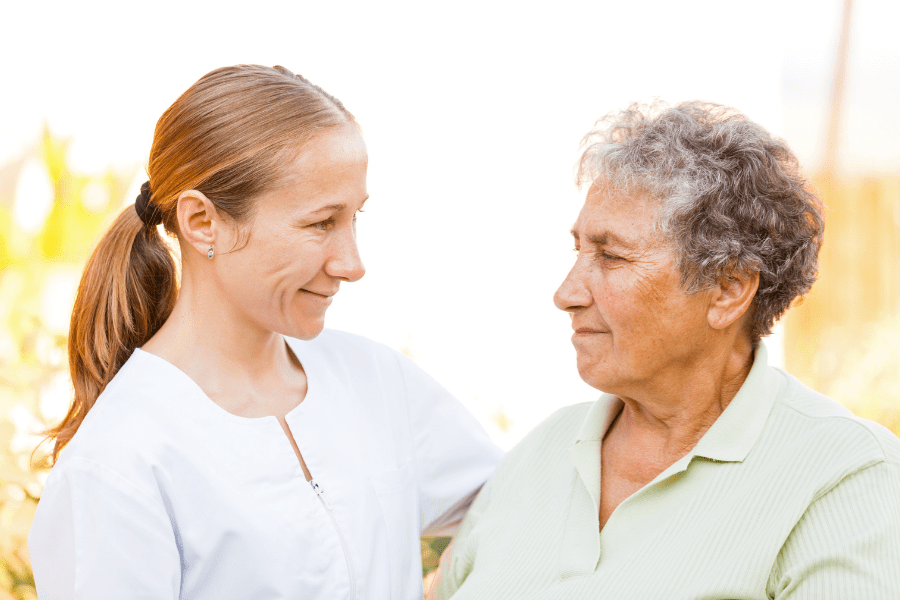 AARP. "Family Caregivers Face High Out-of-Pocket Costs."

AARP

, 1 Oct. 2019, www.aarp.org/caregiving/financial-legal/info-2019/out-of-pocket-costs.html.

Eastabrook, Diane. "Bipartisan Credit for Caring Act Provides Financial Boost to Family Caregivers – Home Care Daily News."

McKnight's Senior Living

, 22 May 2021, www.mcknightsseniorliving.com/home/news/home-care-daily-news/bipartisan-credit-for-caring-act-provides-financial-boost-to-family-caregivers/.

Kerr, Nancy. "New Bill Would Provide Tax Credit to Family Caregivers."

AARP

, 26 May 2021, www.aarp.org/caregiving/financial-legal/info-2021/new-credit-for-caring-act.html?intcmp=AE-CAR-BB.

Terrell, Kenneth. "Support for Older Caregivers Could Boost U.S. Economy."

AARP

, 29 Mar. 2021, www.aarp.org/caregiving/life-balance/info-2021/caregiver-support-could-boost-economy.html.