Caregiver Communication Is Tough When You Live Far From Your Parent
Whether it's moving for school, work, or another reason, Americans are becoming increasingly mobile. According to the Caregiving in the U.S. 2020 AARP research report, 11% of family caregivers live one or more hours from their loved one.
Distance compounds family caregivers' responsibilities and often demands even more resources. As a result, many long-distance caregivers hire a local professional to ensure their aging parents receive the care, attention, and companionship they need.
Still, living in a different area than your loved one can pose several obstacles, especially regarding caregiver communication. Fortunately, there are several ways to reduce miscommunication mishaps and ensure you and your loved one's caregiver are always on the same page.
Common Long-Distance Caregiver Communication Challenges
As a long-distance caregiver, you don't have the luxury of regularly speaking to your parent's caregiver in person, so phone calls, e-mails, and text communication are vital. Thankfully, technology makes it easier than ever to manage long-distance caregiver communication. However, these methods still leave openings for miscommunication or missed details due to communication challenges like those below.
Staying Updated About Your Parent's Health
As elders age, they frequently visit the doctor or see other specialists about their health. Your loved one has a large circle of support besides their caregiver, and each requires clear communication from you.
But you can't attend these appointments if you live in a different city than your loved one. Missing these crucial visits could pose a problem and leave you feeling in the dark about your relative's condition.
Sharing Last-Minute Updates
If your loved one has a sudden downturn in their health, you may need to make several abrupt schedule changes. While you can always inform the caregiver about these changes, there is still a degree of stress that comes with juggling communication channels with healthcare workers and your loved one's caregiver.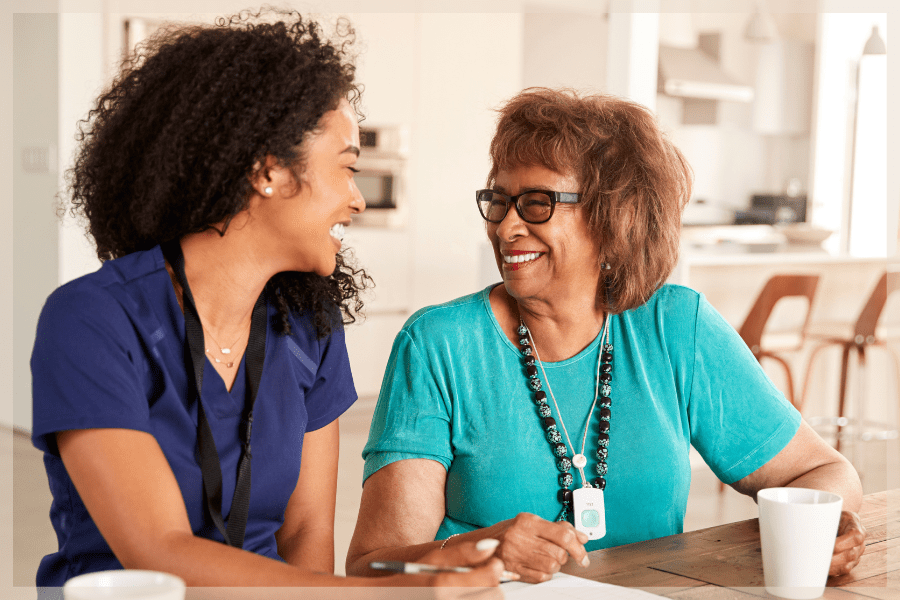 4 Ways To Improve Long-Distance Caregiver Communication
Communication is the best way to alleviate your concerns about your loved one's care. But how do you ensure reliable contact in the first place?
Give your parent's caregiver key contact information: Provide the necessary details to reach you, including alternatives if they cannot reach you during an emergency. Multiple means of contact ensures you always have access to each other.
Set a time each day for the caregiver to contact you: Doing so gives both of you a chance to catch up and share updates.
Consider regular e-mail correspondence: This can include daily reports about your loved one's behavior, health status, and anything else you'd like to track.
Keep other family members informed: It's vital if they live in the same city as your parent or relative. It always helps to have extra eyes to track your loved one's activity levels or general appearance.
MeetCaregivers Supports Caregiver Communication
Caregiving is demanding and living away from your loved one who needs it makes it even more of a challenge. So we built solutions to streamline caregiver communication and ensure your parent gets the best possible support.
MeetCaregivers has the tools and resources to build a solid foundation between yourself, your loved one, and their caregiver. Our CarePortal is just one solution to stay informed about your loved one's care.
The CarePortal makes communication between everyone involved in your loved one's attention as smooth as possible. With it, you can update weekly routines, set reminders, make last-minute changes to your loved one's schedule, and much more from the mobile app.
For more information, call 1 (888) 541-1136 or find a caregiver today.
Are you looking for more resources about caregivers? Our Blog has plenty of information to read and learn about the topic.
Stevenson, S. (2018, September 21). Long-Distance Caregiving Tips. Retrieved April 17, 2019, from https://www.aplaceformom.com/blog/2013-12-25-long-distance-caregiving/
AARP and National Alliance for Caregiving. Caregiving in the United States 2020. Washington, DC: AARP. May 2020. https://doi.org/10.26419/ppi.00103.001