Is Your Loved One At Risk Of Experiencing Holiday Loneliness?
For older adults, this time of year is a reminder of the past. Often may experience grief and loss more frequently as friends and family pass. Or they may feel disconnected from their community as it changes.
Physical changes can also cause seniors to feel disconnected and depressed. For example, your mom may not have the same energy and mobility as she did in Christmases past. This challenge can limit her ability to contribute to holiday traditions. Not only can this make her feel unneeded, but it can also cause her to fear losing their independence.
According to the CDC, loneliness and social isolation are also linked to severe long-term health problems, such as:
Heart disease
Stroke
Cognitive decline
Early mortality
Sadly, studies by the US Census Bureau, almost one-third of seniors 65 or older live alone. If you suspect an older adult in your life is suffering from loneliness or depression, there are ways you can help brighten their spirit.
If your loved one lives alone, easing holiday loneliness can be as simple as showing them you care. Sometimes a phone call is enough to make a difference in your loved one's life.
Here are a few other ways to reduce holiday loneliness for seniors.
10 Ways To Help Your Loved One Avoid Holiday Loneliness
You may already have a lot on your plate, but making time for your loved one and helping them manage holiday loneliness will mean more than you will ever realize.
Active listening is among the most effective ways to ease holiday loneliness. Your loved one may not have many opportunities to talk to others, so when they share stories or want to chat, make sure you listen actively. A genuine, two-way conversation can help your loved ones work through any negativity they're experiencing. It could also disclose the source of their holiday loneliness and help you identify new ways to help.
2. Make Them Feel Important
Your parent may not realize how much they mean to you, which can worsen holiday loneliness. So remind them of their importance to you and others, regardless of their abilities. Let them know you're happy with whatever they're able to do and that you're glad to help them because you love them.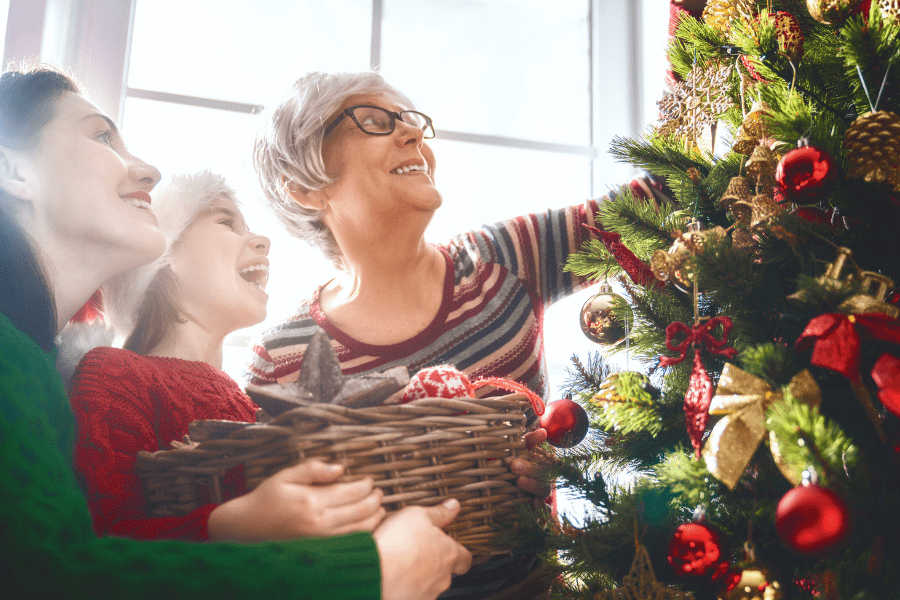 3. Offer Emotional Support
For some, holiday cards are a cherished tradition. But, as loved ones and friends pass, these letters may contain more bad news and fewer glad tidings, making it difficult for your parent to enjoy this tradition. So when your loved one opens their cards this year, consider being there with them to offer comfort and support.
You can also ask other family members and friends to mail cards with happy news, drawings, and photos. It's a great way to uplift your loved one's spirits and help them stay connected during the holidays.
4. Don't Hide Your Appreciation For Them
Show your loved one that you're attempting to streamline your usual seasonal plans to concentrate on what matters most. Tell them that you want to prioritize family and values over holiday fanfare. Let your loved one know you learned the importance of family and friends from them — and you appreciate it.
Does your loved one live in a nursing home or assisted living facility? Then consider asking the activities director and nearby schools or extracurricular organizations to inquire about arranging for in-person, distanced, or virtual visits for residents. Engaging with youths can be a positive experience for seniors suffering from holiday loneliness. Alternatively, you could look for local pet therapy programs. This option may be ideal during the pandemic and is a great new activity for older adults.
6. Find Extra Support On Their Behalf
If your loved one belongs to a church or religious group, you might consider reaching out on your loved one's behalf to inquire about additional social support. Most religious organizations can schedule a time for a leader or another congregation member to visit your loved one at home. It might seem small, but even a little companionship can significantly ease holiday loneliness in seniors.
7. Deck The Halls (Together)
Holiday decor is like a visual palate cleanser. Incorporating seasonal accents around their home is a small way to spread cheer and possibly ease holiday loneliness. However, make sure these decorations aren't a safety risk and consider decorating in phases to extend the excitement and anticipation.
Most people like reminiscing while unboxing precious holiday items. If your parent shares a story about a particular item, pay attention and ask questions to show that you are interested. If you can't help your loved one decorate in person, keep them company over an audio or video call as they decorate.
8. Carry On Holiday Food Traditions
You may fondly remember baking holiday treats with your mom or dad. So why not continue the tradition now that you're an adult? Baking is a great way to make your loved one feel important and spend quality time together. If they live in a long-term care facility, bring their favorite treats to eat and share with friends.
9. Consider Virtual Gatherings
Hopefully, there won't be any restrictions or lockdowns this season, but if there are — or if your loved one is unable to attend for whatever reason — consider a virtual gathering.
Contact your loved one's friends or nearby relatives and encourage them to come. The benefit of a virtual gathering is that you can hold them on any day. In addition, your loved one may not realize how many of their loved ones cared enough to attend, even if it wasn't face-to-face.
If your elderly parent has Alzheimer's or dementia, you may invite only a few people to avoid confusion or overwhelming them. Technology can confuse, and too many attendees could cause frustration.
Helping your loved one feel included is the best way to relieve holiday loneliness. Plus, for many seniors, quality time is better than any gift.
Here are a few activities to try together:
Reminiscing over family photographs and home movies
Watching your favorite seasonal shows
Enjoy memorable holiday music
Create holiday cards, wreaths, and other decorations together.
No matter what you do with your loved ones, they will appreciate any time you spend with them.
Holiday Loneliness During COVID-19
Finding a balance between your aging parent's needs and seasonal festivities can be challenging enough as it is. But with the ongoing pandemic and emerging Omicron strain, you may have even more concerns about your loved one's health and safety.
While the CDC and other health experts are unsure if existing coronavirus vaccines will work against the Omicron variant, it's still essential that you and your loved one stay up-to-date on your booster shots.
Vaccination is the most effective way to lower your risk of infection and avoid hospitalization or even death. That should give you peace of mind as your family gathers this season.
Visit the CDC's website to find new information and guidance about the latest virus strain and how to keep your family safe this holiday during the pandemic.
MeetCaregivers Helps Ease Holiday Loneliness
Do your part to ease your loved one's holiday loneliness and help them feel included, but don't sacrifice your wellbeing and health. Biting off more than you can chew will only keep you — and possibly your family — from a happier holiday.
If you need a respite break or just a few hours of extra help during the day, MeetCaregivers can help. Call 1 (888) 541-1136 or Find A Caregiver to learn about our caregiver match program.
Our highly-trained, qualified caregivers provide a range of services to help your loved one retain their independence and dignity, including transportation assistance, meal preparation, light housework, and more.
For more information and resources for caregivers and seniors, check out the Blog.
Bradley Bursack, C. (2021, November 9). Reducing loneliness: How to help seniors during the Holidays. Reducing Loneliness: How to Help Seniors During the Holidays. Retrieved December 4, 2021, from https://www.agingcare.com/articles/elderly-loneliness-during-holidays-148441.htm.
Centers for Disease Control and Prevention. (n.d.). Loneliness and Social Isolation Linked to Serious Health Conditions. Centers for Disease Control and Prevention. Retrieved December 4, 2021, from https://www.cdc.gov/aging/publications/features/lonely-older-adults.html.
Help Seniors Feel Less Lonely This Holiday Season. Brandon Wilde. (n.d.). Retrieved December 4, 2021, from https://www.brandonwilde.com/blog/fighting-senior-loneliness/.