Is Palliative Care At Home The Right Choice?
All too often, the care elders receive in hospitals, nursing homes, or other facilities doesn't align with their wishes. This problem can severely affect their quality of life and wellbeing. Unfortunately, this situation is far too prevalent among terminally ill patients.
Planning for palliative care at home can help avoid this situation from happening to you or a loved one. Seniors should understand their options for end-of-life care and express their wishes to caregivers ahead of time. Likewise, caregivers should consider the patient's life expectancy, preferred care environment, and desire for life-extending or remedial treatments.
Anyone wishing to pass in their home should talk to their caregiver, family, and physician about managing their pain and symptoms through palliative care. This way, they receive their preferred treatment from the comfort of their home.
What Is Palliative Care At Home?
Palliative care at home supports people with life-threatening or chronic diseases. Palliative care can improve elders' and families' quality of life by contributing an extra level of comfort as they undergo curative treatments.
Generally, palliative care is administered in combination with curative treatment. A specialized team of doctors, nurses, and specialists carry out a tailored care plan. Sometimes this multidisciplinary team includes social workers and chaplains. Together, they work with the elder's existing physicians, supporting the patient and their family on a physical, emotional, spiritual, and social level.
Like hospice, palliative care is a compassion-focused service. However, palliative care recipients may choose to receive curative treatment, while hospice patients do not. Both are valuable services for those facing a serious or life-threatening illness such as:
Cancer
Parkinson's
Heart failure
Dementia or Alzheimer's
Chronic obstructive pulmonary disease
Palliative care is most effective when administered as soon as a diagnosis is given. Not only does it ensure a better quality of life, but it also empowers patients by educating them about their options for medical care.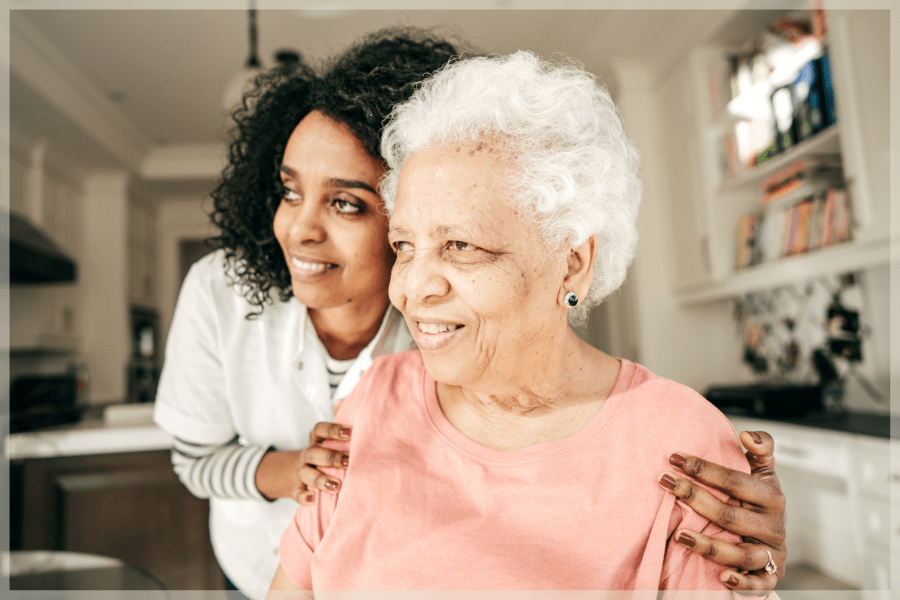 What Is Included In Palliative Care At Home?
Palliative care at home delivers holistic support for physical, mental, emotional, and spiritual wellbeing. A qualified palliative care professional provides services such as:
Pain management
Medical assessments
Medication administration
Prescriptions to relieve symptoms
Physical therapy or other forms of rehabilitation
Additional medical treatments, such as wound dressings
Assistance with housework, meal preparation, pet care, bathing, dressing, errands, and other activities of daily living (ADLs).
In addition to the physical aspect of treatment, palliative care also aims to meet patients' emotional and spiritual care needs. For example, palliative care providers offer a chance for social interaction and companionship while patients continue living at home.
Palliative care providers can guide patients and families through the complex healthcare process, so they come to a complete understanding of their needs.
Eventually, the palliative care team will determine if treatment is still effective. If the patient's condition has not improved or they could pass away in the next six months, the elder will move to hospice care. Otherwise, the care team will continue administering support with a greater focus on comfort care.
Does Medicare Cover Palliative Care At Home?
Elders might receive assistance from Medicare, Medicaid, and select insurers for palliative care services. In addition, the Department of Veterans Affairs (VA) may provide qualifying veterans coverage.
Original Medicare covers palliative care for terminally ill patients eligible for hospice coverage under Medicare Part A. To qualify, you must:
Receive confirmation from your hospice and regular doctors that you are terminally ill and have less than six months to live.
Sign a declaration stating your decision to receive hospice care instead of other benefits to treat your illness and its related symptoms.
Receive palliative care for comfort care rather than curative treatments.
Qualifying beneficiaries may also receive additional coverage under Part B, including select treatments, prescriptions, or visits from health professionals and social workers.
When seeking palliative care at home for yourself or a loved one, contacting your health insurance company is the surest way to determine your coverage options.
What Are The Benefits Of Palliative Care At Home?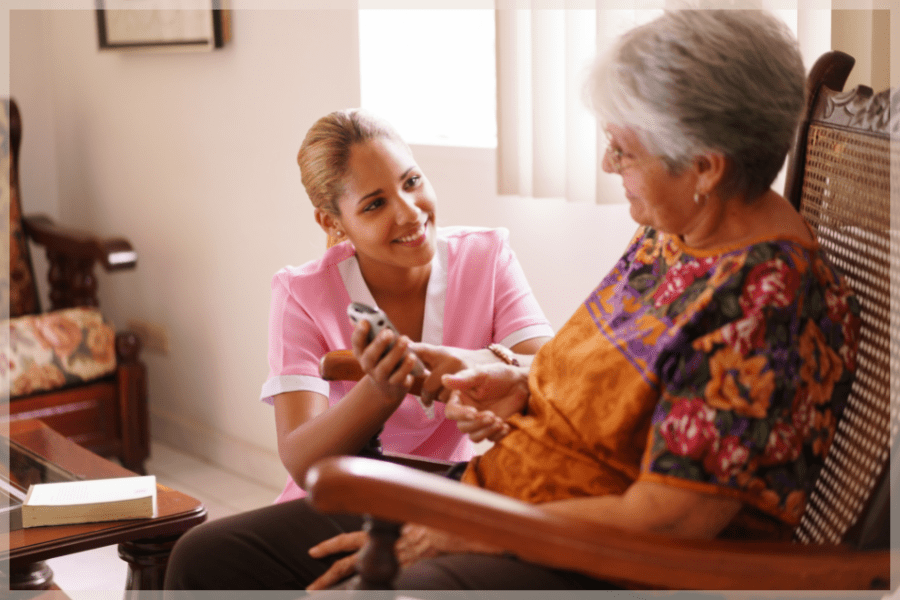 Palliative care is characterized by a profound understanding of the human element of illness, as a 2011 survey of palliative care patients highlighted. In other words, palliative care helps patients retain their identity by focusing on their personhood rather than treating them as victims of their condition or disease.
Researchers found that, overall, patients felt palliative care addressed several critical needs, including:
"being recognized as a person"
"having a choice and being in control"
"being connected to family and the world outside"
"being spiritually connected"
"physical comfort"
This focus is one of the most important benefits of palliative care at home. These services offer people a chance to live their remaining days or months in the comfort and security of their homes.
Another critical point is that this service puts elders in the company and care of a trustworthy, familiar administrator. As a result, elders and their families get significant peace of mind. 
Alternatively, a caregiver can make regular home visits instead of living with the patient. Receiving this service in the home, rather than a hospital or nursing facility, creates less turmoil for everyone involved. This benefit makes palliative care an important resource for family caregivers who need respite care by ensuring no disruption to the elder's care.
Depending on the patient's needs, a trained caregiver can visit during the day or night. Visitations can range from half an hour to overnight and as infrequently as once a week to multiple times throughout the day. A live-in caregiver specializing in palliative treatment provides 24/7 care based on the elder's specific needs. If the patient's condition unexpectedly changes, the carer is there to give immediate support.
Resources For Palliative Care At Home
MeetCaregivers Supports Palliative Care At Home
Palliative care at home supports comfort and quality of life for patients facing life-threatening or chronic illnesses. This support also extends to families — particularly family caregivers in need of respite.
We seek to improve access to this critical service by supporting hospice providers with qualified, trained caregivers. We partner with hospice organizations to provide staff augmentation services. Our professional caregivers work closely with hospice nurses to assist with feeding, grooming, and other personal care tasks to support dignity and comfort.
Discussing end-of-life care with your loved one can be difficult. However, families should allow elders to express their wishes, especially regarding treatment and care.
If you need a respite break or your loved one requires specialized care, we can help. Our professional caregivers can assist your loved one with various services and care depending on their needs.
Call 1 (888) 541-1136 or Find A Caregiver today.
For more resources for caregivers and seniors, visit our Blog.
"Home Palliative Care." Crossroads Hospice Expect More from Us. We Do., https://tinyurl.com/y3a2nsmg
"Palliative Care At Home – What It Is & Costs: Helping Hands." Helping Hands Home Care, https://tinyurl.com/y66o8v7m
"The Difference Between Home Care, Palliative and Hospice Care." Pathways Home Health and Hospice, 31 Oct. 2017, https://tinyurl.com/y3gta446
"What Are Palliative Care and Hospice Care?" National Institute on Aging, U.S. Department of Health and Human Services, https://tinyurl.com/y2zgufwn
"When Is Palliative Care Appropriate?" WebMD, WebMD, 16 Aug. 2019, https://tinyurl.com/mfo4cvo
Worstell, C. (2021, November 29). Does Medicare Cover Palliative Care? Does Medicare Cover Palliative Care? Medicare Coverage and Benefits. Retrieved November 16, 2022, from https://www.medicareadvantage.com/coverage/does-medicare-cover-palliative-care