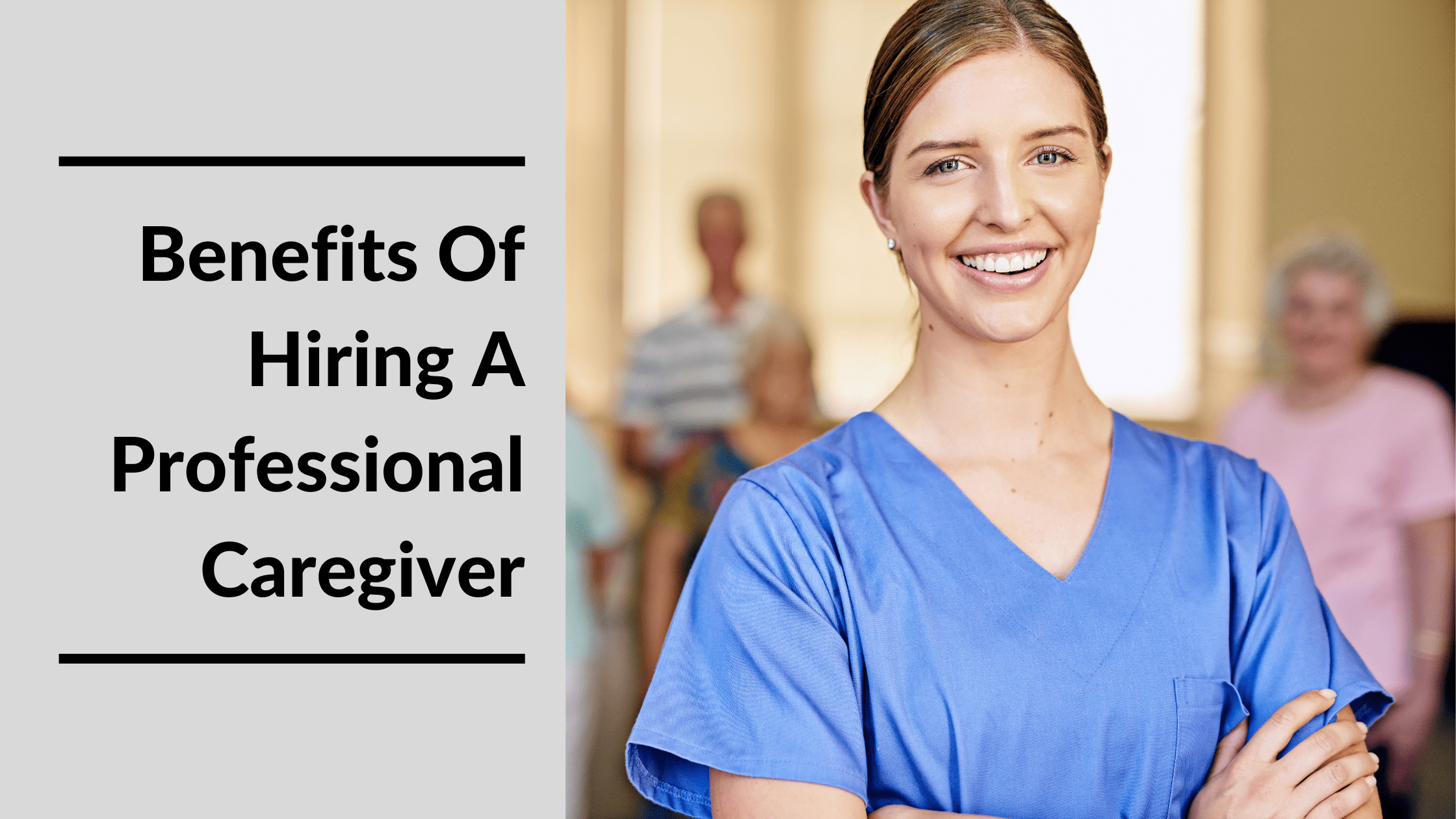 It's common for older adults to fear losing their independence as age-related issues such as mobility loss, balance problems, and other conditions occur. However, hiring a professional caregiver for in-home help can prolong your parent's independence and improve their quality of life. Learn when it may be time to find a professional caregiver your parents and the benefits of getting them the help they need when it's time.
Updated February 22, 2023
Modified March 17, 2023
Are You Considering Hiring A Professional Caregiver?
Have you visited your mom or dad and noticed several things seemed "off"? For example:
Maybe the fridge was emptier than you've seen before or full of expired food.
Perhaps you saw a concerning number of unpaid bills on the table.
Or maybe there was an unusually excessive pile of dirty laundry or dishes.
Most worryingly, maybe you noticed they hadn't bathed in a while.
These are just a few signs that your parent might need help at home. If you're familiar with this experience, you undoubtedly left their house thinking, "It's time to hire a professional caregiver."
While these signs are concerning, they don't always mean it's time to move your parents into an assisted living facility. Instead, consider hiring a professional to support your loved ones as they age in place. While it's never easy to admit that your parents can no longer care for themselves, hiring a professional caregiver for in-home help can go a long way to support their happiness.
12 Signs You Should Hire A Professional Caregiver
As your parents age, you may notice minor signs of their age catching up with them. For example, perhaps your mom once religiously cleaned the house but now struggles to keep up with everyday chores. Or maybe your father consistently forgets to turn off lights, the oven, or even pay bills. You should talk to your parents about hiring a professional caregiver for in-home help if they:
Sleep excessively
Forget to pick up the mail
Forget to take out the trash
Neglect hygiene and grooming
Neglect to schedule or fix basic household repairs
Insist on driving despite getting lost in familiar areas
Previously paid bills on time but increasingly forget to do so
Show a complete lack of interest in basic household chores
Stop cooking, miss meals, or fail to throw away expired food
Fall more often, are unsteady on their feet, or struggle to use the stairs
Have less interest in visiting friends and family or a general reluctance to leave the house or run errands
Forget to turn off the stove or show inappropriate responses toward emergencies
Forget to take medications, miss doses, unintentionally overdose, or call you to ask which prescription they should take
10 Benefits Of Hiring A Professional Caregiver
Hiring a professional caregiver supports your parent's independence and quality of life. Unfortunately, many seniors fear losing their independence due to age-related issues such as mobility loss, balance problems, and other health conditions. However, many qualified professionals can help your parent can live in the comfort and familiarity of home by assisting with a range of tasks such as:
Cooking, meal preparation, and feeding
Appointment and medication reminders
Laundry, dishes, or other household tasks
Transportation assistance and running errands
Bathing, dressing, toileting, and other personal care
Additionally, some types of home health professionals provide medical care, such as:
Wound care
Monitoring vitals and health conditions
Administering medications and injections
If you are the primary family caregiver or seldom receive outside support, having another person to help with tasks like those above – even for a few hours a week – will boost your quality of life. So with that in mind, here are a few benefits of hiring a professional caregiver.
1. A Professional Caregiver Provides Companionship
Companionship is an essential component of home care. According to the CDC, "For those without social connections, a doctor's appointment or visit from a home health nurse may be one of the few face-to-face encounters they have."
And as Kevin Watkins, co-owner of Caring Hearts of Rochester, a New York-based in-home care agency, told AgingCare.com, "Far too many elderly individuals in the United States live alone, and when they have trouble getting around, lose their driving privileges, or do not have family and friends nearby, it can make them feel even more isolated."
Regular social interactions can minimize or prevent symptoms of depression and cognitive decline caused by social isolation. Furthermore, companion caregivers can help older adults enjoy more opportunities for engagement, such as:
Having coffee
Seeing movies
Going on walks
Gardening
Listening to music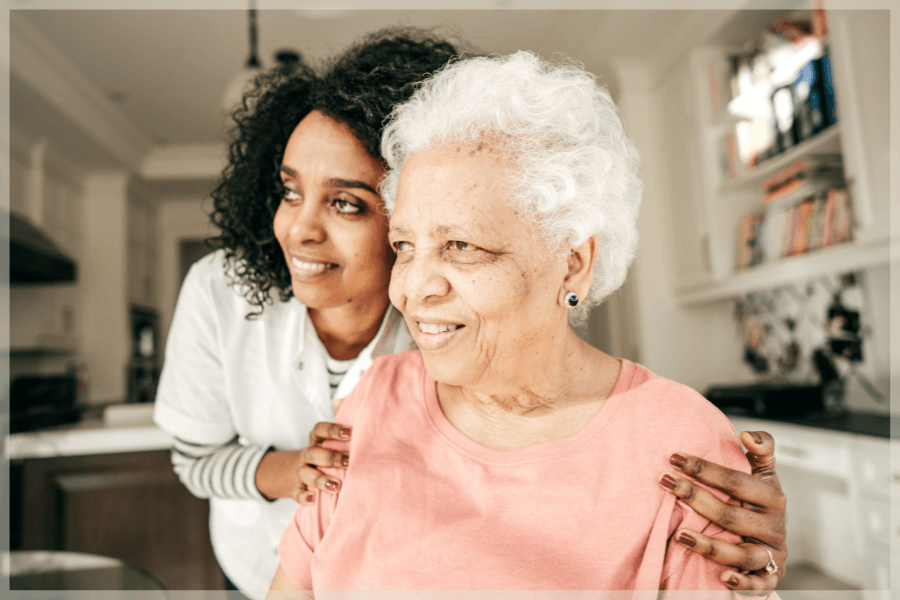 2. A Professional Caregiver Supports Independence
Talking to your parents about giving up driving may be one of the most challenging conversations you can have with your parents. But if your parents' driving poses a risk to themselves or others, you might not have a choice.
Even still, giving up the keys can be devastating. The lack of consistent transportation can impact your parents' routines, ability to run errands, attend religious services, see friends, and much more. In addition, it forces them to rely on other people for a ride, reinforcing feelings of helplessness or being a burden.
However, transportation assistance can help your parent regularly get out of the house, which may ease some feelings of autonomy loss. It also ensures your parent attends scheduled health appointments, leading to better long-term health.
3. A Professional Caregiver Promotes Dignity
Arthritis, Parkinson's, and other health conditions can hinder peoples' ability to independently perform activities of daily living (ADLs) such as bathing, dressing, or toileting. Unfortunately, before the prevalence of home care, many would have likely moved to a nursing facility to receive assistance with these basic needs. But thanks to increased access to in-home services, more seniors can receive the same help in their homes.
Like driving, losing the ability to care for yourself is devastating. However, personal care assistance can significantly boost your parent's dignity and support their self-confidence. Another benefit is that these professionals have the knowledge and training to complete these tasks without injury to themself or your loved one.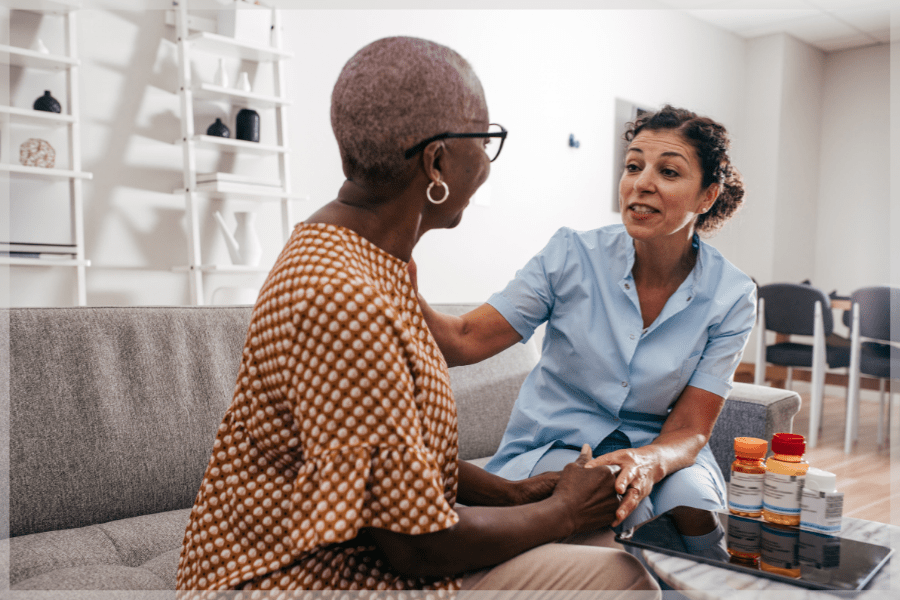 4. A Professional Caregiver Monitors Your Parents' Health
One of the most significant benefits of hiring a professional caregiver is having a trained professional monitor your parents' health from day to day. In addition, having a second pair of eyes makes tracking your loved ones' physical, emotional, and cognitive health easier when you're not with them in person.
Home health professionals such as RNs and LPNs can provide insights into your parents' health that you may not notice. They can also catch unusual changes or symptoms in your parent and help you address them before they develop further.
For example, suppose your mother's weight frequently fluctuates. It's normal for older adults' weight to change over time, but too much or too little may be a reason to worry. A caregiver can help identify underlying causes, such as swallowing problems or gastric problems.
5. A Professional Caregivers Supports Family Caregivers
Are you stretched too thin, struggling to keep up with your responsibilities, or needing respite care? Family caregivers often try to manage their loved one's care alone. But gradually, the burden of caring for an aging parent and juggling work, school, home life, and more can lead to caregiver burnout.
However, hiring a professional caregiver can give you a much-needed break or deliver specialized care you may not know how to provide. Even if it's for a few hours during the week or overnight, they can give you the time to catch up on other areas of your life.
6. A Professional Caregiver Helps Improve Home Safety
A care coordinator or geriatric care manager can work with your family to improve your loved one's safety at home. They can perform an initial home risk assessment to identify tripping hazards and other areas that pose a risk to your parent. In addition, your loved one's caregiver can ensure your parent turns off the lights and oven, locks the doors, and takes other basic safety measures. Lastly, if your loved one does have an accident or emergency, the caregiver will be there to respond and provide care immediately. 
7. A Professional Caregiver Offers Reassurance
Caregiving is emotionally, mentally, and physically taxing – even more so when you don't have the training or background. Over time, you may question your ability to meet your loved one's care needs. Many family caregivers feel like this, and you shouldn't feel guilty.
You might feel you can't meet your loved one's needs or recognize that you simply can't. Whatever your case, it's okay. Most family caregivers work full-time, so not everyone has the time, energy, or resources to provide care.
Ultimately, it doesn't matter if your loved ones' needs are met by you or someone else. What matters is that they get the support they need to protect their dignity and quality of life.
8. A Professional Caregiver Is More Affordable Than Facility Care
For many families, the expense of long-term care only adds to their financial burden. For example, according to the 2021 Genworth Cost of Care Survey, the monthly median cost for a semi-private room is $7,908, while a private room is $9,034. But despite the steep expense, many facilities fall short in their ability to provide adequate care.
On the other hand, full-time (40 hours per week) homemaker and home health aide services are significantly lower, at $4,506 and $4,680 per month, respectively. In addition, studies show that seniors who receive home care after an injury or illness recover faster and have lower hospital readmission rates than those who move to a care facility. That doesn't only mean substantial financial benefits for you and your loved one — it also eliminates a heavy emotional burden.
9. A Professional Caregiver Promotes Flexibility
Your loved one may only need help for a couple of hours each day or around-the-clock care. Either way, a professional caregiver can support you and your family whenever (and however) needed. Caregivers complete many tasks that would otherwise fall on you, giving you more time and flexibility. A home care agency can work with you and your loved one to find the right caregiver based on their needs, your schedule, and more. 
10. A Professional Caregiver Provides Peace Of Mind
Ultimately, for these and many other reasons, hiring a professional caregiver gives you peace of mind that your parents are cared for daily, even when you're not there. In addition, worrying less about your parents' safety and health lowers your stress and gives you more mental energy to focus on other parts of your life. 
MeetCaregivers Makes Hiring A Professional Caregiver Easy
Hiring a professional caregiver doesn't only help your loved one — it gives you much-needed support, too. You can't always be there for your loved one, so having someone else to step in and help can go a long way to ease some of your stress.
You don't have to put your wellbeing and happiness on hold. Call MeetCaregivers at 1 (888) 541-1136 or find a caregiver to find support today.
For more resources for caregivers and seniors, check out our Blog.
Basel, Dan Dan. "Why In-Home Care Is Better than Nursing Homes – Home Helpers Home Care." Home Helpers® Home Care, https://tinyurl.com/5f9x4y4.
Frederick, Will. "6 Benefits of Hiring an In-Home Caregiver for a Senior." Home Care Assistance of Fort Worth, 18 Oct. 2018, https://tinyurl.com/kuzv7acs.
Friedrich, Jennifer Luna. "Hiring an In-Home Caregiver: What You Don't Know Could Hurt You." Caregiver.com, 8 Mar. 2021, https://tinyurl.com/5fydwppe.
Kerrigan, Tennille. "5 Advantages of Having an In Home Caregiver." Senior Home Care Services for the Elderly, https://tinyurl.com/3r7jdhzk.
Teter, Michele. "5 Benefits of Hiring In-Home Care for an Elderly Parent." AgingCare.com, 20 June 2017, https://tinyurl.com/ew2njuu5.
Watson, Michael. "Why Hiring a Professional Caregiver Might Be Your Best Option." Looking for Senior Home Care?, Caring Senior Service, 10 Sept. 2019, https://tinyurl.com/42phukt8.
"What Is Home Care and How Much Does It Cost." What Is Home Care and How Much Does It Cost?, https://tinyurl.com/chfu2mh8.