Dementia Caregiver Tips For Family Caregivers
Whether you're a professional caregiver or an adult child caring for your aging parent, caring for somebody with a cognitive disease is an incredibly challenging experience. The following dementia caregiver tips could help both of you through this difficult experience.
Are You A Dementia Caregiver?
According to data from the Centers for Disease Control and Prevention (CDC), over 16 million people care for somebody with dementia. 
Dementia-related diseases cause multiple cognitive, physical, behavioral, and emotional changes. These disruptive shifts are highly distressing not only for the person living with dementia but for you, too.
Understanding your loved one's condition and how to resolve daily challenges that arise are essential to their wellbeing. The dementia caregiver tips below can help you better address changes in your loved one and give them a better quality of life.
8 Dementia Caregiver Tips
The following dementia caregiver tips will help you with several key areas such as communication, behavioral issues, and creating a secure living environment for your loved one.
Create Consistency By Establishing A Set Routine
Creating a consistent routine is a basic dementia caregiver tip that does much for you and your loved one's quality of life.
As a caregiver, establishing a daily routine is your responsibility and requires a lot of experimenting and effort, particularly as your loved one's condition progresses.
For example, people with dementia should bathe, get dressed, and eat around the same time every day. While you may have no trouble managing this initially, you may have to plan more time for these tasks as your parents' health declines.
As you build a routine, make sure you:
Include things your parent enjoys doing and things they can still do on their own. 

Consider how their mood, mental state, and behavior changes during different parts of the day.

Leave plenty of time for you two to do something enjoyable together during the day.
Avoid Overwhelm By Asking Simpler Questions
Memory loss caused by dementia can diminish people's ability to communicate, leading to anxiety and frustration. 
This deterioration can make answering once-basic questions such as "what do you want to do today?" difficult and overwhelming. 
Rather than asking broad questions that require your loved one to articulate more thoughts, stick to more straightforward yes or no questions. Questions such as "Would you like to go for a walk?" versus "what should we do?" are more direct and less likely to create confusion or anxiety.
Ease Frustration With Nonverbal Communication
Depending on your loved one's condition, they may have trouble recalling certain words to express what they want. Or, they may struggle to speak at all.
A lack of communication is frustrating for both parties, but you must remember that your loved one can't help their situation. 
Here are a few dementia caregiver tips that can help you communicate with your loved one as their ability to speak declines:
Be reassuring and express understanding and empathy if they appear upset.

Give your loved one reasonable control over their life.

Respect their personal space.

Incorporate a blend of activities and "quiet time" into their schedule.

Create a sense of safety and security by placing treasured belongings and photos throughout the home.

Offer gentle reminders rather than continuously asking, "Do you remember?"

Promote two-way conversations as much as you can.

If your loved one becomes upset and struggles to use their words, calm them by offering distractions like books or music.
Reduce Irritation By Practicing Patience
Caring for an aging parent with dementia who struggles with memory loss or communication can be immensely difficult. And when they seem to fight every little thing you do, frustration isn't only unavoidable but understandable.
Dementia is a massive cognitive and emotional burden that can slow you down and make it challenging to accomplish everything on your plate. 
But as difficult as it may be for you, consider what it's like for your parent who can no longer express themselves. 
To prevent added frustration for both sides, allow your loved one plenty of time to answer questions or complete tasks. Also, be willing to repeat yourself if needed.
In the end, impatience or rushing your loved one through each task only does more harm than good.
Provide Stimulation And Safety With Home Modifications
As your parent gets older, you may find yourself making small changes around their home to ensure their safety. 
But if they live with dementia, a comfortable and secure home also calls for the right balance of mental stimulation. 
While puzzles and games help, there are things you can do around the house to help them better focus on their surroundings, such as:
Allowing as much natural light as possible to enter your loved one's home during the day (and make it easy for them to access it)

Encouraging the use of table lamps with warm light in the hours before their bedtime

Supporting good sleep hygiene by avoiding white or blue lights and using amber nightlights.
Additionally, research finds that dynamic patterns, dark lines, or even flooring designs can cause confusion and lead to falls. 
Color contrast can help those with dementia differentiate different objects. You can create this distinction in many ways, such as using tablecloths and place settings that vary in color.
Lighten The Mood By Laughing More
Although your loved one may not communicate with words, they are still aware of their surroundings. Discovering new, meaningful ways to connect (such as laughter) can have a lasting impact if they rely on facial expressions and body language to communicate.
Multiple studies conclude that laughter truly is the best medicine. When it comes to dementia, research has found a positive link between laughter and memory loss. In addition, laughter can help you as a dementia caregiver by relieving some of the stress you experience.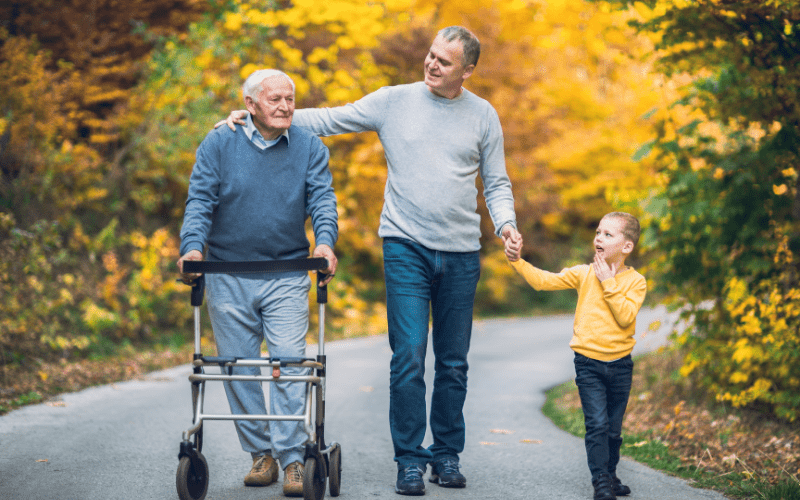 Ease Symptoms By Encouraging Physical Activity
A growing amount of research finds that an active lifestyle can potentially delay the brain's aging process. Conversely, an inactive lifestyle can raise the risk of dementia or Alzheimer's.
Regular physical activity facilitates blood flow to the brain, so encourage your loved one to get a minimum of 20 minutes of physical activity per day. Doing so can improve their clarity and make it easier to focus on their surroundings. 
Physical activity can also avoid sundowning, a term that refers to heightened "restlessness, agitation, disorientation, and other troubling behavior" that typically occurs "at the end of the day and sometimes continue throughout the night."
Dementia often causes changes in your loved one's biological clock, which can lead to sundowning. However, physical activity can offset these fluctuations and help your parent maintain a regular clock as well as a consistent wake/sleep cycle.
Offer A Sense Of Purpose By Making Your Loved One Feel Needed
Has your loved one ever followed you around the home and imitated your every move? Or do they continuously ask questions, interrupt, or talk?
This behavior is known as shadowing and, like sundowning, typically happens in the late afternoon or evening.
As a dementia caregiver, shadowing and sundowning can quickly become taxing. But rather than getting angry with your loved one, offer them a distraction that occupies their attention and makes them feel needed.
Ask your loved one for help or give them a simple task like folding laundry, setting the table, or gardening. 
Everyone wants to feel needed, and extending these small opportunities will give your loved one a sense of purpose.
Caring for somebody with dementia is one of the most challenging things you can do. However, this experience can also bring you and your loved one closer together.  
Dementia caregiver tips like the ones above can help you learn how to respond with love and empathy. 
If you are an adult child who is new to caregiving or just need extra support, we can help. Call 1-888-541-1136 or contact us online.
You can find additional resources for caregivers on our blog.
Bonvissuto, Danny. "How to Be a Dementia Caregiver: Tips for Success." WebMD, WebMD, 4 Apr. 2020, www.webmd.com/alzheimers/alzheimers-dementia-caregiving.

Bridges, Ryan. "5 Helpful Caregiving Tips for Those Living With Dementia: Crisis Prevention Institute (CPI)." Crisis Prevention Institue, Crisis Prevention Institute, 12 Jan. 2021, www.crisisprevention.com/Blog/5-Easy-Caregiving-Tips-When-Dealing-With-Dementia.

"Caregiver's Guide to Understanding Dementia Behaviors." Caregiver's Guide to Understanding Dementia Behaviors – Family Caregiver Alliance, www.caregiver.org/resource/caregivers-guide-understanding-dementia-behaviors/.

"Tips for Caregivers and Families of People With Dementia: National Institute on Aging." Alzheimers.gov, www.alzheimers.gov/life-with-dementia/tips-caregivers.