A care plan outlines your loved one's needs and various ways to meet them. It promotes better health, safety, and quality of life for seniors. As for you, it can prevent caregiver burnout.
Care plans differ from a plan of care, which your loved one's doctor or medical team typically provides. A caregiving plan helps you prepare for non-medical needs, arrange outside support, and avoid scheduling issues. This can lead to better communication and less stress and feelings of overwhelm.
Care Plan Recommendations
Here's how to create a care plan for your loved one.
Important Areas To Address
As you create a care plan for your loved one, consider the following areas.
Your Loved One's Physical Health
Can your loved one hear or see well?
Does your loved one require specialized care for wounds, catheters, or other medical devices?
Does your loved one have health conditions such as heart problems, high blood pressure, diabetes, or arthritis?
What prescriptions does your loved one take to manage these conditions?
Does your loved one need reminders to take their medication?
Your Loved One's Mental Health
Does your parent have depression, anxiety, psychosis, or another mental health problem?
Do you think your loved one should get help from a mental health professional?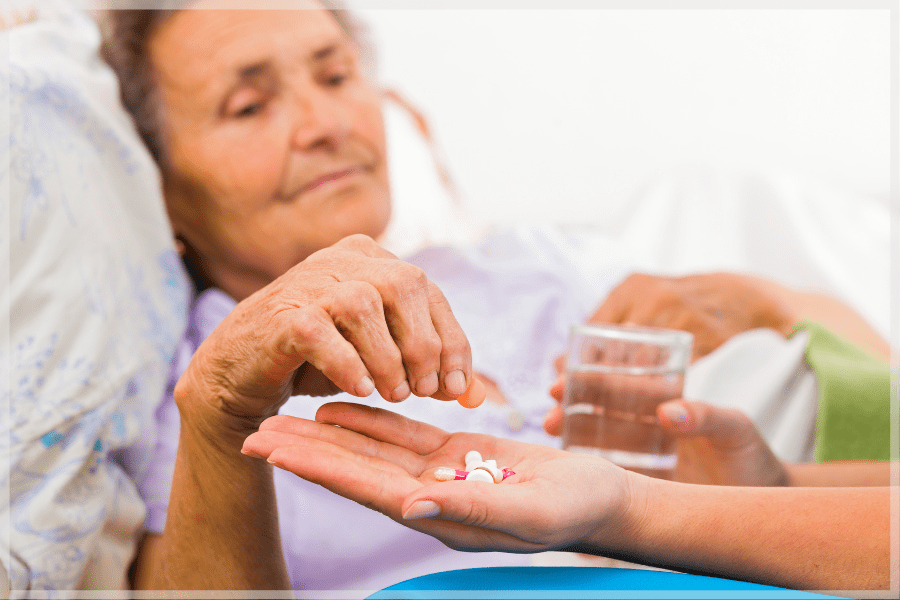 Your Loved One's Ability To Complete Daily Activities
Does your loved one struggle with incontinence? How often?
Can your parent move about easily and safely?
Does your parent need help with bathing, shaving, dressing, transferring, toileting, and other personal care activities?
Can your loved one use their phone?
Does your parent have swallowing problems or other issues that make eating difficult?
Can your loved one seek assistance in an emergency?
Can your loved one cook, manage light house or yard work, or drive?
Your Loved One's Ability To Manage Their Finances
Can your loved one manage their finances without your help?
Do they remember to pay bills?
What are your parent's monthly income and expenses?
Where does your loved one get their income?
Does your loved one have a savings account? If so, how long will it last?
Does your parent receive other forms of financial aid?
Where does your loved one save financial records such as their home title or insurance plan?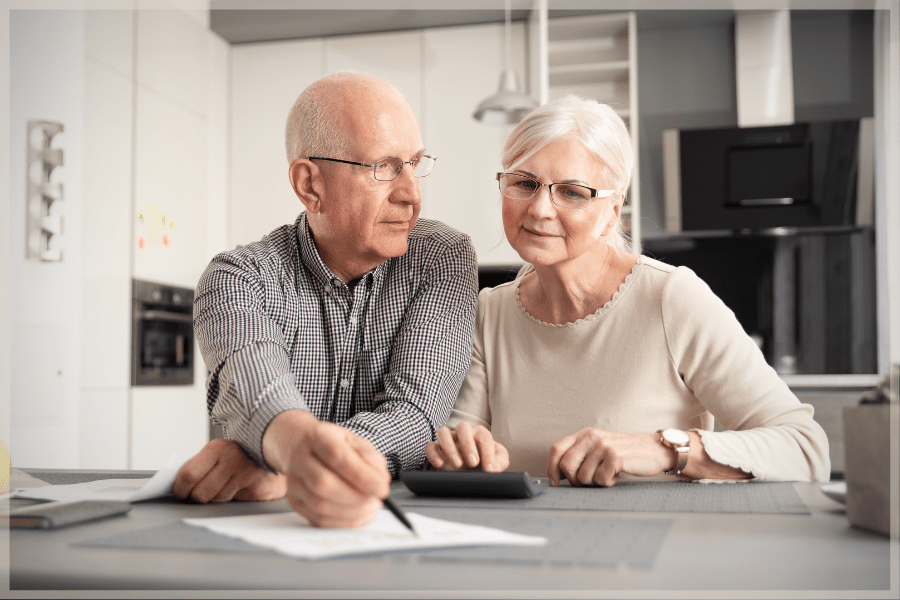 Does your parent have long-term care, supplementary, or life insurance?
Does their plan cover the cost of non-medical care?
What insurance does your loved one have, such as Medicare, Medicaid, or a private policy?
Does your loved one's current plan cover medical exams or procedures that their doctor requested?
Does your loved one have a will, trust, estate plan, advance directive, or another plan?
Has your family arranged a healthcare proxy or power of attorney?
Can you and the caregiving team access these documents?
Is your loved one's home free from fall hazards?
If there are stairs, can your loved one use them safely?
If your parent lives alone, can they call 911 quickly?
What degree of home and property maintenance does your loved one need?
Your Loved One's Lifestyle
What are your parent's hobbies?
Is your loved one a part of a religious organization?
Does your parent engage in social activities or have people over to their house?
Do other relatives live near your loved one?
Is there someone from your loved one's religious organization who can help with transportation to services?
How To Create A Care Plan
Before you take on the role of the family caregiver, there are a few things you should ask yourself:
Does your current schedule allow for the time commitment caregiving requires?
Will you be able to afford to care for your loved one financially?
Can you manage your parent's personal care, or will you need to hire a trained caregiver?
Do you have a reliable support system?
It's best to involve your family as you create a caregiver care plan. They might offer helpful insights you may not have noticed or even volunteer to help with some of the responsibilities.
Identify Your Loved One's Needs
Pinpointing your parent's primary needs is crucial to your caregiver care plan. The following questions can help you structure your thoughts:
What kind of care does your parent require?
Will you be the primary caregiver?
When will your loved one require help, and for how long?
Will you need extra help from a paid caregiver?
Do you have special skills, training, or caregiver certifications to better meet your loved one's needs?
Start A Dialogue About Your Loved One's Care
Communication is the foundation of better care. Therefore, you, your parent, and other family members must practice respectful, open communication. Of course, it may not be easy, especially when it comes time to discuss challenging subjects such as:
Finances
Family support
Shifts in your loved one's health or wellbeing
Mobility restrictions
The need for more specialized care
It would be best to address these topics with your parent first. After that, you can involve other family members in your discussions.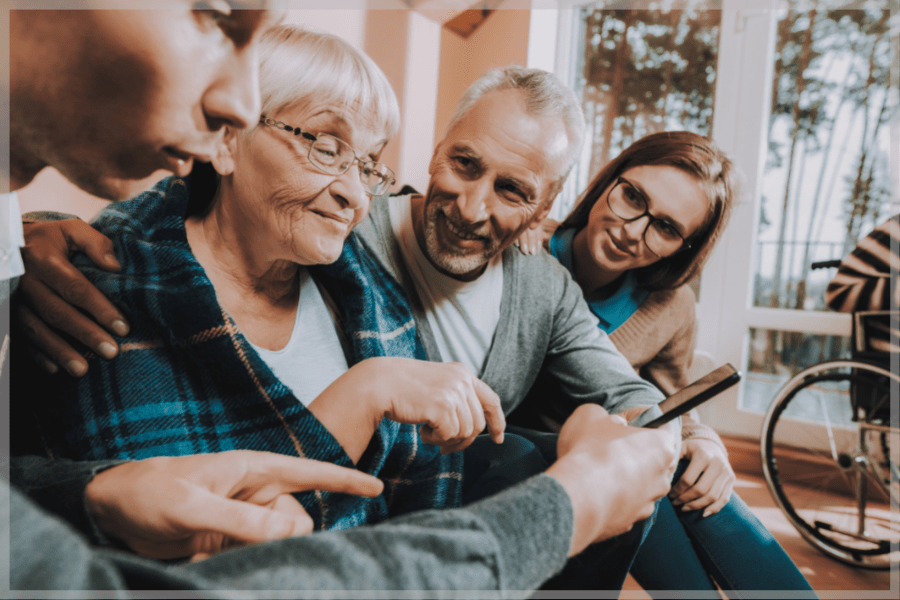 A caregiving team is crucial to support you and your loved one. The extra support ensures your loved one's needs are consistently met, even when you're unavailable. It also gives you an opportunity for respite care when necessary. Your care team should designate one person for each area of your loved one's care. They won't be responsible for every task that falls in their category, but they will ensure that each one is completed.
Once you have a focused team and a reliable support system, you can move on to creating a plan. Not only should it account for your parent's needs, but it should also address anyone else involved in their care.
A caregiver care plan should have:
Contact information for your loved one's medical providers
The caregiving team's contact details
A schedule for your loved one's care
Your loved one's medication schedule and instructions
Critical medical information, such as health conditions or allergies
Assigned responsibilities, such as "Laundry: Lynda, Thursday afternoons."
Instructions for an emergency
Once you have a plan, it's time to implement it. Make sure everyone involved in your loved one's care has a copy and provide new versions whenever it's updated. In addition, you should routinely consult your loved one's caregiving team and check on your parent. Then as you receive new information about your loved one, including any changes, you can modify your plan so it continues to fit their needs.
Remember, a care plan is supposed to make your role as the family caregiver easier. As you make revisions, don't forget to account for changes in your life. If you can't manage the workload as well as you initially thought, or it starts interfering with your physical, mental, and emotional health, then assign the task to somebody else.
To help you visualize the process, let's go over an example of a care plan.
For example, suppose your loved one needs help with meal preparation, money management, transportation, medication, social activities, and routine activities like scheduling and planning. In that case, you would start by noting specific tasks within each area and brainstorming who could help, which would look something like this.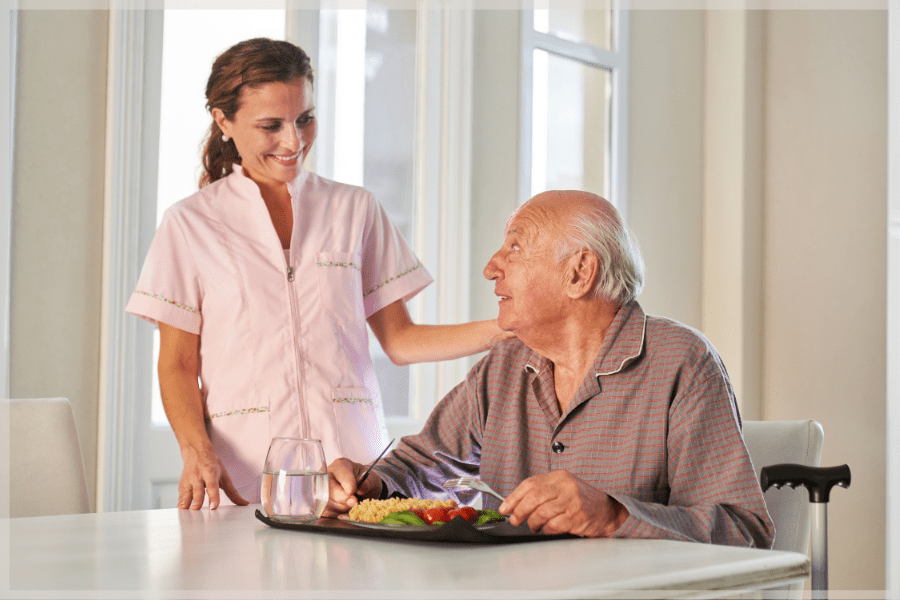 Meals On Wheels during the workweek
Family-provided meals three times per week
Meals from friends and neighbors once per week
Meals provided by you three times per week
Ready-made meals as backup
Family helps with monthly bill payments and checkbook balances
Prepackaged prescriptions provided and delivered by the pharmacy
You drive your loved one to doctor's appointments
Rides from a friend, taxi, or rideshare as backup
Scheduling And Coordination
You schedule appointments, keep communication lines open, manage your parent's service schedule, arrange for relatives and volunteers to enter the house, and monitor who performs which task and when
Then, once you have this, you can break it down further and assign each task to a different family member or the care team, which could look like something such as:
Family-provided meals

You cook Monday, Tuesday, Thursday, and Sunday
Your spouse cooks Wednesday, Friday, and Saturday
Your loved one keeps pre-made meals and takeout as backup

Housekeeping

You, your spouse, and your children help each Saturday

Laundry

You or your spouse, provided each Saturday

Groceries

Your spouse or delivery service every Wednesday

Doctor's appointments and other transportation needs

You, your spouse, a child who can drive, or a friend or relative
Taxis and rideshares as backup
Of course, your plan could look different. But this template is an excellent place to start and can make it easier to become an organized caregiver.
Becoming a family caregiver isn't always easy. But with a well-thought-out care plan and team on your side, you'll be ready to overcome any obstacles that come your way. For more information or to learn about hiring a caregiver through our agency, call 1 (888) 541-1136 or Find A Caregiver today.
Visit our Blog to find more information and resources for seniors, caregivers, and more.
"Making a Caregiving Plan." Making a Caregiving Plan | Help for Cancer Caregivers, www.helpforcancercaregivers.org/content/making-caregiving-plan.
May-Chibani, Leslie. "InfoCenter." CareGiving MetroWest, www.caregivingmetrowest.org/InfoCenter/Skill-Building-for-Caregivers/How-to-Develop-a-Care-Plan.
Palmer, John. "Creating A Caregiver Plan In 7 Simple Steps." Elder Care Direction, Elder Care Direction, 3 Apr. 2019, www.eldercaredirection.com/creating-a-caregiver-plan-in-7-simple-steps/.