Elevate Your Role With Caregiver Training
Whether you're new to caregiving or have years of experience, caregiver training can make all the difference in the level of care you provide your aging loved one. The skills and knowledge you learn can help you better prepare for your role and make you more effective at preventing accidents, errors, injuries, and more.  
With caregiver training, you learn new skills and enhance those you already have by learning about topics such as:
Job responsibilities

Effective communication

Personal care, toileting, and basic hygiene

Managing and preventing infections

Handling emergencies

Measuring and documenting vital signs

Caring for stroke patients

Providing end-of-life care

Supporting activities of daily living (ADLs)

Keeping your loved one's living environment clean, safe, and healthy

Alzheimer's, dementia, and memory care

Safety, fall prevention, and first aid

Nutrition and meal preparation

Promoting exercise and mobility

Properly administering medications

Managing difficult behaviors

Coping with caregiver stress
There is a course, certification, and webinar for every subject and every type of caregiver. So whether you're an adult child caring for your aging parents or a certified caregiver, there's something out there for you.
If you're interested in caregiver training, this list is a good place to start. It includes both paid and free caregiver training programs to help you find your best fit.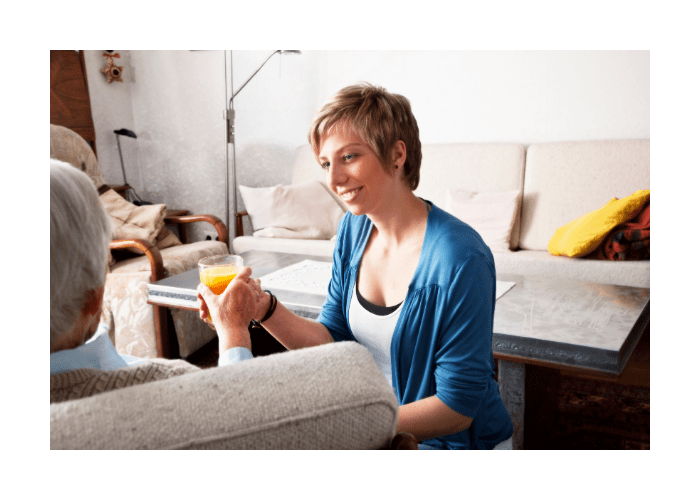 Where Can I Find Caregiver Training?
Caregiver training can teach you many of the same skills learned by professional in-home care workers. But if none of these options works for you, then contact your state's Department of Aging for more resources.
Paid Caregiver Training
The Caregiver Training University
Price: $59
The Caregiver Training University has several online courses for those seeking caregiver certification, though it's equally helpful for family caregivers as well. These courses fulfill all industry standards and are accessible around the clock so you can learn on your own time. 
Besides basic caregiver responsibilities, Caregiver Training University also offers specialized training for Medicaid home health aides, Alzheimer's and Parkinson's patients, age-related illnesses, renewal training, and more.
Alzheimer's Association
Price: $25 – $30
ALZ.org provides a variety of paid and free online caregiver training options for those caring for a loved one or client with dementia, including: 
You can also find complimentary e-workshops, which are available on-demand.
Universal Class
Price: $70 (no certificate) or $95 (with continuing education unit certificate)
Universal Class's Caring for Seniors is a 15-course, 7-hour-long program covering common challenges caregivers face and information and tools to overcome them. Here, you'll learn ways to effectively care for a loved one with Alzheimer's, how to help your aging parents cope with a loss of independence, promote safety, and keep your loved one motivated to follow their prescription schedule.
The Caregiving Training Company
Price: Contact company for pricing details
With the Caregiving Training Company's online senior care training program, you can learn how to adapt more efficiently to the ever-changing nature of your role. These courses address subjects such as:
Ethics and conduct

Professional etiquette
Personal and mental wellness

Specialized caregiving
Besides that, you can also access several educational and industry resources. And if you are a professional caregiver, this program can help you on your way to becoming a self-employed contractor. 
As a caregiver, your schedule is jam-packed on any given day. But with the Caregiver Training Company course, you can study at your own pace. Plus, you'll also receive a printed text version of webinar sessions and classes. 
Free Caregiver Training
Family Caregiver Alliance
If your free time is limited, but you still want to learn, the Family Caregiver Alliance (FCA) is one of the best places to start. This organization offers a host of resources, training, and more available in the Caregiver Learning Center. 
The FCA also provides over 40 free webinars specifically for paid and unpaid caregivers. So if you are relatively new to caregiving, this resource can help you learn more about your role so you can meet future challenges confidently.
Additionally, you can learn how to plan for care, how to make a smooth transition to daily caregiving, and how to recognize the warning signs of age-related disease.
The FCA also places a strong focus on self-care, which is vital to avoid caregiver burnout. If you visit the Webinar Library and FCA YouTube channel, you can find a variety of topics, including:
Veterans Health Administration
The VA's Caregiver Support Program offers two caregiver training courses to support individuals caring for a loved one. You can choose to take a single class within the available courses or participate in the full six-week-long program.
You can sign up for Building Better Caregivers (BBC), which offers support with online educational workshops, or Caregiver Self-Care, a four-course in-person program that addresses ways to manage stress, utilize technology to maintain your own care. Both courses provide you with a workbook and CD that can help refresh your skills whenever you need them.
Caregiver Action Network
The Caregiver Action Network (CAN) is among the top resource for family and professional caregivers. It offers a wide range of tools and information to help you become a more skillful care provider. Visit the CAN's Video Resource Center to find practical advice from other caregivers as they share their stories and experiences. Plus, you can watch several educational videos to help provide better hands-on care.
Home Sweet Care
Home Sweet Care provides free caregiver courses through its Family Caregiver Education Program. These courses are developed by the Institute for Professional Education and are specifically designed to address common issues family caregivers encounter while caring for a loved one. This program covers subjects such as:
The aging process

Body systems

How to avoid falls

Ways to maintain self-care
Home Sweet Care also features videos that teach you how to help someone choking, supporting elders suffering from chronic pain, and more. You can also find specialized instructional videos covering dementia care,  establishing a relaxing and calm environment, improving communication, and promoting a healthy diet.
Generations Home Care
Generations Home Care's free online courses were developed with family caregivers in mind. This extensive training program is 40 hours long, with 25 hours focused solely on dementia care. These videos cover various topics, from healthy skincare for seniors, toileting, first aid, how to manage challenging behaviors, planning your loved one's care, and end-of-life care.
Bottom Line
Whether you are new to caregiving or have several years of experience already, you can never go wrong with caregiving training. Making an effort to be more knowledgeable in your role and expanding your skillset is the best thing you can do when you want to ensure your loved one receives the best care possible from you. 
Of course, you don't have to pay an arm and a leg for caregiver training. That's because the best program is one that fits your budget and needs. So if none of the options on this list work for you, you can find thousands of additional videos, workshops, courses, and webinars online. 
Meetcaregivers
Do you need a little extra help with your loved one's care? Or is it time for a respite care break? If so, we can help. Our qualified in-home caregivers are prepared to meet all your loved one's needs.
Call us at 1-888-541-1136 or contact us online and learn more about our services.
Visit the Blog for more resources about caregiving and senior lifestyle.
---
Sources
Hipp, Deb. "Free Online Family Caregiver Courses and Training." A Place for Mom, 26 Mar. 2019, www.aplaceformom.com/caregiver-resources/articles/free-online-caregiver-courses.

"How to Find Caregiver Training as a Family Caregiver." Caring Village, 25 July 2017, www.caringvillage.com/2017/07/12/find-caregiver-training/.

Stringfellow, Angela. 50 Best Courses & Training for Caregivers, 10 July 2018, www.seniorlink.com/blog/50-best-courses-training-for-caregivers-.

"Why Is Proactive Training Better Than Reactive Training?" Gill Staffing, 1 Nov. 2019, www.gillstaffing.com/blog/why-is-proactive-training-better-than-reactive-training.