Are There Programs To Lower The Cost Of In-Home Care For Elderly Adults?
The average annual median cost of in-home care for elderly adults, according to the Genworth Cost of Care Survey, is $60,632. While costly, in-home care for elderly adults is still about 42% lower than nursing homes, with an average annual median cost of $101,652.
Regardless, the cost of in-home care for elderly adults can be a severe financial burden. And unfortunately, many people lack the resources to afford caregiver support in the home. For example, in 2021, the median annual income for 50% of all adults 65 and older was $27,382, while half of all older households earned less than $47,357 annually.
On the other hand, the average American's median annual income is $54,132. So naturally, the cost of in-home care for elderly adults isn't just a challenge for those seeking care but their loved ones, too. So to help, here are 13 ways to help lower the cost of in-home care for elderly adults.
13 Programs To Help With The Cost Of In-Home Care For Elderly Adults
Most older adults want to age in place. In-home care supports this choice and prolongs independence by assisting with various activities such as:
Personal care
Light housekeeping
Transportation assistance
Grocery shopping, and more.
But unfortunately, the cost of in-home care for elderly adults prevents many from doing so. Expenses vary according to where you live, the type of care needed, and whether you work with an agency or hire an independent caregiver. However, these programs could help.
1. State Medicaid Programs
Medicaid, a joint federal and state health insurance program for low-income Americans, offers several important benefits for seniors, like certain home care services. Unfortunately, not all state Medicaid programs include in-home support since these services aren't federally mandated. But depending on where you live, Original Medicaid could help offset some of the costs of in-home care for elderly adults.
2. Older Americans Act (OAA)
The OAA is a federal program available to adults 60 and older with a significant need. It funds different state and local service programs that promote the independence of frail and disabled older adults. These benefits can help offset various costs of in-home care for elderly adults, such as:
Housework
Meal delivery
Personal care
Home health care
Shopping services
Transportation assistance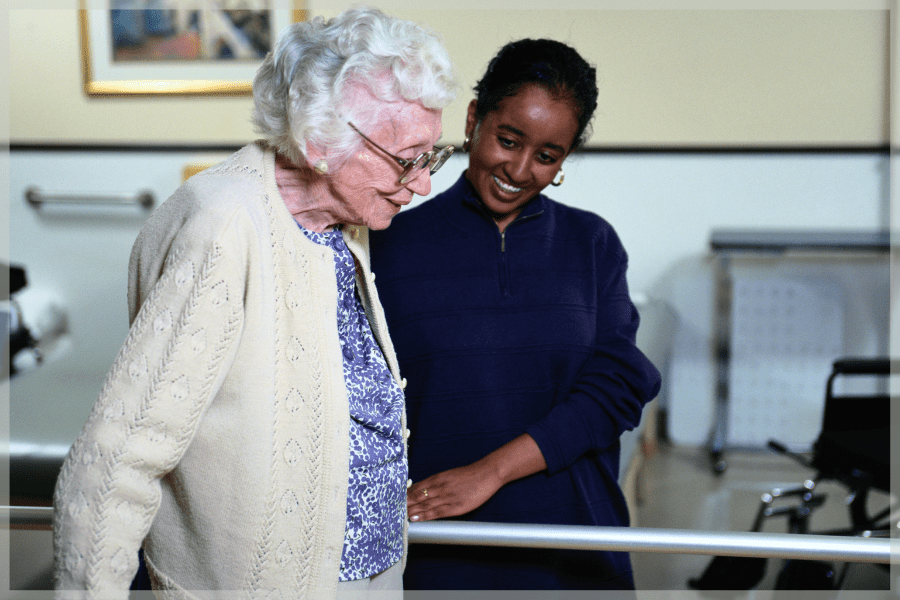 3. National Council on Aging (NCOA) BenefitsCheckUp
The NCOA's BenefitsCheckUp is an innovative online tool that may lower the cost of in-home care for elderly adults by helping users find benefit programs near them, including financial assistance for health and prescription needs, nutrition, utilities, and more.
4. State Health Insurance Assistance Programs (SHIP)
SHIP provides free counseling to Medicare recipients, their families, and caregivers. This guidance helps cover or lower the cost of in-home care for elderly adults by making it much easier to navigate Medicare and understand benefits, coverage, and eligibility for various programs.
5. Programs Of All-Inclusive Care For The Elderly (PACE)
PACE, a joint Medicare-Medicaid program, allows seniors to age in place by providing financial assistance to meet their health and care needs at home. This program includes all covered services available through Medicare and Medicaid, non-medical in-home and home health care services.
Visit Medicare.gov to find out which programs are available in your state.
6. Home And Community-Based Services (HCBS)
HCBS refer to various types of person-centered care delivered in the home and community. These services aim to ensure more people's needs are met at home rather than in an institution. In addition, HCBS waivers, or 1915(c) waivers, help offset some of the costs of self-directed home care. These programs are available through the state and can include assistance for various home care services, such as:
Habilitation
Respite care
Homemaker services
Adult day facility services
Home health aide (HHA) services
Case management and care coordination
HCBS waivers are available in nearly every state. Visit the Centers for Medicare & Medicaid Services (CMS) to find resources in your state.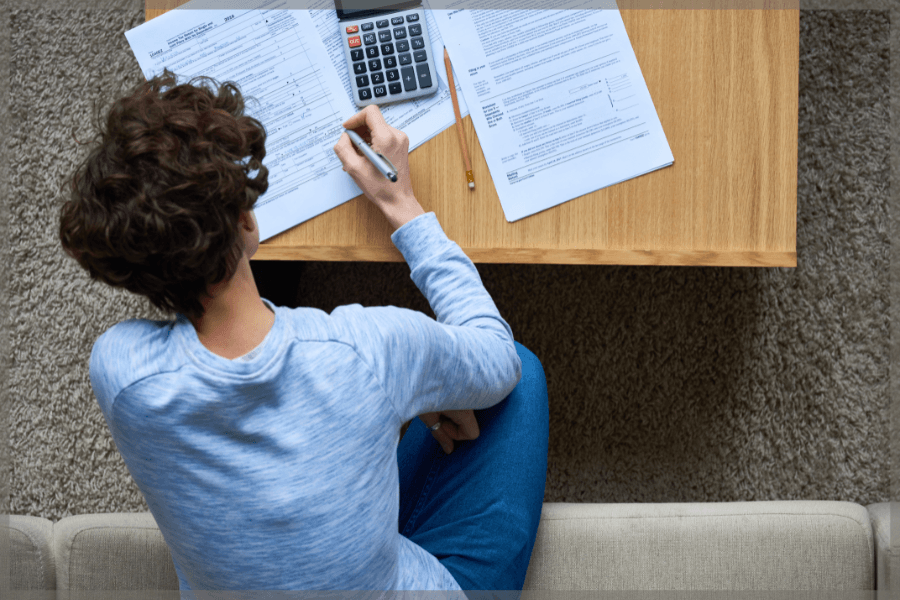 7. Aid And Attendance (A&A)
The Veteran Administration's (VA) A&A Program is available to veterans who qualify for a VA pension and want to self-direct their care. This monthly stipend helps cover various long-term care costs, including home care.
8. Medical Care Tax Deduction
Seniors who self-direct their care, hire a caregiver, or pay for a family member to care for them could qualify for the medical care tax deduction. This benefit allows qualifying adults 65 and older to itemize eligible medical expenses that exceed 7.5% of their adjusted gross income (AGI) (10% for those under 65). Qualified expenses include those prescribed by a licensed practitioner, long-term care, and nursing services.
9. Cash and Counseling Programs
Cash and counseling programs help lower the cost of in-home care for elderly adults by providing cash stipends to help them meet their needs at home. Beneficiaries can use this benefit to pay a family caregiver, purchase assistive devices, and cover home modifications.
10. Department of Housing and Urban Development (HUD) Property Improvement Loans
The HUD Property Improvement Loan Program (or Title I) doesn't lower the cost of in-home care for elderly adults by assisting with professional caregiver services. Rather, they help offset the cost of home remodels such as wheelchair ramps, stair lifts, or even an accessory apartment. For this reason, these loans are ideal for family caregivers whose loved one lives with them in their home.
11. USDA Rural Repair and Rehabilitation Grants for the Elderly
Rural Repair and Rehabilitation Grants (or the Section 504 Home Repair program) are available to very low-income rural homeowners. While it doesn't directly lower the cost of in-home care for elderly adults, this grant can offset the costs of home modifications to improve safety and independence, such as widening doorways, adding wheelchair ramps, or installing walk-in bathtubs.
Interested applicants can visit USDA to find a home loan specialist, ask questions, and get started.
At adult day programs, seniors can receive care, enjoy healthy meals, and participate in activities that support social and cognitive wellbeing. Plus, many provide transportation to assist those who need reliable transportation.
At about $1,690 per month, adult day programs are an affordable way to lower the cost of in-home care for elderly adults. Breaking up in-home care with adult day services a few days a week ensures that seniors receive full-time support without paying as much.
13. National Family Caregiver Support Program (NFCSP) Respite Care
The NFCSP's Caregiver Respite Care Program provides vouchers for a set dollar amount or hours for a professional caregiver to provide care so the primary caregiver can take a temporary break. 
On its own, respite care doesn't directly lower the cost of in-home care for elderly adults. But when used with other means, such as tax credits, community services, or adult day care, respite care could allow older adults to continue aging in place instead of moving to a facility.
MeetCaregivers Aims To Lower The Cost Of In-Home Care For Elderly Adults
Seniors want to age in place because it's more affordable, ensures better-quality care, and promotes independence and quality of life. Yet, the cost is one of many factors preventing seniors from receiving home care. Fortunately, numerous resources are available to help lower the cost of in-home care for elderly adults.
MeetCaregivers connects seniors and highly-qualified caregivers and companions who help with ADLs, IADls, companionship, and more. We utilize several unique proprietary tools designed to transform the in-home care experience:
CareFinder improves matches between seniors and caregivers, reducing caregiver turnover by 80% and boosting satisfaction rates among caregivers, seniors, and families to as high as 90%.
Care Portal streamlines communication and care planning between caregivers, families, seniors, health providers, and carriers.
Homecare Marketplace offers more resources to support seniors at home, including nutrition, incontinence, mobility, and accessibility products.
Call 1 (888) 541-1136 to chat with a care coordinator or find a caregiver today.
Visit our Blog for similar articles about aging in place, caregiving, and more.
Breedlove, T. (2022, November 15). 4 Tax Breaks That Reduce In-Home Senior Care Expenses. 4 tax breaks that reduce in-home senior care expenses – Care.com HomePay. Retrieved January 10, 2023, from https://www.care.com/hp/senior-care-tax-breaks
Cobb, D. (2009, April 14). Paying For Home Care: Financial Options, Aid and Assistance. Retrieved January 10, 2023, from https://www.payingforseniorcare.com/homecare/paying-for-home-care Updated August 14, 2020
Cobb, D. (2010, February 25). National Family Caregiver Support Program (NFCSP) Respite Care. Retrieved January 10, 2023, from https://www.payingforseniorcare.com/caregivers/nfcsp_respite_care Updated September 20, 2020
Cobb, D. (2010, November 16). HUD Property Improvement Loans (Title 1 Program). Retrieved January 10, 2023, from https://www.payingforseniorcare.com/home-modifications/hud-property-improvement. Updated November 16, 2020
Cobb, D. (2010, November 16). USDA Rural Repair and Rehabilitation Grants for the Elderly. Retrieved January 10, 2023, from https://www.payingforseniorcare.com/home-modifications/usda-rural-repair-grant Updated September 14, 2020
Cobb, D. (2020, June 19). What is Home Care and How Much Does it Cost. What Is Home Care and How Much Does it Cost? Retrieved January 10, 2023, from https://www.payingforseniorcare.com/homecare. Updated February 25, 2022
Cobb, D. (2021, October 11). Is Home Care Cheaper than a Nursing Home? Retrieved January 16, 2023, from https://www.payingforseniorcare.com/homecare/paying-for-home-care/home-care-costs-vs-nursing-home-care
DailyCaring Editorial Team. (2021, September 1). Affordable Home Care: 8 Ways to Lower Senior Care Costs. Affordable Home Care: 8 Ways to Lower Senior Care Costs – DailyCaring. Retrieved January 10, 2023, from https://dailycaring.com/affordable-in-home-care-8-ways-to-lower-senior-care-costs/
Genworth Financial. (2022, June 2). Cost of Care Survey. Cost of Long Term Care by State | Cost of Care Report | Genworth. Retrieved January 16, 2023, from https://www.genworth.com/aging-and-you/finances/cost-of-care.html
HomeCare.org. (2021, March 19).
How Much Does 24/7 In-Home Care Cost? How Much Does 24/7 In-Home Care Cost? | HomeCare.org. Retrieved January 10, 2023, from https://www.homecare.org/the-cost-of-24-7-in-home-care/
Mark, C. (n.d.). Ways to Pay for Home Care: Uncovering the Various Ways to Pay for Home Care Costs. Ways to Pay for Home Care – SeniorCare.com. Retrieved January 10, 2023, from https://www.seniorcare.com/home-care/resources/ways-to-pay-for-home-care/
Pension Rights Center. (2022, November 28). Income of Today's Older Adults. Income of Today's Older Adults – Pension Rights Center. Retrieved January 16, 2023, from https://www.pensionrights.org/resource/income-of-todays-older-adults/
Russo, F. (2022, December 7). How Much Does the Average American Make in 2022? How Much Does the Average American Make in 2022? | First Republic Bank. Retrieved January 16, 2023, from https://www.firstrepublic.com/insights-education/how-much-does-the-average-american-make
U.S. Centers for Medicare &; Medicaid Services. (2022, November 15). Home- and Community-Based Services. Home- and Community-Based Services | CMS. Retrieved January 16, 2023, from https://www.cms.gov/outreach-and-education/american-indian-alaska-native/aian/ltss-ta-center/info/hcbs
U.S. Centers for Medicare & Medicaid Services. (n.d.). Home & Community-Based Services 1915(c). Home & Community-Based Services 1915(c) | Medicaid. Retrieved January 16, 2023, from https://www.medicaid.gov/medicaid/home-community-based-services/home-community-based-services-authorities/home-community-based-services-1915c/index.html