Respite Care For Caregivers
Providing care for your loved one can be a rewarding experience. If you are the primary caregiver for a family member, you may take great joy in knowing your care allows your loved one to remain at home.
After all, it takes a particular person who can juggle the responsibilities of your own life and those of the person you care for. However, sometimes these responsibilities pile up, and you may feel behind or stretched too thin. The physical, emotional, and financial toll can be overwhelming without proper support.
As the primary caregiver, it's crucial to recognize your needs in addition to your loved one's. Caregiver burnout is a real problem, and failing to acknowledge or admit that you also need support can be detrimental to your ability to perform your caregiving duties to the fullest. Fortunately, there are many ways to reduce your risk of burnout, such as respite care for caregivers.
What Is Respite Care For Caregivers?
60% of caregivers report lower overall health and at least one chronic condition or disability. In contrast, just 33% of non-caregivers experience these problems. Respite allows you to step back and take a break from your caregiving duties to avoid these issues.
The idea of stepping back often triggers guilt for many caregivers. However, regular breaks (even brief ones) can improve your health and peace of mind – even if you have everything under control. For instance, respite care for caregivers is proven to:
Improve family caregivers' health and wellbeing
Reduce conflict with others, such as a spouse
Delay or avoid out-of-home placements, and reduce the risk of neglect.
There are several ways to find a respite caregiver. For example, you could ask close friends and family to watch your loved one, find volunteers, or hire a professional caregiver. Adult day facilities, day camps, or nursing homes are also great options because they provide social activities for seniors.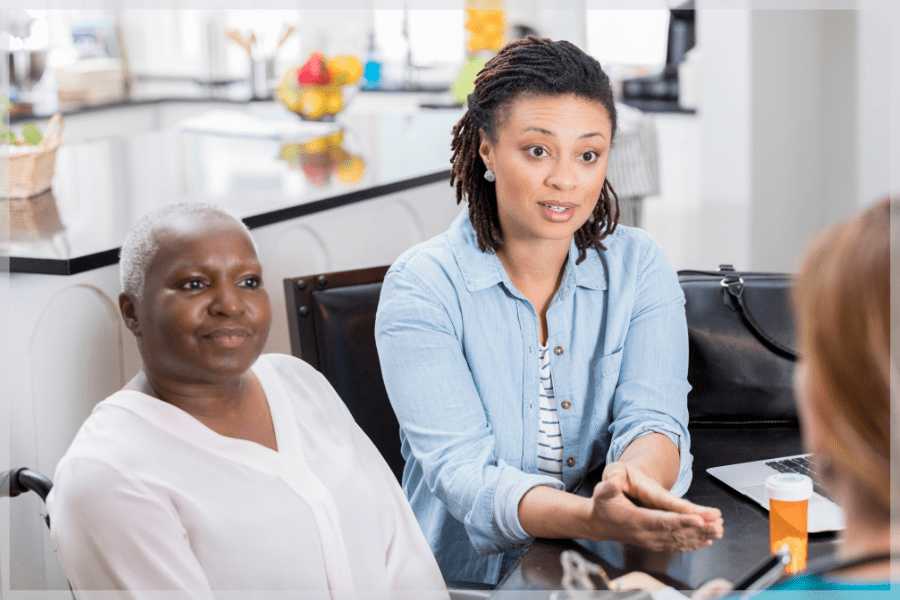 But unfortunately, many insurance companies don't offer respite care benefits. While Medicare might cover most of the price, it only includes up to five consecutive days in a hospital or skilled nursing facility for those in hospice.
Medicaid may provide some assistance, but respite care for caregivers is generally an out-of-pocket expense. Respite care services charge by the hour, number of days, or weeks, so the cost could add up quickly if insurance doesn't cover anything. Unfortunately, this can deter many people from receiving respite services when they need them most.
MeetCaregivers Provides Respite Care For Caregivers
Respite care for caregivers can help prevent caregiver burnout and other obstacles hindering the quality of life for you and your loved one.
A professional caregiver can support you and your loved one as much or as little as you want. They can manage aspects of your loved one's care that you may not have the training or ability to do yourself. In addition, knowing you have a backup in an emergency will provide better peace of mind. This is especially true if you live far away from your relative.
Talk to your insurance broker to learn more about your plan's home care benefits. We'll work with you to find the best options and the proper support for you and your loved one.
If you are considering respite care, MeetCaregivers can help. Call 1 (888) 541-1136 or get started and find a caregiver today.
Visit the Blog for more information about caregiving, aging in place, and more.
Carer Gateway. (n.d.). What is respite. What is respite | Carer Gateway. Retrieved May 8, 2019, from https://www.carergateway.gov.au/what-respite
Contributors to Wikimedia projects. (2006, August 28). Respite care. Respite care – Wikipedia. Retrieved May 8, 2019, from https://en.wikipedia.org/wiki/Respite_care. Updated November 10, 2022
Ho, A., Doty, M. M., Davis, K., & Collins, S. R. (2005, September 22). A Look at Working-Age Caregivers' Roles, Health Concerns, and Need for Support. Issue Brief – A Look at Working-Age Caregivers' Roles, Health Concerns, and Need for Support. Retrieved May 8, 2019, from https://tinyurl.com/yn7ty7m2. Updated January 9, 2008
Kagan, J. (2015, September 16). ABCs of Respite: A Consumer Guide for Family Caregivers. ABCs of Respite: Retrieved May 8, 2019, from https://www.aoascc.org/Customer-Content/www/CMS/files/info_library/ABCsofRespite_Updated_3-15.pdf
NIH National Institute on Aging. (2017, May 1). What Is Respite Care? What Is Respite Care? | National Institute on Aging. Retrieved May 8, 2019, from https://www.nia.nih.gov/health/what-respite-care
Wayne, M., White, M., & Robinson, L. (n.d.). Respite Care. Respite Care – HelpGuide.org. Retrieved March 8, 2019, from https://www.helpguide.org/articles/caregiving/respite-care.htm/. Updated December 6, 2022