Work/Life Balance For Caregivers
Nearly 10,000 people will turn 65 every day during the next 20 years.
As more older adults live out their golden years in retirement, the need for elder care services will grow. Particularly for paid and family caregivers.
From 2018 to 2028, demand for home health and personal care aides will grow 36% — faster than any other occupation, according to the Bureau of Labor Statistics.
Caregiving has many benefits, including stronger relationships between family members, improved cognition, memory, compassion, and self-confidence; and much more.
But whether you are a professional or unpaid caregiver, the job has its risks, from sleep problems, depression, and more.
Some of these issues stem from troubles regulating work/life balance. Caregivers wear many hats and are constantly pulled in different directions, which may lead to caregiver burnout.
However, finding a healthy balance between your myriad of responsibilities isn't impossible. Here are some ways that you can find that balance.  
Tips To Lower Stress And Improve Work/Life Balance
Be A Problem-Solver
As a professional caregiver, you see things that not everyone else does, such as death, suffering from chronic pain, or terminal illnesses. 
No matter how often it happens, these events can weigh heavily on you. And sometimes, it takes an emotional toll on other areas of your life. 
According to The Caregiver Space, those who adopted a proactive, problem-solving mindset to their role reported lower stress levels than those who responded with one of helplessness.
If you care for a patient with an incurable disease, you can't stop the illness. However, you can offer palliative care and engaging activities to ease your patient's discomfort and give emotional support.
Exercise
Physical activity is one of the best ways to reduce stress. Try an exercise that falls in line with your capabilities and devote a set time to do it every day. 
Do something that you enjoy, such as walking or a favorite sport. It will help you stay consistent and find a healthy way to de-stress. 
Exercise can improve your work/life balance by acting as a period of transition. For instance, jogging after your shift can ease you out of work mode so when you come home, your mind is less focused on work. 
Make Your Commute Work For You
As a caregiver, you might already have limited time outside of work, and a long commute to your job may exacerbate that. 
If your situation allows for it, consider a short-term rental close to your patient's home. Less time commuting to the place where you spend most of your days could be a practical way to achieve better work/life balance.
Alternatively, you could use the time during a long commute to practice mindfulness, listen to audiobooks, learn a language, listen to a podcast, or try another productive activity that stimulates your mind and lowers stress.
Don't Stretch Yourself Thin
Most caregivers are empaths who truly love helping others. But for many — and perhaps even yourself — saying "no" may not be in your vocabulary. 
As a caregiver, being honest with your schedule is a fundamental part of work/life balance. Recognize how many hours you can work and don't be afraid to say no if someone requests more than that from you.
A manageable work schedule lets you rest and recharge so you perform your best — a win-win for you and those you care for. 
If you find it difficult to say no to others or to care for yourself, remember that self-care is a vested interest for yourself and your patients. 
Work/Life Balance For Family Caregivers
If you provide care and support for a loved one, chances are, you also work either full or part time. 
Over 1 in 6 full- or part-time workers also juggle caregiving responsibilities outside of the job. Over 50% of family caregivers have a full-time job, with the average caregiver working 34.7 hours a week, according to Caregiver.org.
Managing your career and caregiving duties can make work/life balance seem impossible. Although some employers offer support, not everyone has the same flexibility because of workplace guidelines or the nature of your job. 
Here are some ways to work with your employer to find a better balance.
Discuss Your Situation With HR Or Your Boss
If your caregiving duties force you to take time off of work, leave early, or similarly, propose an idea like job-sharing, a leave of absence, or telecommuting. 
Plus, with many people working from home now, remote work may be a viable way to maintain your workplace performance and caregiving role. 
Develop a contingency plan with your employer in case an emergency arises. 
Adjust Your Schedule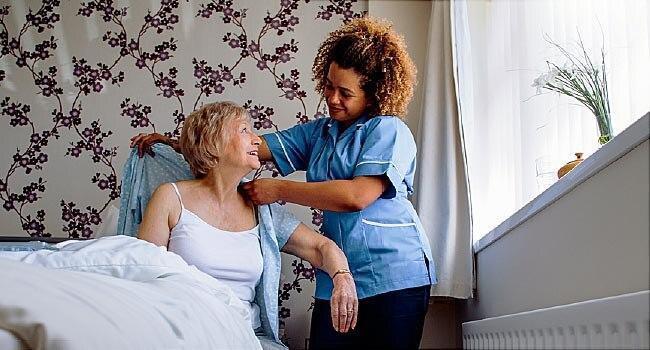 Sometimes, finding a better work-life balance is just a matter of rearranging your work schedule. For example, flexible hours would let your workday begin later so you can assist your loved one earlier in the day.
Alternatively, a compressed schedule that lets you work four long shifts so you get the fifth one off could be another option. 
If you don't have a set schedule, ask your employer to develop one with you so you can make arrangements more easily.
Some caregivers elect to share jobs with a coworker or switch to part-time. If your employer provides phased-in retirement, you could slowly reduce your hours.
Transfer To A Closer Location
If your employer has several locations, moving to one that is nearer to you or your loved ones' home can shorten your commute and save you time.
Inform Yourself About Leave Options
Get acquainted with your employer's policies for paid and unpaid leave so you know if you can use personal, sick, or vacation days for caregiving. 
Some companies have a program for donated leave where co-workers give you their unused time. 
The Family and Medical Leave Act (FMLA) provides qualified individuals working in public organizations, public and private schools, and companies with over 50 employees up to 12 weeks of unpaid leave every year and job protection. Caregivers serving in the military are allowed up to 26 weeks. 
In addition to the federal FMLA program, your state and may also have specific policies for family and medical leave. 
Research Company Benefits 
Some companies provide an Employee Assistance Program (EAP), which offers:
Benefits

Counseling

Information

Referrals

Eldercare assessments

Legal help

Financial counseling

Insurance support
Some employers provide reimbursement for alternative caregiving services like adult day care if you have to work. 
More businesses are adopting employee programs such as on-site support groups, concierge services, health and wellness plans, and discounts which can help lower your stress and manage your responsibilities as an employee and caregiver.
Creating a healthy and enjoyable living situation for others is a part of the job, but that doesn't mean it has to come at your expense. 
Hopefully, these ideas will help you achieve a better work/life balance — and develop a more positive mindset — so you can keep being your best in every aspect of your life.
Meetcaregivers
If you need time to find work/life balance, consider hiring a qualified caregiver.
Meetcaregivers ensures that your loved one receives the best care while you rest and recharge. 
There's nothing wrong with asking for help! Contact us online or call 1-888-541-1136.
Visit the Blog for more information and resources for caregivers, family members, and seniors.
Sources
AARP, and Amy Goyer. "6 Ways to Balance Life, Work and Caregiving." Glassdoor Blog, 29 June 2017,

www.glassdoor.com/blog/6-ways-to-balance-life-work-and-caregiving/

.

Kaestner, Amanda. "How to Find Work Life Balance as a Paid Professional Caregiver." The Caregiver Space, 25 Oct. 2014, thecaregiverspace.org/find-work-life-balance-paid-professional-caregiver-2/.