Care Coordination At Your Fingertips
Imagine this:
It's 2020, you have COVID-19, and you don't know the standards for quarantine, testing, or temperature checks. Of course, you want to follow the proper steps and keep your loved ones up-to-date about your health, but your physical symptoms make it hard to keep everything straight. The Care Portal solves this problem by giving you and your care team a place to share information and best practices.
Our helpful app supports care coordination by making it easier for caregivers to follow up on your health and progress. For example, if you struggle with brain fog or forgetfulness during your illness, you can upload a picture of each test to the app, making it easier to track the date of your last test. You can also be helpful for other time-sensitive needs, like medications.
Say you hire a caregiver to help with groceries, household chores, and other tasks while recovering. The Care Portal ensures your caregiver still knows what to do even without the need to interact physically. For example, you can enter your grocery list and any other things you need in the app, ensuring these needs are on your caregiver's radar at a specific time.
It's also advantageous for times when you may need backup care. For example, if a secondary caregiver comes into the house, they can refer to the Care Portal and quickly pick up where their colleague left off. Ultimately, it adds a layer of empathy to individual care plans, making situations where the care recipient is quarantining or recovering from another illness less overwhelming.
Ineffective Technology Hinders Care Coordination
Outdated or limited access to shared patient portals or health records can significantly impact care coordination. Yet caregivers often lack the tools to routinely collect, organize, or access doctors' notes or family reminders, caregiver updates, and word-of-mouth notes for each care recipient. It also leaves caregivers reliant on manual documentation, which is time-consuming and prone to error. Naturally, this opens the door for miscommunication among caregivers, care managers, recipients, and families.
For this reason, inefficient technology is a significant barrier to care coordination, hindering older adults' ability to age. It's also particularly problematic for family caregivers, who often go overlooked in the home care process. They offer crucial insights about their loved one but often cannot easily share this information with the rest of the care team. 
At the same time, care plans (which include doctors' appointments, prescription routines, and other critical areas) are also difficult to distribute. This problem is compounded when healthcare specialists work in silos, further limiting information sharing. 
As a result, it's common for caregivers to show up at a care recipient's house without access to their care plan. So, naturally, having a care plan in a central location that can be updated and viewed by all is necessary for caregivers, as they need a baseline of information to work from before they walk into the home.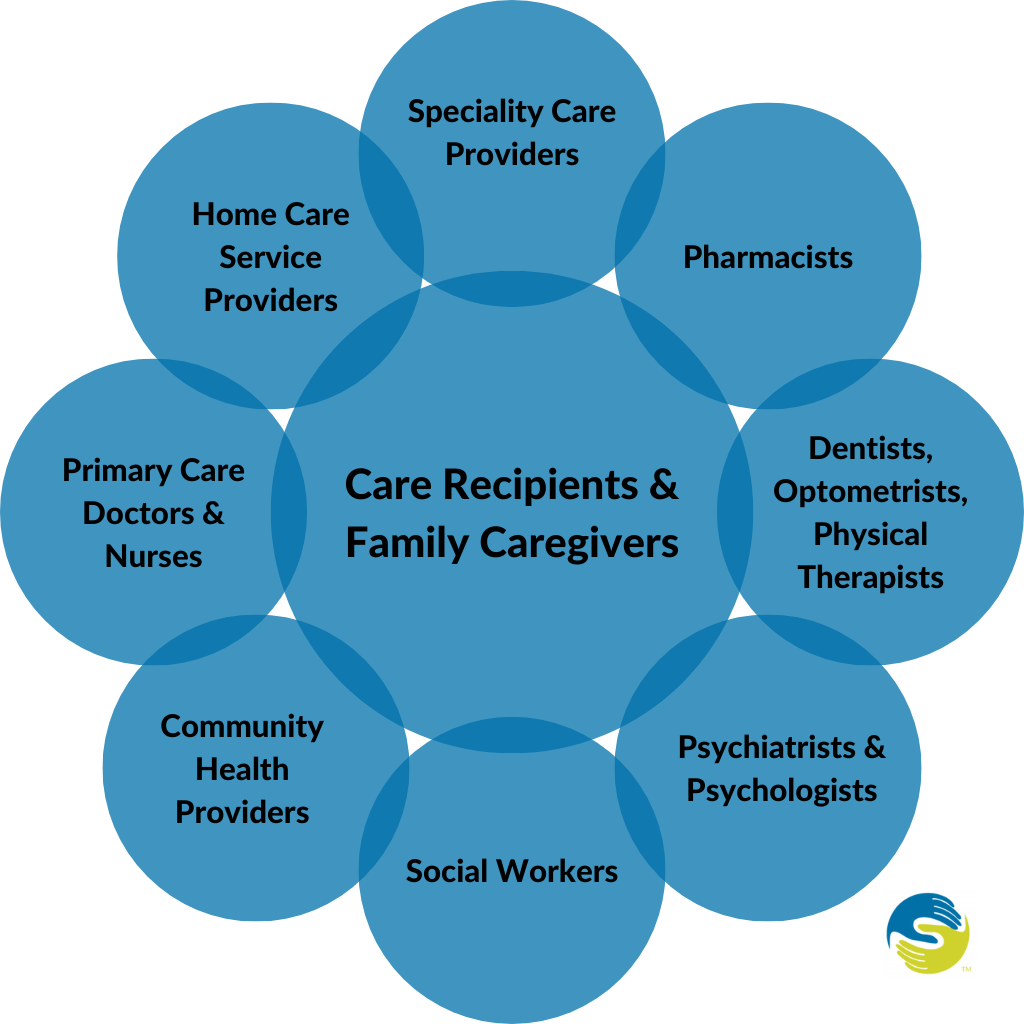 How The Care Portal Improves Care Coordination
Better Transparency For Caregivers, Seniors, & Families
The Care Portal is our caregiver's connection to the company while providing transparency between themselves, care managers, care recipients, and families. The app offers a central location for caregivers to reach one another – while still letting families view these communications. This feature helps everyone come out of the confusing home care experience with the tools to stay involved in their loved one's care easily.
Caregivers can also use their phones to clock in and out of each shift, making hours tracking easier for themselves, care managers, and families. In addition, this feature clarifies caregivers' time punches, schedules, and information about the care recipient (like their care plan), so they can plan for a given shift (such as bringing appropriate activities).
This makes caregivers' lives much more straightforward and goes a long way toward trust and strong relationships. For families, it lets them know when caregivers show up and leave, providing peace of mind about where the caregiver is and if they're showing up when they're supposed to.
Better Understanding Of Day-To-Day Care Needs & Activities
It is a single source of truth for documents, care tracking, and more between clients and caregivers. Families can better understand the state of their loved one's care with every detail readily searchable in one place. This benefit is particularly advantageous for planning respite services or for people with multiple caregivers.
For example, one caregiver may note on Tuesday, "I fed Susan lunch today without any issues, but noticed several food items expire on Thursday." If a different caregiver visits on Thursday, they can see that note and know to throw away those products if they are still in the fridge. Then, they can mention this in an update, so the family knows their loved one isn't at risk of eating expired food.
Families can also give caregivers specific assignments or tasks during each shift and check for completion throughout the day. Plus, the Care Portal allows shift-by-shift task tracking, so you understand which caregiver gives reminders, which takes your loved one on walks, which helps with bathing, and so on. Caregivers can also add notes, such as which games they played or how long they talked together.
Better Administrative Support
For our care managers, the Care Portal makes it easier to assign tasks, ensure that caregivers show up to their shifts, monitor care plan adherence, and track caregiver/family communication. This adds administrative support to our existing lines of communication with seniors, families, and caregivers.
MeetCaregivers Simplifies Care Coordination
Without efficient technology, caregivers, clients, and families often have limited access to support and resources to streamline the home care process. This adds to their stress, interferes with care coordination efforts, and raises the risk of critical gaps in care.
The Care Portal is just one of several tools we've built to address these problems by accomplishing three main goals:
Simplify the process for families and seniors seeking care
Facilitate better relationships between caregivers and seniors
Deliver support to caregivers so they continue providing the best care possible
To learn how we can help you, call 1 (888) 541-1136 to talk to a care coordinator or find a caregiver today.
For more resources and information and resources for caregivers, visit our Blog.
Heath, S. (2020, March 20). Patient Portal Use in Senior Patients Soaring, Spur Adoption Goals. Retrieved March 27, 2023, from https://patientengagementhit.com/news/patient-portal-use-in-senior-patients-soaring-spur-adoption-goals