Are You Caring For Aging Parents?
Understanding how to help an aging parent can be one of the most difficult challenges for family caregivers. After all, it's a delicate situation: You want them safe and healthy while aging in place, but you don't want to be overbearing or infantilize them.
Your parent may feel that your intervention threatens their independence. But to you, some steps, like talking to them about giving about driving, promote long-term independence because it lowers the risk of injury.
Of course, finding the best approach, assessing your parent's needs, knowing your options, and taking action is a lot to handle. However, a concrete action plan can help you feel on top of the situation.
How Do You Know When To Start Caring For Aging Parents?
Adult children play a crucial role in caring for aging parents, who often depend on the extra support to age in place. According to the National Institute on Aging's Health and Retirement Study, conducted from 1995 to 2010, about 17% of adult children had provided care for one or both parents. 
Family norms often prompt adult children to take on the role of the family caregiver. Your parent may need your support for reasons such as:
A decline in their health
A new course of treatment
An unexpected health emergency such as a fall
A new health problem or diagnosis
Acknowledging the time for adult children to become their parents' caregivers will affect each family at different phases and for various reasons. With that in mind, it's essential to involve yourself in your parent's daily routine as they age. In addition, doing so helps you track behavior or habit differences (if the change is gradual), such as:
Your mom (who calls you every day) stops answering the phone or returning your calls.
Your dad (who has never missed a due date) starts forgetting to pay his bills on time.
Identifying changes in your parents (like the examples above) could help you realize when it's time to become the family caregiver or hire a professional for them:
Tips For Family Caregivers Caring For Aging Parents​
Stepping in and caring for aging parents in their golden years is noble and shows how much you care. But before you become the family caregiver, it's vital that you first:
Set clear boundaries (with yourself, your parents, and other family members)
Research your new role, including any health conditions your parents have
Have a definite understanding of precisely what you will agree to
Here are 12 tips to guide you while caring for aging parents. Hopefully, they will help you develop a practical, achievable strategy to support your loved ones and preserve their well-being.
Before you start caring for aging parents, you should discuss one another's boundaries and expectations as you approach this new stage in your relationship. This step is equally important for everyone as it's a significant life change for all involved.
Caring for aging parents requires patience and compassion. There will be good and bad days, so try to recognize that your parent isn't the same person they were when they were young. Coming to terms with aging and its consequences is hard for everyone. Reinforce that you are on your parent's team. Remind them (gently) that you're there to help them only with what they need, not trying to impose or diminish them.
Setting boundaries is an integral part of setting expectations. Your parents need to know which tasks and responsibilities you're willing to manage. For example, you may have no issue with housework or errands. But when it comes to medical care, you'd prefer to coordinate in-home care services.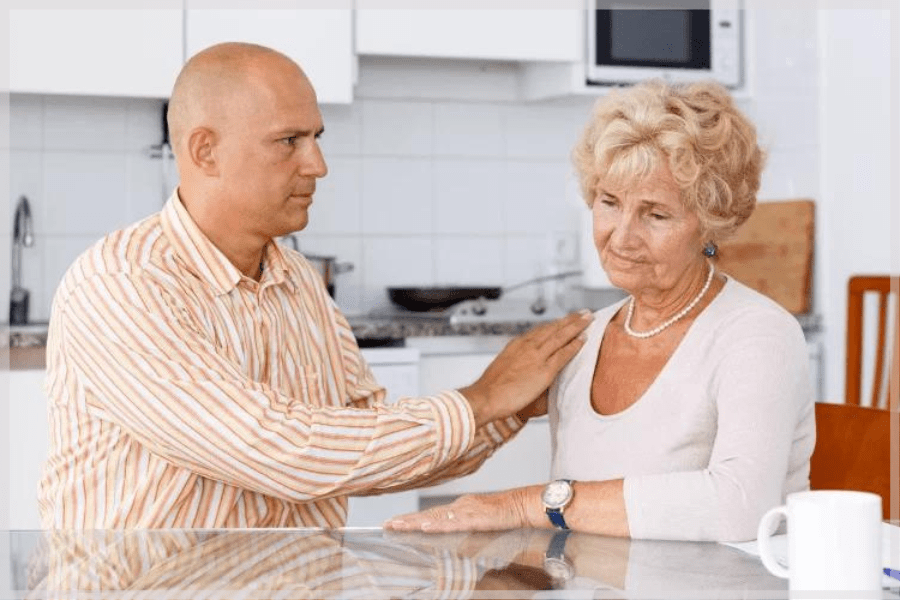 2. Set Goals With Your Parents
Setting goals (and understanding them) is essential to caring for aging parents. As you consider what all of you want from their care plan, ask them questions such as:
Do they have an advance directive?
Who will be their power of attorney if one is needed?
Is their home conducive to their comfort, safety, and needs?
These conversations can be challenging. However, your parents have likely thought about this period in their life. As a result, they may already have answers to many of your questions. Talking to them about their plans and goals in retirement may ease some of your worries.
3. Consider Your Needs And Capabilities
As a family caregiver, your responsibilities can feel overwhelming if you don't know what to do. You can solve this problem by stepping back from the situation to assess the level of support your parent needs throughout the day. As you do, consider these eight aspects of caring for aging parents:
Home safety
Family support
Cognitive health
Social interaction
Personal hygiene
Mobility
Meal preparation
Medical needs
Then, think about the amount of help they currently receive in each area and how much they really need to maintain their health and safety. Finally, keep everything in a separate caregiving journal (or your phone) to monitor your parent's needs and determine which services they require.
For example, suppose your mother, who has osteoporosis and balance problems, lives alone in the rural countryside and lacks a nutritious diet. Plus, she has no nearby relatives, and you live in another state. So, she'll need assistance with home safety, meals, family support, and mobility.
You could hire an in-home caregiver to meet all these needs and others. A caregiver can provide transportation, meal preparation, companionship, and help with light housework. Additionally, they can report back to you and monitor your parent's health while you're far away.
4. Make Sure Your Parents Feel Respected
Before you swoop in and start caring for aging parents, stop and ask if they want your help in the first place. For example, if you take your father to the doctor, don't presume he wants you sitting in during the visit. Instead, ask if he's comfortable with you being there for the whole appointment or if you can come at the end to talk to your parent's doctor yourself.
Despite their age and changing needs, they'll always be your parents, and you should treat them as such. While caring for them can be frustrating at times, try not to be critical or condescending. Aging is a complicated process, and your loved one may not be intentionally problematic. Typically, the more controlling you are, the more opposition you'll encounter.
5. Keep Your Parents Involved Throughout The Process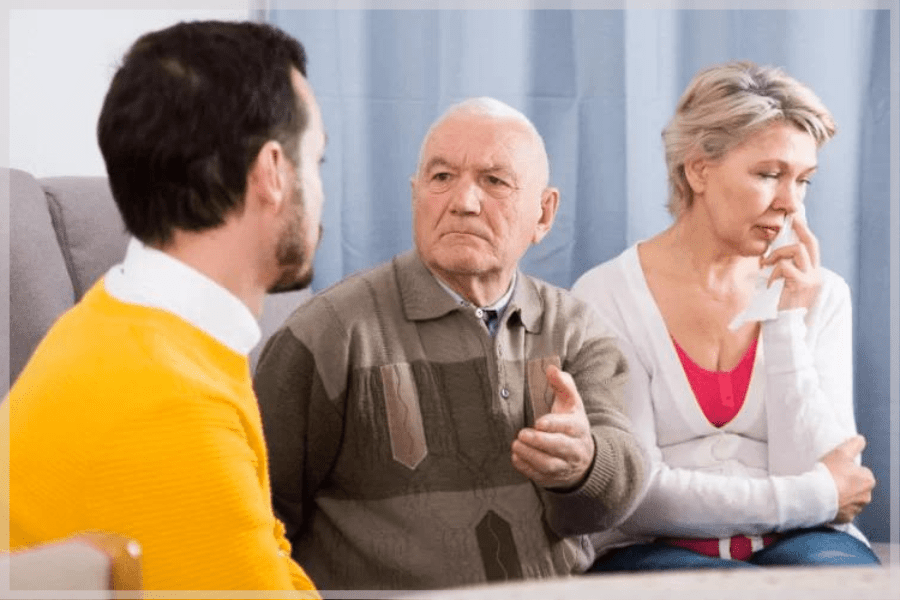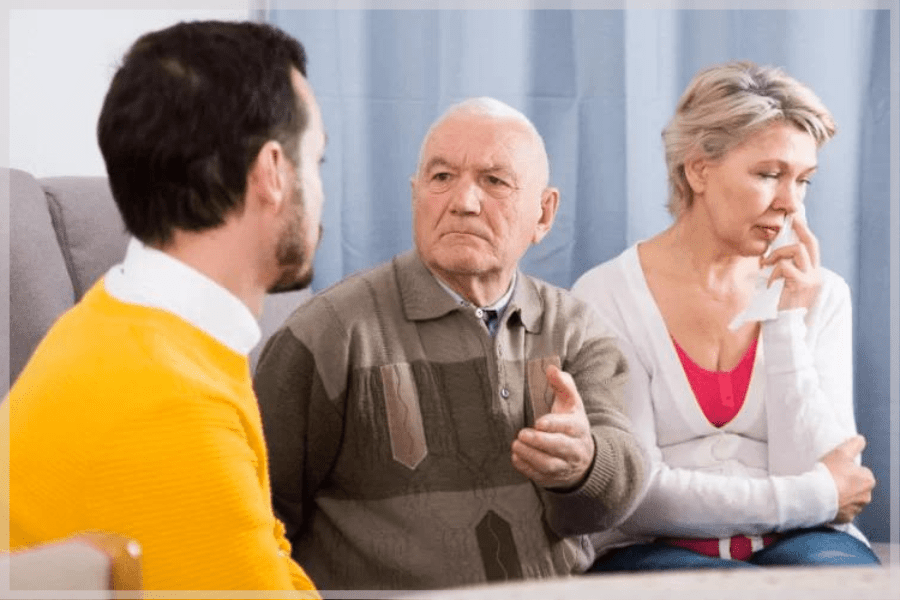 Everyone fears losing their independence, particularly older adults who may already worry about the prospect. While understandable, this feeling can make caring for aging parents even more difficult. For this reason, it's crucial you include your parent as much as possible while developing a care plan. Doing so will position you as a helper instead of someone who controls their life.
Your parent may initially be hesitant or unwilling, so you may need to prepare for multiple discussions. But that's okay – if there's no threat, avoid pushing too much, too hard, and too soon.
Begin with minor, less invasive changes and increase the amount of care incrementally. Unless there's an immediate danger, acclimate them to your help by concentrating on just one or two essential requirements. Then, gradually supplement this until their needs are fully covered.
6. Present Multiple Options To Your Parents
Rather than resolving incomplete tasks or finding a solution to every issue, let your parents approach you. When they share things that require your assistance, try to curb your involvement to only those activities for the time being.
Your loved one might struggle to ask for help, so it's crucial that you listen when expressing how they feel or what they're going through. If specific tasks worry or bother them, gently inquire if they want your support.
Even if they turn you down, you will have shown them that you care and want to help. Most seniors value feeling heard and knowing that someone cares about them. So offer your assistance when it comes up, but don't force anything unless there is a pressing need.
Suppose your parent doesn't fully recognize their limitations or abilities. In that case, you will have to take a different approach, so they understand. But, again, expressing genuine worry for their health and safety is typically the most effective way to approach caring for aging parents.
If they reject your offer, find out if they would get help from someone else. In some cases, older adults are more willing to accept care from a paid caregiver. Outside help ensures your parent's needs are met without straining your relationship. No matter what decision you make, cooperation between both parties is critical.
7. Let Your Parents Call The Shots
If feasible, carry out tasks with your aging parent rather than doing it for them. Although this strategy takes more time than doing it yourself, letting them take the initiative helps your parent keep their independence. This can also boost their self-esteem and retain their functional abilities.
Sometimes, older adults stop doing routine tasks and wait for the family caregiver to do it. However, this adds extra work for you and can quickly diminish their mental and physical abilities. You want to help your aging parent, not make them dependent on you.
If feasible, carry out tasks with your aging parent rather than doing it for them. Although this strategy takes more time than doing it yourself, letting them take the initiative helps your parent keep their independence. This can also boost their self-esteem and retain their functional abilities.
Sometimes, older adults stop doing routine tasks and wait for the family caregiver to do it. However, this adds extra work for you and can quickly diminish their mental and physical abilities. You want to help your aging parent, not make them dependent on you.
8. Make Sure Your Parent's Home Is Safe
Home modifications are essential to your loved one's health, safety, and independence. Minor safety risks can go unnoticed and compound with time, increasing the likelihood of a fall or injury. As you begin caring for aging parents, assess their home. As you do, look for safety basics such as:
Clutter-free floors and walkways (including cords, rugs, and furniture)
Grab bars and handrails in the bathroom, bedroom, and stairs
Ample lighting and accessible switches
Working appliances that are well within reach
For more ideas, check out this helpful home safety guide for seniors.
9. Provide An Easy Way To Stay In Touch
One of the best things you can do when caring for aging parents is to give them a direct way to contact you, relatives, or friends. Senior social isolation is a serious problem among older adults that can deteriorate their well-being and quality of life.
If your loved one has a phone, make sure they know how to use it. For some seniors, a smartphone with all the bells and whistles may not be necessary, so you might want to consider a basic device with programmable numbers. Alternatively, you could also suggest a wearable medical device for added safety.
10. Research Long-Term Care Options
Caring for aging parents can still be a lot to manage, even when you take it step-by-step. However, you don't have to do it alone. You have a range of options and resources for family caregivers, for example: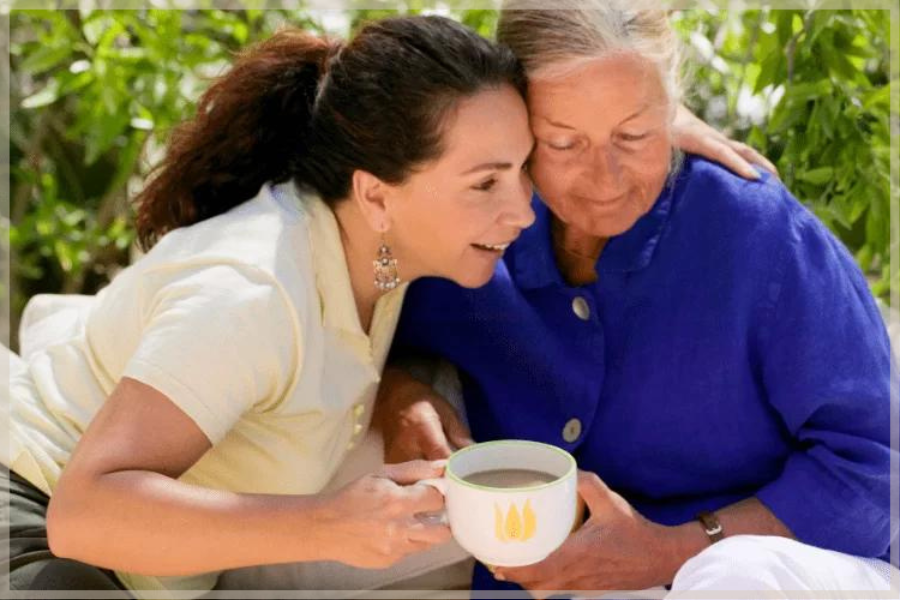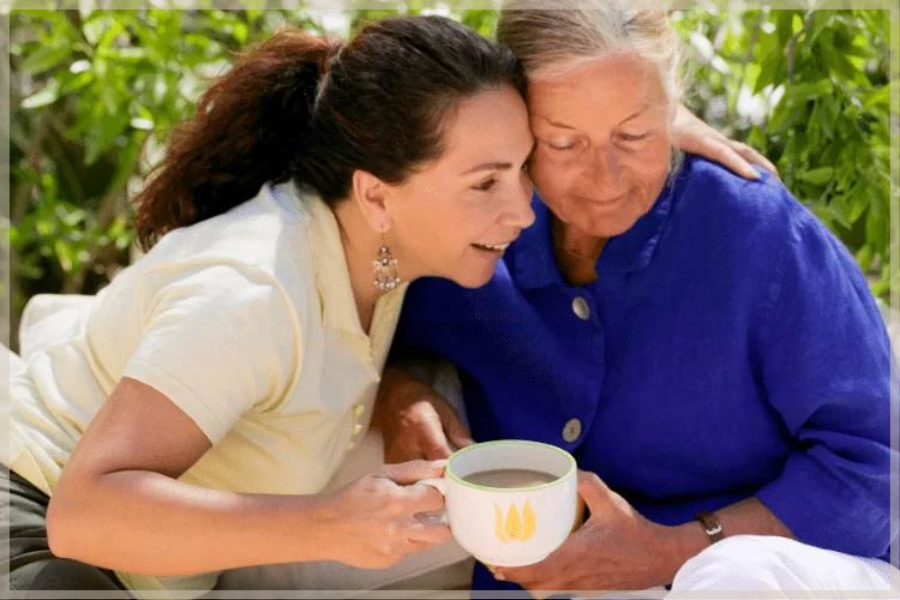 Geriatric care managers can manage a part or all of your parent's care plan. Their expertise can save you time, money, and stress.
In-home caregivers who can care for your parent at home. You can hire caregivers privately or through an agency.
Assisted living facilities are designed for seniors who require around-the-clock care or cannot live alone.
Geriatricians specialize in senior care and are specially trained to help older adults with more than one health condition, cognitive disease, and more.
11. Take Your Financial Situations Into Account
Caring for aging parents will always bring added expenses, so it's best to prepare for future costs by evaluating factors such as:
Medical care
Housing expenses, such as assisted living, in-home care, or living with you
Necessities, like food, caregiving resources, or home safety modifications
When you understand your parent's financial situation, you can determine whether they can cover the care they require or if you should find financial assistance. A plan can avoid an unnecessary financial burden for you or your parent.
There are many online resources to locate relief programs. For example, check your parent's Medicaid plan or look for local and federal programs to help your parent afford long-term care. You could also work with an elder law attorney or financial advisor to navigate Medicaid.
Check out the resources below to see if your parent qualifies for financial assistance:
12. Find Ways To Cope While Caring For Aging Parents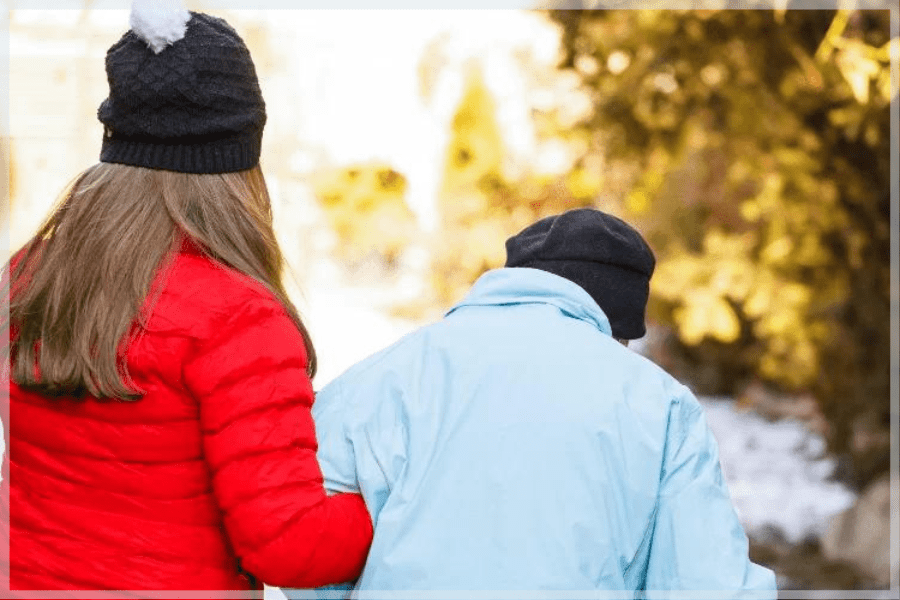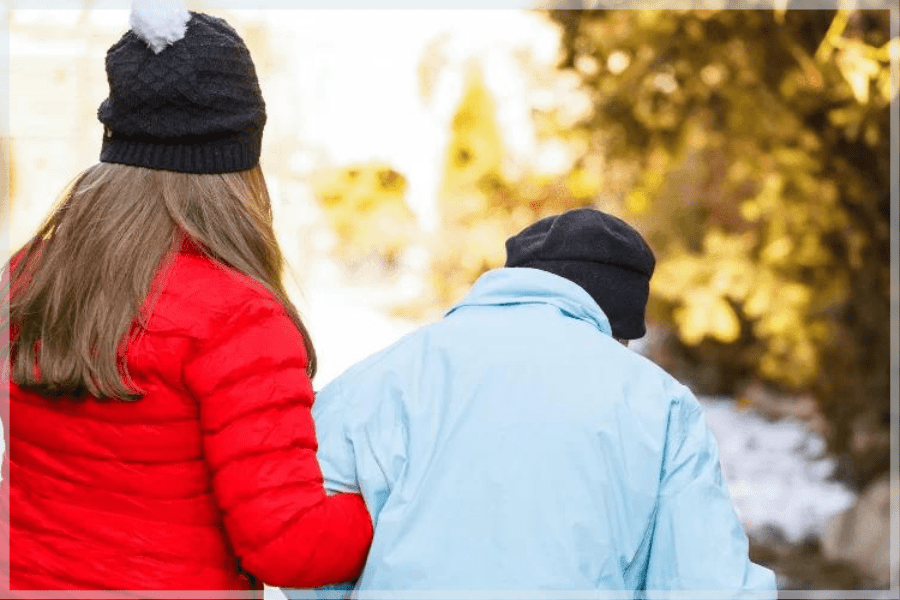 Learning how to manage the everyday stresses of caring for aging parents is essential. Doing so can help avoid caregiver burnout, "a state of physical, mental, and emotional exhaustion" caused by the stress of your role.
According to Care Link, almost 50% of caregivers struggle to balance their roles and personal responsibilities. Additionally, 40% of caregivers suffer from depression. Stepping into this role is complicated, so researching coping mechanisms to support stability is vital.
Make a point to attend caregiver support groups and include another person in your parent's care before you become overwhelmed. If you feel the need, contact senior care providers for advice. Most organizations will understand that caring for aging parents for the long term can be disorganized and burdensome at times.
Caring For Aging Parents Or Someone Else?
Caring for aging parents is tough, but you don't have to do it alone. Whether you live away from them, need respite care, or just need someone to check in on your loved one throughout the week, MeetCaregivers can help. We've developed a matching algorithm that pairs seniors with the perfect caregiver based on their care needs, personality, interests, and more. Call 1 (888) 541-1136 or Find A Caregiver online to learn more or get started. 
For more resources for seniors, families, and caregivers, visit the Blog.
DailyCaring Editorial Team. "7 Steps to Take When Aging Parents Need Help." DailyCaring, 17 Sept. 2020, dailycaring.com/7-steps-to-take-when-aging-parents-need-help/.
Lin, I. F., & Wolf, D. A. (2020). Division of Parent Care Among Adult Children. The journals of gerontology. Series B, Psychological sciences and social sciences, 75(10), 2230–2239. https://doi.org/10.1093/geronb/gbz162
Samotin, Sheri. "5 Tips for Helping Aging Parents Without Taking Over." AgingCare.com, 11 June 2020, www.agingcare.com/articles/how-to-help-aging-parents-149102.htm.
Stephens, K. (2021, July 13). Caring for Aging Parents: 12 Steps to Achieve Success. OakStreetHealth.com. Retrieved August 3, 2022, from https://www.oakstreethealth.com/caring-for-aging-parents-12-steps-to-achieve-success-543209
Reviewed by Dr. Brian Kurtz, DO Updated June 22, 2022