What Is Stress Awareness Month?
April was designated Stress Awareness Month in 1992 to increase public awareness of stress, its causes, and ways to alleviate it. Now is a great time to learn about the risks of high stress, effective coping skills, and common myths, particularly during the coronavirus outbreak.
Unfortunately, COVID-19 isn't the only pandemic the world faces; we're also amid a modern stress epidemic. But while stress is a regular part of life, it can quickly become overwhelming for older adults. Furthermore, aging is stressful, particularly for those with health problems, limited mobility, or who live away from loved ones.
Seniors who live alone can also experience heightened feelings of isolation due to stress. And in some cases, anxiety can worsen health issues, causing more distress and worry.
So, how can you tell if someone is dealing with the effects of stress? And how can you help? This article can help caregivers:
Recognize when someone is suffering from stress.
Learn the physical and cognitive impact of stress.
Lower and maintain an older adult's stress levels.
Why Stress Awareness Month Matters To Seniors
You already know that heightened stress causes wrinkles. However, stress hormones are also related to numerous health problems, such as:
Heart disease
High blood pressure
Weakened arteries
Diminished bone density
Compromised immune system function
The older we get, the more trouble our bodies have controlling hormones. That's why older adults are particularly susceptible to the adverse effects of stress. When the body is stressed, it releases a hormone called cortisol.
Unfortunately, cortisol damages the hippocampus, which collects and accesses memories. For this reason, too many stress hormones can hasten the aging process and aggravate conditions associated with aging, like dementia.
What Are The Signs Of Stress?
Stress itself isn't a visible condition, but its effects can be. So with no giveaway symptoms, recognizing chronic stress can be tricky. But, there are distinct indicators that caregivers and loved ones should be aware of, particularly after a significant change in an elder's health or life.
Caregivers and loved ones should look for physical signs of stress such as:
Asthma
Skin rashes
Trouble sleeping
Allergic reactions
Stomach or headaches
Melancholy or depression
Difficulty making decisions
Self-medicating with drugs or alcohol
Increased illnesses, such as the cold or flu
Mood fluctuations, including heightened irritation
Decreased interest in hobbies or everyday pursuits
Appetite change or different eating habits, including overeating or appetite loss
These signs could indicate that someone is undergoing a great deal of stress.
In addition, several studies have found a connection between chronic stress and Alzheimer's, delayed response times, and judgment-making. But, of course, these cognitive symptoms may also stem from other problems like depression, which is closely related to stress. Since high stress also affects the mind, it's essential to look for changes in an elder's behavior or thought processes.
Family and caregivers should look for these symptoms of cognitive stress:
Poor concentration
Memory problems (forgetting names, places, or important dates)
Reduced judgment (unnecessary spending when living on a small budget, etc.)
You should talk to your loved ones frequently about their emotions to correctly understand their condition. Then, if necessary, consider a therapist or mental health professional.
Activities To Try During Stress Awareness Month
Stress Awareness Month is the perfect time to try and find new ways to reduce stress for yourself or your loved one.
Stress Management Tips For Seniors
Create A Calm Living Environment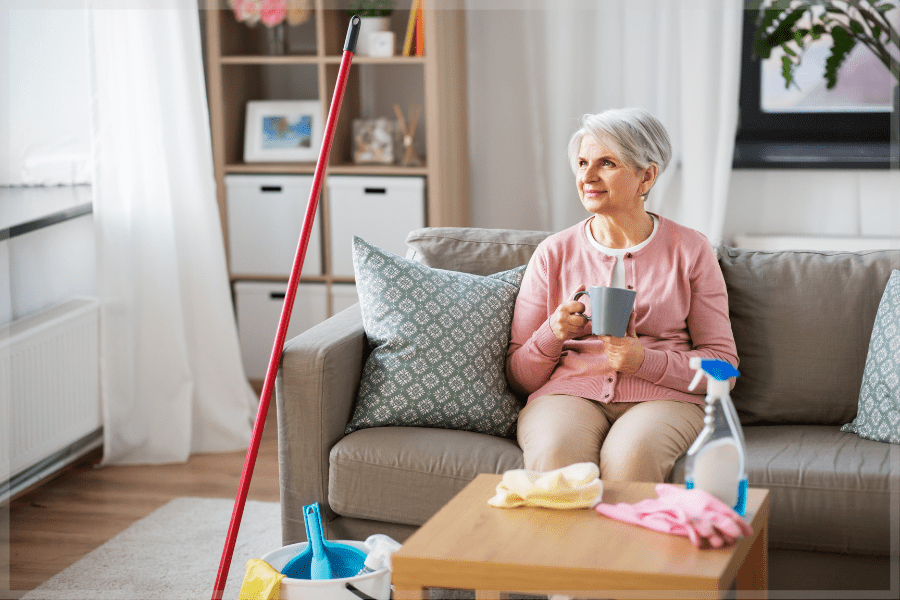 Our living conditions play a massive role in our stress levels. Our environment can improve or worsen stress depending on how it was made or sustained. For example, clutter can lead to tension or feelings of losing control. On the other hand, an organized room promotes clearer thinking and reduces distractions.
A few ways to create less stressful, more relaxing surroundings include:
Adding plants
Decorating with colorful items
Adding personal touches like framed pictures
Consider spring cleaning because a tidy, bright, welcoming, and organized room eases stressful feelings and gives peace of mind.
Engaging with others is a highly effective way to lower stress. Social support is vital because it prevents loneliness and amplifies acceptance and solidarity.
Urge older adults to interact more with loved ones and friends, whether face-to-face, on the phone, in a letter, or online. For example, you could encourage your loved one to rekindle old friendships on Facebook or join social groups. Exercise classes and senior centers are great places to start.
Look for other ways to find meaning. For retirees who devoted themselves to their careers, volunteering, enrolling in classes, or developing a hobby is a great way to gain a renewed sense of purpose.
Alternatively, a pet could make a great companion for an older adult. Of course, there are many great dogs for seniors. But if you're a cat person, they are a great low-maintenance choice for seniors. Research shows that the unconditional love pets display naturally lowers stress levels and reduces blood pressure.
Some older adults may have trouble moving because of arthritis or other problems, but there are many indoor exercises and activities for seniors with limited mobility. Besides, physical activity doesn't have to mean a rigorous workout; it can be something as simple as a walk around the block. The important part is getting fresh air and sunshine, which are great natural stress relievers.
Eating right and getting consistent quality sleep is another way to manage stress because they promote cell regeneration and many other benefits. And of course, when you wake up feeling refreshed in the morning, you will also feel much less stressed.
Yoga, mindfulness meditation, and deep breathing exercises are other ways to lower anxious feelings. Even taking a moment to gather your thoughts can elevate energy levels and calm stress. Journaling is an excellent way to do this.
Older adults should work with their loved ones or caregiver to form a routine that promotes physical and mental wellness and make it a part of every day.
Times are tough, and it's hard not to think about anything except how stressed you feel. Juggling the responsibilities of caring for an aging parent or loved one can be overwhelming.
There are no cures for our modern stress epidemic, but there are ways to ease feelings of anxiety and depression. You don't have to do it alone. We want to do our part to support seniors, their families, and caregivers. So call 1 (888) 541-1136 or Find A Caregiver today.
Read our Blog to learn more about caregiver burnout, respite care, and other resources for family caregivers.
Jenkosky, Steve. "How Seniors Can Reduce Stress." Golden Age Advisory, 2 Apr. 2018, www.goldenageadvisory.com.au/how-seniors-can-reduce-stress.php.
Salvesen, Marissa. "Shining the Spotlight on Stress and Seniors for Stress Awareness Month." Senior Assisted Living, 3 Apr. 2015, www.umh.org/assisted-independent-living-blog/shining-the-spotlight-on-stress-and-seniors-for-stress-awareness-month.
"Stress Awareness Month." Senior Lifestyle, 3 Apr. 2018, www.seniorlifestyle.com/resources/blog/stress-awareness-month/.