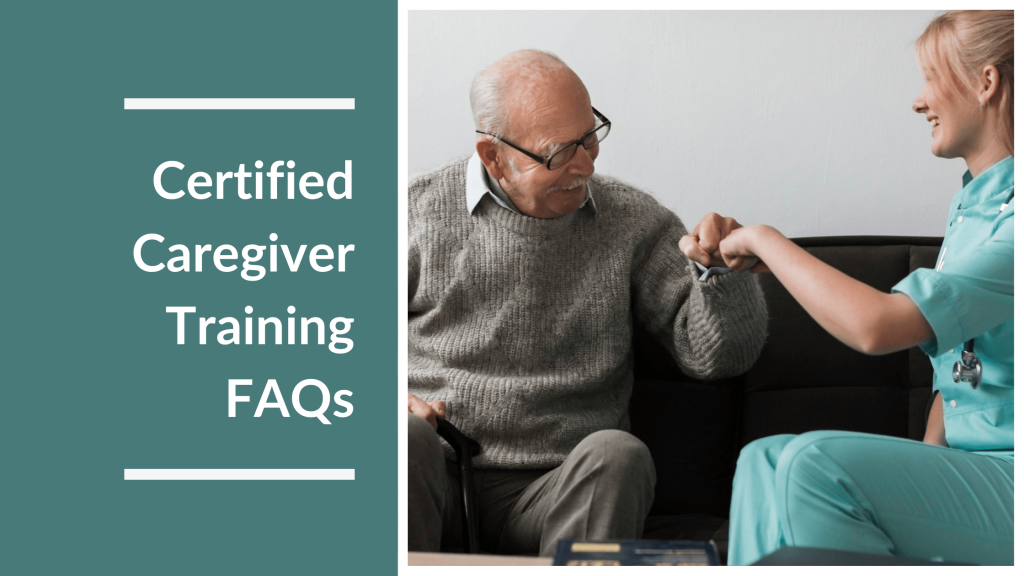 Certified caregiver training offers you the tools to provide seniors with the best possible care. In addition, it helps you stand out from other job seekers, leverage higher wages, and create more career opportunities. Read these frequently asked questions about caregiver certification to make a more informed decision about your career.
Modified March 17, 2023
Frequently Asked Questions About Becoming A Certified Caregiver
Certified caregivers support seniors' quality of life by assisting with many tasks. These responsibilities vary based on each senior's needs and abilities. As a caregiver, your job will range from physical (such as ambulation or transportation assistance) to emotional (such as companionship and support).
The various tasks caregivers assist with, and the everyday stressors of caring for another person can make this career path particularly demanding. However, having the heart of a caregiver and a genuine desire to help others makes it easier to enjoy the benefits of this field. In addition, so can ongoing training and education.
What is a certified caregiver?
Certified caregivers help with routine tasks based on their clients' conditions and needs. They typically support seniors or those with disabilities, injuries, or illnesses in various settings, such as hospitals, assisted living, or their clients' homes. For example, home care workers may live with their clients or stay overnight for patients needing round-the-clock care. Additionally, caregivers assist with many responsibilities, such as:
Transportation assistance
Companionship and support
Meal planning and preparation
Light housework, including laundry and grocery shopping
Assisting with personal care tasks and activities of daily living (ADLs)
Becoming a certified caregiver proves that you have the skills and knowledge to care for another person. In addition, you'll have more options and prospects in your desired career with further licensing and certification.
What are the types of certified caregivers?
"Caregiver" is an umbrella term referring to several types of professionals. Based on your interests and background, you could become one of the following types of caregivers: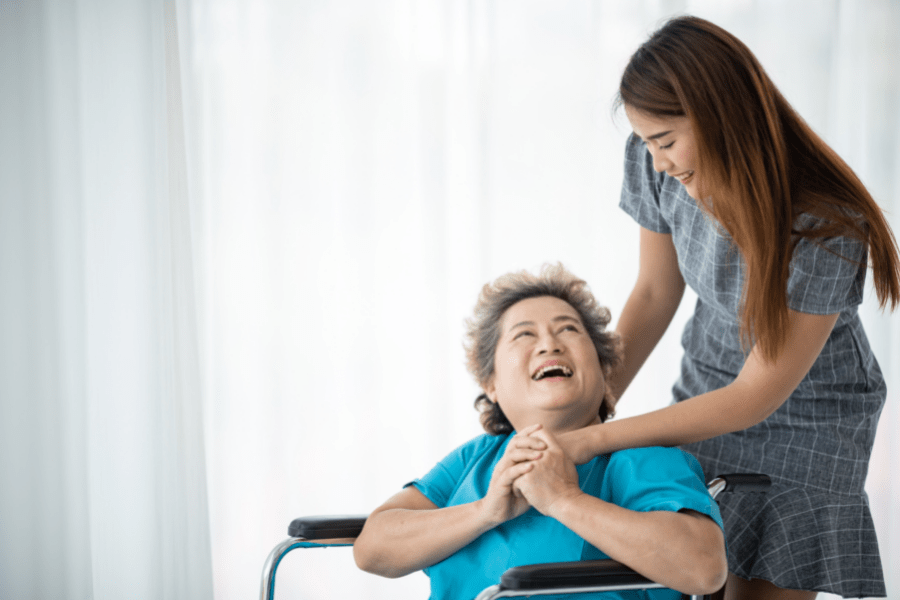 As the name implies, HHAs attend to seniors in the comfort of their homes. HHAs may work during the day or live with clients. Generally, HHAs must complete training to receive their certification and work with an agency or government healthcare facility. Typical HHAs perform tasks such as:
Cooking
Companionship
Help with routine household chores
Transportation to appointments and errands
However, HHAs with additional training perform more specialized tasks, such as changing bandages, taking vitals, and monitoring day-to-day health.
PCAs and HHAs perform similar tasks, so people often use them interchangeably. However, since PCAs have less training, they aren't responsible for medical tasks like taking vitals. 
PCAs work in diverse settings as independent contractors or are employed through an agency and may be required to travel. Depending on where you live, the agency you apply to, and the degree of care you're interested in providing, you may not need to take a training course. For example, companion caregivers generally don't need extra training or education. But if you want to broaden your skillset, consider all training options.
Certified Nursing Assistant (CNA)
CNAs, or nursing aides, generally need more training and education to work in various healthcare settings. In addition to ADLs, CNAs also help patients with prescription management, monitoring vitals, and more. For this reason, most states and facilities require CNAs to be certified and take continuing training courses.
Assisted Living Caregiver
Assisted living caregivers work exclusively in assisted living settings. However, training may be required to support independent and semi-independent patients depending on the facility and your state. As a caregiver in an assisted living facility, you'll work with multiple residents throughout your shift. In addition, depending on your interests or specialty, you may work with seniors or young adults with a health condition, disability, or illness.
Nursing home caregivers and assisted living caregivers share many responsibilities, but the latter specializes in elder care. One of the most critical aspects of this job is to provide comfort and a listening ear for elderly patients. So besides helping with ADLs, grooming, eating, and more, you'll provide companionship to your patients. 
Are certified caregiver training programs available for family caregivers?
If you are a family caregiver, you might feel like you're flying blind. After all, this experience is a learning process for you, your loved one, and the rest of your family. Although your loved one's care team, doctors, and others can guide you, training offers you the knowledge, skills, and confidence to care for your loved one when these resources aren't available. A few organizations to find training for family caregivers include:
What Types Of Caregiver Certification Are Available?
Whether you need certified caregiver training to start your career or advance depends on your state and chosen career path. Regardless, you have many options.
Basic Caregiver Certification
Basic caregiver certification helps ready professionals for a career in this field. In addition, this type of caregiver certification can lay the foundation for future skills and knowledge by giving students hands-on and classroom training.
Most basic caregiver courses last no more than 12 hours, though it depends on your state's guidelines. You can enroll through many organizations, such as the American Caregiver Association and the Professional Association of Caregiving.
Depending on the course, you may work in a healthcare setting. This experience can help you decide if caregiving is right for you or help you find your preferred area of specialty.
HHAs often need some level of training to enter this field. Requirements differ from state to state, so research your state's policies to find an accredited course. Many places offer caregiver training programs, including:
Vocational schools
Community colleges
National Association of Home Care and Hospice (NAHC)
Most curriculum programs require 120 hours of in-class study, plus 50 hours of observational, clinical, and practical training.
CNA programs are widely available and necessary for a job in this field. Requirements differ depending on geography, but most states require candidates to complete formal training through an accredited college or vocational school.
CNA programs last one to three months and consist of classroom and hands-on training. At the end of the course, students must pass a final exam demonstrating their knowledge to receive their certification. In addition, you can find classes provided through:
Online programs
Four-year colleges
Tech, trade, and vocational schools
The course length will vary based on your desired area of specialized care.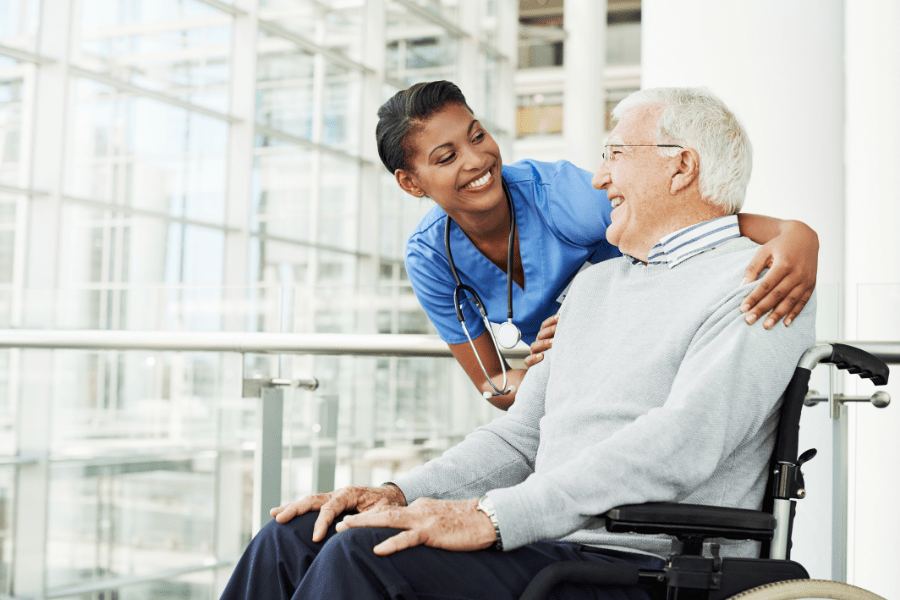 Hospice Caregiver Certification
By its nature, hospice and palliative care require a unique set of skills. Whether you wish to hone your current skills or develop new ones, the National Hospice and Palliative Care Organizations provide several certification courses for those interested in hospice care.
Candidates can complete their hospice caregiver certification in an online or in-person program. Course duration ranges but usually takes several hours.
Specialized Caregiver Certification
Specialized caregiver certification teaches professionals to properly care for patients with specific needs, such as dementia, swallowing problems, and more. 
First Aid & Emergency Care Certification
This type of caregiver certification is an excellent supplement to other kinds of certification. These courses, which typically last a few hours, teach essential skills such as how to:
Administer CPR
Use a defibrillator
Provide basic life support
Many local and national organizations provide training programs, such as:
The Red Cross
American Heart Society
American Health and Safety Institute
Hospitals and other healthcare facilities
Look online for available programs through these organizations near you.
What are my state's certified caregiver training requirements?
Many states share similar rules and requirements to become a caregiver. However, determining what you need can still be challenging, especially if you wish to work independently.
You can find your state's requirements online, but if you choose to work through a home care agency, the company can tell you the necessary experience and certification you need. In addition, agencies can make it easier to manage and monitor your training and help you stay compliant with state laws.
CareAcademy, which provides online caregiver courses, categorizes state caregiver training requirements into three general levels: high, medium, and low.


States With Extensive Requirements
New York, New Jersey, Washington, DC, and a few other states have strict standards for preliminary training. In these states, potential caregivers must complete a minimum of 40 hours of training. 
For example, direct care workers living in Washington DC must receive their HHA certification with 75 training hours. On the other hand, caregivers in New York must complete a 40-hour state-approved course through a state-approved agency.
In addition, states with high requirements typically require annual education and training. Continued education is important because it helps caregivers stay on top of new technology and practices and current trends in care.
States With Medium Requirements
Not all states have such stringent measures in place. For example, caregivers must meet a specific number of training hours covering a particular set of topics in Pennsylvania, California, and Colorado before working with patients.
For instance, professionals in California must complete five hours of preliminary and yearly training. Alternatively, Pennsylvania and Colorado necessitate eight hours.
States With Minimal Requirements
Massachusetts is one of 21 states with the fewest caregiving requirements. These states do not require training for caregivers employed by a private-pay agency.
However, just because these states don't require training doesn't mean that it's not necessary. If you live in a state with minimal requirements, obtaining your certified caregiver training can give you a crucial edge while increasing the level of care you provide.
How do I pick the right certified caregiver training program?
It can be challenging to narrow your options as you research different programs. However, the following considerations can help you decide which options are best for you:
Find out who provides the program. Please ensure the source is reputable, whether it's a vocational school, agency, or company training program.
Make sure that the program and organization are accredited. You can find this information through the Better Business Bureau or read testimonials.
Get feedback from professionals. If you have questions about a particular course, it might help to contact a home care agency to see what they know about the program.
If you have a question about a specific training program, MeetCaregivers can help. Just reach out via phone or online to ask any questions you have.
What is the job outlook for certified caregivers?
There is an unprecedented demand for qualified caregivers. As a result, you can expect plenty of hours and opportunities for work as this field continues booming. According to the Bureau of Labor Statistics (BLS), caregiver careers will increase 34% from 2019 to 2029. This rate surpasses the average for all other jobs and will continue to climb as the country's aging population grows.
What is the average salary for certified caregivers?
Certified caregivers are in high demand, which offers more opportunities for negotiation. Depending on the type of caregiver you become, you may be paid by the hour or salaried. The average caregiver earns $30,326 per year. However, your income will ultimately depend on your location, area of expertise, education level, training, and experience.
As a caregiver, you will have opportunities for full- and part-time work based on patients' care needs. In some cases, you may work more than 40 hours a week, on weekends, or overnight. As a result, you may have chances to earn more money based on these factors, among others.
What are the education requirements for certified caregivers?
Your desired field, course, and state affect your education requirements. However, most certified caregiver training programs require a high school diploma, GED, or equivalent. You may also need to enroll in additional studies, such as CPR classes.
Caregiving is a respectable career with substantial opportunities for professional growth. Certified caregiver training will prepare you for this path and maximize your abilities.
MeetCaregivers wants to help older adults have the best quality of life while aging in place. That means supporting the professionals who care for them. So if you have a question about us, our products, or our services, call 1 (888) 541-1136 or find a caregiver today.
For more resources, visit our Blog.
CareAcademy. (2021, May 10). Do you know the caregiver training requirements in your state? CareAcademy. Retrieved January 24, 2022, from https://careacademy.com/blog/do-you-know-the-caregiver-training-requirements-in-your-state/
Hipp, D. (2019, March 26). Free Online Family Caregiver Courses and Training. A Place for Mom. Retrieved January 25, 2022, from https://www.aplaceformom.com/caregiver-resources/articles/free-online-caregiver-courses
Indeed Editorial Team. (2021, June 3). What Is a Certified Caregiver? (With Salary and Job Outlook). Indeed Career Guide. Retrieved January 24, 2022, from https://www.indeed.com/career-advice/finding-a-job/what-is-certified-caregiver
Senior Care Industry Professionals. (n.d.). How Caregiver Training Requirements Vary by State. CaregiverList. Retrieved January 24, 2022, from https://www.caregiverlist.com/caregiver-training-requirements-by-state.aspx
Starbuck Gerson, E. (2021, April 8). Getting your caregiver certification online: How to pinpoint the best program. Care.com Resources. Retrieved January 24, 2022, from https://www.care.com/c/caregiver-certification-online/