Why Is Cervical Health Awareness Month Important For Older Women?
Cervical Health Awareness Month is a good reminder for women to stay informed about their cervical health, even as seniors. Many women believe that the risk of developing certain health conditions or diseases declines with age. This is particularly true about cervical cancer.
But, as researchers from the Washington University School of Medicine found, 25% of new diagnoses occurred in women 65 and older. Moreover, women in this age group were more likely to die from cervical cancer than those under 65. In their study, researchers noted several contributing factors, such as:
Cervical Health Awareness Month can help change the risk among older women.
"Cervical cancer has become known as 'a young women's disease'. But it's a myth that it only affects young people. In fact, the mortality rate among women above the age of 65 is 25-30 percent higher than previously thought," Anne Hammer, MD, and Ph.D., from the Department of Clinical Medicine, Aarhus University and Aarhus University Hospital, told ScienceDaily in 2019.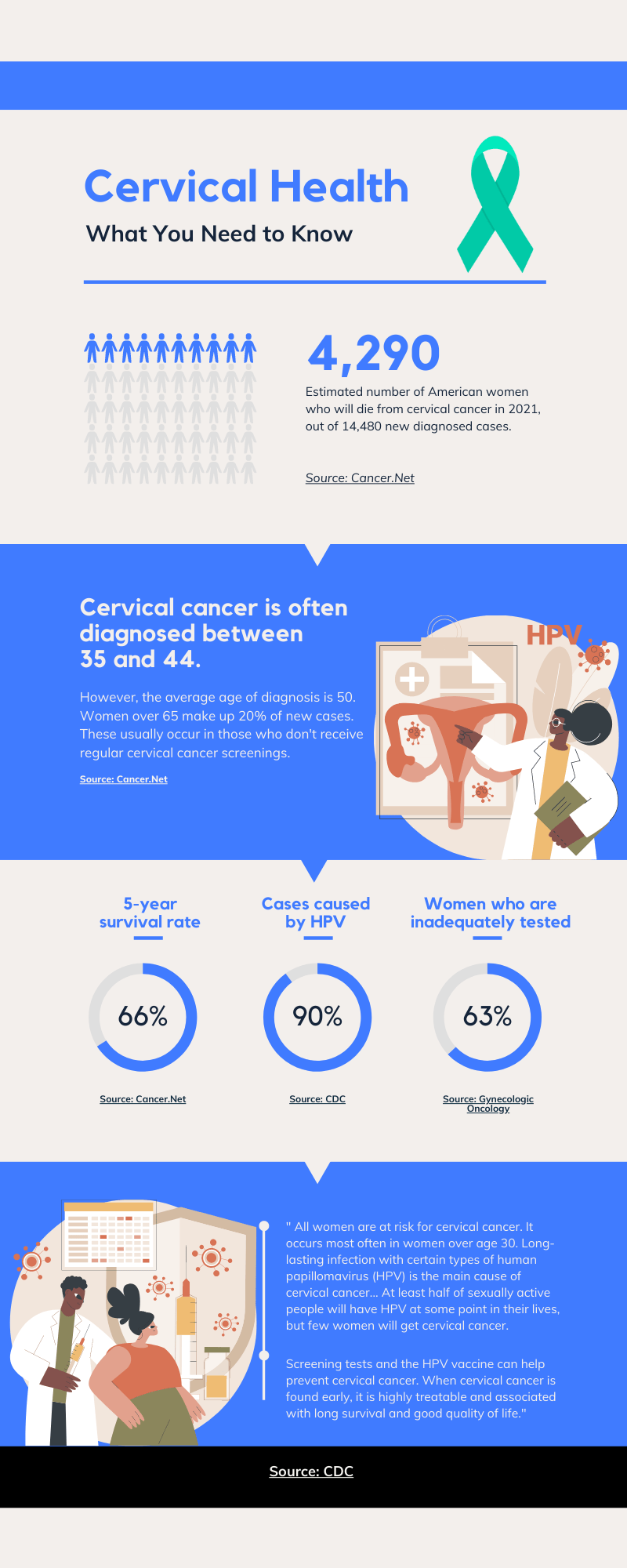 Women who experience unusual bleeding or discharge should talk to their medical provider as soon as possible. These symptoms are one of the main signs of cervical, uterine, or ovarian cancer. Other signs include weight loss, nausea, and fatigue.
Vaccination and screening can prevent this disease, which affects over 14,000 women in the US alone each year. Pap and HPV tests are the only guaranteed way to identify this disease.
Health professions recommend that women who haven't undergone a hysterectomy regularly receive these screenings until age 65. "When people are screened, the cancer can be discovered in its initial stages or at such an early stage that surgical treatment is still possible. This significantly reduces the risk of dying," Dr. Hammer said.
More women are receiving routine pap smears, which allow doctors to detect the disease early and reduce the risk of fatality. However, a study from the National Institutes of Health found that a little over 50% of women 65 or older received a pap test in three years.
Moreover, 25% of women had never undergone a test. In some cases, the women may be under– or uninsured. But in many cases, the women don't think screening is necessary.
However, this couldn't be further from the truth. A 2017 study from the American Journal of Preventative Medicine supported these findings. In addition, researchers also found that:
Unfortunately, cervical cancer can still occur in women 65 and older. So during Cervical Health Awareness Month, older women who haven't received a recent test should make an appointment with their doctor.
Untreated Human papillomavirus (HPV) can cause cervical cancer and lead to other types of cancer in both men and women.
On its website, the CDC states, "You can get HPV by having vaginal, anal, or oral sex with someone who has the virus. It is most commonly spread during vaginal or anal sex. HPV can be passed even when an infected person has no signs or symptoms. Anyone who is sexually active can get HPV, even if you have had sex with only one person."
Fortunately, HPV vaccination can help protect against this disease. The CDC recommends HPV vaccines for:
On the other hand, people aged 26 and older should not receive the vaccine. Adults between 27 and 45 who haven't received the HPV vaccine might seek vaccination after talking to their doctor about the infection risk and the potential advantages. However, vaccination among this age group offers fewer benefits because of its higher exposure to the disease.
While vaccination stops infections from happening in the first place, it can't treat ongoing cases. For this reason, the vaccine is most effective when received before being exposed to the virus. Women should make cervical cancer screenings a regular part of their health routine, even if they are vaccinated.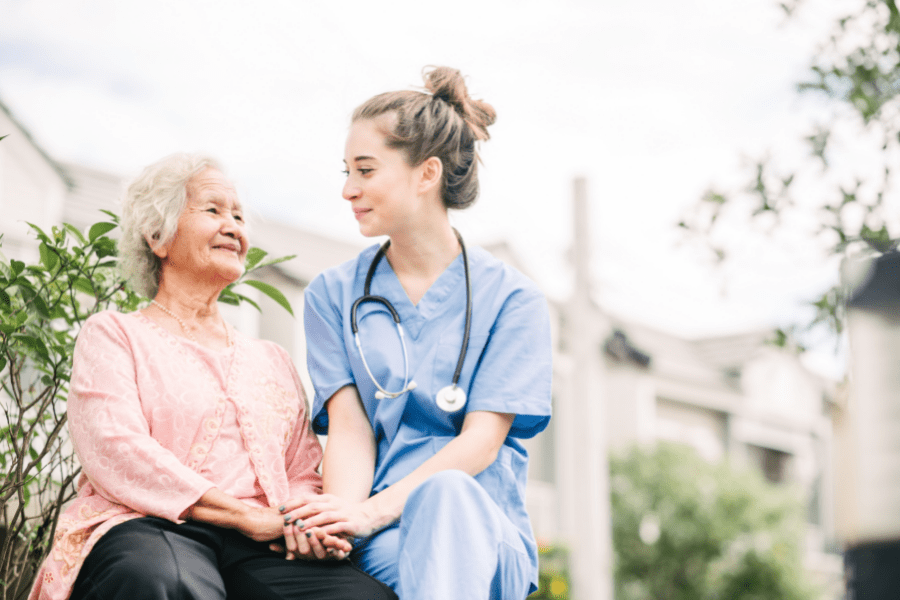 MeetCaregivers Supports Cervical Health Awareness Month
Cervical Health Awareness Month is essential for women of every age because cervical cancer can happen regardless of age. However, older women with cervical cancer generally experience more progressed and aggressive forms than younger women. Therefore, doctors should stay alert when performing tests to determine an accurate history when treating patients.
MeetCaregivers can help create a daily routine with your aging parent that supports their dignity, independence, and health while aging in place. In addition, our qualified caregivers provide transportation to and from appointments, medication administration, and more.
Call 1-888-541-1136 or email info@meetcaregivers.com to learn about our process, products, services, and more. Or, visit the Blog to find more resources and information on caregiving and aging in place.
Aarhus University. (2019, April 3). Older women have the highest risk of dying from cervical cancer. ScienceDaily. Retrieved January 4, 2022 from www.sciencedaily.com/releases/2019/04/190403101105.htm

American Sexual Health Association. (n.d.). January is Cervical Health Awareness Month. ASHA Sexual Health. Retrieved January 3, 2022, from https://www.ashasexualhealth.org/january-cervical-health-awareness-month/

Centers for Disease Control and Prevention. (2020, July 27). Some Older Women Are Not Getting Recommended Cervical Cancer Screenings. Centers for Disease Control and Prevention. Retrieved January 3, 2022, from https://www.cdc.gov/cancer/dcpc/research/articles/older-women-cervical-cancer-screenings.htm

Comfort Keepers. (2016, December 15). Cervical Cancer: What Every Senior Woman Should Consider. Comfort Keepers. Retrieved January 3, 2022, from https://www.comfortkeepers.com/articles/info-center/senior-health-and-wellbeing/cervical-cancer-what-every-senior-woman-should-consider

Lababidi, S., McQuerry, K. J., Duan, R., Johnson, M. S., Fredericks, T., & Baldwin, L. (2018). Incidence and Characteristics of Cervical Cancer in Elderly Women [3Q]. Obstetrics & Gynecology, 131(1), 184S–185S. https://doi.org/10.1097/01.aog.0000533216.91272.ad